ThatPainter is reader-supported. When you buy through links on our site, we may earn an affiliate commission. Learn More
Whether it's the floor of your garage parking or sidewalks that lead to your property, stains, and age will eventually settle in. But even concrete floors that have been treated in the past are susceptible to chipping and peeling at some point, more so if the previous job was done poorly. Floors with no treatment at all are the worst since stains develop that are difficult to get out without using the costly treatment of a pressure wash every year. And that's where Behr comes in.

Their specialty is painting, including paints that are formulated for outdoor floors done with masonry and/or concrete. Have you checked your driveway when the sun's up? If it appears very dark or has numerous patches of darks spots, the Behr Premium Granite Grip and Epoxy paints would quickly bring it back to a new-like state. Each is detailed below, along with a point-by-point guide on how each is applied. By the end, you'll be more than ready to breathe new life to your driveway.
About BEHR
Behr is a company based in the United States and specializes in home improvement accessories. Products ranging from interior decoration to office decor is sold by them, along with wood stains and finishes.
Starting in the years immediately following the close of WW2, Otho Behr, Jr. from California set up an at-home business selling wood stains and finishes. The operation was quickly moved to a larger facility, growing at a rapid pace ever since.
Today, the company prides itself on being a family-owned business that operates in a global home decor market, with facilities spread out around the world.
Now Behr produces paints of all kinds for almost any surface that can be painted on. Their formulas are strong and long-lasting, built in a way that not only improves the look of surfaces but provides longevity that other competitive brands lack.

Their stocks can easily be found in brick and mortar stores, or online. However, online stores tend to be a lot easier to get specific paints, especially those from their Premium line Granite Grip. Their products come with easy to comprehend instructions on the label but there are numerous video tutorials detailed steps that should be taken for customers with more specific preparation issues. All cans are premixed and ready to be painted as seen as they arrive at your door.
BEHR PREMIUM® Granite Grip™
See More Images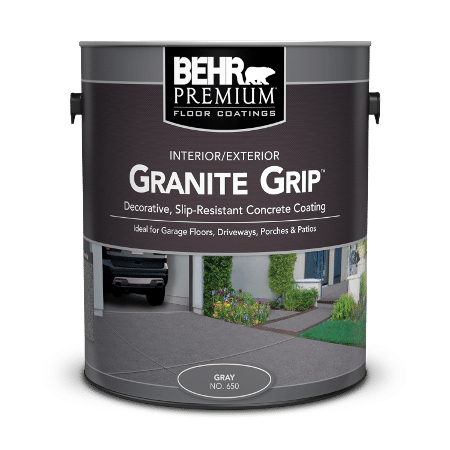 The Behr Premium Granite Grip Paint comes in a black and grew paint can, with colors ranging from tan to amethyst.
It's formulated to be used on garage floors and outdoor patios, decks, driveways, and sidewalks consisting of either concrete or masonry work
. Although the pain doesn't require mixing from the start, doing so if possible if you would like a tone that isn't available by the company. As concrete paint, this is as good as it gets. Drying time is heavily dependant on where you live, along with the conditions on the particular day that you choose to paint. The season is also important.
To get the best results, it's highly recommended that you follow the official directions that are laid out by the company (as brief run-through is shown after the reviews). Looking at what others have said about the paint, many of the negatives are due to not enough coats being applied or placing heavy objects (such as an automobile) on top of the paint before it has had time to completely dry.
Don't forget the curing time. If the floor appears to be dry to the touch, that doesn't necessarily mean that you should park your car on top of it. Knowing this, wait at least 30 days before you attempt to do so. For anyone that must use the floor before this mark, one way to cheat the instruction without causing damage to the end result is by placing cardboard boxes in track shape. This could lead up to the spot you park your car. Wait at least 72 hours before attempting this, however.
Sealing up cracks is easy. Always treat the cracks first before you apply the paint in larger amounts, to get a more effective seal. You'll find them completely invisible to the naked eye when you do it this way. A single gallon of paint can cover a large floor area. The company lists 40-50 square feet per gallon, yet this is assuming that you're going to use more than one coat. For anyone that isn't parking a vehicle over the finished paint, a single covering might be all that's needed. Granted, this might not last as long as it would when doubling things up but it'll remain in good shape for several years regardless.
Granite Grip can also cover up any stains that exist on your concrete floor. But to ensure that it's able to do so, it's suggested for you to clean it with a good quality etcher, or something to remove the top layer of residue. You'll find this method also gives the paint a grain-like texture that's similar to what's felt on abrasive sandpaper. Older floors tend to have the most stains. Thankfully, the results aren't varied based on the age of it. Concrete that was poured decades ago will look as if it was laid out the same year that you apply the concrete.
Is there anything about Granite Grip that could be improved? Not much, but you should be careful if you're going to do any pre-mixing. The solution could settle, making your floor look lighter and darker is random spots due to the paint settling.
To prevent this, consider getting a paddle that can be hooked up to a drill (as a drill bit) to keep the mixture even while you work. You don't have to rush through things but the risk of the concrete looking spotty is much less when done in this manner.
And since it takes no less than a total of 30 days to completely cure, that means you should time your application perfectly in tune with the weather.
For example, if you know that region you stay in is ripe for random downpours during a particular season, don't paint at that time. Furthermore, look at the weather forecast for the weeks following your paint job. Raindrop could form a bubble within the concrete. Choose a time when temps linger around 60-80 degrees (Fahrenheit) and the rain isn't expected for a while. And don't forget about pollen, either!

Overall, the Behr Premium Granite Grip is a remarkable concrete paint that'll breathe new life into your home, adding years to your driveway and garage surfaces. Follow the directions to the letter and you're more than guaranteed to get a perfect finish that's greatly improved, both in looks and quality.
PROS
When sealed properly, can cover up any cracks to where they're completely inconspicuous
One gallon of paint can cover 50 square feet of space
Thorough instructions are listed on each can's label
Even the darkest of stains will never show through the paint
Results aren't varied based on the age of the concrete/masonry
Two or three coats are sufficient enough to seal most surfaces
CONS
Works best when painted with a drill and paddle mixer to prevent settling, especially for large-scale coverings
The 30-day curing time requires users to time its application down to the season, weather, time of day, and air/surface temperatures
BEHR PREMIUM® 1-Part Epoxy Concrete & Garage Floor Paint
See More Images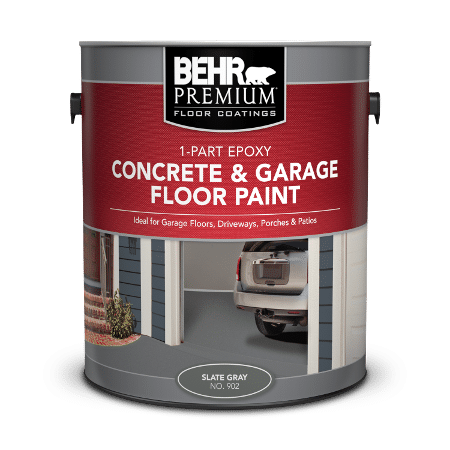 The Behr Premium Epoxy is formulated for use on concrete and masonry floors in garages, basements, and other indoor living areas. You could also use it outdoors, making it a good alternative to the Granite Grip.
Most of its difference from Granite Grip is based on color tones and the way they're applied, with the latter being more subtle
. And since its an epoxy, you'll get a seal that sinks into the concrete instead of lingering on the top layer only. This results in a finish that will last a very long time, more so when several coats are applied.
Do be generous with the coats. If you only do one, tire and bike marks are likely to occur. YOu don't have to coat it too many times, so two should suffice under ordinary conditions.
Once the paint is completely cured after 30 days, the floor is made resistant to spills, grime, and most other substances that could cause deep stains in concrete that hasn't been sealed.
Cleaning should be done at least a month after you've let it dry, preferably with only soap and water. Of course, some garages require stronger chemicals to get the concrete clean. If your situation calls for such, using a mild degreaser is perfectly safe to do so (although you should want over a month, just to be sure).
If your concrete floor consist is gauged at less than 500 square feet, only one coast should be sufficient just as long as you're not moving tires over it. Basements and rooms with such flooring come to mind. And just in case you're worried about doing this in your home, don't be.
The epoxy is perfectly safe to use in an indoor environment; just follow the instructions carefully.
Be sure to open any windows to let the paint dry quicker, and to keep the area properly ventilated. The odor is a little strong at first but should dissipate over 24 hours. And while it goes without saying, keep small children and pets away from the treated area.
Foot traffic should be kept to a minimum but can be done after a day has passed. Wait about a week before you park your car over the paint. Like the Granite Grip formula, cardboard boxes are suggested for you to use underneath the spot where your car's tires will be stationary during this time. After a month has gone by, go ahead and use your floor as normal.
The Behr Premium Epoxy is outstanding, having very few problems when users paint with the direction set forth by the company. Try not to get too creative. Again, doing the job in a way outside of what's recommended increases the chances of things going wrong. Take your time when preparing is be sure to cover all portions of your concrete floor. You'll find the result much better in looks and quality than other concrete epoxy brands. Highly recommended.

PROS
Completely resistant to tire stains, including in hot and moist weather conditions
Only a single coat is needed for full coverage of floors from 300-500 square feet (depending on floor smoothness, two coats still recommended)
Cleaning chemicals such as degreasers do not impact the floor when used for cleaning it, so long as the paint is completely dry
Crack visibility doesn't show through the epoxy
Safe to use in indoor locations that have concrete and/or masonry flooring
In ideal conditions, the paint will be dry to the touch in less than two hours
CONS
Unless careful preparation is done to the epoxy, tire stains could show, even after the floor has dried
Application
This is a brief instructional guide to how you should carry out your paint job with each Behr product reviewed.
Preparing the Paint to the Desired Texture
The first step is preparing your concrete surface. No matter if you're using Granite Grip or the Epoxy, begin by looking at the weather conditions on the day that you want to paint. Be especially attentive to any forecast rainfall in your area, at least a week after the date that you want to paint. For some people, it might be easier to do this in a season where precipitation isn't as heavy. And check the pollen count as well, especially if you're in a region with a temperate climate.

Wash off your concrete floors with an abrasive brush that has hard bristles. Soap and water are good, but the best results are done with a mild degreaser. When the surface dries, your concrete should have no residue left on the top layer. You can check this by running your finger on the surface. If you get a white residue on your fingertips, repeat the cleaning process. If not, then pour a small amount of water on the concrete. If it dries quickly, your surface is ready to paint.
Granite Grip Instructions
If the Concrete has been previously Coated – Use painter's tape to cover up anything that sits close to the concrete, then begin by painting along the floor's edges. If you have cracks on the surface, use a paintbrush to fill in these areas and allow them to dry before cover the rest of the floor. Once that is done, get either a quarter-inch paint brush roller or nylon brush to paint your concrete. Make your coats in patches, moving on to the next section when you're done. You could also use a paint gun to do this. Avoid pouring the paint directly on the concrete, taking your time to cover the floor.

For Uncoated Brick and Concrete – You'll need to treat the floor with a concrete etcher if it's been painted over already. If the paint is peeling, the paint stripper is strongly recommended. After that, use a garden hose or pressure washer to get linger residue off. When everything is dry, paint is normal with a paint roller until the floor is completely covered. Apply coats in sections, the same as if you were painting concrete with no prior treatments.
Epoxy Instructions
The Epoxy is applied using an identical method to the Granite Grip yet be careful to not go higher than two coats. Additionally, extend the drying time if the area you're working in is very humid. If the surface has been painted over before, it's recommended for you to strip the entire concrete if you can, more so than what's necessary for the Granite Grip. Furthermore, use a primer if you can before applying the paint (only if the surface hasn't been treated in the past). It'll help the fist coat cling to the concrete better.
Summary/Overall Thoughts
If you're ready to decide which Behr product is best for your concrete floors, be sure that you have all the accessories needed to carry out the job successfully. Preparation ensures that you won't make mistakes, to which the surface will look exactly the way you intend it to. Both the Granite Grip and Epoxy are outstanding products built for use on driveways, and indoor garages. So long as you know and understand how to use them, you'll be in store for getting improved concrete flooring that'll last years after that day that you apply them.
Richard Jenkins is a 33-year-old Professional Painter that applies paint on the interior and exterior surfaces. Qualified in painting technology knowledge, physical fitness, stamina, teamwork, and attention to safety. Read More.