Do you have an aging concrete patio or driveway? Has your basement floor or pool deck seen better days? While most concrete surfaces outlast their owners, most of them still take a beating from hard wear and exposure to the elements. Concrete sealers are designed to seal, protect, and enhance concrete surfaces.

The Top Five Concrete Sealers in 2020
We set off to find five of the best concrete sealers on the market, and we couldn't be happier with our final selections. Read along to learn about the benefits of these amazing products. Then, discover answers to all of the most frequently asked cement sealer questions.
Armor AR350 – Editor's Choice and The Best Penetrating Concrete Sealer
AR350 is manufactured in the United States under the strictest quality control standards.
It is made from non-recycled resins. If you take your time and apply AR250 correctly, you can expect anywhere from 1 to 3 years of protection on outdoor surfaces and 3 to 7 years of protection on indoor surfaces.
One of the reasons we love this concrete sealer is because it can be applied to a wide range of surfaces. It does not matter if the concrete you are working with has been sealed or not.
AR350 goes on easy with a roller or sprayer. It is a self-priming formula. Moreover, it is exceptionally low-maintenance and easy to recoat.
We love that AR350 helps reduce damage and deterioration caused by surface abrasion.
Expansive Coverage
Armor AR350 is sold in 5-gallon pails. A single pail provides 875-1,225 square feet of coverage on old and porous surfaces. Meanwhile, it offers 1,250 to 1,625 square feet of coverage on dense and trowel-finished concrete surfaces. Keep in mind that these numbers are only indicative of a single coat. The manufacturer recommends two coats for most sealing jobs.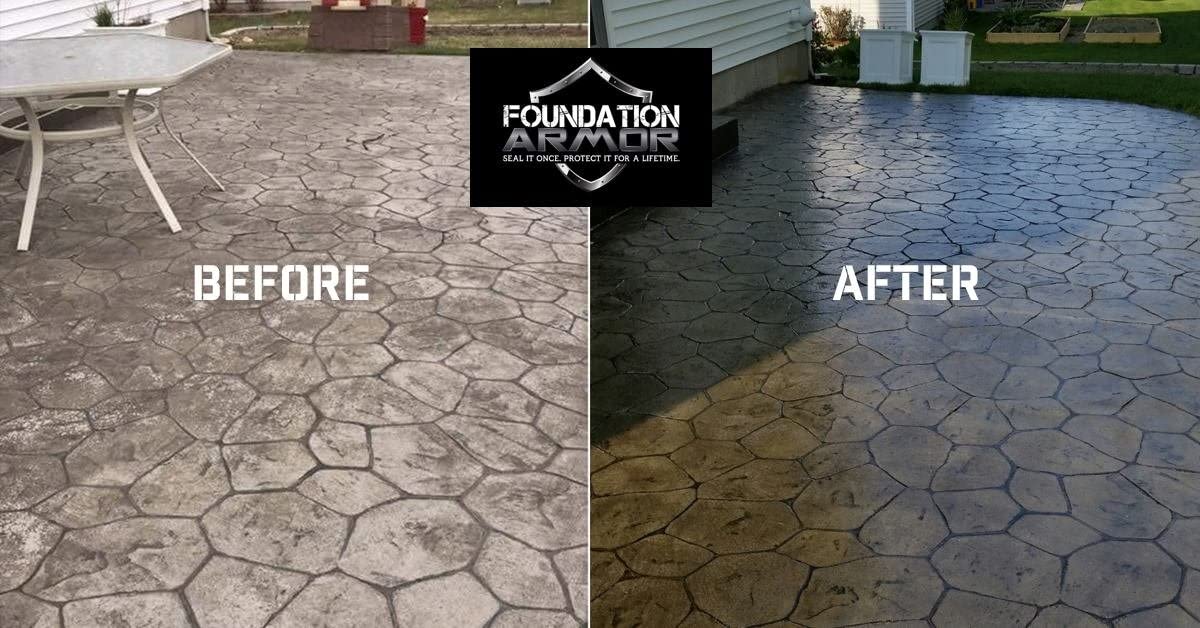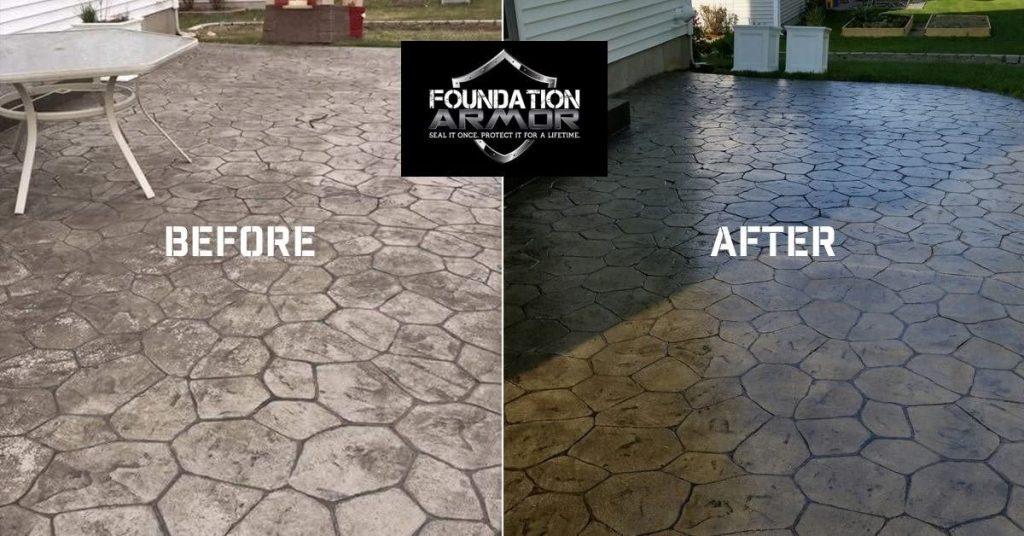 We were pleased with AR350's ability to soak in UV rays without yellowing or peeling.
It gives concrete a wet yet non-glossy appearance.
Show off the natural beauty of your concrete with the clear formula, or cover stains and discolorations with one of the 14 alternative color options. Color offerings consist of basic black and white as well as a range of grays, browns, and reds. The neutral pallets are designed to give aggregates a natural appearance.
Countless Uses
We couldn't be more pleased with the versatility of this cement sealer. It can be used on an exceptionally wide range of surfaces, including poured stamped and exposed aggregate concretes. It is also an excellent option for pool decks and patios. We recommend that you amend it with some non-slip additives when using it on outdoor surfaces. When we tested it out, we had no issues with adhesion.
If you have concrete that takes a beating because of harsh environmental factors or job site realities, AR350 is a worthwhile investment. These inexpensive pails provide long-lasting protection and aesthetic improvements. We loved watching rain bead as soon as it came in contact with this cement sealer.
Pros
Non-yellowing, breathable, and UV-resistant formula
Low-gloss "wet look" that enhances dull and faded surfaces
Can be applied to both unsealed and previously sealed surfaces
Available in clear and a variety of colors
Can be used on poured, stamped, and exposed aggregates
One 5-gallon pail offers 875-1,225 square feet of coverage
Cons
Coverage does not last as long in high-sun areas
ToughCrete Concrete Sealer – Most Eco-Friendly Cement Sealer
It's environmentally friendly ingredients earned it an official approved from the U.S
. Department of Transportation. The formula is safe and effective. Not to mention, it is non-flammable.
We love that this formula is clear and non-glossy. Keep in mind that it does have a wetting effect on most concrete surfaces. The sealer goes on easy with the help of a spray or brush.
It penetrates deep, closing pores off from naturally occurring moisture and minerals.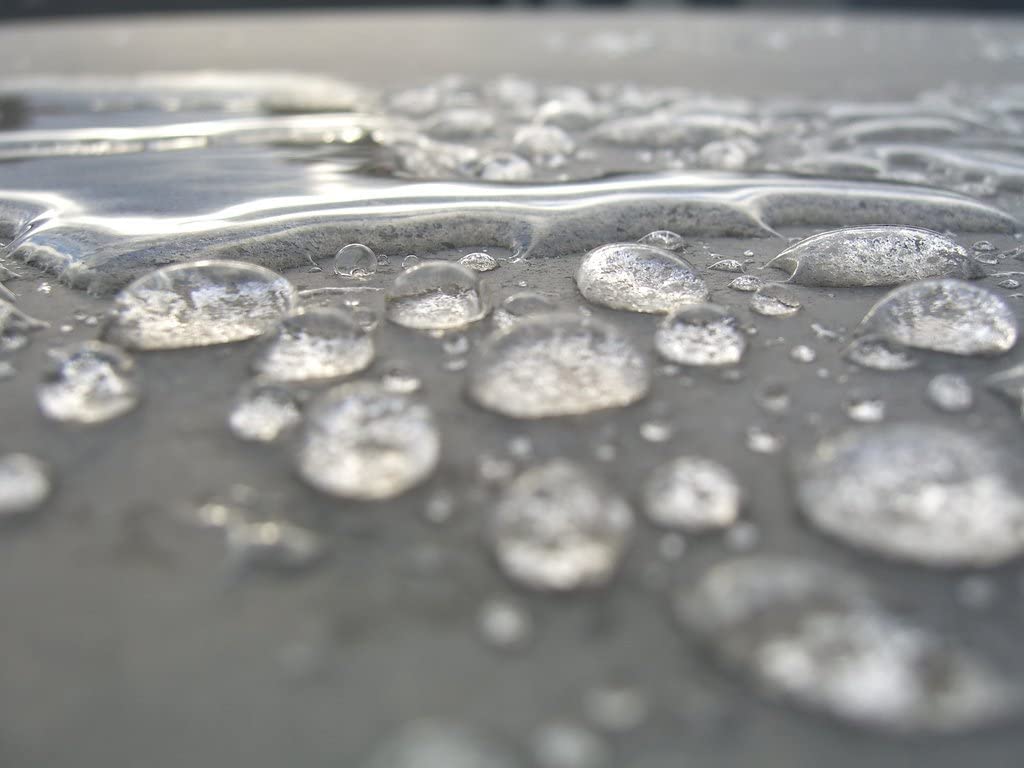 Coverage rates vary when it comes to different surfaces. You get 150 to 250 square feet of coverage per gallon on most concrete. Whereas, you only get 125 to 175 square feet of coverage on brick. Finally, you get around 50 to 100 square feet per gallon on split-face blocks.
Impressive Customer Service
There's nothing worse than dealing with subpar customer service. Fortunately, ToughCrete backs all its products with lifetime guarantees and a proprietary 10-year tough promise. After speaking with a number of their customers, we are confident in the company's hassle-free approach to customer service. In many cases, the representatives have taken the time to answer customer questions and a refund.
Pros
Made from safe, non-toxic eco-friendly siloxane
Approved by the U.S. Department of Transportation
Non-flammable formula
Clear zero-gloss finish
Water repellent
Covered by a 10-years Tough promise
Hassle-free refund policy
Cons
Should perform moisture test prior to application
Siloxa-Tek 8500 – Best Industrial-Grade Siloxane Sealer
It does a phenomenal job of protecting concrete and other outdoor surfaces.
It even fends off chlorides and salts. Not to mention, it protects surfaces from moisture and abrasion.
Siloxa-Tek can be used on a range of surfaces, including concrete, brick, and masonry.
No matter the substrate you are working with, Siloxa-Tek should have you covered.
This product's ease of application is undeniable. You can apply it quickly and easily with a sprayer, roller, or brush. Typical drying times range between 4 and 6 hours. The sealant should be ready for regular foot and limited vehicle traffic within 24 hours of application. Almost immediately, we noticed water beading on the surface of our treated cement.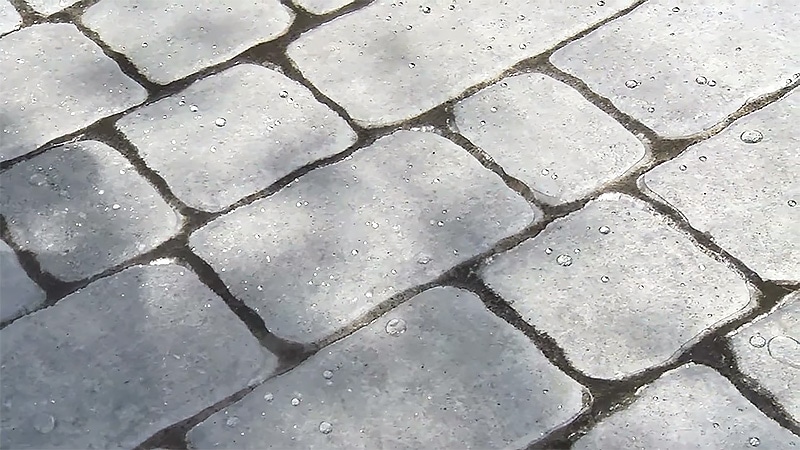 Read to Go
Siloxa 8500 comes in both ready-to-use and concentrated formulas. A gallon of the ready-to-use mixture offers between 100 and 400 square feet of coverage. Of course, you will want to apply two coats to get the best results. Keep in mind that coverage rates vary depending on the porosity of the substrate.
According to the manufacturer, this product should be good for 100 years.
This is one of our top cement sealers for decorative surfaces, such as patios and pool decks. However, it also works well on hard-wearing substrates, including those in garages, driveways, workshops, and basements. The water-based silanes and siloxanes create a nearly invisible yet wholly effective barrier.
Premium Packaging
Siloxa-Tek 8500 comes in a sleek slate-gray jug. While we don't like to get hung up over packaging, we cannot ignore the convenience of this product's premium pour spout and over-sized ergonomic jug handle. The handle and side of the bottle boast horizontal grips. Meanwhile, the bottle spout consists of a long slender neck and scooped tip. All these elements work together to help you avoid messes and spills.
Pros
Can be applied easily with a sprayer, brush, or roller
Suitable for use on most concrete, masonry, brick, and stone surfaces
Made from a blend of silane and siloxane
Dries in under 6 hours, cures in 24 hours
Water and salt repellant
Cons
Rain Guard Water Sealers CU-0201 – Best for Automotive Environments
Rain Guard protects surfaces from water and chemical spills
. It also prevents wear from vehicular and foot traffic. Not to mention, it resists UV damage, such as peeling, fading, and yellowing.
Rain Guard is sold in 1- and 5-gallon containers. A single gallon of this product offers anywhere from 200 to 500 square feet of coverage. The finished product is clear. It has a wetting effect that leaves concrete surfaces looking shinier and brighter.
When fully cured, it has a low gloss appearance.
While some customers found that this product wore off too soon, we felt that it offered extensive and reliable coverage. As in most cases, poor results may be caused by high humidity, poor prep work, and inferior application.
A Safer Product
We felt safer knowing that Rain Guard was a water-based sealant with low odor and limited VOC. It will protect your floors from spills and damage without hindering your health. Rain Guard comes in light-blocking white plastic jugs. These containers boast overhead handles and spouts. As a result, it is easy to avoid messes and spills.
Pros
A clear-seal hybrid acrylic with urethane base
Low-gloss, clear coating
Ready to use, no mixing required
Comes in 1- and 5-gallon jugs
Offers up to 300 square feet of coverage on both new and old surfaces
U-resistant non-yellowing formula
Resists hot tire marks and heavy automotive impacts
Cons
Does not offer very extensive coverage
EnduraSeal "Wet Look" Semi-Gloss Sealer – Best Glossy Sealer
It can be applied to a wide range of concrete substrates, including stained, colored, stamped, and exposed aggregates.
We were pleased to discover that EnduraSeal does not contain any silicone, wax, or oil. After all, these ingredients tend to chip and peel with age. After just two thin applications, your cement surfaces will shed water and other contaminants with ease.
We were tremendously pleased with this product's ease of application.
First, off it had very little odor. As a result, we were comfortable applying this sealant both indoors and outdoors. Moreover, the product dries incredibly fast. After a brief curing window, your concrete surface will be ready to endure regular foot and vehicle traffic.
Pleasing Coverage
EnduraSeal is sold in five-pound drums. Each gallon offers anywhere from 100 to 400 square feet of coverage. Keep in mind that the porosity of the substrate and your choice of application method may ultimately impact its coverage.
EnduraSeal produces an aesthetically pleasing high semi-gloss finish that compliments most substrates. The "wet look" adds a bit of depth and shine to dull, aged concrete surfaces. You can even add non-slip amendments when applying this sealant to exposed outdoor walkways, patios, and pool decks.
Lasting Results
Solvent-based acrylic can handle lots of sun exposure. This particular mixture will not yellow, crack, or peel. You must take care when applying this product, as careless applications can result in unsightly bubbling and other aesthetic issues.
According to most users, it is important to keep your applications thin. Moreover, you must allow your base coat to dry thoroughly before applying another coat. It's nice that you can apply a fresh coat of finish to spruce up one that has become dull with age and wear. Coatings last anywhere from 2 to 4 years.
Pros
Glossy, or wet look, finish
100 to 300 square feet of coverage per gallon (coverage depends on substrate porosity)
Very low odor
100% acrylic with solvent base
Non-yellowing formula
Cons
Requires at least two coats
Poor application could cause unsightly bubbles
How to Choose a Concrete Sealer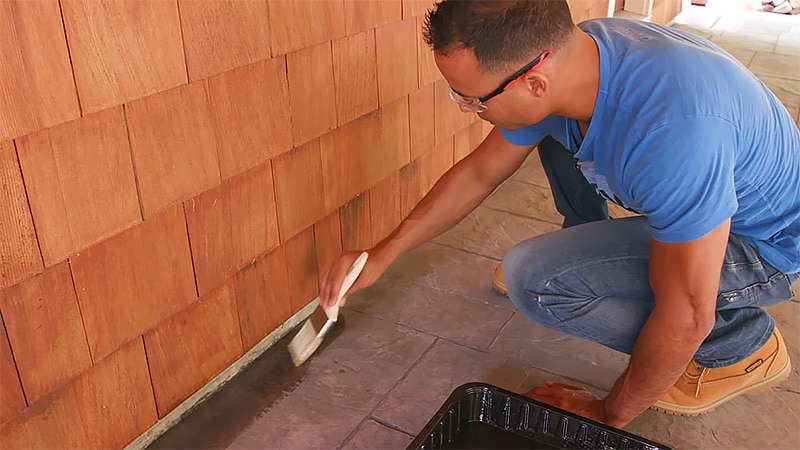 It can be challenging to disseminate when the seemingly countless different concrete sealers on the market. From penetrating formulas to acrylic base coats, there's plenty of products that serve to protect industrial aggregates.
Chemical Formula
First off, let's weigh the pros and cons of the different types of cement sealers, which include:
Penetrating Sealers
Acrylic Sealers
Polyurethane Sealers
Etc
Most penetrating sealers are made from siloxane, siliconates, silicates, or silane. These formulas penetrate the pours of cement without changing its appearance. They are usually resistant to water, chemicals, minerals, and UV rays. Penetrating sealers are a good choice if you:
Do not want to change the appearance of the cement
Want to avoid damage from environmental factors
Are looking for an environmentally friendly cement sealer
On the other hand, acrylic concrete sealers are made from a mix of acrylic compounds and solvents or water. They may be colored or clear. They are typically available in a variety of sheens. Acrylic sealers are ideal for sunlit patios and patios. They are a good choice for individuals:
Looking to achieve aesthetic improvements
Looking for a quick, inexpensive solution
Looking to protect vulnerable outdoor surfaces
Epoxy and urethane mixtures are also popular topical sealant options. These types of cement sealers tend to be more costly.
Lastly, polyurethane concrete sealers are common topical options for indoor aggregate surfaces. These formulas may be water- or solvent-based. They are a good option for homeowners looking to:
Spend less
Fix up garages and work spaces
Retain the natural beauty of a cement surface
Protection
Are you still unsure if the concrete sealer is worth the investment? Concrete sealers protect aggregate surfaces from unsightly staining and wear. When applied correctly, sealers create an impenetrable and typically indivisible layer of protection.
In most cases, they block the pores, allowing moisture to exit but never enter the material.
Common forms of concrete damage include stains, scale, and abrasion. A quality cement sealer will prevent all this and more. It may even prevent chemicals, chlorides, and salts from penetrating the pores.
Coverage
You must ensure that you have enough product to cover your target area. Most manufacturers offer expected coverage rates. However, coverage may vary depending on the porosity of the cement. Moreover, you may be required to apply both a base and topcoat. Coverage rates range between 50 and 400 square feet per gallon.
Pro Tip: Check with manufacturers to see estimated coverage rates on different surfaces, such as stamped, bricked, and exposed aggregate concretes.
Application Options
One of the most common questions we get regarding concrete sealers is how to apply them. In most cases, we suggest that you follow the manufacturer's instructions to achieve the best possible results. Nevertheless, the following tips and tricks will help you make the most out of your cement sealer: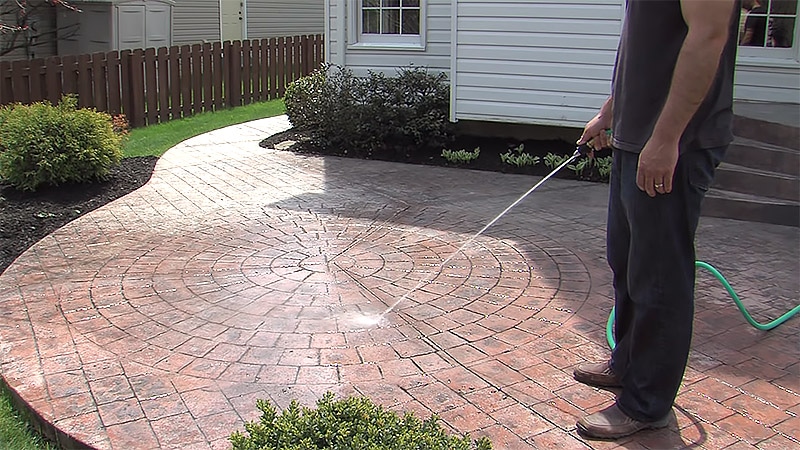 Put in the Extra Elbow Grease. We strongly advise you to clean your cement before sealing it. Remove stains, dirt, and debris to the best of your ability. First, sweep the surface. Then, use cleaner to scrub away any stubborn spots. Then, apply the cleaner all over using a mop. After that, use a shop vacuum to lit up any remaining residue.
Fill Cracks. Take the time to fill any cracks and gouges in your cement. Use a matching cement to fill in the spaces. Give it a proper amount of time to dry and cure. Cement sealer works best when applied to a smooth, uniform surface.
Remove the Old Sealer. You may need to remove the old cement sealer before applying the new one. Steps for this vary depending on the type of sealer. You must remove the old sealer if it is different from the new one you wish to apply.
Use the Right Applicator. Most manufactures will tell you exactly how to apply their cement sealer. Popular application methods include rollers, brushes, and sprayers. Pay close attention to the direction and timing of your application. Moreover, make sure the temperature and humidity are within the recommended range. In most cases, sealers dry within 6 hours and cure within 24 hours. You'll need to do your best to avoid precipitation, cold spells, and foot and paw traffic during this period.
Surface Compatibility
Cement sealers are designed to go over a variety of industrial aggregate surfaces. Some are even specifically designed for indoor and outdoor applications. Learn to disseminate between the different types of cement, as it will make it easier for you to choose a sealer for your particular finish.
Common cement textures include exposed aggregate, troweled, salt, stamped, and broom finishes. Sometimes concrete is stained or polished.
Aesthetics

Many people do not realize that concrete sealers are available in a variety of finishes. After all, most penetrating sealers generate clear, no-gloss coatings. On the other hand, topical sealers come in a variety of sheens. Some are even available in various colors. Some sealers can also be amended with non-slip aggregates. It is up to you whether you want to change the look and texture of your cement.
FAQs
Do I need to seal my concrete?
The short answer is no. However, a concrete sealer will help you avoid surface stains, filth, and abrasions. Cement sealer is a low-cost home improvement project. Not to mention, it's a project that you can do in one afternoon.
Are there environmental or health issues associated with cement sealers?
As with any chemical products, it pays to do a little research ahead of time. Check the VOC content, or volatile organic compounds, in your sealer. VOCs can harm your health. Low- and no VOC sealers are the safest options. Water-based sealers are also better for your health and the environment.
There are plenty of environmentally friendly cement sealers on the market.
These products do an excellent job of expanding the life of cement products. As a result, you can reduce your waste and improve the curb appeal of your home or business by choosing an environmentally friendly product that suits your needs.
Final Thoughts
We hope you enjoyed our review of the top five concrete sealers of 2020. These incredible products will protect, preserve, and even rejuvenate the concrete on your property. If we had to choose just one favorite, it would have to be Armor AR350. After all, this affordable solvent-based acrylic cement sealant offers a lifetime of surface-enhancing protection.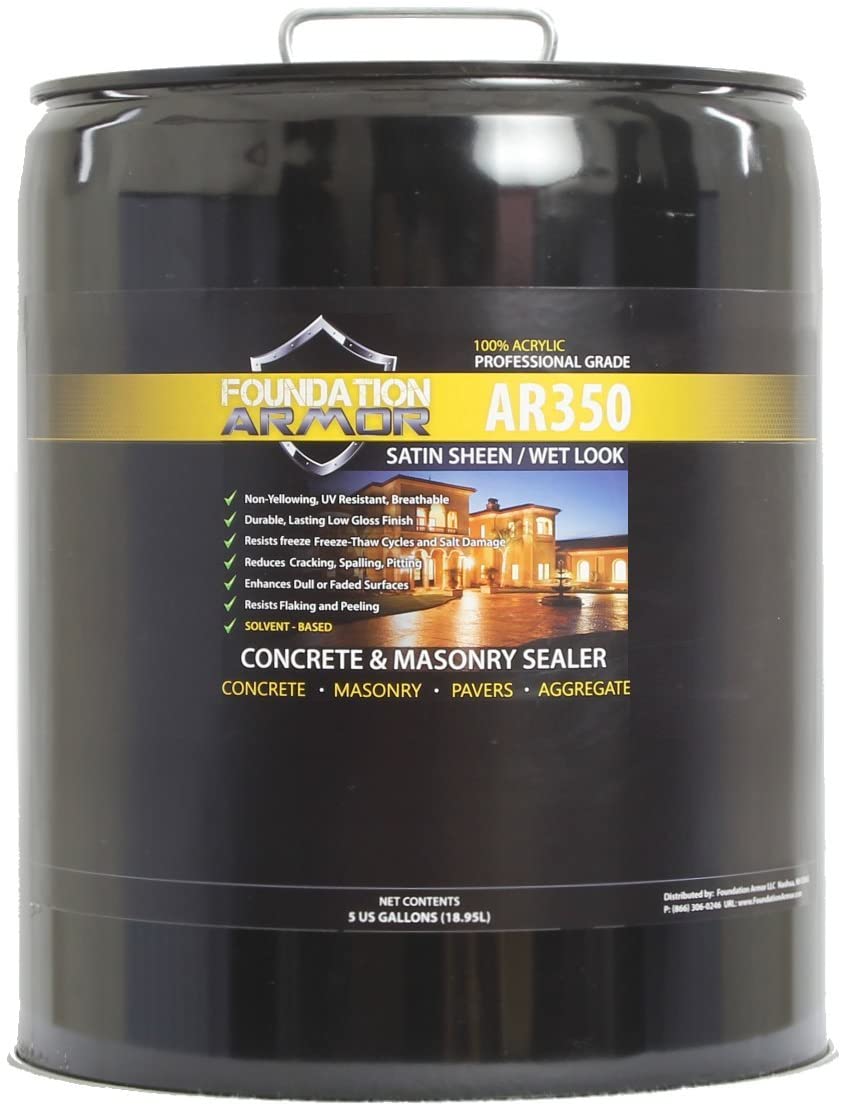 Armor AR350
Non-yellowing, breathable, and UV-resistant formula
Low-gloss "wet look" that enhances dull and faded surfaces
One 5-gallon pail offers 875-1,225 square feet of coverage
Check Price

Since a single 5-gallon bucket offers as much as 1,225 square feet of coverage, you won't have to dig into your savings. Do you have a concrete surface that needs some attention? Let us know if you plan to use a concrete sealer in the future!