ThatPainter is reader-supported. When you buy through links on our site, we may earn an affiliate commission. Learn More

When it comes to the garage floor, one must not treat the choice lightly. The garage is not a place for storing family's cars only. It is a place where people work and perform minor repairing of a vehicle. Besides that, it is a place where kids love to play. So, a solid garage floor paint must endure not the only weight of a car, but chemical pollution and various scratches. Regular paint will not do well in these situations. Leaving bare concrete is not an option. The dust will damage your car and will become a threat to your family's health.

Our TOP 5 Best Garage Floor Paint
Today we'll present you the top five garage floor paint kits. Defying which one is the best of the best will long for ages. Each of them has its peculiarities, pros, and cons. The only issue stays clear – garage floor paint is a must for all garage owners who care about the appearance, durability, and safety of their garages.

Rust-Oleum 251965 Garage Floor Kit – The Most Stylish Epoxy Garage Paint Kit
Cannot wait for too long? Need to make your garage look like an exhibition showroom? Then,
Rust-Oleum 251965
is your choice. Rust-Oleum 251965 cannot be called 100% paint, as it is a combination of 2
epoxy substances – tinted resin
and a polyamine hardener. It is easy and quick to apply, it dries fast, and you can clean it quickly with soap and water. The fashionable grey color will turn your floor into a masterpiece. The package includes the dry epoxy solutions, the paint itself, the instructions letter, and the
concrete floor
cleaner. Add some water and begin working.
Its main advantage is swift usage. Unlike the majority of paints on the market, this one does not require much preliminary work. You'll not have to perform acidic etching. Make sure your concrete floor does not have significant defects and apply the paint.
The water basis of the paint can be an advantage and disadvantage at the same time, depending on the circumstances. The first fact to consider is that the epoxy dries quickly.
The manufacturer claims you can step on a floor within 24 hours after applying. It is ready for a car in 72 hours.
The reality shows that everything depends on the area and temperature. Consider that water will evaporate. As it forms up to 50% of the solution volume, the final thickness of the floor might be less than you think.
A water basis means that the paint produces less odor. It makes a user careful with humidity levels. If the weather conditions make your garage suffer from excessive moist, be sure to dry it out thoroughly.
The epoxy solution is a bit tricky in the making. You need to be careful while mixing it. The chance of letting bubbles of air is high. They make the floor more fragile. Relatively old floor concrete will require some polishing for this paint.
We can recommend this paint to those who need the work done fast. Those who are not familiar with sophisticated techniques of floor paint should also pay attention. The paint gives one of the most stylish colors among the positions presented here. The simplicity of appliance and safety make it an excellent average choice.
PROS
The kit is full. There is no need to buy other chemicals
Stylish color
Very durable if done according to the instructions
No need to etching
CONS
Epoxy requires attention in preparation
It might have problems with humidity
The old concrete floor requires preliminary processing
It may require additional paint chips for more extensive coloring
It implies only one relatively thin layer of coverage
KILZ L377611 – The Easiest Garage Floor Paint
If you are among those who do not seek for the complications with floor paints, KILZ might be the paint you have been looking for. It is a perfect decor decision. It comes as already made solution in a can.
The paint requires nothing but preliminary cleaning of the floor and getting an instrument
. It comes with instructions. The paint can get back the old concrete or wood to life. Open a can, apply the paint, let it dry for several days, and it is ready.
The paint is universal. You can apply it to almost every surface inside a house if it suits your design idea. KILZ copes with vertical concrete surfaces.
A water basis guarantees fast drying and minimal odor.
At the same time, it is the weak side of the paint. After drying out, you'll need the second coating to be applied. It is an urgent requirement, as a single layer is thin; hence, you'll need more paint than you might expect.
The coloring is neutral. It will not shine or glitter but will give a universal color suitable to the majority of designs.
KILZ has one of the best anti-slipping properties. Its surface is smooth enough for everyday needs. At the same time, its texture protects from slipping, even if it is wet.
The paint can be applied on the garage floor, but it does not show excellent performance with cars on it. It is likely to chip, peel, and stick to the tires of a heavy vehicle. It will not stand the intensive traffic.
The paint shows average performance when it goes about scratches and durability. It can stand humidity and temperature drops. The majority of dropped instruments or furniture will leave scratches or roughness.
We would not recommend this paint for those who use the garage as a storage for the cars. The paint shows poor durability when it deals with traffic or heavy vehicles. If your car is not heavy and you use it not every day, it might be a slightly reasonable variant.
If you are going to use the garage as storage or place for work or rest, choosing KILZ is preferable. It is good for the renovation of an old floor, as it deals with damaged surfaces.
The paint is perfect for walking on and can be a good choice for those who can wait.
PROS
Ready-to-use
Universal and fits for vertical surfaces
It works well with the majority of design ideas
Recovers damaged surfaces
Perfect anti-slipping properties
Easy to clean
CONS
Not durable with cars
Poor scratching protection
Dries out for a long time (up to several days or a week)
Requires at least two coatings
Armor AR500 – The Best Universal and Durable Acrylic Sealer
Yet it cannot be called paint. It is transparent, so if you are looking for a colorful decision, buy some paint beforehand.
If you like the look of shiny polished concrete in your garage, Armor AR500 is what you have been looking for
. It comes as a ready-to-use solution. To start working with it, be sure that the surface is free from contaminants and get your instruments.
The main advantage of AR500 is its universality and durability. The sealer works well both with indoor and outdoor surfaces.
One can be enough to cover everything in a garage and yard, as 1 gallon can cover up to 100 square feet with two coatings.
As the sealer is designed to protect the surface, it shows excellent performance in the protection of the concrete from the harmful environment. It is resistant to water, great pressure, humidity, rapid temperature changes, and physical damage. It shows considerable durability against the sun exposure up for two years.
The sealer shows good adhesion properties on every concrete surface. It ensures protection from dusting. Armor requires minimal preliminary work and does well both with unprepared and sealed surfaces. Acrylic basics let it into the minor pores and cracks of the damaged concrete.
It prevents water from getting into the concrete. Those who value anti-slipping properties should buy additional abrasive ingredients.
The main disadvantage of Armor AR500 is its basis. The acrylic sealer produces a lot of dangerous fumes. So, a solid respirator and continuous location aeration are a must.
Armor AR500 will do well for those who value protection, most of all. It will deal with weather issues and molding successfully. The sealer is easy to apply and renovate. It is not a design decision for your garage floor. Due to its threat to health, it is not the best variant for absolutely inexperienced users.
PROS
Very durable to all kinds of damage
Long-lasting
Easy to renovate and maintain
Applicable for outdoor and indoor surfaces
Works with all concrete surfaces, whether new or old
Requires minimal preparation of the concrete
Different methods of application
CONS
It might require renovation in two years
It can be dangerous during application because of the fumes
It is transparent. It is not paint in its original meaning
Poor anti-slipping properties without addition
Not a turnkey decision for the floor design and protection
INSL-X EGG310S9A-1K – The Most Durable Epoxy Paint
If your garage is a place for tough work, vehicle repair, and art,
INSL-X will endure any trial you can imagine
. It comes in a classic two-component epoxy paint kit. It provides standard showroom grey coloring. To apply it, perform a thorough cleaning of the surface, do some polishing of old concrete, if required, grab a
roller brush and start painting
.
The producer made it very easy to comprehend. The kit does not require additional chemicals to be bought. It comes in a proper proportion, so you will not have any ingredients left. Like any other epoxy paint, this one requires careful mixing for avoiding air bubbles in it.
The paint shows considerable protection against physical and chemical damaging. Anti-abrasive properties make it a perfect decision for the workshop garages.
The special feature of the paint is the hot tire resistance. It can stand an average traffic impact, warm temperatures, and the majority of temperature changes. In most cases, it doesn't care about vehicle weight.
This garage paint might be damaged by the impacts of harsh weather and intensive vehicle usage.
The kit is designed to get 1 gallon of paint. It might not be enough for more than 250 square feet or more than one coating. The water basis is safe during the appliance. It requires double attention with wet or highly humid locations.it does not need much time to dry out.
The paint comes in two standard colors: sand and grey. If you want to add some metal flakes, you 'll need to buy them separately.
The paint can be recommended for those who use the garage for storing a car. The paint is highly durable to damaging but have traditional problems of all epoxy paints.
PROS
Durable to damaging
Easy to apply
Minimal preliminary work with the surface
It dries out fast, without dangerous fumes
Easy to clean
CONS
Mixing and application require attention
One kit might not be enough
Flakes and paint adjustments to be ordered separately
ROKREZ 2.5 Car Garage Epoxy Floor Kit – Universal Epoxy Paint Kit
Sometimes you need to paint a garage floor, but you do not have even the instruments for proper work. If you are familiar with the situation, the ROKREZ epoxy kit is the best paint to buy.
It comes with everything required for successful floor renovation: concrete cleaner, two components of the paint itself, anti-slipping and styling flakes, the set of brushes, and instructions.
Like any other epoxy paint, it needs water as a dissolving agent.
The epoxy paint is always good at auto-leveling. It means that you can apply it to slightly rough and damage concrete surfaces. The significant leveling glitches will cause problems with coloring and shining.
With all the components, ROKREZ ensures a shiny floor with excellent protective and anti-slipping properties. An improved formula makes the paint endure intensive traffic and tire impact. It might be not the right choice for extreme temperatures.
The paint can be recommended for a garage floor of any purpose. It shows excellent properties as epoxy paint, but the usual problems remain. The full set of the components make it a right turnkey decision for indoor floor painting.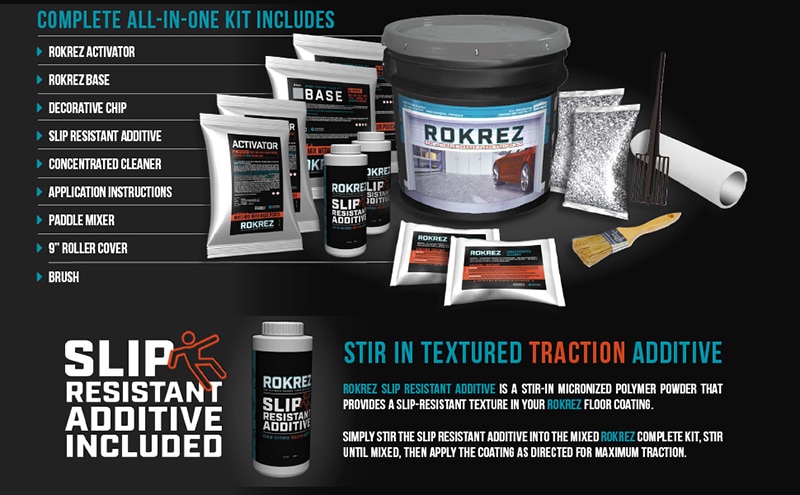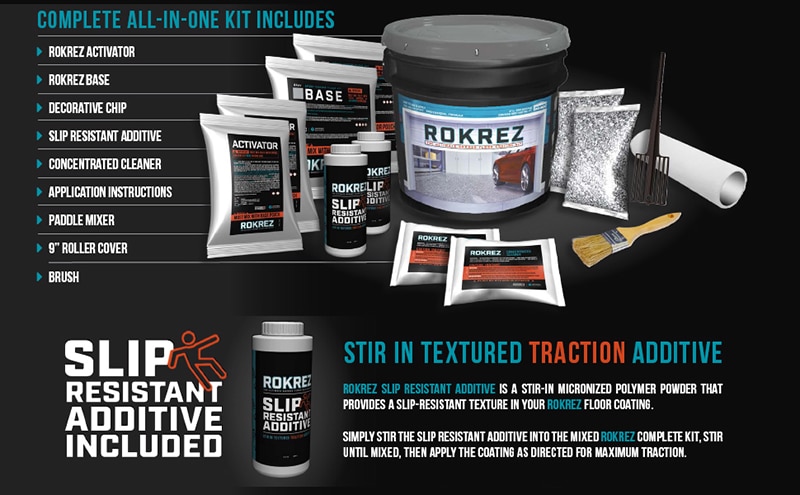 PROS
Easy to clean and maintain
Adjusts the level automatically
The complete kit. There is no need to buy anything else
It dries swiftly — the minimum time between layer applying
CONS
Requires attention in mixing and application
Problems with wet and humid surfaces
Auto leveling is not enough for severe cases
Paint layers are thin
Things to Consider before Buying Garage Floor Paint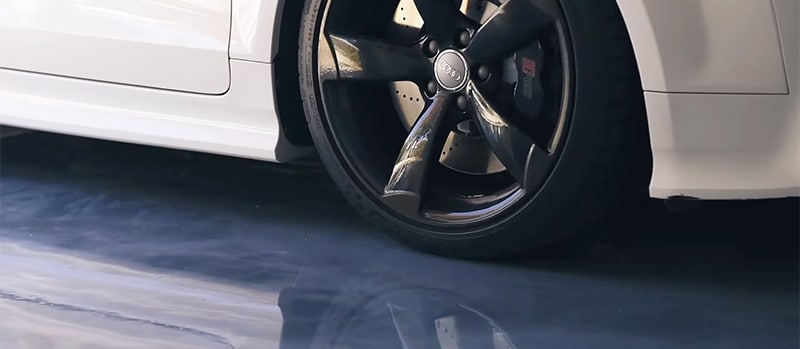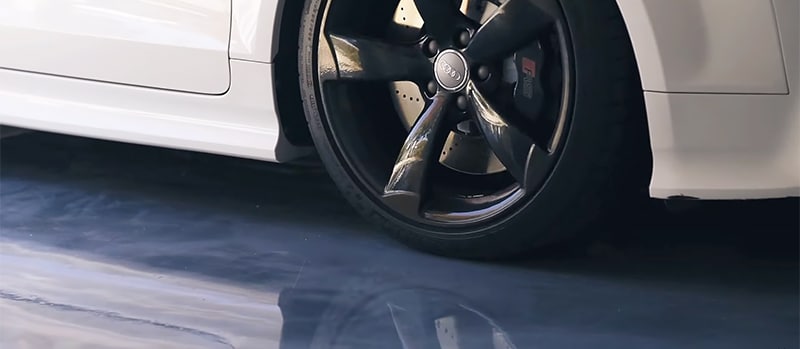 The garage floor is not a thing you would like to renovate frequently. The paint must satisfy the maximal needs and requirements of yours. Otherwise, it is nothing but wasted money, nerves, and time. Here are some criteria you should analyze before making a choice:
Purpose of your garage. As we said, it may be different. If you use your garage as storage or room for living, you might not require extra durability and protective properties from the paint. If you use your car and garage everyday, look for more solid variants.
Weather conditions. Different paints imply a different relationship between weather and atmospheric conditions. Epoxy paints need dry air and surface for proper application.
Safety is an important measure for amateurs. Water-based paints are relatively safe. At the same time, acrylic or latex paints require additional protection. If you are not sure about your skills, better choose a secure variant, or delegate the work to the professionals.
Condition on the floor. Some paints do well with both wooden and concrete surfaces. Others apply only to concrete floors. Mind the age of the floor as well. To gain smoothness, the solution must get into every pore of the concrete surface. An old floor has its pores covered by the dust. Make sure to clean it. Some paints do not stand cracks or roughness. You need to remove them by etching then.
Universality in the appliance. Be confident that you will be able to apply the paint with an instrument you would like.
The non-slip coating is a necessary property of any garage paint. Be confident you can buy non-slipping paint or an additional texture chemical. Try to buy paint with an option to add such ingredients.
Drying time. Modern paints do not require weeks for drying. This factor has lost its central importance. Note that epoxy paints dry faster than others. They might be a choice for a customer in a rush.
Appearance. Well, it is not the primary determinant of paint quality. A garage is not a very popular place in a house, so the choice is up to your design preferences.
Warranty. It is also a pleasant addition to the paint, as it does not affect the quality directly. It might become a reason to buy a particular brand if the choice is minimal.
Instruments and Preliminary Works Required for Painting the Garage Floor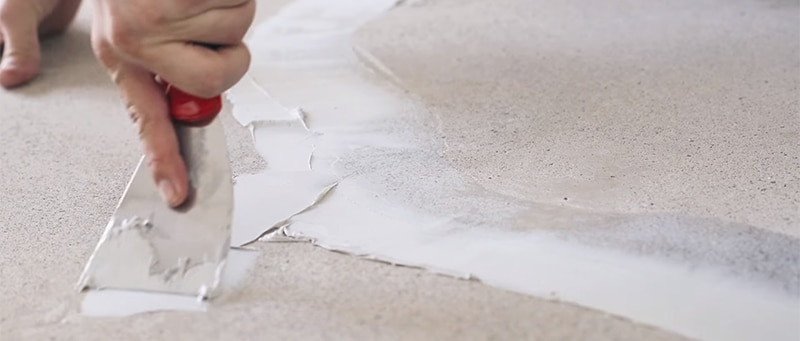 While some paints come with everything needed, others require additional equipment. Before applying the paint, the concrete surface must pass through some preparations.
The clothes must include protective overalls, glasses, and a respirator in some cases. Provide proper aeration of the location. Modern paints can be spread with rolling brushes. Some of them are suitable for paint sprayers.
Epoxy paints come by ingredients, so you need to get a special mechanical mixer. Tip: stay at low speed of mixing. Otherwise, you risk creating air bubbles in the epoxy paint.
A proper leveler will be in use to spread the epoxy paint over the floor. Tip: if you apply the epoxy paint and want to use your instruments again, clean them immediately after usage. If the paint dries out on the brushed, hey turn into trash.
If the concrete of the floor is old, it requires etching. Use mechanical polishers to make the surface smooth. Some of the paints require acid etching solutions to be applied beforehand. Anyway, vacuum the floor carefully to make sure it does not have any dust and pollutants on it.
Tip: some paints require an additional coating to be applied. Be sure to let the paint dry out. Better wait for more time than a manufacturer indicates in the instructions.
Types of Epoxy Floor Paint
The epoxy paints win the market, and the future of the floor paints at the moment. They provide the best durability and live longer than oil-based or acrylic resin paints. There are three main types of paint you may encounter on the market:
Two-component paints with 100% solids. The only true epoxy paints. They are formed from resin and a hardening component. They dry, unlike other paints – through the reaction between the ingredients but not through water evaporation. 100% solids do not contain traditional dissolvents. They require proper aeration and protection, as they excrete smelly fumes.
Two-component water-based epoxy paints. These are more regular and "amateur" paints. Unlike the first type of paints, these once contain water as the dissolvent, along with true components of epoxy paint. They provide a thin coating that must be renovated in some time.
One component epoxy paints cannot be considered to be genuine. It refers more to simple paints. It might differ from regular paints by better performance and durability.
Bottom Line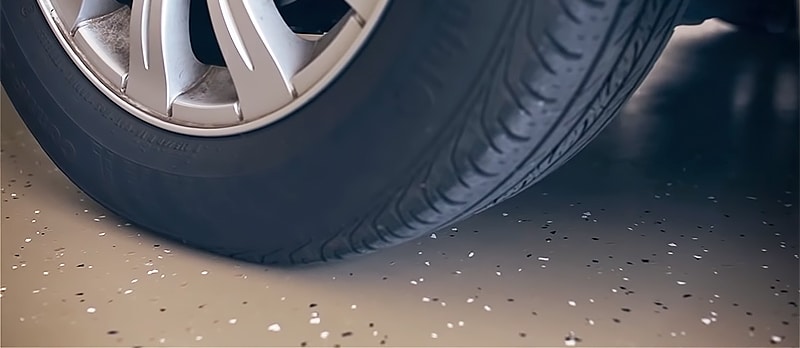 The market finds out the epoxy paints to prevail. They can satisfy all the needs of an average customer, despite his reasons and purposes. The tendency goes in the line of faster drying out, less fume emission, and longer durability. The kits become more suitable for DIY mixing, without any additional components to be bought.
The choice of the garage floor paint is not as easy as it might seem to be. It requires some time to be spent to find the paint that will please all the requirements. The factors that affect the paint performance are large in number. The range of offers, anyway, allows finding an optimal choice for everyone.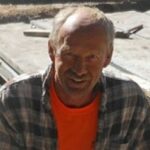 Jim Bettesworth well known for his can-do attitude and often takes jobs other companies were unwilling or unable to do. Experienced and educated in concrete construction and painting jobs. Read More.