ThatPainter is reader-supported. When you buy through links on our site, we may earn an affiliate commission. Learn More

Painting furniture is a surprisingly lengthy process. You might think that you just need to throw some paint straight onto the wood, and you're done.
But there are quite a few more steps to go through before you reach that stage.
And you can't just use any old brush once you get started. Because no matter the quality of the furniture and the paint, if you use a poor quality brush, you're going to have a poor quality finish.x`
So, to make sure your piece looks as professional as possible, here are the best paint brushes for furniture.
6 Best Paint Brushes For Furniture
Presa Premium Paint Brushes Set
Our top pick for the best paint brushes for furniture are these sturdy brushes from Presa. Presa do have another similar set. But this premium set is definitely superior. 
These are ideal for painting furniture due to the range of brush widths. Some paint brush sets will have a range of sizes that try to meet every kind of project. But, this can often mean that they have a lot of brushes that aren't quite right for all projects.
These brushes aren't all the same size. But they are of specific sizes that are perfect for painting furniture. This is partly due to the fact that they vary by relatively small increments. Painting furniture usually involves painting wide flat surfaces. These brushes are perfect for switching between different sized surfaces. 
These brushes all have thick rectangular brush heads. This is also great for painting wide flat surfaces. Not all of them have angled ferrules. But this means you can easily switch between painting the top of a table to the angled underside. 
PROS
Flat and Rectangular Brush Heads – These brushes are ideal for painting flat furniture surfaces.
Varying Handle Lengths – As well as varying head sizes, these brushes also vary in overall length. This improves control.
Affordable – Despite the high quality and range of sizes, this set is very affordable.
CONS
Limited Usage – These brushes are perfect for painting furniture. This does mean that they will be limited if used for other purposes.
Richard 13418 Elegance Trim Brush
If you're working on a complex piece of furniture, then you can't go in with one big rectangular brush.
Painting furniture mostly requires painting large flat surfaces, such as shelves or tabletops. But if you work on pieces that have molding or want to paint a pattern onto the wood, then you will need a specialist paint brush.
This brush has a rounded and pointed head. This will be perfect for keeping a precise and clean line. A pointed head will allow you to control the paint more. So you can easily paint on a swirling pattern. Or keep a small section as one single color. 
This brush is available in a set. But these sets only include more of the same brush. So they are not necessary unless you will be switching between colors while you work.
PROS
Perfect for Painting Patterns – The shape of this brush will give you more control for more detailed painting.
Long Handle – This will allow you to have a light grip on the brush.
Bristles Hold Paint Well – This means you won't have to worry about paint dripping and ruining your work.
CONS
Expensive for only one brush.
Magimate Paint Brush Set
The main reason why this brush set is the best for big pieces is due to the inclusion of one very large brush. This brush set has a 100mm wide brush. This is perfect for working on pieces of furniture such as tables or bookcases.
As well as the 100mm brush, this set has four other brushes ranging from 50mm to 15mm. This is perfect for working on multiple different projects. Or one project that requires a lot of different brushes. For example, a chair with complex legs and spindles. 
This isn't the best option for big pieces purely because of the 100mm brush. This set is also of excellent quality. The bristles on each brush are soft but still durable. They will leave a smooth and professional finish. And they won't fall out while you work.
PROS
Wide Range of Sizes – This brush set includes a brush for every project.
Affordable – While not the cheapest option on this list, this brush set is very affordable for such good quality.
High Quality – These brushes are made from high quality materials that provide a professional finish.
CONS
Slim Handles –

This can reduce control.
Bates Paint Brushes- 2 Pack
Having separate brushes for repainting furniture is not 100% necessary. But, the way in which a brush applies paint will vary depending on the surface it is painting. This won't be a huge difference. But it's worth considering if you want a high quality finish. 
These brushes are great for repainting as they have soft bristles. This means that they will be able to apply a smooth finish on even a rough or thick surface. The bristles are also thick and dense.
This means that they can hold more paint than the average brush. So, if you need to apply more paint to get the right color, you won't have to apply too many layers. 
The handles of these brushes are also thick and sturdy. This will provide you with greater control over your work. The handles will be heavy in your hand. So you will be able to work more slowly and carefully. 
PROS
Wide Range of Sizes – This brush set includes a brush for every project.
Affordable – While not the cheapest option on this list, this brush set is very affordable for such good quality.
High Quality – These brushes are made from high quality materials that provide a professional finish.
CONS
Slim Handles –

This can reduce control.
Pro Grade – Paint Brushes
This isn't our top pick for a budget just because it is one of the cheapest set available. But because it is such a great quality set. This set includes five brushes of different sizes and styles.
This means that they can be used on a wide variety of furniture pieces. But it also means that you won't have to buy different brushes for one piece of furniture. If you want to get a good finish on a piece, it's a good idea to use different brushes. This can be smaller brushes for corners of angles.
The bristles on these brushes are very soft. This means that they will provide a smooth finish to your project. But this softness does risk the bristles falling off while you paint.
Another great feature of these brushes is that the metal ferrules attaching them to the handles are angled. But the bristles themselves are angled. They will still provide a smooth finish. The angle of the ferrule simply means that the brushes will fit in the angle of your hand.
PROS
Set of 5 – This set includes a wide range of different sized brushes.
Soft Bristles – These brushes will provide a very smooth finish.
Angled Ferrules – These brushes will fit with the angle of your hand to make application much easier.
CONS
Soft Bristles – This can cause the bristles to fall out while painting.
Professional Chalk and Wax Paint Brush 5PC Master Set
These brushes might look a little different to most other options. But don't be put off by the rounded shape. These brushes are just as good as any other option of this list. In fact, they might even be the best option for your project.
While not completely round, these brushes definitely aren't the more rectangular shape that we are all used to. The rounded head will allow you to paint much more quickly and efficiently than with a standard brush.
This is because, while the width of the brushes are standard, the rounded ends mean that they are thicker overall.
The rounded ends will also make it easier to reach awkward corners and angles. So you won't have to press down a rectangular brush and hope that it works (and doesn't crush the bristles). 
While these brushes are of very good quality, they are mainly intended for use with chalk paint. They can also be used for wax paint. They will work with other paints, but not to as high a standard.
PROS
Rounded Brush Head – This covers more surface area and provides a smoother finish.
Professional Quality – Made from high quality materials.
Includes Rounded and Rectangular Brushes.
CONS
Intended for use with chalk paint only.

Buyer's Guide
Types of Paint Brushes
The main different types of paint brushes are rectangular or rounded. For most furniture, rectangular paint brushes are best. This is because it is easier to paint large flat surfaces with a rectangular brush.
If you will be painting a piece of furniture that has details such as molding, then a rounded brush will be better. Rounded brushes will also be a good choice for painting your own pattern or image onto furniture.
But, it's important to check the type of rounded brush you are looking at. As some are designed solely for use with chalk paint. 
Bristles
Of course, the most important feature of a paint brush is its bristles. It might seem like there isn't much difference from one brush to the next. But this definitely isn't the case. 
The bristles will determine the overall finish of the furniture. This will be the amount of paint applied, how streaky or smooth it is, and whether it leaves any bristles on the furniture. (This is an especially annoying issue so always check the reviews for references to this.)
Foam
Some more modern painting equipment uses foam instead of brushes with bristles. This is okay for large surfaces. The most common use of foam is of course when painting a wall. But foam isn't always the best option for furniture.
This is mostly due to the absorbency of foam. Foam will often absorb a lot of the paint. This is useful when painting a wall as it means that the paint won't drip downward.
But, when it comes to painting furniture, this means that it will be difficult to actually transfer the paint from the foam to the wood. (Think of those paintings you made with cut up dish sponges in kindergarten.)
Brushes vs. Rollers
If you are working on a large piece of furniture, it can be tempting to reach for the wall roller. While this won't necessarily be a bad thing. It won't provide the kind of finish you're looking for. 
As mentioned above, foam doesn't provide the kind of finish you would want on furniture. Rollers do often leave a very smooth finish. But this is usually on walls.
Even if you sand down and apply primer to a wall, it will never be perfectly smooth. So a foam or nap roller will do well to get deep into the grooves on the wall. 
This isn't the case with furniture. When painting furniture, you will have first sanded the wood down and then applied primer. This will generally provide a very smooth surface to paint on. Foam or nap rollers will often leave marks on this smooth surface.
You will find some smaller rollers suggested for furniture. And these do work well. But they will still not provide the same finish as a paintbrush with soft bristles. That said, it's important to find a paint brush that does have soft enough bristles. If you don't, the brush will also leave streaks.
Frequently Asked Questions
Why is my paint brush leaving lines?
This can be due to several different reasons. But one of the main reasons will be the thickness and hardness of the bristles. If you are using a new brush, then this will mean the bristles are too thick for the kind of paint you are using.
If you are using a brush that has already been used and worked perfectly before, this is due to the bristles not drying out properly. 
How do you touch up paint without leaving brush marks?
Thoroughly clean and dry the surface. Then, using a completely clean and dry brush, gently go over the old paint.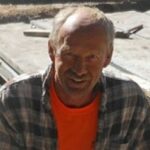 Jim Bettesworth well known for his can-do attitude and often takes jobs other companies were unwilling or unable to do. Experienced and educated in concrete construction and painting jobs. Read More.