ThatPainter is reader-supported. When you buy through links on our site, we may earn an affiliate commission. Learn More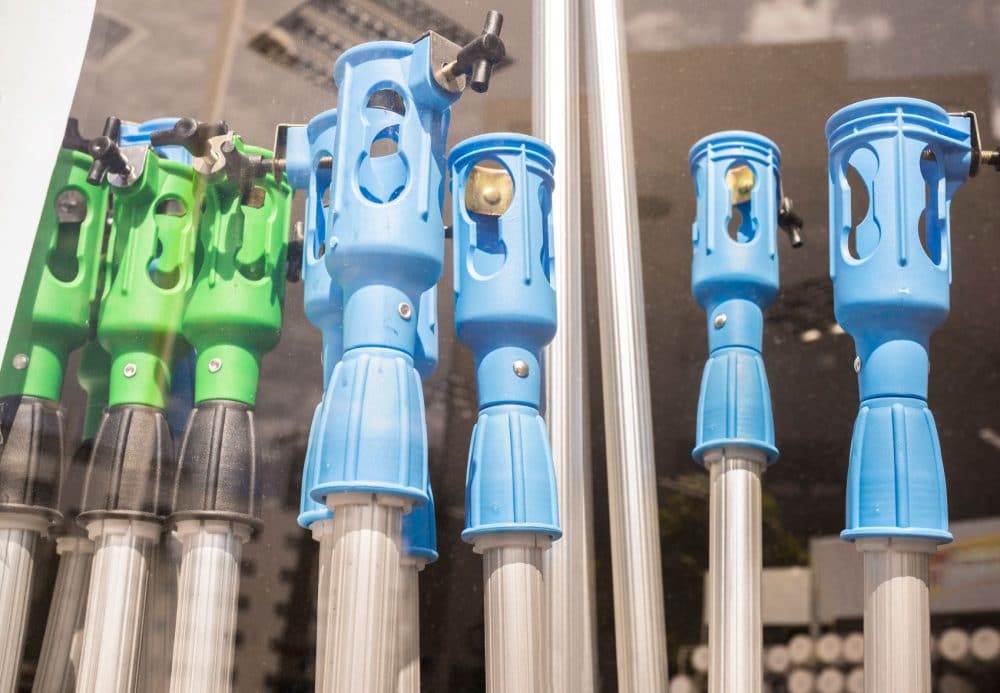 Do you dread painting hard to reach areas? We do too!
Having to balance on tall ladders to reach places like the ceiling or high walls does put your nerves to the test, especially when you've got to keep your tin of paint up on the ladder with you.
You spend half the time trying to balance yourself on the ladder whilst you try to reach out with the brush or roller, that the paint job takes double the time that it should do. It's just not an efficient way to work, especially when you've got lots of surfaces to get through.
Painting is also tiring at the best of times, so having to overstretch your body to reach low areas to paint skirting boards or ceilings is just not maintainable for your own comfort unless you want to pull a muscle and be out of action for a few days.
Thankfully, we've found the cure to all these problems and it's all within one contraption. A paint roller extension pole will allow you to reach even the tallest of ceilings or walls without the need for ladders or assistance.
It'll take you the time it normally takes you to paint surfaces and without the bodily aches and pains that normally occur.
We've searched all around to find you the best paint roller extension poles currently on the market today.
Top 5 Paint Roller Extension Poles
DocaPole 6-24 Foot Multi-Purpose Telescopic Extension Pole
This DocaPole is the only extension pole you'll ever need, with the jaw-dropping extension length that can reach 24 feet with ease, saving you the struggle of using a ladder and trying to reach out to the wall and also saving you the bodily aches.
The DocaPole extension pole is one of the most versatile options on the market with the multi-use adaptability and also multi-tip angle head which provides over 180 degrees of rotation so you can efficiently and effortlessly exceed your tasks.
The telescopic pole is compatible with most common pole attachments including paint rollers, light bulb changes, and pool skimmers, so will come in handy for things you thought you'd never need help with before.
Despite being so large when fully extended, the multi-purpose pole is easily compacted to be stored away in a closet or even in the trunk of your car.
The construction is strong and secure but will tend to flex at the maximum heights. It'll also be lightweight enough to use for big paint jobs without getting too tired.
PROS
Multi-angle tip –

Effortless functionality

Huge length –

No need for ladders or overstretching your body

Compact for storage –

Can easily be stored in a closest or in a trunk of a car

Universal attachments –

Work with nearly all pole attachments including paint rollers
CONS

Not as resistant to pressure at long lengths
Bates Extension Pole, 3 Foot Pole, Telescoping Pole
The telescopic pole has customizable adjustable and can lock up to lengths of up to 3 feet, which is not the longest length of pole on our list, but will certainly do the job at painting tall walls and ceilings in and around your home.
The restricted height does enable this extension pole to be one the sturdiest recommendations on our list, with no signs of flex whatsoever.
The Bates Extension pole comes equipped with a soft non-slip foam hand designed for maximum comfort and an easy grip for long periods of painting.
The pole is made from anodized aluminum which is lightweight enough for all day painting but is still strong for great durability. The construction is also corrosion-resistant so won't decrease in quality no matter what base of paints you use.
The extendable pole comes with a universal tip that can be used with various paint rollers, duster, and other cleaning utensils if you wish.
Therefore, you'll be able to add your own attachments to the pole without having to invest in additional ones from the Bates brand.
Some customers have complained that they have received poles with faulty locking mechanisms, however, these issues were resolved with the provision of replacement poles.
In general, there seems to be nothing but good things to say about this extension pole from the customers.
PROS
Multi-Purpose –

Can be used for painting amongst other things like dusting and cleaning

Extends to 3 feet

– Long enough to reach tall walls

Non-slip foam hand –

Comfortable and grips well

Corrosion-resistant construction –

Longlasting
CONS
Some customers have noted they have received poles with faulty locking mechanisms
Mr. LongArm 6-12 Foot Pro Extension Pole
The Mr. LongArm extension pole is constructed with a fluted fiberglass handle for a comfortable grip in any weather and climate conditions. The medium-duty pole will be able to last you a considerable time and withstand hours of constant painting without altering in quality.
The Mr.LongArm extension pole is available in various sizes, so you'll be able to choose whatever one suits your needs best.
If you only need to reach the walls in your home then there is a 2-4 foot pole available, or if you need to paint areas outside your home then you should opt for the largest option which is the 6-12 foot extension pole.
The anodized aluminum slider is corrosion resistant and will be able to withstand all the materials you use for painting and also be able to be stored outside if you're restricted on storage space.
The Mr. LongArm extension poles come highly recommended by DIYers and even some professionals so you know you're getting a high-quality tool when investing in one of these.
It comes equipped with a universal nylar threaded end and will fit most standard threaded tools including paint rollers, squeegees, and dusters. The threaded end is known to not be as durable so care should be taken when attaching and removing additional tools.
The end of the handle also comes with a hole built into it for easy storage on your walls in your basement or garage.
PROS
Rust-resistant construction –

Quality won't decrease over time

Easy to grip and comfortable handle –

Ribbed for extra grip

Secure lock at all lengths –

External locking device is strong

Easy to store –

Can be stored inside and outside
CONS

Threaded tip is prone to breaking if not handled correctly
Purdy Power Lock 6-12 Foot Professional Grade Extension Pole
The Purdy Power extension pole enables custom adjustments so the pole can lock at any length so perfect if you're looking for something that'll be able to suit various painting jobs around your home.
The pole is not as lightweight as our other recommendations, so if you're going to be needing something for hefty projects then this may not be the best one for you.
The locking mechanism is pretty solid and Purdy Power claims that it will last two times longer than the locking mechanism on the leading professional pin lock extension pole.
The universal threaded tip can be quickly and easily attached with the Purdy Quick Connect system or any threaded frame out there on the market for increased versatile usage.
The shock-absorbent rubber base grip is sturdy and durable and will prevent fiberglass blowout. However, customers have noted that when the pole is fully extended to 12 foot it does tend to flex which is not ideal when trying to reach extremely high areas to paint.
PROS
Shock absorbent rubber base grip –

Prevents fiberglass blowout

Universal tip –

Most heads can be threaded on

Durable locking mechanism –

Stronger than other competitors
CONS

Tends to flex when fully extended –

Not ideal when reaching high up areas
Unger Professional Connect & Clean 6 – 16 Foot Telescoping Extension Multi-Purpose Pole
The Unger Professional telescopic extension pole is our high-end option and is a 3 stage paint roller extension pole that can reach heights of up to 16 feet.
Most of the construction of the Unger Professional is ribber for better grip, including the locking collar which is used to secure the adjusted height of the pole.
There is also an additional locking mechanism under the removable cone which gives extra security when you're reaching high up places.
The aluminum construction is strong enough to withstand the constant pressure of painting but is lightweight enough that it won't be too much for your wrists to handle.
The Unger Professional pole claims to be universal threaded however there are many circumstances where customers have noted that some of their attachments have not fitted to the pole.
Some other customers have said they have experienced no issues with attaching their paint rollers to this but the general consensus is that the extension pole can not be used as a pool net.
PROS
6 to 16 feet length –

Suitable for inside and outside the home

Aluminum construction –

Strong but lightweight

Additional locking mechanism –

Gives extra security
CONS

Threaded tip is not universal –

Some attachments won't fit
Buyer's Guide
What should you look for in a paint roller extension pole?
Length
If it wasn't obvious already, you'll need to decide what length of extension pole you'll need before buying.
Make sure to buy one that will be able to reach the areas that you need but also don't buy one that is too long as it'll add unnecessary weight to the pole and it will also be more difficult to store.
Most brands will offer various length variations of their extension poles so they'll suit several customer needs.
Weight
If you're going to be enduring long periods of painting, then you'll want to opt for a lightweight extension pole as it'll be more comfortable on your wrists.
However, more light-duty constructions are not as durable as heavier ones. If you want a paint roller extension pole that will last you then go for a heavier model, although you'll be unable to paint for hours with a more heavy-weight pole.
Comfortable Hand Grips
Painting for hours upon hours can prove extremely tiring and harsh on your hands, so make sure the extension pole you buy has a comfortable and padded handle so you don't get stiff hands.
Some extension poles come with damp-resistant grips on the handles and are very useful when you're using paints or other water-based materials for long-lasting use.
Locking Mechanisms
Some extension poles will come with specific lengths that you can lock at and some will come with personalized lengths that you can adjust and lock into place.
Take an estimation of what lengths you'll need to see out your projects with the extension pole before buying, as you'll be surprised at how restrictive a specific length locking system can be.
Compatibility
Find a paint roller extension pole that has a universal threaded, which will be compatible with most attachments. If you'll only be using your extension pole for painting, then just make sure it is compatible with paint roller heads.
Most brands make this claim to market their extension poles, however, there is only a handful who actually can affirm this claim.
Frequently Asked Questions
What are the best paint roller extension poles?
The best paint roller extension poles are:
DocaPole 6-24 Foot Multi-Purpose Telescopic Extension Pole

Bates Extension Pole, 3 Foot TelescopingPole

Mr. LongArm 6-12 Foot Pro Extension Pole

Purdy Power Lock 6-12 Foot Professional Grade Extension Pole

Unger Professional Connect & Clean 6 – 16 Foot Telescoping Extension Multi-Purpose Pole
How do you use roller extension poles?
Attach your paint roller frame of choice to the extension pole.

Pour your paint into a paint tray and place a comfortable distance away from you.

Place the roller into the tray of paint and roll a couple of times until the roller is coated nicely.

Roll the paint out on the surface in big strokes
How do you get a good finish with a paint roller?
Whenever you're painting with a paint roller, you should always try to be light-handed and let the roller do the work. Keep the paint roller nicely coated with paint to ensure even coating onto your surfaces.
Once you start painting, don't finish until the surface is complete otherwise when you go into paint another time, you'll be able to see the stroke marks from the previously dried paint.
How do you make a paintbrush extender?
You can DIY your own paintbrush extender by removing the brush end of a broom (if it's unscrewable) and lining up a paintbrush so the bristles hang off the end.
You can attach the paintbrush with strong duct tape.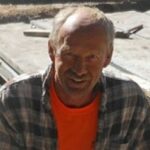 Jim Bettesworth well known for his can-do attitude and often takes jobs other companies were unwilling or unable to do. Experienced and educated in concrete construction and painting jobs. Read More.