ThatPainter is reader-supported. When you buy through links on our site, we may earn an affiliate commission. Learn More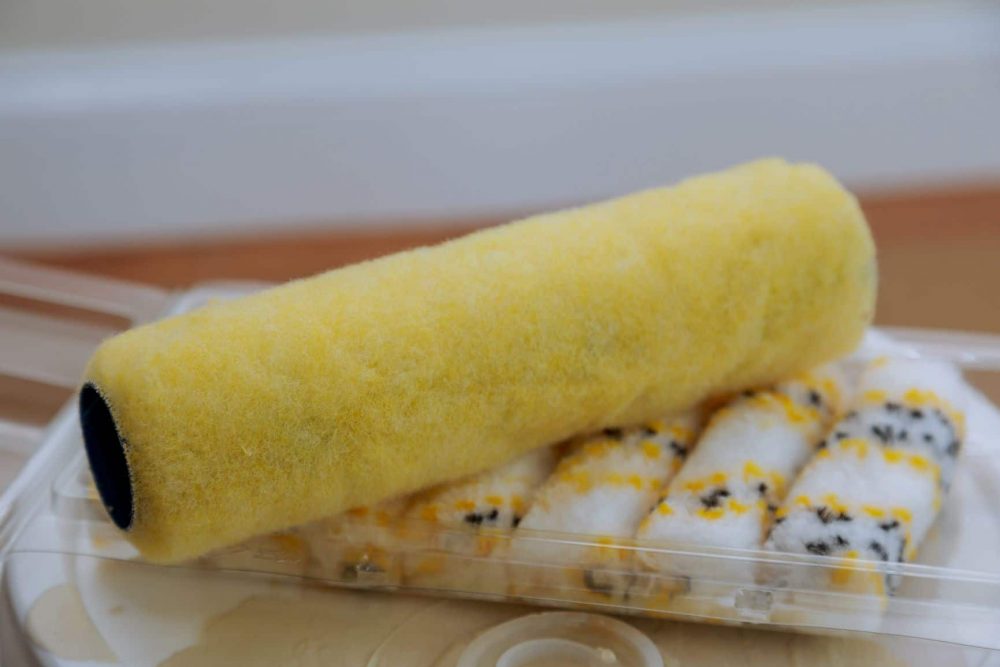 Famous interior designer Suzanne Tucker once said, 'As we evolve, our homes should, too.' Therefore, it stands to reason that, at some point in your life, you'll want to redecorate your home.
One of the most effective ways of revamping a room is to repaint the entire space: ceiling included.
However, ceilings can be notoriously difficult to paint, especially if you're not a professional. Attempting to paint a ceiling without the proper equipment can lead to disastrous results. We're talking paint in your hair, paint on the floor… Paint basically everywhere, on top of a streaky, unprofessional finish.
Don't give up just yet, though! With the right paint roller, achieving that coveted full-coverage of color is easy!
Top 5 Paint Rollers for Ceilings
Today, we'll be walking you through our top 5 best paint rollers for ceilings so that you can start painting like a pro!
True Blue Professional 9″ Paint Roller Covers
First up on our list, we have the True Blue Professional 9-inch Paint Roller Covers. 
These paint roller covers are perfect for ceilings for several reasons. Firstly, they're made from premium microfiber with a ⅜ -inch nap, designed to absorb and redistribute a maximum amount of paint.
This enables complete and consistent coverage at a faster pace. The ⅜ nap is perfect for most smooth or lightly textured ceiling surfaces 
The True Blue 9-inch paint roller covers are compatible with all paint types, so they're suitable for all paint projects on the surfaces described above. 
Additionally, because these rollers are lint-free, there's no risk of excess shedding. This means that your finish will be smooth and free from stray pieces of fiber. 
Since the True Blue rollers are available as a pack of 6, you'll be able to get a lot of use out of a single pack, all for a reasonable price. This compensates somewhat for the fact that these rollers aren't necessarily suitable for reuse. 
PROS
⅜ – inch nap –

Ideal for smooth and light textured ceilings 

Microfiber material

– Highly absorbent with better distribution

Works with all paint types

– Universally compatible 

Lint-free –

No shedding for smooth finish

Available as a pack of 6

– Covers multiple projects 
CONS
Not reusable –

Single project per roller 
Purdy 144688092 Contractor 1st Paint Roller
Redecorating can be an expensive process, but it doesn't have to be! If your goal is to save money without compromising on the quality of your paint application, we'd recommend the Purdy Contractor 1st Paint Roller.
The Purdy Contractor 1st Paint Roller is made from high-quality polyester fibers. These high-quality fibers yield high levels of oil and latex paint absorbency and distribution for fast-paced, even coverage. 
Thanks to the ⅜-inch nap of the roller cover, the roller is suitable for the majority of ceiling surfaces, including smooth and semi-smooth textures. 
Speaking of textures, this roller is multipurpose in the sense that it's capable of executing multiple finish textures. Of course, you can use it to build up a simple, flat finish, but you can also experiment with satin and eggshell textures. 
The only real drawback to the Purdy Contractor 1st Paint Roller is that it loses its round shape relatively easily, which may lead to spots being missed. Therefore, it's possible that you may need to touch up certain areas on occasion.
PROS
High-quality polyester fibers –

High absorbency and even distribution

⅜-inch nap –

For smooth and semi-smooth surfaces 

Suitable for all latex, water, and oil paints –

Widely compatible 

Executes flat, satin, and eggshell finishes

– Multipurpose 
CONS
May lose round shape –

Touch-up may be required 
Purdy 144630184 Colossus Roller Cover
As we saw with the previous product, it's entirely possible to find high-quality paint rollers for budget-friendly prices. However, we also saw that working with a low-priced roller can require a little more effort in terms of touch-ups. 
If you want to achieve perfect, even coverage straight off the bat, our recommendation would be another Purdy product: the Colossus Roller Cover. 
As you might be able to guess by the roller's name, the Purdy Colossus is a larger-scale roller cover designed to cover as much surface area as possible in as little time as possible.
The 18-inch width of the Purdy Colossus allows for broader strokes, so you'll have your ceiling painted in no time at all. 
Plus, thanks to the woven polyamide material, this roller is extremely thermal-resistant as well as chemical-resistant, which makes it suitable for use with all latex and oil-based paints. 
This is a ¾-nap roller, which is usually recommended for smooth and semi-smooth ceilings. However, this roller also works on rough and semi-rough ceilings, making it a great multi-purpose ceiling roller. 
Unfortunately, because of the increased width of this roller, it's not compatible with standard-sized roller frames, so buyers will need to purchase a large roller frame separately if they don't already own one.
PROS
18-inch width –

Fast-paced coverage

 
¾-inch nap –

Works on smooth and semi-smooth surfaces 

Suitable for semi-rough and rough surfaces –

Multipurpose 

Woven polyamide –

Suitable for latex and oil-based paints 
CONS
Does not fit standard roller frames –

Extra-wide frame required 
Wooster Brush R233-9 Texture Maker Roller Cover
A textured ceiling can lend a bold, unique look to any room. If you want to add a touch of personality to your room through texture as well as color, why not try out the Wooster Texture Maker Roller Cover?
This roller cover is made out of looped plastic with a polypropylene core. The plastic loops deliver the textured application and are suitable for use with all paint types, including aggregate epoxy. 
The polypropylene core, meanwhile, lends incredible durability to the roller, contributing water and chemical resistance. It's also resistant to impact, so it won't crack or lose its shape easily. 
Wooster's Texture Maker Roller Cover can be used in conjunction with other painting tools, such as texture brushes or trowels, to create different textures and effects.
It should be noted that this roller does collect a lot of paint in the loops, so it's easy to inadvertently lay the paint on too thickly initially.
We'd recommend dipping the roller into paint very conservatively to start, at least until you've grown accustomed to using it.
PROS
Plastic looped material –

Delivers texture 

Polypropylene core –

Durable, water-resistant, and chemical-resistant

Works with all paint types

– Widely compatible 

Can be used with other painting tools

– Create various effects with trowels and texture brushes 
CONS
Distributes paint thickly –

May be too thick for some users' preferences
Pro Grade Paint Roller Covers
Wouldn't it be great if you could use the same type of paint roller for multiple different surfaces? Well, with the Pro Grade Paint Roller Covers, you can!
Made with ½-inch naps, these paint covers are perfect for use on all ceiling textures, so whether your ceiling is rough, semi-rough, or completely smooth, these rollers will do the trick. 
In addition to being made with multi-surface-friendly naps, the Pro Grade Paint Rollers provide smooth and even coverage, so you won't have to touch anything up or spend time evening out the texture. 
Moreover, because these roller covers are non-shedding, they won't leave any lint, fluff, or fibers behind in your paintwork, so you don't have to worry about anything interfering with your hard work.
With that being said, there have been some reports of these brushes shedding despite their non-shedding material, which may be an indication of issues in quality control.
These rollers come in a pack of 5, so a single purchase can get you enough rollers for multiple ceiling painting projects or plenty of spares for your next painting endeavor.
PROS
½-inch nap –

Suitable for most ceiling textures 

Microfiber material

– Smooth and even coverage 

Non-shedding

– No interference with coverage 

Available as a pack of 5

– Single pack for multiple projects 
CONS
Some quality-control concerns –

Some rollers shed despite microfiber construction
Buyer's Guide: Choosing the Best Paint Roller for Ceilings
Still not quite sure which ceiling roller is the perfect choice for you? Stick around! We've put together our comprehensive ceiling roller buyer's guide to help you optimize your DIY decorating work as much as possible. 
Roller Material 
There are a lot of crucial factors to consider when choosing a paint roller for ceilings, but probably the most important thing to think about is the roller material. 
Paint rollers can be made out of 3 main materials: natural fiber, synthetic fiber, and foam. There's also the option to choose a plastic roller if you want to create a textured finish.
Let's get the foam rollers out of the way first since there aren't any featured on our list. This is because foam rollers are quite specialist paint rollers that are suitable for specific or difficult surfaces or with specific paint types. 
If you're working with high-gloss paints on porous surfaces (such as wood or brick), a foam roller might be your best option because of how absorbent they are. The porous nature of foam also makes it great at distributing paint evenly and thickly. 
However, foam rollers are not as durable as most fiber rollers, so they're basically a good disposable option for specialist paint types and porous surfaces. 
Fiber rollers, both natural and synthetic, tend to be more durable than foam rollers, although they may not always be reusable depending on their level of absorbency. 
Synthetic fiber rollers are much more widely available on the market than natural fiber rollers. They're also significantly more affordable.
While natural fiber rollers may be the ideal choice (in some cases) for painters looking to steer clear of artificial chemicals and fibers, but synthetic fibers do mostly the same job and will save you a considerable amount of money. 
Polyurethane, polyester, nylon, microfiber, and some polyamide materials are examples of synthetic roller fibers.
These rollers are usually compatible with most paint types and surfaces, so they're highly versatile and suitable for multipurpose use. 
Plastic rollers are less common than any of the aforementioned roller types, but they'll be your best bet if you want to execute textured pattern work on your ceiling for an artistic finish.
These paint rollers usually feature plastic loops fixed around the cylinder. These loops collect paint and distribute it in a textured pattern.
They can be used alongside other painting equipment, like texture brushes and trowels, for greater control over the texture. 
If you want to create a textured effect on your ceiling without going to too much trouble, a plastic looped roller may be what you need.
However, be aware that these utensils can collect a lot of paint due to the loop structure, so be careful with how much paint you load onto the roller and put plastic sheeting down before using one for your ceiling.

Desired Finish 
You will also need to consider what kind of finish you're looking to get out of your new roller. This factor is closely related to roller material in some cases, so it's helpful to consider these two features alongside one another. 
A smooth, flat finish is probably the most common choice for ceilings. It's the easiest to execute on most surfaces (more on surface compatibility below).
Moreover, it's possible to execute a smooth finish with the majority of roller types, including foam, natural fiber, and synthetic fiber rollers.
However, if you're looking for a textured finish, you will either need to purchase a plastic loop roller or be prepared to purchase some texture brushes or trowels to texture the paint as you go. 
Surface Compatibility 
So, you've figured out which roller material is compatible with your desired paint finish. Great! But hold your horses for a moment because there are still a couple of other factors to think about. 
The compatibility of your chosen roller with the ceiling you are painting will have a significant impact on the quality and ease of your paintwork. 
As we mentioned earlier, both natural and synthetic fiber rollers are highly versatile, so you should be able to use rollers made of either material on most surfaces.
We've also discussed how foam rollers work better on porous ceilings because of their high absorbency. 
However, what we haven't talked about yet is roller shape and shedding. 
Some of the more budget-friendly paint roller options have a problem with shape retention – or lack thereof. If the internal cylinder of the roller isn't firm enough, it's easy for the structure of the roller to get damaged or crushed.
Cracks in roller cylinders can also be the result of insufficient chemical or water-resistance. 
Structural issues with paint rollers don't just affect the durability of the product. A roller that isn't perfectly cylindrical can make it harder to achieve full coverage due to the irregular shape.
This then creates the need for touch-ups, and even then, your finish can end up looking and feeling uneven. 
While this might not be quite such a noticeable issue when working with smooth ceiling surfaces, it can certainly become a problem with uneven surfaces.
Therefore, for any ceiling type, but especially if you're dealing with an uneven surface, we would recommend prioritizing structural integrity. Polypropylene is ideal in this respect because of its impressive flexural strength. 
Shedding is also a recurring problem with paint rollers, and it's definitely something you want to avoid if you're hoping to create a professional ceiling finish.
Little bits of lint stuck in your paint job probably aren't what you were thinking of when you decided to opt for a 'textured' finish. 
Aside from foam rollers, which don't shed for obvious reasons, synthetic microfiber rollers tend to be the best for minimizing shedding, so these would be our recommendation for a professional, lint-free finish.
Paint Compatibility 
Finally, it's a good idea to check which paints a particular roller is compatible with at the point of purchase. 
Most of the rollers featured in our top 5 are suitable for use with all oil and latex-based paints.
If you're planning on using water-based paint or a specialist paint type (high-gloss, for example), you may wish to consider a foam roller, but this isn't a necessity in most cases. 
If you're looking at using epoxy paint on your ceiling, you will need to find a roller that specifically states compatibility with this paint type.
Epoxy is notoriously tricky to work with, and using the wrong roller will make your work twice as hard – and even impossible.
The Wooster Brush R233-9 Texture Maker Roller Cover is suitable for epoxy work, though, as are many other rollers on the market. It's just a matter of locating them!
Frame Compatibility 
It's possible to buy paint rollers with roller frames included, but the reason we've exclusively featured separate roller products is that it's easier to find the perfect roller texture and material independently. 
However, this does mean that you will need to give some thought to whether your new roller/roller cover will fit your pre-existing roller frame.
If you haven't already got a roller frame, then this is something you will need to consider in terms of extra purchases. 
Luckily, most standard paint rollers measure 9 inches in width, which is compatible with standard-size roller frames. If you already have one of these, you're all set!
And even if you don't, they're easy to find through online retailers. The Wooster Brush R017-9 Roller Frame is just one example of the affordable and durable roller frames you can find to go with your roller covers. 
However, some rollers, like the Purdy 144630184 Colossus Roller Cover, are designed to be wider in order to cover more surface area in less time.
The Purdy Colossus, for reference, is 18 inches wide, so it's twice the width of standard rollers. These rollers are great for the busy DIY-ers out there, but the downside is that they don't fit on standard roller frames.
Don't worry, though – if you want an extra-wide roller to maximize your efficiency, you can find plenty of extra-large roller frames online as well. 
Take the Premier 12″ – 18″ Adjustable Pro Roller Frame, for example. It's extendable, so you can adjust it to fit larger rollers between 12 and 18 inches in width. 
Frequently Asked Questions 
What supplies do I need for painting ceilings?
If you want to paint a ceiling quickly and efficiently, with minimal mess, you'll need more than just the paint roller itself to work with.
Other supplies you'll need for painting ceilings include tape, plastic sheeting, an extension pole, a ladder, and a roller tray. You may also want to wear a pair of goggles and protective clothing. 
The first thing you'll need to do is lay down your plastic sheeting on the floor underneath where you are painting. This will protect your flooring from any drops, which can happen even with the best quality paint roller. 
Speaking of protection, since there is always a risk of paint drops falling as you work, it's a good idea to wear either some protective clothing or some old clothes that you don't mind getting a little messy.
Goggles will also help to protect your eyes. Even if you don't wear any other protective gear, we'd still recommend goggles since paint in your eyes can have much more serious consequences than getting paint on your shirt. 
Before you start painting, you should also tape off any trim or skirting around the edges of your ceiling, as well as the edges of the walls where they meet the ceiling.
You can use either specialized painter's tape or masking tape for this step. This part can be a bit time-consuming, but don't skip this process – it's crucial if you want to avoid messing up the rest of your room in the painting process.
Finally, you will need a roller tray. As you might already have guessed from the typical shape of a paint roller, you'll have a difficult time dipping a standard-sized roller into a paint bucket.
Therefore, you should pour your paint into an appropriately-sized roller tray for an ergonomic painting experience.
Final Thoughts 
We've covered a lot of information in today's article, so let's take a moment to recap what we've discussed. 
Firstly, there are plenty of roller brushes available on the market right now, and you have a wide variety of roller types to choose from.
So, no matter the nature of your ceiling painting project, you will be able to find a paint roller that works for you. 
Your best bet for most ceiling projects will be a non-shedding, synthetic microfiber brush in either a standard size for easier frame compatibility or a large size for quicker coverage. For an easy, textured finish, however, a plastic loop roller may work best. 
Remember to get your protective supplies and roller tray ready beforehand, and most importantly, remember to have fun!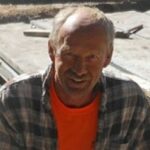 Jim Bettesworth well known for his can-do attitude and often takes jobs other companies were unwilling or unable to do. Experienced and educated in concrete construction and painting jobs. Read More.