Are you look for the best semi-transparent deck stains?
A high-quality semi-transparent deck stain is a lifesaver for many homeowners. This product protects exterior wood surfaces while exposing the beauty of natural wood grain and texture. The slight pigmentation in these formulas does a great job of covering superficial imperfections, fading, and graying. Better still, it is surprisingly easy to apply.
We've rounded up five of the top-performing semi-transparent deck stains for exterior wood surfaces. Here they are:
DEFY Extreme Semi-Transparent Exterior Wood Stain – Best Overall
The acrylic base boasts trillions of UV-resistant zinc nano-particles
. As such, it won't fade or gray even after countless hours of direct sun exposure.
It makes Extreme the perfect candidate for wood siding, decks, fences, and many other exterior wood surfaces.
The product is available in six semi-transparent colors, including Natural Pine, Cedar Tone, Light Walnut, Redwood, Driftwood Gray, and Butternut. You can also purchase this product in a clear finish. The subtle pigments work wonders for faded, gray woods. However, they can also be applied directly over new lumber.

Most consumers found it easy to apply this acrylic deck coating. However, some DIYers found it challenging to work around the formula's strict application and prep requirements. For example, you must paint on a second coat within 20 minutes of the first coat. Moreover, you can only use this product in certain surface and air temperatures. Fortunately, you can choose between a range of application methods, including brushing, rolling, and spraying.
Cleanup is also easy. The process requires no more than a bit of soapy water. While the formula is quite watery, it's perfectly suitable for vertical surfaces.
Outlasting the Competition
DEFY has worked hard to ensure that their Extreme Semi-Transparent Wood Stain is capable of outlasting almost all the competition. First off, the formula is resistant to mold, mildew, and UV light. Plus, it manages to retain its color for years. There's no denying DEFY claims that Extreme can outlast the competition by a season or two.
When the product does start to dull, you can rejuvenate it with a single maintenance coat. You may also choose to stay on top of the stains aging by applying an annual touch-up coat. The deck stain soaks in quickly, penetrating the deepest layers of the wood. Keep in mind that Defy requires that you clean and brighten their exterior wood surfaces before applying this product.
This product is available in 1- and 5-gallon buckets. One gallon covers approximately 100 to 150 square feet of wood. However, coverage rates vary greatly depending on the texture and porosity of the wood surface.
PROS
This finish is suitable for decks, fences, siding, and other outdoor surfaces.
Naturally matte finish with six semi-transparent stain options and one clear finish option
Tiny zinc particles protect the stain from UV ray damage, including color loss and graying
Easy to apply with a brush or pump sprayer
Water-based acrylic 250 VOC compliant
A single coat of stain will brighten things up, no sanding required
100% acrylic product lasts even longer than the competition
Easy to maintain, just use soap and water
CONS
You must apple second coat within 20 minutes of first coat
Very watery
Ready Seal 512 Semi-Transparent Wood Stain and Sealer – Best Budget Pick
It's made from a unique blend of oils, resins, and finely ground pigments
. The product penetrates all sorts of wood, offering long-term protection from the elements.
Premium Aesthetics

Ready Seal enhances the natural texture and grain of just about every natural wood type. The formula is available in eight pigmented colors, including Western Red Cedar, Douglas Fir, Cypress, Spruce, and Redwood. You can also mix the colors to create a custom color variation. With that said, ReadySeal should never be combined with other brands of stain or sealer.
Since this semi-transparent stain does not require a wet-line application, it's an excellent choice for any first-time DIYer. Users must clean and sand a surface before applying this product. The product looks excellent on premium woods, including cedar, fir, and cypress.
Ease of Application
As we mentioned before, ReadySeal is one of the best wood stains for DIYers. First off, this product blends itself. Plus, it is not restricted by temperature or humidity ratings. You don't even have to dilute or thin the product when applying it via a sprayer. Users must follow the application directions strictly, as over-application or misuse can result in less than pleasing aesthetic results.
PROS
Naturally semi-transparent exterior stain and sealer
Available in a wide range of colors
Can be applied directly over sealed or painted surfaces
Can be applied using a sprayer, roller, or brush
No wet-line application, diluting, or blending required
No sanding or stripping required
Good price point
CONS
Only reaches its true color after 14 days
#1 Deck Premium Semi-Transparent Wood Stain – Most Environmentally Friendly Pick
The water-based formula is naturally resistant to mold and mildew.
It is available in five semi-transparent shades, including cedar, dark walnut, driftwood gray, light walnut, and natural. The product dries flat for a more natural finish. This particular formula works best on 3- to 6-month softwoods. However, you can still apply it over slightly weathered or faded lumber. It should never be applied over previously stained wood. However, surfaces may be damp at the time of application.
One-Day of Work
Since #1 Deck Premium Semi-Transparent Wood Stain stains and seals all at once, you can easily refinish your deck in a single day. You can even apply this deck stain directly to damp wood surfaces. So, feel free to do all your prep and finish work in the same 24-hour window.
One gallon of #1 Deck Premium Semi-Transparent Wood Stain covers approximately 100 to 150 square feet of wood. It requires two wet-on-damp applications. The product is step three of a three-step process. You must take the time to clean, strip, and brighten your deck before applying the stain. Drying times top out around 24 hours. However, they may take more or less time because of the surface, temperature, air temperatures, and humidity.
The easy-pour container makes applications all the easier. The color, fading, or type of wood should not harm the product's overall appearance. You can use this product on everything from decks to children's playsets.
An Environmentally Friendly Option
#1 Deck Premium Semi-Transparent Wood Stain boasts less than 50 grams of VOCs per liter. As such, this water-based acrylic formula is easily the most environmentally friendly option on our list. It has virtually no odor. Moreover, it's super easy to maintain. Regular maintenance requires nothing more than a bit of mild detergent and water.
Professional-Level Finish
This product shows off the natural texture and grain of weathered softwood surfaces. Plus, it renews, protects, and revitalized element-torn exterior surfaces. All that's not bad considering it is inexpensive and readily available.
PROS
Available in five semi-transparent stains
Flat, natural-looking finish that shows off the texture and grain of weathered wood
 50 g/L VOC Content makes this our most environmentally friendly pick
Dual purpose stain and sealer
Protects against fading and graying
Allows the wood grain to shine through nicely while adding a faint flat pigment of your choice
Easy soap and water cleanup
Works on damp wood, so you don't have to wait hours between applications
Water-based with very low odor
Comes in an easy to pour container
CONS
Grays rather quickly
Not available in stores (online purchases only)
Thompson's WaterSeal Semi-Transparent Waterproofing Wood Stain – Best for Weathered Exterior Wood Surfaces
The formula protects and improves just about any exterior wood surface.
It boasts a 4-year warranty when applied to decks and a 6-year warranty when used on fences and siding. The advanced polymers resist fading, mildew, mold, UV rays, and water.
The formula holds up well even after years of weathering.
Premium Finish
The semi-transparent deck stain boasts a modest amount of grain-enhancing pigment. The company's current color offerings include Natural Cedar, Autumn Brown, Honey Gold, and Timber Brown. You can apply the wood stain with several types of applicators, including paint pads, brushes, sprayers, and rollers.
Application Requirements
Users must follow the product's application requirements strictly. After all, Thompson's WaterSeal can only be applied when specific surface and air temperature requirements have been met. The water-base will freeze at temperatures below 32 degrees Fahrenheit.
Fortunately, this product dries fast. It is usually safe to touch after just 2 hours of drying.
Improper applications may result in unsightly smears or dark spots. While the product offers excellent coverage, many customers have pointed out that colors appear quite different than advertised. In many cases, the stains were redder than expected.
PROS
Backed by 4- and 6-year warranties
Provides protection against UV rays, water, mold, and mildew
Contains less than 100 g/L of VOCs
Enhances the texture and look of natural wood grain
It can be used on fences, outdoor furniture, and other exterior wood surfaces
CONS
Only available in four colors
Dark spots may develop if it is not applied correctly
Color descriptions can be misleading
KILZ Semi-Transparent Exterior Waterproofing Wood Stain – Consumer Favorite
3-year warranty when used on decks and a 5-year warranty when used on fences and siding
. While other manufacturers may boast about their products, Kilz seems to be one of few that holds itself to its promises.
This 100% acrylic formula protects wood from rain, snow, and sun. You may apply it directly to new or slightly aged exterior wood surfaces, including decks, fences, and siding.
Application Ease
The first coat offers up to 250 square feet of coverage. Meanwhile, the second coat covers up to 500 square feet of wood. The manufacturer recommends that consumers wait 24 hours before applying a second coat. Wood surfaces must be sanded lightly before the first and second applications. You can pad, brush, spray the stain.
PROS
Guaranteed for 3 years on decks and 5 years on fences and siding
100% acrylic formula with UV protection
Mildew-resistant finish
Easy water clean-up
Can be applied to moderately weathered (0-10 years of exposure) and unsealed wood surfaces
250 square feet for first coat, 500 square feet for second coat
Can be applied with a pad applicator, nylon/polyester brush, or high quality pump sprayer
CONS
Requires two coats
Cloudier than expected
How to Choose the Best Semi-Transparent Deck Stains

Are you still wondering how to choose the best semi-transparent deck stain? We've got you covered.
What is Semi-Transparent Stain?
Semi-transparent stain boosts the appearance and longevity of exterior wood surfaces, such as decks, fences, and siding. It adds the slightest bit of pigment while allowing the natural wood grain to show through. These qualities make semi-transparent wood stains an excellent choice for new or slightly aged woods.
Ease of Application
Many semi-transparent wood stains boast scrupulous application requirements.
Acrylic and water-based wood stains can only be applied when the weather permits.
For the most part, water-based wood stains can only be used when the temperature is between 45 and 95 degrees Fahrenheit. The humidity and precipitation also have the potential to ruin the curing process.

Most stains can be applied with the help of various types of equipment. High-pressure sprayers, low-pressure sprayers, rollers, brushes, and paint pads are some of the more common applicators. Make sure you are comfortable spending money on and using the required equipment. The uniformity of your application may have a huge impact on your final results.
Appearance
Semi-transparent wood stains embellish and protect the natural texture and grain of wood surfaces. They are available in a wide range of pigments and finishes.
Color choice is typically a matter of preference.
You may choose a staining pigment that pairs well with the color of your house, trim, or nearby vegetation. Semi-transparent stains let some but not all of a wood's texture and grain show through. The opacity of semi-transparent stain is somewhere in the middle of clear and opaque. Keep in mind that some semi-transparent stains offer more coverage than others.
Longevity
Exterior wood stains are expected to withstand the elements. They should offer unmatched protection against mold, mildew, and UV rays. You want to avoid gray, cracked, and faded wood. Check consumer reviews to see how well stains fare in the years following application. Products should not fade or peel under regular use.
If you expect to use your stain on a high-traffic area or want to be sure it will withstand harsh elements, opt for a product that's easy to touch-up. Many decks can benefit from annual no-prep maintenance coats. Many products also boast multi-year warranties.
Environmentally Friendly
Keep in mind that many states (15 to be exact) have set strict limits on allowable VOC (volatile organic compound) content in consumer-grade home improvement products. If you live in one of these states or simply want to choose the most environmentally friendly product, you need to be sure you have chosen a VOC-compliant exterior wood coating.
The most stringent regulations limit consumers to products that contain no more than 250 grams of VOCs per liter. You may also want to steer clear of oil-based stains, as these generally contain more VOCs than acrylic formulas.
Why Finish Your Own Deck
Many homeowners are on the fence about personally applying their deck stains. Many people hire a professional to avoid the trouble of prep and finish work. Professionals charges include the cost of supplies, stains, and labor.
Most semi-transparent deck stains are easy to apply.
You must take the time to prep and coat these formulas according to the manufacturer's instructions. A quality product should have you covered. Since deck staining is a reoccurring maintenance requirement, you'll save quite a bit of money throughout a lifetime.
Wrapping Up
Semi-transparent stains do a fabulous job of protecting and embellishing decks and other exterior wood surfaces. You must choose a product that's attractive, economical, and user-friendly. We hope you found our rundown of the top semi-transparent wood stains to be helpful.
If we had to recommend just one option, it would have to be DEFY Extreme Semi-Transparent Exterior Wood Stain. This product has a gorgeous finish. Plus, this formula is engineered to withstand the elements. While the wet-line application can be a little daunting to first-time DIYers, we trust that you'll be able to figure it out.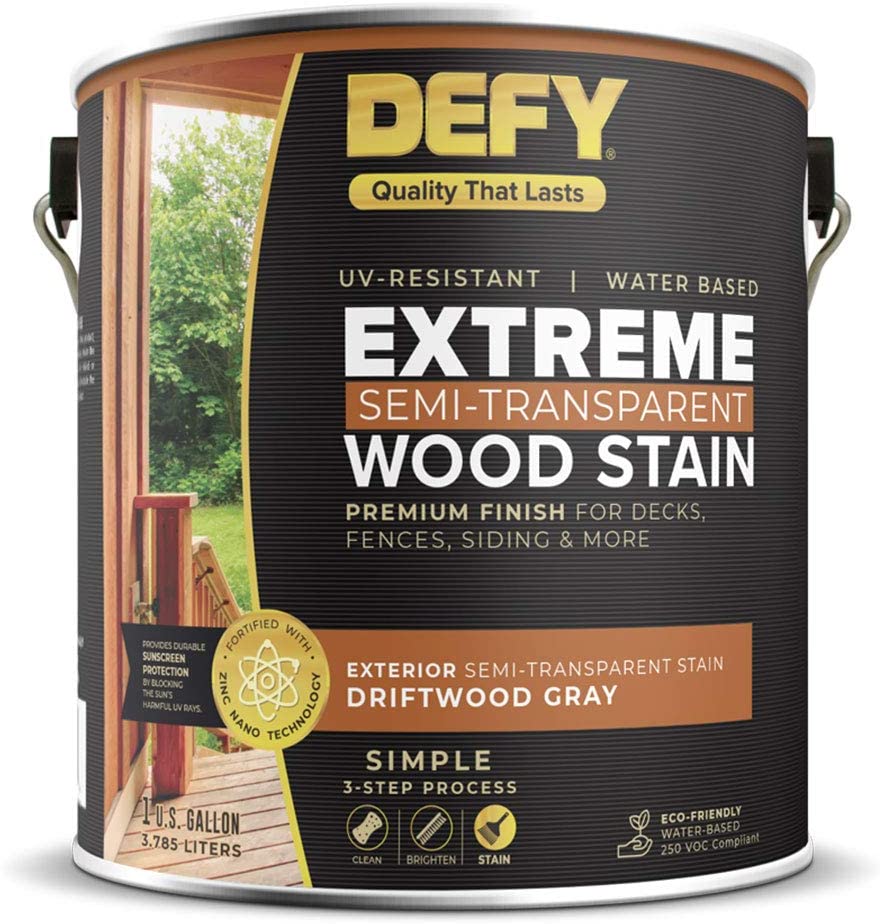 Defy Extreme Semi-Transparent Wood Stain
Naturally matte finish with six semi-transparent stain options and one clear finish option
Water-based acrylic 250 VOC compliant
100% acrylic product lasts even longer than the competition
Check Price

#1 Deck Premium Semi-Transparent Wood Stain is yet another excellent semi-transparent exterior deck stain. This product is super affordable and perfectly suitable for DIYers. It holds up well after years of exposure. Plus, this product enables you to redo an entire deck in less than 24 hours.
Do you have a preferred semi-transparent wood stain? Drop your questions and comments in the section below.