ThatPainter is reader-supported. When you buy through links on our site, we may earn an affiliate commission. Learn More
Ladders are an item that are only matched in usefulness by just how cumbersome they can be. Heavy and awkward, using a large ladder tends to indicate you have a tough job ahead of you. And we don't just mean moving the ladder where it needs to be and putting it away afterwards.
Despite all this, ladders are an indispensable item. Especially if you're looking to paint the home. Ceilings are unreachable without a good ladder, and you need a solid base to ensure the neatest lines around corners. Unfortunately, we often have to compromise our choice because ladders are so hard to store.
Telescopic ladders remove this problem. Versatile and long reaching, they collapse down into an easily carried size to be slipped into whatever corner is free. With this convenience, they also remain sturdy and safe.
What is a telescopic ladder?
Before buying a telescopic ladder, you probably want to have a better idea of what one is. Telescopic ladders are a more versatile form of ladder, and one that is hugely convenient for many types of uses – including painting.
A telescopic ladder is able to extend to different heights by the foot, and lock in. This way, the user has a ladder that's safe and stable at whatever the desired height is.
When you've finished using the ladder, they collapse back down. Made of lightweight materials, they're easy to transport and store. Where traditional ladders tend to require a garage for storage, a telescopic ladder can be kept in the house easily.
Transportable, adaptable, and versatile, telescopic ladders are ideal for both professional and home use.
Best Telescoping Ladders Used for Painting
1. Xtend and Climb 15.5ft 785P Aluminum Telescoping Ladder
The OSHA approved Xtend and Climb ladder puts safety at the forefront. Which is especially useful, as it extends to a massive 15.5 ft. This heavy-duty ladder is suitable for both home users and contractors.
Made using aerospace engineered 6061 alloy, the Xtend and Climb telescoping ladder is sturdy for safe footing. At every foot it locks into place with an angled thumb release for no-pinch closing.
It even has a red/green locking tab, so you can see clearly that everything has locked into place. The non-slip end caps keep the ladder in place as you paint. This is a ladder you can feel secure using.
When it comes to putting it away, the 15.5 ft collapse down to just 36 and a half inches. With a closure strap and integrated handle, that means it can be carried and stored with convenience. It will even fit into a car with no problems. The anodized finish is easily cleaned, and the aluminum alloy prevents rust.
The ladder operates smoothly and efficiently. Few of us enjoy the task of moving a ladder back and forth, but with this choice it becomes significantly easier. And you can do it knowing that when it comes to re-extend, you're as safe as can be.
Pros
Closure strap and integrated handle – Incredibly portable.
Specialized molded foot – The molding keeps the feet secure on many surfaces.
Red/Green locking tab – A visual indicator to be sure of security.
Cons
Angled release – The release can take some getting used to.
2. Telesteps 12.5ft 1600EP Telescoping Ladder
If you're really looking for ease-of-use, then you may want to turn your attention to the Telesteps brand, Their patented one-touch release creates a telescopic ladder that's intuitive to use, and perfect for anyone who hates wasting time on the set-up
The one-touch mechanism makes Telesteps the only brand on the market with a fully automated telescopic ladder. When using at home you won't get struggling with an unwieldy ladder, or a low budget telescoping ladder that refuses to open. This opens out easily, locks into place with safety indicators, and retracts down to 32 inches.
Telesteps also take safety incredibly seriously. 100% Silicone Anti-Slip Pivoting feet keep the ladder stable throughout use. It's OSHA compliant as well, and ANSI 14.2 tested. The wide angled steps feel secure beneath the feet. Made of aluminum alloy, the elliptical tubes are strong and durable.
If you're looking for a ladder that's intuitive to use then Telesteps has it covered. The 12.5 ft height may not cover the largest jobs, but it's ideal for the average home user.
Plus, it makes it lightweight enough to carry between uses. Then, when you want to get it out again, it's as simple as pressing a button.
Pros
One-touch release – For fast, easy, and intuitive storage.
100% silicone anti-slip pivoting feet – Keeps the ladder secure across different surfaces.
Safety indicators – So you can be sure every rung is secure.
Cons
Price – All those features cost extra.
3. TOOLITIN 12.5ft Aluminum Telescopic Ladder
The TOOLITIN telescopic ladder is packed with features for your convenience. Whether it's the anti-skid feet, the easy carry handle, or the shatterproof bumping. There isn't much missing from this ladder.
Started by a group of family men in their forties, TOOLITIN was designed for home use. They understand that for many of us the key component is safety, but we also need a ladder that can be adaptable, and easy to use.
But don't let the home focus trick you into thinking this isn't a high quality ladder. Made from an oxidized, aerospace engineered 6061 aluminum, this long-lasting material is designed to prolong the use of the ladder. And it's supported by all the bits of plastic, which are reinforced with nylon and feature a shatterproof bumping. It even utilizes air damper technology for a smooth and steady retraction.
The one-button retraction allows you to fold down the ladder in just a few seconds, from even the greatest heights. That's another plus to the TOOLITIN – the sizing.
From 8.5 ft, all the way to 15.5 ft, there's sure to be a size available for every home (and almost every job). Once retracted, it's only 3 ft, lightweight, and can be held with the easy carry handle.
Pros
Multiple heights – TOOLITIN comes in 4 heights, from 8.5 ft to 15.5 ft.
One-button retraction – It packs away quickly and easily.
Anti-skid feet – Secure across different surfaces.
Cons
Weight – Heavier than some ladders of a similar size.
4. WolfWise 12.5ft Aluminum Telescopic Ladder
Carefully selected aerospace engineered 6601 aluminum alloy have allowed WolfWise to create a durable ladder without an incredibly high price. This is an affordable option for those who need a ladder, but aren't interested in everyday use.
To increase stability, the aluminum tubes are traceless and over-locking. This prevents weakness in the tubing, which can lead to dangerous bending. It also means this ladder has a long-life, perfect for moving indoors and outdoors. The rubber feet keep it safe on both carpets and grass.
The smart-close system is another major selling point. The one-button retraction brings each rung of the ladder down smoothly and safely. It takes only 5-8 seconds to retract the ladder from full height. The movement is steady enough to prevent any painful finger pinching. Once retracted, the ladder is only ¼ of its original size.
Although it looks heavy duty, the WolfWise ladder is light and transportable. It might not have the reach for industrial use (12.5 is the largest it comes) but it's fantastic for around the home.
Pros
Multiple heights – A good design that comes in 8.5 ft, 10.5 ft, and 12.5 ft.
Overlocking tubes – Adds extra strength to the aluminum tubing.
One-button retraction – A smart close system for quick and easy use.
Cons
Locking system with no visual indicator – When the system locks into place, it only clicks, there's no visual confirmation. If you're looking for a first telescopic ladder, then this can be off-putting.
5. Ohuhu 12.5 ft Aluminum Telescoping Ladder
Ohuhu believes that convenience is key, which is why they've utilized a one-button retraction feature. Putting away this ladder should just take seconds, while the air resistance technology makes for slow tracking – so no more pinched fingers with this design. Fully retracted, and it can be kept in the heavy-duty carrying strap. That keeps it tucked away neatly between uses.
Before you're done for the day, Ohuhu impresses with the extra-wide steps and non-slip end covers. With a large ladder feeling secure is a priority. Ohuhu have made sure their ladder is compliant with EN131 and SGS European safety standards.
There are only two downsides. First, the non-integrated tubing. When fully extended, the ladder is liable to a slight bend. Secondly, when each rung is locked into place it only produces a clicking sound, rather than a visual confirmation.
For a new user, this can be confusing. If you buy an Ohuhu, take some time to get to know it, how it extends and how it retracts, before using it at its full height.
Pros
One-button retraction – Quick and convenient for packing away.
Air resistance technology – Aids tracking to keep it smooth with no pinching.
Extra-wide steps – For secure footing.
Cons
Non-integrated tubing – There's a tendency to bend at full extension.
No visual locking – Lock is only indicated by sound.
6. Good Life 15.5 ft Aluminum Telescoping Ladder
At 15.5 ft when fully extended, this ladder is heavy-duty, and perfect for use when a big job has come up. Extending and locking by the foot, it's versatile enough for everyday use, while having the extra height reassurance.
This is the ladder for you if you want the height but don't need the features. The non-slip ends give a solid base for use, and the aerospace engineered aluminum alloy gives it heft without weight. It also has a non-pinch system, so you can retract the ladder without damaging your hands.
However, it is fairly basic, and that's reflected in the price. It's a bargain for the size, but isn't as easy to use as some others on the market. Retraction is manual, and although anti-pinch some claim the rungs fall back quite quickly.
Once retracted, it's only 36.5 inches, and it comes with a heavy duty carrying handle, for portability. Particularly useful for a ladder of this size.
A good choice for the price and the height. However, if you're after a range of features, the Good Life remains fairly basic.
Pros
Carrying handle – For greater portability.
Non-slip feet – Secure even when fully extended.
15.5 ft – At full extension, there isn't much you can't reach.
Cons
One size – Only comes at 15.5 ft.
Quick rung fall – Despite the non-pinch system, some report the rungs fall back too quickly.
7. Luisladders 12.5ft Oshion Aluminum Telescoping Ladder
The materials used in the Luisladder are not only lightweight but durable, they're also EN131 approved, making them environmentally-friendly. Which is an added bonus when shopping for a ladder.
What those materials have created is a corrosion resistant ladder with multiple safety features and easy use. With a wide step and thickened support rod, you can feel comfortable climbing to even the top height of 12.5 feet. The integrated poles are strong, to prevent bending, and the non-slip feet caps keep the ladder anchored.
Fully extended, this ladder reaches 12.5 feet. It locks easily at every foot, with the slide lock mechanism. This is designed not only for security, but to avoid pinching. The integrated one-step closing is easy to use, even for the first time.
When you've finished painting, it packs away to only 3 feet in size. Secured by heavy-duty straps and with a grip handle, moving is easy. In fact, it can be transported with just one hand.
We've linked to the 12.5 ft, but the Luisladder does come in a range of sizes. Small sizes such as 6.5 ft and 8.5 ft are both available. These are ideal for a homeowner who only needs a ladder for small, indoor tasks.
Pros
Size range – Comes in smaller sizes for multiple homes.
One-step closing – Quick and easy to use.
Wide step – For comfortable climbing.
Cons
Not recommended for roofs – It isn't recommended for use on roofs, making it less versatile.
8. IdealChoiceProduct 10.5 ft Aluminum Telescopic Ladder
9. Bowoshen 16.5 ft A-Frame Telescoping Ladder
The A-Frame of this Bowoshen ladder is what sets it apart from the rest. An A-Frame ladder is one that bends in half at the middle, to create a wide, secure base. This gives it a greater versatility, compared to a standard ladder. At 16.5 ft, it can reach almost anywhere you might need to get.
Beside the adaptability, one of the greatest things about the Bowoshen is that it collapses down from 16.5 ft to just 2.8 ft for incredibly easy storage. The only downside is that it has quite a bit of weight, and that can't be collapsed away. It does, however, come with storage straps. To make things a bit easier.
With a safety support bar and industrial grade locks, the Bowoshen doesn't rely solely on the A-Frame for security. Each rung in the durable aluminum frame locks into place individually, so you can extend the ladder to whatever height you need. The anti-slip rubber-tipped feet give it a secure hold on the floor, so you can climb without worry.
If you want a ladder with height and versatility then turn your eyes to the Bowoshen. There aren't a huge number of telescopic ladders that can also be A-Frame, but the Bowoshen has it covered.
Pros
A-Frame – A steady and versatile base.
Anti-slip feet – Security on different surfaces.
Storage straps – For greater portability.
Cons
Weight – It may collapse small, but it still has weight.
10. Werner 26ft MT-26 Telescoping Ladder
If you want a ladder that can do absolutely everything, then the Werner is the only choice to make. This ladder can do essentially anything you may need a ladder for. It may be expensive, but you can be almost positive that it covers every possible use for a ladder.
At 26 ft when fully extended, Werner boasts a massive 37 different working heights. By turning into a 2-person stepladder, an extension ladder, or scaffold, there are so many uses for this ladder the average person may never find them all.
It can achieve these multi functions through the angle adjustment provided by soft touch push knobs. Spring-loaded J locks are there for easy height adjustments.
Werner have put a great deal of consideration into safety, which is vital with a ladder of this size. The flared base provides wide support, and is tipped with non-marring feet for extra slip resistance. The double riveted side steps and smooth, curved side rails make for safe and comfortable climbing.
For many of us the Werner may be a cool bit of equipment to own, but ultimately a waste of a ladder. However, if you use your ladder a lot, or enjoy experimenting with home renovation, then it's worth checking out what the Werner can offer you.
Pros
37 heights – This ladder can be used for almost any job you can think of.
Spring-loaded J locks – For secure locking at every height.
Angle adjustment – An incredibly versatile model.
Cons
Price – This will set you back quite a bit.
Weight – All that height makes this a heavy option.
Buyer's Guide
If you're used to the standard, non-telescopic, ladder, you may find you're still feeling unsure of what to look for. The reality is, making the decision is going to come down to what you need.
Different ladders are perfect for different jobs. Our guide is so you can see what features to look out for, and decide what matters to you.
Safety
This feature is not a choice, and must be seen as a necessity. The first question you should ask yourself before buying any ladder is: is it safe? Some of these ladders have a massive extension, and even at lower heights you still don't want to risk a fall.
Begin by looking for its safety accreditation. OSHA, EN131, European SGS, and ANSI are all worth looking out for. Other than that, be aware of the features of the ladder. It's locking mechanism in particular should be high priority.
Some locking mechanisms will come with a visual indicator to show whether they're properly locked. For many, this is a valuable extra layer of safety. Telescopic ladders should come with an anti-slip end cap to keep the ladder secure on different surfaces. There may be stabilization rungs for another layer of protection.
It may not be as serious as a fall, but beware finger pinching as well. One of the dangers present in telescopic ladders is as they retract, they can catch the fingers. This is shockingly painful if it happens. Many companies are now taking precautions to reduce or remove this risk.
Height
One of the first things you should check before buying a ladder is the height you need it to be. An advantage of telescoping ladders is that they don't need to be extended to the full height to use. That means you may be tempted to buy bigger, as you can make a ladder smaller than its full extension, but never any bigger.
Keep an eye out for the actual height, and the potential reach of the ladder. The actual height is how far the ladder will extend. The potential reach is how far you may reasonably be able to reach when on the ladder. The potential reach is varying depending on the person using the ladder.
Before buying, have a check to see what the top reach you're going to be aiming for. If you're buying the ladder for painting, make sure you know your ceiling height. There are few things more frustrating than getting everything set up only to find you just can't reach. 12.5 feet should cover most homes.
Portability
A major factor in the emergence of telescopic ladders is the ease with which they can be carried. You may find that once your painting is done, you're now tempted to do all those other jobs you put off when dragging a heavy, molded-frame ladder around.
Look to see the weight of the ladder, and the height it reaches when fully collapsed. For a smaller ladder, you'll be looking for anywhere around 3 feet. Even a 15 feet ladder should collapse to less than 4 feet. Some ladders will come with easy grip handles, durable straps, and other methods of carrying. This is useful for transporting, and storage.
Load Weight
Do not overlook the weight the ladder can hold. This is a main safety concern, as climbing a ladder that isn't certified to hold you can be very dangerous.
The maximum load capacity of a telescopic ladder is normally either 250 pounds or 300 pounds. This will have been certified by a safety board. The ladder must be able to hold the person on it as well as whatever equipment they may be holding.
Material
The majority of telescopic ladders are made of either aerospace engineered aluminum or aluminum alloys. This is because they're lightweight while remaining durable. For home use, aluminum offers strong support while being easy to pack away and transport.
For commercial purposes, you may look to fiberglass. Aluminum conducts electricity, so it isn't safe to be used near a power source.
Manual vs Automatic
There are two types of retraction: manual and automatic. We're a fan of automatic, as it saves time, and often reduces dreaded finger pinch. If you don't want to manually lock and unlock every rung on the ladder, then automatic is the way to go.
However, some find more peace of mind using the manual locking mechanism. This requires the user to check every rung is locked in properly.
For those who are willing to do so, this level of control may be preferable. If you value speed, then choosing automatic will take the task out of your hands.
Price
A ladder doesn't have to be an expensive purchase, but it can be. Luckily, a ladder is a versatile and durable piece of equipment. If you do intend to spend more, you can do so with the knowledge that you're buying something that will be around for a while.
The cheaper ladders tend to have a lower level of special features. For example, you may sacrifice a carry handle in return for a budget price. However, one thing that should not be sacrificed is safety. Even a budget ladder should be able to keep the user safe.
When setting yourself a budget, decide first what features are necessary to you. Understandably, the price tends to extend alongside the height of the ladder. If you want an extra few feet, be prepared for the extra cost.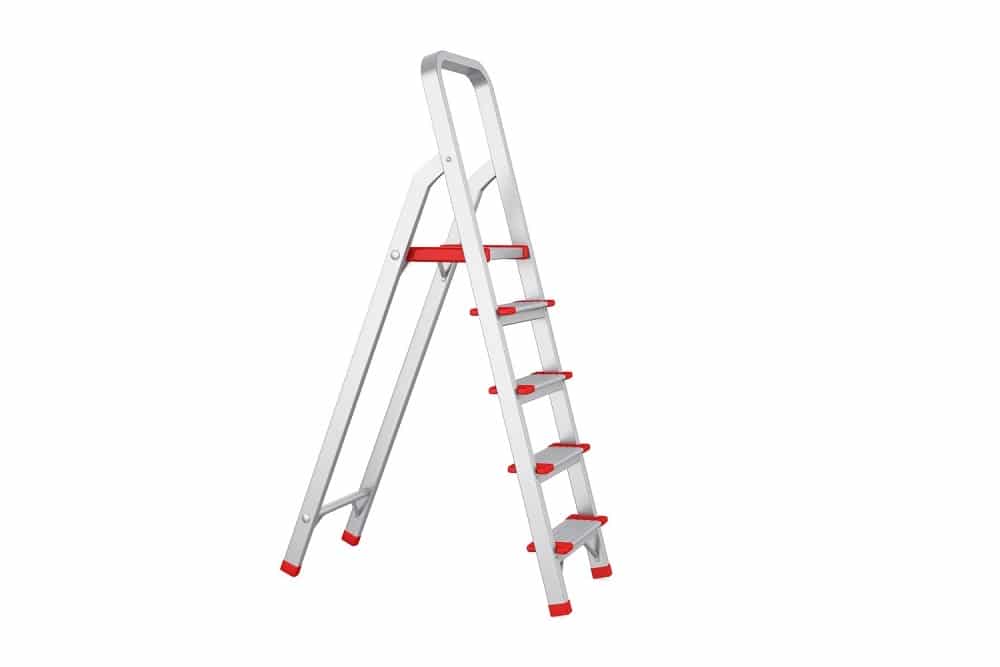 Frequently Asked Questions
How to set up a telescopic ladder?
Setting up a telescopic ladder is an easy task, just take care when doing so.
Before using, read the owners guide that comes with the ladder. This will tell you how to lock each rung, and what angle to situate the ladder at.
Begin by checking the ground is stable and secure. You don't want the ladder to wobble.
As you extend the ladder, make sure each rung is stable and locked into place. You should practice this locking technique before use, and certainly before climbing a fully extended telescoping ladder. Some locking mechanisms can be tricky, and you don't want to find out you've got it wrong when you're halfway up a ladder.
Angle it correctly against the wall. Always climb with a spotter, someone who can hold the base and keep it stable.
Ascend and descend one step at a time. When retracting the ladder, take care not to pinch your fingers.
Are telescopic ladders safe?
Telescopic ladders are safe, but make sure to buy one with a safety check such as OSHA or EN131.
Always take care when using to keep the ladder secure, and follow the users guide for angle and weight allowance.
Do telescopic ladders need to be fully extended?
A telescopic ladder doesn't need to be fully extended to use. The ladder locks into place at intervals of roughly a foot, for use around the house.
Always check the ground and locks are secure before using.
Are telescopic ladders good?
Our verdict is: yes! Telescopic ladders are an easy-to-use, collapsible, portable, and versatile piece of equipment. They're great for painting because they can be adjusted to the perfect height to reach whatever you need to paint.
When it needs to be moved, the lightweight frame makes the task so much easier. They're the ideal tool for any handyman.