ThatPainter is reader-supported. When you buy through links on our site, we may earn an affiliate commission. Learn More
Removing paint from old wood can be tricky once it has already been applied, especially if the paint is old and fully dried out. You have a few options, so the best method for you may depend on your skills and which equipment you have to hand.
Even then, the best methods are those that come at the problem from multiple angles.
Two of the most effective means are through the use of chemicals, either by causing a chemical reaction in the paint by heating it with a hot air gun or through chemical stripping.
You need to be careful with a hot air gun that the wood doesn't get scorched and be aware that it doesn't work with varnish. If you're planning on repainting the wood, there's no need to worry about scorching marks as they'll get covered up.
Chemical stripping is best when trying to take the paint off of areas that are hard to reach. You should know whether your paint is lead and, if not, check the paint before trying this method.
Then you can apply a chemical layer to remove the paint and any varnishes that may be present. It's fast and easier on the wood beneath.
Even after both of these, you may still need to use some elbow grease to remove the softened excess paint.
How Do You Remove Paint From Varnished Wood?
If the wood has varnish on it as well as paint, removing just the paint layer can be difficult. If the paint is water-based and has been freshly applied but needs removal, it can be as simple as a wet rag rubbed onto the problem areas.
After the paint has been scrubbed away, dry it with a paper towel or a similar cloth that won't disturb any varnish beneath. To ensure all of the paint is gone, some oil-based paint solvent can also be rubbed onto the surface.
If the water-based paint is already dry, you're going to need alcohol. You need the denatured kind, soaked into a cotton swab, and then rubbed onto the surface. This should dissolve the paint but now you have alcohol residue on there, which degrades varnish over time.
It needs to be wiped away with a dry towel. If there's stubborn paint, you should gently scrape it off. Clean the area with a damp rag afterward.
If you've used oil-based paint, you'll need some thinning agent. This is where you get your reading glasses because the agent needs to be compatible with the paint you've used.
Turpentine and acetone are classic thinning agents that will help most of you. Apply it to the paint with a swab and then rinse to remove any residue.
After following any of the three methods above, you should now have a clean, varnished wooden surface without any paint on it.
Can I Sand Paint Off Wood?
When something needs removing from a surface, many people reach for sandpaper or sanders. Fortunately, these can remove paint off wood if the conditions are right and you don't overdo it.
Remember to stay safe when doing heavy-duty sanding by wearing goggles, a face mask, and using a vacuum to remove dust from the working area. Don't use a sander on lead paint too, you don't want toxic lead dust floating around.
When sanding, you should start by cleaning the painted wood surface. This can be done effectively with dish soap and the surface should be dry before you start. Using 80-grit sandpaper, you should start sanding with the grain of the wood, not against it.
No matter your method of sanding, you should be aware of how much pressure you're applying to the surface. Pressing too hard will damage the wood beneath.
As you work through the layers, you may want to graduate to 150-grit and then/or 220-grit sandpaper to fully remove all paint and leave the surface beneath as smooth as possible.
Once you've got a smooth, paint-free wooden surface, you should clean away any excess and debris with a wet rag.
Can You Sandblast Wood To Remove Paint?
As one of the more aggressive ways you can sand surfaces down, sandblasting takes less labor on the worker's part and it's ideal for when the surface is large. It's also called abrasive blasting, to avoid any confusion.
Since it's best for larger surfaces, sandblasting is often performed as part of construction and urban landscaping. A lot of force is applied with a sandblaster, the object on the other end needs to survive that without falling to pieces. That typically means metal and stonework.
If the wooden construct is substantial enough, you could use sandblasting to remove paint. It will cause scarring on the surface of the wood, though.
For some wooden constructs, that won't be a problem but, if it's already painted, you probably want to conserve the aesthetic of the wood.
However, creative minds can and have turned scars and imperfections on wooden surfaces into unique art pieces, so sandblasting is still possible.
If you do sandblast, remember to stay safe. Keep kids and pets away, don't remove lead paint, and work in an area where the dust can be responsibly cleaned up and won't form a dangerous cloud if breathed in.
What Is The Fastest Way To Sand Paint Off Wood?
Sometimes you have a job that needs doing and you need it done quickly. The fastest way to sand paint off wood is through using a sander or a sandblaster. Both are machines that use abrasion to properly remove layers from the surfaces they're used on.
While sanders are more suitable for projects inside the workstation, sandblasters are better for heavy-duty projects where large surfaces, like entire walls, require sanding.
For most readers, a sander should be enough for their needs while removing layers of paint off of wood. If your wooden project can withstand the abrading forces that fly out of a sandblaster, and you have a safe workspace, then sandblasting is the fastest method.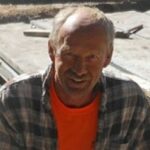 Jim Bettesworth well known for his can-do attitude and often takes jobs other companies were unwilling or unable to do. Experienced and educated in concrete construction and painting jobs. Read More.