ThatPainter is reader-supported. When you buy through links on our site, we may earn an affiliate commission. Learn More
When it comes to sprucing up your kitchen cabinets, it can be easy to want to just jump straight in. Unfortunately, it is super rare to be able to paint straight over cabinets without putting in some preparation.
This will depend on the state of your cabinets before you start. If they have a clear coat, the best step to take is to strip the finish down to the bare wood before painting. This will make the wood better at sticking to the new paint.
It's also a good idea to sand the cabinet at least lightly before painting to prep the wood, so it opens up to the fresh paint and dries smoothly.
Should you paint cabinets with a brush or a roller?
When it comes to painting detailed materials like cabinets, an immaculate finish is super important because the last thing you want is a fabulous new kitchen accompanied by messy cabinets covered in paint drips and brush strokes.
So, what's the best method? The most common methods of painting cabinets are by paintbrush and paint roller. Both methods have pros and cons, so it really depends on the job.
Using a standard brush to paint cabinets can leave ugly brush strokes behind. So, if it's a nice, smooth finish you're after, using a paintbrush will unlikely provide this. 
Moreover, you can only use a paintbrush on wood surfaces. You will not be able to use a paintbrush on acrylic cabinets as the material will cause the brush to run over the cabinet and leave ugly marks behind.
However, if it's a more rustic look you like, brush strokes can be a great, easy way to create this style.
Using a roller can be a good option because it eliminates the possibility of leaving brush strokes behind, not to mention it allows you to paint a large area in one roll of the brush. That being said, the texture of the roller brush comes with its own risks.
The material often leaves a bumpy texture in the paint which isn't the nicest to look at. It is advised that you do not use a roller brush for gloss paints because this method will apply gloss paint in thin layers and can struggle to create a nice even finish.
How can I paint laminate cabinets without sanding?
Painting laminate cabinets is a little trickier than painting wood cabinets because the material is harder to grip onto new paint. One way of getting around this is by sanding the laminate material before painting.
This is because sanding the material causes it to open up, making it easier for the paint to stick. However, sanding can take up lots of your time and make quite a mess so skipping this step would make life so much easier.
If you want to paint laminate cabinets without sanding, the first thing you need to do is check that they're in good condition. This is because a peeling material will not be able to create a nice, smooth finish.
If you think the material is healthy and smooth, you then need to clean the cabinets really well.
Particularly if you're painting kitchen or bathroom cabinets because these are very likely to have harbored years worth of grime, grease and bacteria that will prevent any paint from sticking smoothly.
To do this, you can just use some all-purpose surface cleaner with a damp rag and rub vigorously to remove all the dirt and grime efficiently. Once your laminate cabinets are properly prepped you can go ahead and start the transformation!
For the best results, use a primer that will give you a chalky finish and a good quality latex paint. Here's a simple step by step guide to painting laminate cabinets without sanding:
Step 1: Leaving the cabinets attached to the hinges, use a roller brush to paint on your primer paint. For any area that your roller brush can't reach, go back in with a smaller paint brush to fill in the gaps
Step 2: Once the primer has dried, remove the doors from the outer frame. Make sure you label each cabinet door, so you know where each one belongs when it comes to re-attaching them later
Step 3: Using whichever brush you like, paint the primer over the frames and any other parts of the cabinets that were missed
Step 4: Once all the primer paint has been smoothly applied and died nicely (without any nasty paint build-up or drips) you can go in with your paint of choice. Applying two coats of paint is recommended for a full, even finish
Step 5: Allow the paint to dry completely before reattaching the doors to their frames and avoid using the cabinets for a day or two afterwards if possible as they will likely be susceptible to denting and scratching while  the paint is fully curing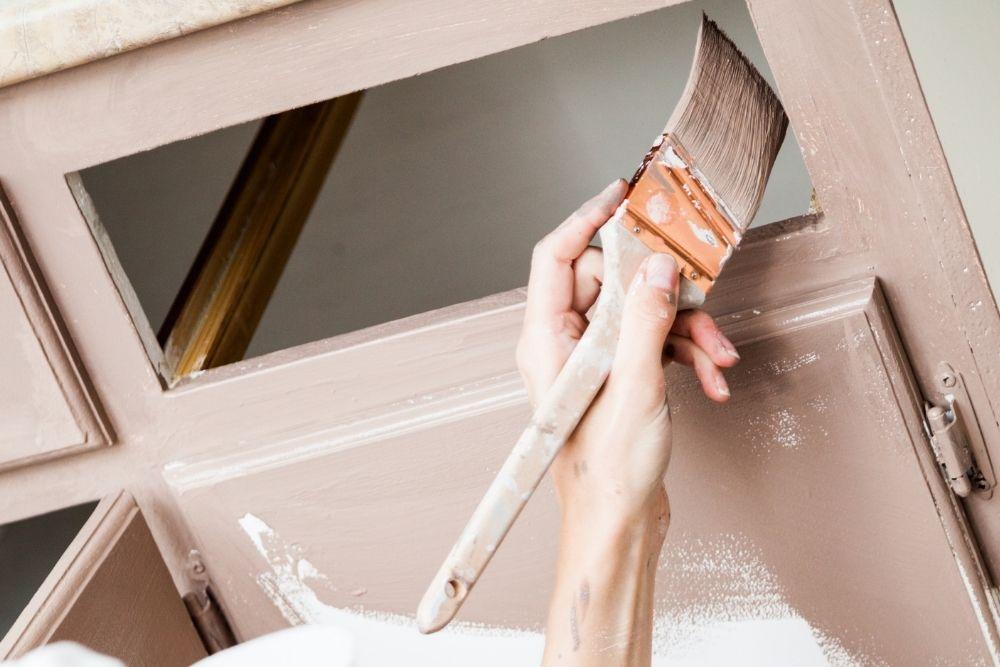 What happens if you don't sand cabinets before painting?
Taking the time to sand cabinets before painting can be super annoying, and I'm sure we'd all rather skip this step. Fortunately, most of the time, we can! Skipping sanding is actually fine IF you're painting on top of raw, unvarnished wood or a newly painted wood surface.
If your cabinets are old and peeling or made from a shiny material, you really should at least lightly sand them in order to allow the new paint to properly bond to the wood.
However, if your cabinets are smooth to the touch you won't have to worry about sanding, so long as you prepare the wood in other ways before painting. 
If you plan to ditch the sanding process before painting your cabinets, try using a rough sponge with some mineral spirits to clean and lightly rough up the wood before painting. 
This is a good alternative to full sanding because it doesn't open up the material as much while still making the wood more susceptible to gripping onto the primer and paint.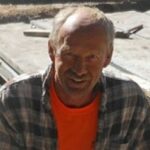 Jim Bettesworth well known for his can-do attitude and often takes jobs other companies were unwilling or unable to do. Experienced and educated in concrete construction and painting jobs. Read More.