ThatPainter is reader-supported. When you buy through links on our site, we may earn an affiliate commission. Learn More
Yes, white spirit can be used to remove paint from concrete surfaces, such as floors and walls.
Most paint brands manufacture their own paint removal product, so if white spirit doesn't do the trick, you should check with your paint brand.
Depending on the paint type, it can be either based on oil or water, there are dedicated paint removers for it. If you are not sure what type of paint it is, use a remover that is dedicated to oil-based painting. 
Apply the white spirit generously over the concrete surface and leave it to sit for a few hours. If the area is particularly soiled, consider leaving the white spirit to soak into the paint overnight.
Don't leave it to sit for any longer than 8 hours. After this, you'll need to scrub the affected area with a wire brush. You can also use a scraper tool to remove any peeling residual paint.
You'll need to rinse the area thoroughly with a hose or a pressure washer. Let it dry completely and assess whether or not it will need to be treated for a second time.
Does muriatic acid remove paint from concrete?
Yes, muriatic acid does a great job at removing paint and residual stains from concrete. However, muriatic acid should be handled with care and only by adults.
The chemical needs to be mixed with water and if the proportions are mixed incorrectly, it can etch the concrete surface.
Additionally, if the muriatic acid is left to sit on the concrete surface for too long, it could result in etching. If you plan on using muriatic acid, it's essential to wear personal protective equipment at all times as it will damage your skin and clothes.
Be sure to wear heavy, acid-resistant gloves and boots as well as a respirator mask when working with muriatic acid.
Begin by mixing a solution of 1 part muriatic acid and 8 parts water in a bucket or large container. Pour the acid last to prevent splashing. 

Pour the whole solution over your concrete surface.

Use a wire brush or hard-bristled broom to remove any stains or paint. 

Rinse the concrete surface thoroughly with clean water to remove any residual muriatic acid. 
Will acrylic paint come off concrete?
Yes. If you've accidentally spilled some acrylic paint onto a concrete surface, it can usually be easily removed. As acrylic paint is water-based, it is far easier to remove than oil-based paints.
Providing you're willing to put in some elbow grease, it's possible to remove it from pretty much any surface. Fortunately, concrete is a heavy-duty material that can tolerate multiple harsh cleaning treatments, making it a durable surface to work with.
As concrete is a porous surface, your main focus will be on pulling the paint out from the concrete itself. 
Begin by removing any wet paint and cleaning the surface with a wire brush. 

Mix soap and warm water in a bucket, dip in the scrub brush and clean it using an up and down motion. 

Soak up as much as you can in a sponge and then rinse the entire area with a hose and fresh water. Repeat if there is any paint left.
If the acrylic paint has already dried, you can try to remove it with a scraper tool. Alternatively, you could use a putty knife or wallpapering tool. Pour on some paint remover or white spirit and cover the area with a rag to keep it moist.
You'll need to wait until it has softened to scrub the area thoroughly with a soapy water solution and rinse it. If there is any residue, reapply the stripper, allow it to remain for another hour, and scrub it off.
If the affected area is particularly large, you should consider renting a power washer from your local hardware store. These will save you a lot of time and exhaustion.
Will paint thinner remove wood stain from concrete?
Yes, you can use paint thinner to remove wood stain from concrete. When paint thinner is applied to concrete, the chemicals in the compound seep into the surface of the cement, dissolving stains in the process.
Usually, paint thinner is combined with oil-based paint to make it less viscous and easier to apply. The most common types of paint thinner agents used are mineral spirits, white spirits, turpentine, toluene, and xylene.
Although the advertised purpose of these products is to dilute the paint, they're great at removing stains caused by ink, glue, grease, or wax from concrete. It's also great at removing stains from concrete, cement, brick, or stone. 
You'll need to pour your paint thinner directly onto the stain and sprinkle a little absorbent powder onto it. Baby powder or talcum powder works great if you haven't got the professional kind. Let it sit for around a day and then thoroughly rinse the surface.
If the stain has only faded but it is still visible, you can repeat the process again until the stain has vanished.
Removing every last bit of residual wood stain from a concrete surface isn't always easy, especially if the color of the paint is dark and the concrete is light.
The most corrosive acids to use in this case would be hydrochloric acid or muriatic acid. However, if you do opt for either of these paint thinners, be sure to wear adequate PPE and wear rubber gloves when handling the bottle.
Wash and scrub the stain as you normally would using this solution and continue doing so until the stain has vanished. After cleaning, you may find a powdery residue on the surface, but this isn't anything to worry about and can be easily removed by rinsing with clean water.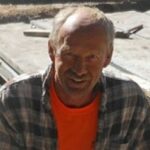 Jim Bettesworth well known for his can-do attitude and often takes jobs other companies were unwilling or unable to do. Experienced and educated in concrete construction and painting jobs. Read More.