ThatPainter is reader-supported. When you buy through links on our site, we may earn an affiliate commission. Learn More
Whether you've just moved into a new home, or you're looking to renovate and re-style an old one, painting the exterior can make quite the difference. The outside of the house is the first thing that people will see, so it can certainly cause a good or bad first impression.
Giving your house a brand new exterior through a fresh paint job can be an amazing idea, the challenge is actually executing it. You could hire a professional, and they'd do a guaranteed good job, but that will probably be quite expensive.
So if you have some experience, or you're willing to give it a try, why not paint your home exterior yourself? A good old DIY can turn out to be just as good, and it will be a lot cheaper!
If you decide to go ahead with it, there are a few basics you need to know, in order to actually do it well. Let's get right into it!
Before You Get Started
Okay, so before you get started with painting the exterior of your home, you need to be aware of how big a job that is. In fact, it's often considered almost a right of passage amongst home DIY, because of how much of a difference it will make, but how much goes into it.
When you're painting a room, you can very much just go for it and have it end up pretty well. But when it comes to painting the exterior…you need to plan ahead.
It's not something you can accomplish easily or without the right tools. And what's more important, if you make a mistake or it ends up badly, everyone will be able to see it because the result is on display out in the open!
So, here are a few important reminders that you need to be aware of before you undertake this big DIY job:
Painting your home exterior is a way bigger task than painting the interior.
You're going to be dealing with heights and hard-to-reach places, you need to make sure you're taking the necessary safety precautions!
You will need a different type of paint from the one used for interiors (paint for exteriors is thicker and needs to be a lot more durable and resistant to weather conditions).
Beware of the weather! You can't exactly paint the exterior while it's raining outside!
What You Will Need to Paint Your Home Exterior
The first step for getting started with your DIY home exterior painting job is to get the necessary supplies and equipment. You can get most of the supplies from normal hardware stores and paint stores.
You also might not need to buy all of the items, as you might not need all of them in your particular circumstance, or perhaps you already have some of the things at home.
Here is a list of the basic supplies:
Exterior paint (make sure it's suitable for exteriors, as it will be different from interior paint!)
A paint sprayer
Paintbrushes of different sizes
Drop cloths
Plastic sheets
A bucket of water
Sandpaper
Caulk or putty
A ladder (if needed)
The overall price of the supplies will vary depending on where you're buying them from, and the number of supplies that you're buying. Usually, the most expensive supply will be the actual paint, but that's not something you can cheap out for because it's the most important supply of all!
Also, make sure you have enough paint before you start painting. There's nothing worse than getting halfway done and running out of paint. It's better to have too much than too little!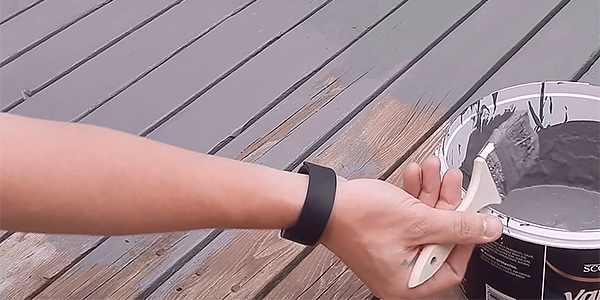 Step-By-Step Guide on How to Paint Your Home Exterior
Now that you're aware of how big a DIY painting your home exterior is, and you're properly prepped with all of the necessary supplies…it's time to finally get started!
We're going to split up the guide into 5 steps, which should be easy enough to follow so that everything goes well.
Here they are:
1. Get the area ready
This can be an easily overlooked step, but it's incredibly important. Getting everything ready will make the actual process all the easier, and will uncomplicate your life by a lot, trust us. So what does getting the are ready to work mean?
Well, here are a few prep tasks you should complete before getting started with the actual painting:
Make sure the walls of your home exterior are clean:
It's important to clean the walls before you paint over them, or else the dirt will get trapped underneath, and the paint surface won't be as smooth (or as durable!). We recommend you pressure wash the entire exterior, so that all the walls are perfectly clean, and left to dry before you get started on the paint.
Caulk and sand down surfaces so they're prepped for the paint:
Some surface areas on the exterior walls of your house might have accumulated some hard debris and dirt, so you will have to caulk and sand it down to ensure that it's nice and smooth before you add the coat of paint. Pay special attention to the areas that are the most visible, such as the front of the house.
There are areas on the exterior of your house that you will not want to cover in paint, such as the windows, or certain surface spots. In order to keep them unpainted, make sure to cover them up so they're nice and protected. For this, we recommend you take the drop cloths and tape them on with some heavy-duty tape. Take your time on this, as it will help avoid accidental paint stains on unwanted areas.
Lay down the plastic sheeting:
Once you've protected windows, doors, and similar, it's time to protect the floor and surrounding area. For this, you can lay down the plastic sheets so they cover your driveway and garden, and any area directly underneath the walls where paint might splatter and fall.
Get all your materials ready:
Get all of your necessary tools and materials ready, so that they're on hand and close by during the painting. If everything is nearby, you won't have to interrupt the workflow to go and fetch them, and this will save a lot of time!
2. Get your paint ready
The next step is to get the paint ready. For this, you will have to open up your bottles of paint, mix if needed, and then prepare the paint sprayer.
Now, depending on the paint sprayer that you've bought, rented, or already had, the paint will work differently. Some paint sprayers need to be filled up with paint and are then completely portable.
Meanwhile, some other paint sprayers need to have a tube connected to a bucket of paint, where they will take the supply of paint from in a continuous flow. It really does depend on the model and type of paint sprayer, so make sure to follow the specific instructions of the one you have!
Depending on the type of paint sprayer, you might have to keep refilling it throughout the painting process, in which case it's good to have pre-pared buckets of paint on hand to fill it with!
3. Let the painting begin!
Okay, when you finally begin painting, we highly recommend you test the paint with a few practice sprays. Make sure everything is working properly before you go all out.
It's also important to decide on the type of nozzle that you're going to use on the paint sprayer, as it will determine the way in which the paint comes out, and the type of strokes you achieve on the walls.
Once you've nailed the practice sprays, just start spray painting the entire exterior, wall by wall, section by section! Depending on how big the exterior is, it will take more or less time, so be patient with yourself and take your time! (Rushing often leads to mistakes and uneven finishes, so don't try and speed up the process!)
As a general rule, you should be spraying the paint from a few feet away from the wall, as this will provide you with the best even coverage. You should also begin new sections by going over the last bit of the last so that everything blends in together in a seamless way, and you don't end up with any blank spots.
There are many different opinions on whether you should paint from the top downwards, or from below upwards. At the end of the day, do whatever suits you the best. And remember to take extra care when you're painting the higher-up bits, especially if you're on a ladder. Make sure the ladder is properly secured, or get someone to help you!
4. Correct any mistakes and do a check-up
Before the paint dries, make sure to check the entire exterior and spot any mistakes. It will be a lot easier to wipe them away while the paint is still wet!
You should also make sure that there isn't any dripping anywhere, or else it will leave marks on the wall of the paint running down. (Unless that is something you're aesthetically going for, of course, you can get creative as you want when painting the exterior of your house!)
You can also use a paintbrush to go over any little spots that you've missed or to touch up any small corners or edges. Basically, make sure everything looks as perfect as possible before you deem your home exterior fully painted.
5. Cleaning and finishing up
Once it's safe to say that the exterior of your home is fully painted and finished, it's time to wrap up the job by cleaning everything and packing it away. The first thing you should do is to empty and clean out the paint sprayer.
Once paint becomes dry, it's a lot harder to remove, and it can very easily clog up the paint sprayer, causing issues and even damage. So make sure you follow the right instructions and you clean the spray painter so that's it's good to be packed away, or returned (if that's the case).
Next, you can remove all the plastic sheeting and the drop cloths, and the tape. You should thoroughly clean all your materials, and put everything away.
Only when you've cleared out everything can you finally stop, rest, and admire your handiwork!
Additional Tips and Tricks for Painting Your Home Exterior:
Painting your home exterior can seem quite daunting, and it can certainly be quite the challenge as it's not exactly an easy DIY job. It's big, and it takes time and effort and a lot of planning beforehand.
But once you get going you'll find that there wasn't that much to worry about, and if you've done everything correctly you'll end up with a beautiful fresh coat of paint on the outside of your house, for everyone to admire!
Nevertheless, it's always good to read up on some additional tips and tricks. They can help you feel more prepared, and they can also help tweak and improve your plan and action so that everything goes as smoothly as possible!
Here are a few of our favorite pieces of advice when it comes to painting your home exterior:
Ask for advice! At the hardware store, and when buying your paint, and when talking to neighbors and friends. At the shops, they will likely be able to recommend different supplies or paints, and they'll also have the experience to help you plan out the entire process. As for your neighbors and friends, some might have already done the same DIY process of painting their own house exterior, in which case they will be a valuable source of information, tips, and tricks!
Check to see if there are any rules for the appearance of your home exterior. Some neighborhoods or towns have specific regulations to ensure that the houses have a uniform look or theme, so it's worth making sure before going through all the effort!
If you don't already own the materials, buying them can be quite expensive. Especially if you're only ever going to use them for this specific job. It's well worth asking people you know whether they have the supplies and you can borrow them. Alternatively, there are plenty of rental services for painting supplies, it's worth looking into them as it will be cheaper than outright buying!