ThatPainter is reader-supported. When you buy through links on our site, we may earn an affiliate commission. Learn More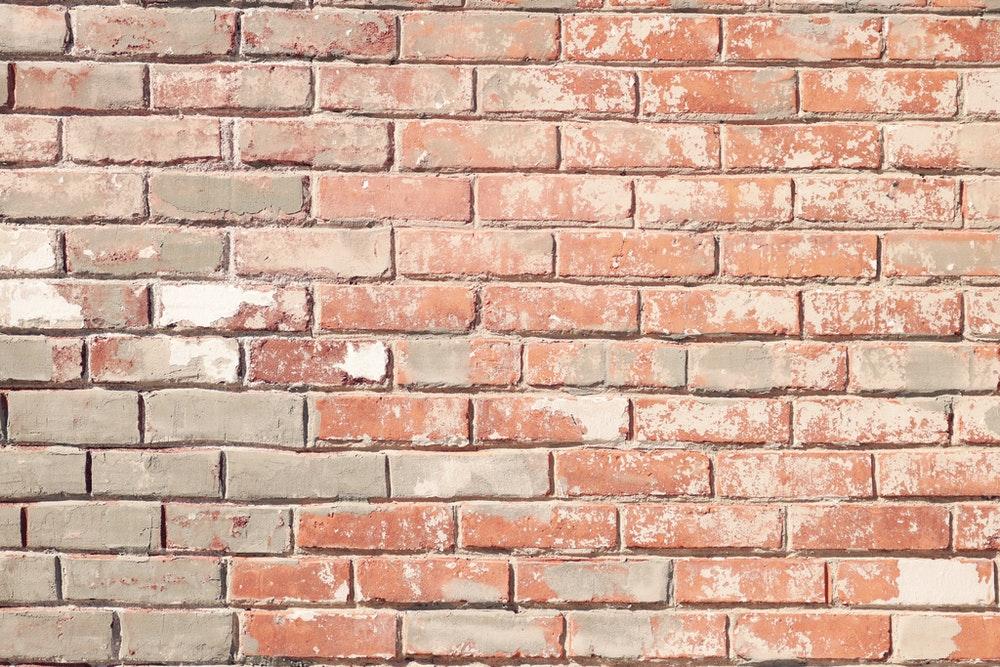 Spray paint and brick walls can seem to be an inseparable pairing. Once that spray paint is on, getting it off is a task few of us relish. Too many hours with a bucket and sponge, and you may start to feel it'll never come off at all.
That doesn't have to be the case! Our guide will show you what you need to remove paint from a brick wall completely – without damaging the brick! We have the products to buy, and some tips and techniques on how to use them.
Whether it was a paint job gone wrong, a mural you wish to change, or frustrating graffiti that needs to be banished. With our guide your brick wall can be looking back to it's best in almost no time at all.
Before you start, there are a few things to know.
What to Know Before You Start
It's not easy to get spray paint off a brick wall. Before you get into it, it's best to be prepared. The nooks and crannies of the rough textured surface of brick are perfect for clinging paint molecules.
Spray paint has a habit of fixing to the tiniest, hardest to clean places. Perfect for an even finish, less great when you want to get it off. It makes full removal incredibly difficult. Especially if you don't want to damage the brick.
For many of us, gouging the paint off by removing the surface of the brick is simply not an option. But don't give up!
Modern solutions mean that you no longer have to learn to live with paint residue. Our guide will show you what to do to get a completely paint free wall, without damaging the brick underneath.
By careful use of solvents and other formulas, the paint can be stripped right away from the wall. Underneath, the brick stays completely intact.
So what do you have to do?
What Supplies to Buy Before You Start
Before starting, you want to have everything you need for a clean and safe paint removal.
Safety Equipment
First and foremost, you need to make sure you're safe. Paint stripping can involve the use of strong chemicals. These can burn when in contact with the skin.
Always wear a pair of heavy-duty gloves, to keep the hands safe. Goggles are also valuable, and you may want to purchase a mask if using particularly strong chemicals.
You should dress in clothes that cover the skin, and you don't mind getting dirty. Or smelly. It's better to be prepared in advance: some solvents pack quite a smell.
If using solvents, it should be done in a well ventilated area. Avoid using on a windy day, as this can cause them to spread.
Solvent
The solvent is the most important item in removing paint. You need to find one that can remove the paint without damaging the bricks.
There are many types on the market, with different applications. Look for one that suits the task you need doing.
Pressure Washer
Once the solvent is on, and done its job, you need to remove it. The easiest way to get rid of every bit of excess paint is with a pressure washer. This gets the job done thoroughly, and is quicker than the manual options.
Soap and Water
If you don't have a pressure washer, or are only cleaning a small area, soap and warm water can be used. This is a little more labor intensive. However, it will give you a thorough clean.
Rags
Use these with the soap and water to wipe away the paint and solvent. They're likely to get stained, so any old cloth will do.
Nylon Bristle Brush
This will be used to wipe away the excess, and sometimes to clean with the solvent. Do not use a wire bristle brush. This will damage the brick.
A Guide to Removing Spray Paint from Brick Walls
The very first step is to choose your solvent. Below, we'll cover a list of the best available. Once that's done, you need to take precautions to ensure your safety. Always wear gloves when removing paints. For stronger solvents, use a mask and goggles.
Prepare the area by removing or covering anything nearby that may get damaged. It can be a messy business, so this extra precaution is important. Otherwise, you may find you've given yourself something else to clean.
With whatever solvent you choose, always spot check first. Apply a small amount of product to a patch of the brick, preferably hidden. Leave for however long it requires to work, and wipe away. This allows you to see any damage the solvent may cause to the brick, before you've covered it all.
Finally, take note of the weather. On a warm day the solvent will dry quicker, so will need to be wiped away quicker.
There are many solvents on the market with different claims and formulas. We've rounded up some of the best you can find on Amazon, to cover different types of jobs.
1. Goof Off Professional Strength Paint Remover
Goof Off is a heavy strength remover, so only use it if you have a lot of paint to cut through. However, it does get the job done.
When applying, speed is essential. Left too long and Goof Off can damage the brick. Do a spot test at least a day in advance to give you an opportunity to see how the solvent reacts over time.
Pour the Goof Off into a clean spray bottle before using. The spray bottle must be completely clean of other chemicals, or this could cause a reaction. Using a spray bottle allows for quick use.
Spray the product sparsely over the surface. You may need to reapply, but it's better to start small and build up. Leave the product to work, around 30 seconds should do it. Any longer and it may start to damage the brick.
Wipe away the paint with a rag or cloth, working the rag into the crevices.
Take another rag, and wipe away the excess solvent. When all the paint is removed, wash down the wall with a pressure washer, or soap and water.
Goof Off is strong, so take safety precautions when using. Gloves are a must. The strength of the solvent is only matched by the strength of the smell, so be aware.
A great benefit of Goof Off is that it's incredibly versatile. It can remove wax, crayon, gum, and so much more.
2. SafeWipes Graffiti Remover
The SafeWipes are perhaps the easiest product to use on this list. Unlike other products that need to be sprayed and left to sit, these only need to be wiped across the surface for fast and effective paint removal.
Once you've tested the wipes, it's as simple as scrubbing the surface. They aren't flimsy, so they hold up to hard work.
When the paint is removed, wash down the wall with soap and water, or a pressure washer.
As they don't sit and work, you may need to put in some labor to remove the hardest bits of paint. The wipe won't cover the same amount of textured surface area as a well applied spray. This requires some scrubbing on your part.
These wipes are best used for smaller amounts of paint, and smoother brick work. If you want a minimum effort solution to a small problem, then they may be the choice for you.
3. Sunnyside Hi-Speed Ready-Strip Citrus Paint Remover
The clever thing about this remover is the texture is thicker, closer to a gel than water. What this does is keep the surface wet for longer, allowing the product to deeply penetrate the surface to lift the paint.
After spot testing, apply the spray liberally to create a thick covering. For smaller areas Sunnyside comes in a spray, but it can also be purchased as a bottle, for a larger application. The spray allows the formula to better reach the textured crevices of brick.
This takes at least 30 minutes to get to work, and can be left for up to 4 hours for heavier jobs. Sunnyside is a more gentle formula than others on this list, so you may require several applications.
When you think it's done, test scrape an area to see how much has been removed. If it looks like there are layers left behind, then leave it to work a little longer. After 4 hours, remove and clean down regardless.
To remove, scrape it off using a bristle brush. Nylon is best, as it's strong enough to scrub but won't damage the brick. Removal is easier if you mist the surface with water before getting to work.
Finish by wiping down with soap and water, and leave to dry completely.
Due to the thicker formula, Sunnyside is low mess. Once sprayed, the remover doesn't drip.
4. Smart Strip Advanced Paint Remover
Unlike other, caustic, paint removers, the Smart Strip Advanced Remover is non-toxic and made without any methylene chloride or VOCs (Volatile Organic Compounds). This makes it safer both for you, and for the environment.
Coming in a large bucket, the remover is ideal for covering big surfaces. After testing, apply using a brush or roller and leave it to work.
Once applied, the paste does take longer to get going. It has to be left for at least 3 hours, and up to 24 hours, depending on how many layers of paint you're removing. Test whether it's finished working by scraping a small amount off.
To remove, avoid harming the brick by using a nylon bristle brush. Scrape away the paint and the formula, and wash down. While soap and water can be used, a pressure washer is good at getting rid of any clinging formula.
This is a great environmental choice, and perfect for those who hate the powerful stink of traditional paint removers. A quart should be enough coverage for most jobs.
5. Motsenbocker's Lift Off Spray Paint Graffiti Remover
This is the choice for those who want a hard-working cleaner with low effort and versatile uses. The Motsenbocker spray is easy to apply, quick to work, and adaptable for different surfaces.
On brick, the patented biodegradable spray works fast to remove the paint molecules. Having done a spot test, apply to the paint and leave for half a minute.
Then, scrub away using a soft bristle brush. Apply a small amount to start, and build up gradually as the paint requires it. You don't need to leave it to sit for too long, it's best to work quickly.
Wipe away using soap, water, and a damp cloth.
Be prepared to use some elbow grease for total removal, but this spray is safer than the harsher chemicals and does remove paint. It works on hard, soft, and porous surfaces, making it perfect for those who want a multipurpose cleaner.
Rinse and Repeat?
You may find that one application just isn't enough. That's not unusual, especially with products that need a while to get to work. It's hard to estimate how long something might take on the first use.
Be sure to wipe the surface down thoroughly after every application. If the solvents stay on then they can start to erode the brick work. Especially stronger formulas such as Goof Off.
Can I use vinegar to remove spray paint from brick?
Plain white vinegar can be used to remove paint from brick. However, it's best used for removing residue, rather than a full application. Simply soak a sponge in the vinegar, and scrub the wall.
It should remove excess while not damaging the brick.
Final thoughts
Removing spray paint from brick may never be a simple task, but these solutions certainly make it much easier. Whether you want quick, powerful removal, or a slower, steadier process, you're sure to find something that works for you.
Take care on both sides of the process. Wear the proper safety equipment and cover areas that may be prone to damage. Gloves are an essential for even the low chemical options. For solutions such as Goof Off, invest in a pair of goggles.
Never use wire bristles to clean brick. These can scrape the surface and end up causing more damage.
With these solutions, removing spray paint from brick doesn't have to be the struggle it once was. In almost no time, you can have your wall looking as good as new.