ThatPainter is reader-supported. When you buy through links on our site, we may earn an affiliate commission. Learn More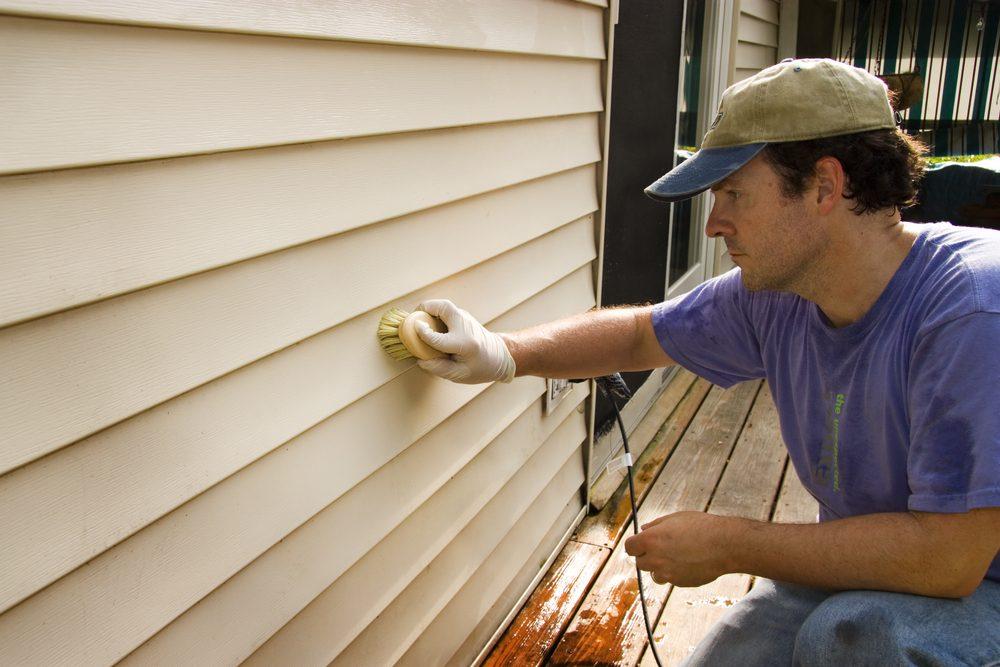 While vinyl siding might not be to everyone's taste, it has the seal of approval of thousands of homeowners across the world, mainly due to the way it's able to enhance the visual appeal of a home exterior and in turn, boost the curb appeal.
Whether you've recently moved home and have decided to spruce it up with a vibrant spray paint design, or your home has unfortunately been the target of vandalism, it can be difficult to remove spray paint from vinyl siding, especially if it has been allowed to dry.
If you're currently scouring the internet for advice on how to rid your vinyl siding of a spray paint mishap – you've clicked on the right article! Below, we're going to be talking you through 3 methods that you can use to effectively lift spray paint from your home, as well as everything you'll need to make the process as simple as possible. Read on!
What Is Vinyl Siding?
Vinyl siding is a type of plastic exterior siding that is specifically created to be placed on the exterior of both small apartments and houses. It is often used as an alternative to wood clapboard and is made of materials such as fiber cement siding and aluminum.
Many people choose to use vinyl siding for decorative purposes, although it does come with a variety of benefits, including the following:
It's easy to install
Durable and long-lasting
Has the ability to enhance the curb appeal of your home
Is able to resist the growth of mildew and mold
Environmentally friendly
Is able to retain its long-lasting color and vibrancy for longer periods of time
For these reasons above, it's easy to see why many people choose vinyl siding (which is sometimes referred to as vinyl cladding) on the exterior of their homes or even small apartment buildings.
Not only is vinyl siding affordable, but it's aesthetically pleasing and, as we said above, can enhance the curb appeal of your home due to the way it is able to retain its color vibrancy.
Everything You Need to Know About Removing Spray Paint From Vinyl Siding:
Before we take you through the process of effectively lifting spray paint away from your vinyl siding, we'll first take the moment to discuss some important tips that can help to make the process as simple and problem-free as possible. Grab a pen and notebook!
Act fast: As we're sure you are already aware, spray paint dries fast. Therefore, the best course of action is to act as quickly as possible. As soon as you see the mistake or notice it, you should begin the process of removing it away from the vinyl siding. This will ensure that there is no damage made to the vinyl.
Keep calm: When something goes wrong, we know that keeping calm and collected can be something that is all too often easier said than done. However, if you make the mindful effort to stay cool in the event that spray paint gets on your vinyl siding, you'll be able to approach the situation with logic, rather than panic!
Make sure that supplies are nearby: We're going to be covering all of the supplies you'll need for the task of removing spray paint from vinyl siding in the next step, however, it's important to keep in mind that if you make sure to keep the supplies within arms reach (or at least in the same room) you will be able to fix the issue more quickly, and with hassle-free, too.
Side note: As vinyl siding is most commonly used on exterior surfaces, it does, unfortunately, run the risk of graffiti (including spray paint) which might mean that you won't be able to begin the process of removing the spray paint as soon as it gets on the vinyl siding. This is because, in this sort of instance, you won't have been the one who has applied it.
Now, though this might mean that you're unable to 'act fast as soon as the spray paint mishap occurs, the good news is that you will still be able to effectively remove the spray paint by following a slightly different method, which we'll talk you through a little further down this guide.
For now, let's continue on by taking a look at what supplies you'll need.
Removing Spray Paint From Vinyl Siding: Supplies You'll Need:
Before you can begin effectively lifting away the spray paint from your vinyl siding, you'll first need to make sure that you have all the necessary supplies that will allow you to get the job done!
Let's break down some of the basic tools that you'll need to get you started.
What you'll need:
A scrubbing brush, ideally with medium to coarse bristles
A scrubbing cloth that has a coarse/rough texture
A cleaning solution tailored towards lifting graffiti
Vegetable/cooking oil
What to keep in mind:
The above recommendations are basic items that you likely already have laying around in your toolbox. However, you will need to make sure that you have an adequate graffiti-removing solution, as this is what's going to be able to break the spray paint down and allow you to wash it away.
If you don't currently have a bottle lying around in your garage, we recommend considering the following:
Motsenbocker's Lift Off Spray Paint Graffiti Remover
See More Images
Widely considered to be the best graffiti spray paint remover in the industry, you'd be making a good choice to add the Motsenbocker's Lift Off Spray Paint Graffiti Remover to your DIY toolkit.
Available to buy in either a pack of 1 or 6, the Lift Off Spray is your one-stop-shop for paint-free vinyl siding. It's environmentally friendly, features low VOC, and boasts a water-based formula that is both biodegradable and green cross-certified.
It's also super easy to use thanks to its nozzle design, all you need to do is spray the liquid over the spray paint and the harsh chemical-free formula will instantly get to work in lifting off the spray paint. Armed with it, all you have to do is wipe it clean with your brush and cloth after it's worked its magic – it really is as simple as that!
5 Methods to Remove Spray Paint From Vinyl Siding:
Method 1: Oil Wash
Before we talk you through this method, we'd first like to point out that this process will only likely benefit those who have recently gotten the spray paint on their vinyl cladding. It may also be of use to those who have used water-based spray paint, especially if it hasn't yet fully dried onto the vinyl surface.
Generally speaking, spray paint is the easiest to remove from vinyl clad surfaces the moment that it has been applied, and the reason for this is because it has not yet dried, which means that it hasn't been given time to 'bond' itself to the surface.
Thanks to that, it means that you then have a short window of time to be able to wash it off quickly without damaging the vinyl siding surface underneath, and the best course of action or this particular method is with oil.
Remember, when it comes to mixing different types of products together, it's important to keep in mind that similar compounds are usually your best bet of being able to 'break down' one or the other. By that we mean, as most spray paints tend to be either water or oil-based, the solvent that you use to try and wash it off the surface also needs to be either water or oil-based.
If you're currently dealing with freshly sprayed spray paint, then we recommend grabbing some cooking oil (any type that you have in your kitchen) and apply it over the spray-painted area of your vinyl siding.
Once you have given the oil some time to seep into the affected area, you can then take your bristle brush, and gently begin working into the spray paint with circular motions.
As the spray paint has not yet been given time to properly dry, you should find that it comes straight off, however, if there are any stubborn areas, you can simply repeat the above method until all of it has been effectively lifted.
Method 2: Graffiti Remover
The next method we're going to be talking you through involves the Motsenbocker's Lift Off Graffiti Remover that we mentioned above. Like we said, if you have vinyl siding covering the exterior of your home, it's always worth having a bottle of this on hand because it really does do what it says on the tin.
Whether the spray paint has been recently applied or you've unfortunately discovered that someone has sprayed graffiti on the side of your home, this graffiti remover will make short work of the problem, and effectively lift away both freshly applied and dried spray paint in a matter of moments.
To successfully carry out this method, all you will need to do is take your Mostenbockers Lift Off Graffiti Remover and spray it a few times over the affected area of your vinyl siding. Then, you will need to give it time to sink in for around 10 minutes. After you have done this, all you will need to do is scrub it off (with either your brush or coarse towel) and you'll find that it wipes straight off with ease!
Just like with the first method, though the spray paint should all come off during the first application of the Lift Off Graffiti remover, if you find that there are some stubborn spots that won't wipe off, simply repeat the process again until all of the spray paint has been removed.
Method 3: Deep Clean
This last method we're going to be talking you through is an ideal choice for those who do not have any graffiti remover at hand at present and are dealing with spray paint that has fully dried to the vinyl siding.
If the spray paint has dried, then the oil method we talked about above won't be strong enough to be able to effectively break down the spray paint compound, so you're going to need something a little stronger to get the job done.
Important: The solvent we are going to be recommending below can be potentially dangerous if inhaled, so make sure that you are wearing protective clothing, a mask, and goggles to ensure you stay safe while handling them.
Option 1: Acetone
If oil isn't doing the trick, we recommend stepping up to acetone, which is commonly used as a nail polish remover.
Take some acetone onto your cloth, and then gently begin rubbing the spray paint until it has been removed.
Option 2: Lacquer Thinner
Keep in mind that lacquer thinner is very strong and may damage the appearance of the vinyl, so only use it if the spray paint won't come off using other methods.
Pour some of the lacquer thinner on your bristle brush, and scrub until the spray paint has completely lifted.
Option 3: Brake cleaner
We only recommend that you use brake cleaner if you have exhausted all other options and nothing is getting the spray paint to lift away from the vinyl siding.
Ensuring that you are wearing all of your protective gear, simply pour some of it onto a cloth, and scrub the spray paint until it has all come off. Keep in mind, there is a chance that the appearance of the vinyl siding can be affected by this strong chemical formula.