ThatPainter is reader-supported. When you buy through links on our site, we may earn an affiliate commission. Learn More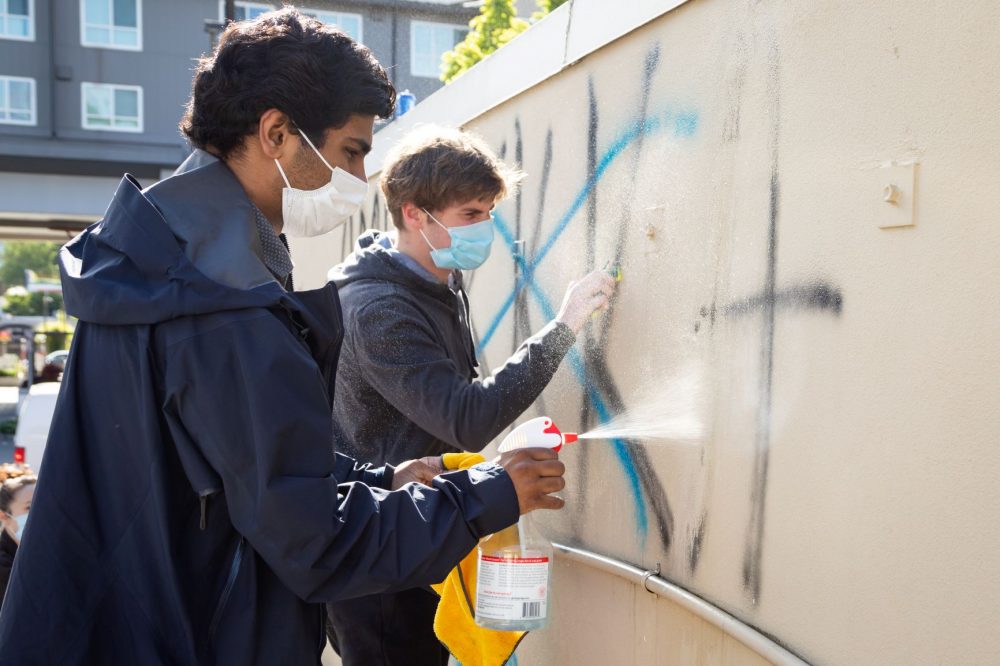 If you have ever wondered how on earth you are meant to remove spray paint from your walls, then there is no need to worry! With our handy guide, you will be able to remove spray paint from walls like a pro in no time at all.
Simply read ahead, and we will tell you everything you need to know about removing spray paint from walls, all of the equipment that you will need, and how exactly to do it in just five easy steps.
Using spray paint can be a much simpler way of refreshing furniture, or creating fun DIY projects, as it can create a clear, thick coat of paint in a short amount of time.
However, it can be a bit of an issue trying to remove the paint from the walls afterwards.
For instance, if you are renovating a recently abandoned property, then you may come across some spray paint, which can be a nightmare to remove!
If you want to get spray paint off the walls, then you will have to do so carefully, as
drywall
can be very sensitive, and you are going to want to avoid damaging it, or you may have to rip the whole thing down!
This will take you so much more time, and cost more in the long run, so you will need to know exactly how to remove that pesky spray paint from the walls, with our simple guide.
Things you will need to know about removing spray paint from walls
Before you start getting to work, there are a few things that you should keep in mind when it comes to removing spray paint from walls.
For instance, spray paint is incredibly adhesive, and will stick fast to many surfaces. However, if this type of paint is on surfaces where you do not want it to be, it can be hard to get rid of it.
Keep in mind that dry walls and many interior surfaces are also very delicate and can damage very easily. This means that you will have to take extra caution removing spray paint from dry walls, as you only want to remove the spray paint, not the paint underneath.
This can be a problem, as most cleaning solvents are highly abrasive, designed to remove strongly adhesive products such as spray paint, so naturally, these will strip the paint off underneath too.
This is why removing spray paint is such a tough task, and you will need to know exactly which ways are best to tackle it.
Supplies you will need to remove spray paint from walls
If you are up to the challenge of removing spray paint from the walls, then you will need to have all of the necessary equipment to get the job done.
Luckily, we have a few options for you to try out. Some of these are more abrasive than others, and so it is best that you use your judgement, depending on the level of spray paint that you are trying to remove.
For instance, if there are small stains and miniscule amounts of spray paint on your walls due to a DIY error, then you can use something such as a magic eraser, or WD40, whereas if you have large spray paint messes on your walls, then you will need something a little stronger.
Below is a list for your convenience, starting with the least abrasive to the most abrasive, for the toughest jobs.
To remove spray paint from the walls, you can use:
– you will find that you may need a strong product such as a paint remover or graffiti remover to get rid of most spray paints
– these work as a handy too to scrub the affected area, once you have applied a paint remover such as the ones above
– WD40 is an excellent paint remover, but can be very damaging as it is a solvent
– you'll need this if you have exhausted all of your other efforts, and it just will not come off
-this is perfect for repairing any holes that you have made in the drywall
– sometimes, it is just better and easier to just paint over the spray paint and cover any damage
How to remove spray paint from walls : Our Easy 5 Step Guide
For the most part, you will be able to remove spray paint from the wall, with just a few steps. Our guide has only five easy steps to follow, for the best results. These are:
Test the paint remover

Apply the paint remover/solvent and scrub at the affected area

Scrape away the paint if you cannot scrub

Fix any damage caused

Re-paint the wall
With just these simple steps, you can remove the spray paint in no time. If you still want a little more guidance, then do not worry. We will go over the steps below in greater detail.
1. Test the paint remover
The first step in removing the spray paint from the wall is to test out the paint remover that you have chosen to use. It is best to do this on a secluded area to see how it works before applying it to the whole affected area and possibly causing more damage.
To do this, you will want to use the paint remover on a small area, and leave it for 15-20 minutes. Once that time has passed, come back and check to see if any damage has been caused, but if it is fine, then you are okay to proceed with removing the spray paint from your walls.
If you do not purchase a paint remover, then you can try using a home remedy of warm water and baking soda to try to get some paint off the walls or surfaces.
2. Apply the paint remover and scrub
Once you have tested your paint remover or solvent, then you can start thinking about scrubbing. With your trusted paint remover, or thinner, you can apply it to the area of the wall with the spray paint, and start scrubbing away the product, to try and remove it.
This can be done well with a sponge, paper towels, a clean rag, or a magic eraser to work away the spray paint. This is the part of the process that will take a lot of elbow grease and patience, so stick with it and keep scrubbing!
3. Scrape away the paint
You may find that scrubbing at the spray paint is absolutely pointless, and you could need something a little more powerful to remove it. This is where a paint scraper will come in handy, but you will now probably damage the wall.
With a paint scraper, you can work off the spray paint, but you will also scrape away the paint from underneath, and probably end up stripping the wall. However, this will effectively remove all traces of the spray paint, you will just have to do a little DIY to your wall afterwards.
4. Fix any damage caused
After you are done scraping, you may be left with a little bit of a mess, and a ruined drywall. This will have to be rectified if you want your renovation to look good, and for the room to go back to normal.
We recommend using a putty to fill in any holes, gouges or scrapes that may have accidentally occurred whilst you were scraping away the spray paint. All you have to do is apply the putty, and spread it into place, ensuring that it is smooth and seamless, blending into the wall itself. Once that is done, your wall should look as good as new.
5. Paint the wall
If you really want to finish off the look, and make your walls look fresh, clean and free of any traces of spray paint, then it is probably best to repaint the wall anyways. Now, you may be wondering…why didn't I just paint over it in the first place? But trust us, we did think of this.
If you had tried to paint over the initial spray paint, without removing it first, it would take coat after coat after coat, and you may still be able to see the spray paint underneath.
After you have removed and repaired your wall, the paint will adhere much better, and create a more natural, smooth finish. Once you have removed the spray paint, covered any holes or gauges, and repainted the wall, it should look brand new.
Our Top Tips for Removing Spray Paint from Walls
If you are doing a little DIY in your home, and using spray paint for markings, then just make sure that you prevent this paint from getting in places where you do not want it to be.
Prevention is key, as it is so much easier than spending time scraping and scrubbing to remove the paint from the walls. Therefore, you are going to need to put down lots of drop cloths and plastic sheeting whenever you use spray paint to cover up vulnerable areas.
Make sure that you have all of the right equipment, when embarking on DIY projects, or using any types of paints such as Drop Cloths:
See More Images
Plastic Sheeting
See More Images
and protective wear for yourself.
Although fixing up and scrubbing at the walls can seem dire, and can take a lot of time and effort, learning how to patch up the walls and paint over them properly is a valuable skill that you can utilize time and time again. This is especially important if you are completing a home renovation, as these are things that you will most likely have to do a whole lot of!
Summary
Finding that spray paint may have gotten into the wrong places no longer has to be a disaster. Although getting rid of it can be a pain, and a difficult task, you can remove all of the stress out of the situation with our easy to follow guide of how to remove spray paint from walls.
With our five simple steps, all you need to do is use a paint remover/stripper, scrub away with an eraser, or scrape away the paint. Once you are done, you can simply repair the walls, and repaint it as you desire for the freshest, smoothest and cleanest paint job there ever was!
If you are taking part in a renovation project, then knowing how to remove paint, and redecorate your walls is an essential skill that you will need to have! So, let's get to scrubbing and scraping, and start removing that spray paint!
Richard Jenkins is a 33-year-old Professional Painter that applies paint on the interior and exterior surfaces. Qualified in painting technology knowledge, physical fitness, stamina, teamwork, and attention to safety. Read More.