ThatPainter is reader-supported. When you buy through links on our site, we may earn an affiliate commission. Learn More
If you've ever used a paint spray gun, then you know it's not just about the paint but also the sprayer. We'll go over the difference between a high CFM and a low CFM spray gun, explain what each is good for, and compare them side-by-side to help you decide which is best for your project.
What is CFM in Spray Guns?
Cubic Feet per Minute (CFM) measures how much air flows through a spray gun. You can use it to determine how much paint you sprayed at a specific time. This measurement is crucial because it tells you what kind of coverage you can achieve with your paint job and how quickly you can get it done.
Low CFM Spray Guns
A low CFM spray gun is best for small projects, surfaces, and areas. It's suitable for many materials, including clear coatings and primers. The Low Volume Low Pressure (LVLP) gun applies layers faster, making them better suited for large objects and high-production applications.
See More Images
They have smaller orifices that produce less overspray than conventional High Volume Low Pressure (HVLP) guns, which means you'll use less material and generate fewer carbon emissions when running them.
Pros
Less overspray for a more even coverage
The painter has greater control
A good option for woodwork refinishing
Ideal for bodywork coverage
Cons
It takes time and effort to complete big projects
Also Read: Best Airless Paint Sprayers For Cars
High CFM Spray Guns
High Volume Low Pressure (HVLP) CFM spray guns are the better option for large surfaces. They have a larger orifice, and therefore, they can deliver more paint in a shorter amount of time.
See More Images
A high CFM spray gun is suitable for base coats in the wood, metal, and plastic markets. It is also ideal for applying thin materials such as primers and sealers, where you do not need to use much material per unit of time.
High CFM spray guns are also very versatile because they can easily handle solvent and water-based coatings. Most high CFM guns come with a regulator that allows you to control your paint output from 20% to 40% or even more than 50%.
A regulator enables you to adjust the amount of material being sprayed so that it does not become too runny on your surface.
Pros
Compatible with different spray guns
Transfer efficiency is high
A minimal bounceback rate
Cuts down on labor time
Cons
Limited versatility
Higher upfront costs, limited portability
Also Read: Best Paint Sprayer For Furniture
Comparison
If you're looking for a spray gun, you should know that there are two main types of spray guns: low CFM and high CFM. The amount of air flowing through each type of spray gun makes them different.
A low CFM spray gun has less air than a high CFM gun, so it's typically used for lighter coating applications, such as primers or sealers. On the other hand, a high CFM spray gun has more air than a low CFM one, meaning it's best suited for heavier coatings like paint or clear coats.
Frequently Asked Questions
Which is better for spraying paint – a high or low CFM spray gun? Here are some frequently asked questions that could help you.
What is the minimum CFM for spray painting?
The recommended CFM (Cubic Feet Per Minute) for spray painting is at least 12 CFM.
What is CFM needed for an HVLP spray gun?
HVLP (High Volume Low Pressure) uses a higher air volume but at a lower pressure. (15-26 CFM at 10 PSI or less at the air cap)
Conclusion
One of the most essential tools for a painter is a spray gun. It's used for applying paint and other materials to surfaces and comes in different varieties that suit different needs.
A low CFM spray gun is designed to be used with lower viscosity materials such as thinner or water-based paints, while a high CFM spray gun can handle thicker materials such as oil-based paints or stains.
Your decision ultimately comes down to your needs as a painter. High CFM is the way to go if you're looking for a sprayer that will give you more control and precision. However, if you want something simple, easy to use, and affordable, then low CFM might be just what you need.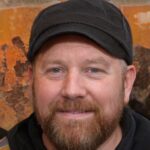 A Professional Painter, Joseph is known for solving huge problems with simple DIY tricks. Now retired, he writes for ThatPainter.com to educate people on how to get their paint job just right. Joseph specializes in painting services, and has a ton of experience working with paint of varied quality.