ThatPainter is reader-supported. When you buy through links on our site, we may earn an affiliate commission. Learn More

Having a home projector opens a lot of opportunities for leisure. Let's say you had a very hard week at work and want to relax and do something special on Saturday. But dressing up and going somewhere isn't an option since you're really tired. A way out? Bringing the party home!
With a high-quality projector screen, you'll be able to bring cinema to your bedroom or backyard. Get popcorn, gather friends or family, and relax! But first, you have to choose a proper screen. There's a special type called a projector screen paint.

It's a special, highly light-reflective paint that enhances the image's quality, contrast, brightness, and saturation. It's easy to apply, so you don't have to install anything.
It's also permanent and doesn't need to be rolled up or tightened to get rid of annoying wrinkles.
You may need a day to choose, buy, and apply the paint, but it's worth it. Besides, we're here to help you with the choice! Read our TOP-3 list of the best screen paints offered by Amazon. If more help is needed, proceed to the Buyer's Guide and FAQ sections!
Paint On Screen Projection/Projector Screen Paint – S1 Ultimate Contrast for a Great Picture Quality
The picture quality should definitely be on your priority list. This paint-on silver screen of the 5th shade (not too dark) is perfect for it with its 1.5 gain and 4K HD resolution support. You can create a screen up to 240" diagonal, making it easier for everyone to watch a movie from any spot in the room. The paint offers a very neutral color shift and can be applied on any flat, smooth surface, like a wall, a ceiling, an external building wall, etc.
Who Can Use the Screen
According to the manufacturer, movie-lovers, gamers, visual teaching enthusiasts can all benefit from this screen. It allows you to see all the details in 1080 HD and other formats.
It's suitable for homes, churches, schools, offices, and other places where a screen with ambient light viewing capabilities might be needed.
Easy Application
The screen is very easy to apply with a roller or a sprayer, just like any other interior paint. It's quick and simple even for a beginner; just make sure you leave enough time for every coat to dry completely.
The product formula allows for an extra smooth finish, so there will be no "footsteps" of your touch-ups visible.
You can use the screen right after application, but it's recommended to give it around 24 hours to cure completely.
A paint-on screen doesn't have frames, wires, and other small details that need professional installation. It might get messy since it's paint, after all, but the results are worth it.
Non-Toxic Materials
The paint is water-based and contains a low VOC amount. It's also washable with regular soap and water. You can easily repaint the surface if a non-removable stain or another kind of damage was done to the previous coats.
While the paint is non-toxic, it's highly recommended to ventilate the room very well during and after the painting is done.
Manufacturer Tips
The manufacturer offers a lot of tips on how to properly apply the paint-on screen and use it:
Make sure the surface is perfectly smooth and dry before application;
Apply two coats of the paint;
If the surface has been already painted or glossed, prepare it lightly with a primer or some sanding;
Install a border for a better viewing experience. Black felt or velvet work very well for such borders;
Measure the optimal size by projecting an image on the wall before painting;
If viewing in 4K, make the screen 80" diagonal or less for proper quality.
Recommendation
It's an excellent water-based paint. The image becomes crispier than on fabric screens, and it's not that difficult to make the coat smooth. It's relatively eco-friendly, but ventilation is essential. The paint is quite smelly, and the odor lasts, so wear a protective mask while painting if you're sensitive to paint-like smells.
PROS
4K resolution support
Up to 240" screen
Only two coats needed
Easy application
Low VOC
Water-based
Only light preparation needed if the surface was painted before
Washable
CONS
A bit smelly
Quite expensive
High Definition 4K Ultra White – Good Affordability
If you need a more budget-friendly screen, this might be a good substitute option for more advanced, expensive paint-on screens. It also supports 4K resolution and all HD formats. There's one quart of the paint in the can, but it's enough to paint 2 coats of an 8'x5' home theater screen.
Great Brightness
Although it offers only 1.5 gain, it's a nice balance with the viewing angle. The manufacturer doesn't specify the latter, but it's pretty wide. The paint is claimed to be 50% brighter in image reflection than regular white paint. The color is called "Ultra White," and it works just like one.
The screen is suitable for homes, schools, offices, conference rooms, etc.
Easy to Apply
The paint can be applied with a roller or a sprayer. You need only two light coats for a good result. It's recommended to leave it for a day to cure and then start viewing. Making it a DIY project also saves you money on calling a professional for a screen installation, which is another budget-friendly tip.
Low Odor and VOC
The paint isn't too smelly, which is beneficial to those sensitive to smells or even allergic to some. It also means you won't have to ventilate the room for a week before using it. The product isn't toxic and contains only a low amount of VOCs. It's also water-based, although it contains latex and acrylic.
Both Indoor and Outdoor Use
The only surface requirement is relative smoothness. If there's a light "orange peel" texture, it won't distort the image too much, plus the 2 coats will make it smoother.
There are no precautions as to the outdoor use, but due to the effect of the weather and changing seasons, you may want to cover the screen or repaint it as the signs of cracking or bubbling begin.
Manufacturer Tips
For the smoothest results, the manufacturer recommends using a ¼" nap roller. If you use any other roller, the finish might have an imprint of the roller's texture or other obstacles on the way to a perfect picture.
This is mentioned in the instruction that you should definitely read before the application.
It's also recommended to put a border around the screen for better viewing.
Recommendation
This is a great affordable option for those who want to create their first home or outdoor theater. Ease of application makes it friendly to those who have never painted a wall in their life. The paint might seem thick, so we recommend mixing it with a stick first and apply carefully with a proper roller.
PROS
Affordable
Supports 4K and HD formats
Low VOC
Low odor
Water-based
Suitable for outside
CONS
Quite thick
Requires a specific roller
Ultra HD Premium Screen Paint for Great Washable Options
A bright screen with a sheen for maximum reflection is what you should look for. This is just such an option, but there's another noticeable benefit to it. You can wash this screen with soap and water, and most stains are removed pretty quickly and easily. There's a quart of the paint in the can; it enhances the image very well and is easy to apply. What else do we need?
Brightness and Resolution Support
With 1.5 gain, the product offers the image half as bright as it would've been on regular white paint. Such brightness is achieved due to the "Optiperfect" sheen, which enhances the picture and prevents hotspots.
The screen is compatible with 4K and HD-supported projectors.
Easy Application
This is safe water-based acrylic latex paint. You only need to apply two coats; there's enough paint to cover 40 sq.ft. of the surface. Apply it as any other interior paint with a roller, and make sure the finish is smooth before leaving it to cure.
Recommendation
This screen has a decent viewing angle and no hotspots due to the formula quality. It works with most projectors; just make sure you adjust the focus well. It's reasonably priced and easy to apply and reapply, which is a huge benefit.
PROS
Washable
Compatible with 4K and HD projectors
Easy to apply
Safe
CONS
Due to the brightness, the black tones appear a bit lighter.
Factors to Consider Before You Choose A Screen Paint

The choice of your perfect projector screen paint depends, first of all, on the use, purpose, and lighting. There are other factors as well, as we'll review all of them to make sure you understand everything written in the product description and can choose the best paint out of the three presented in a minute!
Paint Type
There are two main paint types:
Acrylic. Acrylic paints are resistant to high and low temperature, as well as moisture. They are suitable for both inside and outside use in a variety of climate conditions. Premium-quality projector paints are usually acrylic, as they don't contain as much vinyl as latex and other paints. Vinyl is useful for increasing the area one coat of paint can cover, but it reduces its longevity.
Latex. This is actually a subcategory, as these paints are also acrylic. They contain more vinyl but are much cheaper than pure acrylic paints. Such paints lose durability if used outside as they don't have the same level of temperature and water resistance.
Image Resolution Support
If your projector supports 4K and other high-resolution formats, make sure the screen you buy will support them as well. It has to be high-quality paint with a smooth finish. If you have ambient light in the room, make sure the screen compensates for it. Newer paints with innovative formulas are the best for rooms with some ambient light, as well as regular acrylic screen paints.
Gain and Viewing Angle
"The more, the better" doesn't work in this situation. Gain measures the level of light reflection of the screen. It's responsible for the brightness and crispiness of the image. The 1.0 gain is neutral; it means the image will be reflected as bright as it was initially. A higher gain means the image will be brighter, and a lower gain means the image will fade a bit, which is also great for some circumstances.
Gain is measured in the brightest spot, which is right in front of the center of the screen. Higher gain means a better image in that spot, but what about the others? If you get a screen with a very high gain, the viewing angle will suffer.
This measurement is responsible for a properly-showing image without hotspots and blurry parts from different angles. If you have a large company and they are all sitting at different angles from the center of the screen, it's important that all of them see the image of the same quality. So in such situations, high gain isn't the best idea.
Gains up to 1.5 are optimal for most situations, as they provide a wide viewing angle.
Ease of Application
For a lot of people, one of the priorities is the ease of application of a paint-on screen. Usually, all such paints are easy to apply, but you should know some technicalities.

As it's been said already, the surface has to be smooth. You may need a couple of special tools for the application, like a specific roller or sprayer. Paint-on screens are best applied with a roller because if you use a brush, strokes will be visible, distorting the image.
A lot of manufacturers offer assistance. You can ask a specialist from the company to come to your home, office, school, etc. and paint the screen on, following all technicalities. However, it's also a fun DIY project, and most buyers use the product without professional help.
Keep in mind that you'll need at least 2 coats of paint if it's of high quality.
The algorithm is easy: apply the first coat, let it cure, then apply the second one and let the whole screen dry completely. Some screens offer a possibility of usage immediately after you finish painting. For more info on a particular paint, refer to the user manual.
Water Base
Water-based paints have all the ingredients, including coloring, fillers, adhesive, etc. mixed in water. The other type of base is oil, but water has a number of advantages. By the way, all of the options presented above are water-based.
Here are the advantages of water-based paint-on screens:
There is the smallest amount (if any) of volatile organic compounds (VOC). This means there are little to no cancerogenic ingredients. Plus, there's almost no odor to such paints, meaning that if you have a sensitivity to smells, you won't be affected;
Water-based paints are easier to maintain. You can clean it (the screen and the paint off your hands and other surfaces) with regular soap and water. For oil-based paints, you'll need special solvents. This is a larger investment, plus the process alone demands more effort.
We highly recommend you to buy a water-based paint-on screen, unless there are factors for which it's not suitable.
Ambient Light in the Room You're Using for Viewing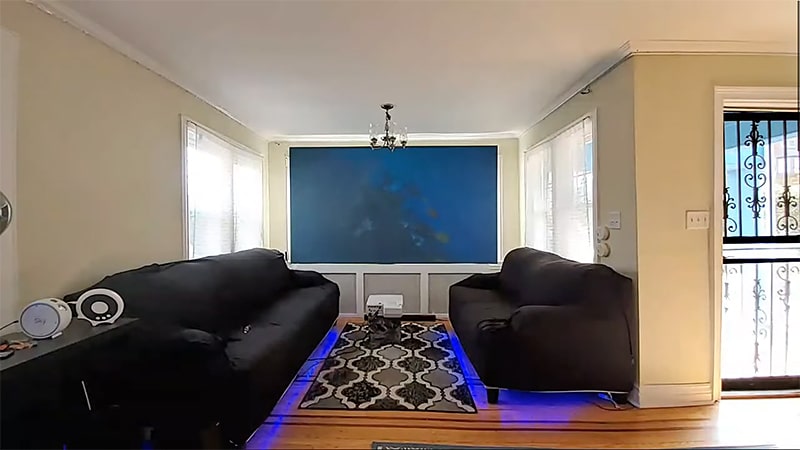 Last but not least, this factor should always be one of your priorities. Investigate the room where you want to have a screen in. See if there's a lot of ambient light coming from windows and any other openings. Ambient light is any light that doesn't come from the projector. Even the best projector can perform poorly if the room is too light. It will reflect from the screen, making the image seem faded, lacking contrast.
To combat ambient light, you can get a more powerful projector or opt for a darker shade of the screen. Gladly, there are paint-on screens of different colors, even dark grey.
Frequently Asked Questions
There's a lot of information mentioned above, but if any of your questions weren't answered by that section, you could find additional info here.
Do I need any preparation or a base coat?
This depends on the condition of your wall and if it's been painted before. If it has been, it makes sense to sand it lightly or apply a primer. You can contact the manufacturer to find out what primer is suitable for the paint you have.
A lot of paints come as a "one-step" solution, containing a primer and the paint in one formula.
Refer to the user manual to find more information on your specific case.
If you have deformations on the wall, it makes sense to prepare it much better. The surface to be painted must be as smooth as possible for the best result and the crispiest image. A primer is also recommended for old, deformed walls because they may absorb some of the screen paint, and you may need extra to finish the screen.
What are the main recommendations for painting a screen on a wall?
Usually, it's very simple to paint these screens on the walls. You need a primer (optional), the paint, and a couple of rollers. If you like to use a sprayer, make sure the product is suitable for that.
Sometimes, you may need a specific roller for the best result. Make sure to get one, as using any other roller might lead to unsatisfactory results.
Prime the wall, make sure it's perfectly smooth, mark the edges of the screen, and paint within the borders like you would apply any other interior paint. Make sure there are no strokes or other irregularities left on the coat. Usually, you need to apply two coats of paint. Refer to the user manual to see how much time you have to give the first coat to cure before applying the second one.
Should I choose a projector screen or paint?
Both options have their advantages and disadvantages. A screen made from fabric can be portable and offer more opportunities for a home theater. However, it may wrinkle, and the installation process may take hours if you're doing it alone.
A paint-on screen is super-easy to apply and provides amazing brightness and image quality.
However, it's a permanent solution, as you won't take a wall or a ceiling with you, right? Paints are also cheaper, so if it's your first screen choice or you have a tight budget, opting for such a variant is a good idea.
Does a black border really help? Can I make one by myself?
A black border around the screen absorbs redundant light. A lot of manufacturers sell such borders or paints for it. You can use any matte black acrylic paint if you don't want any texture on the wall. If this isn't a priority, use black felt or velvet.
To Summarize
A paint-on projector screen is a wonderful substitution for a fabric one. It has a lot of advantages like lower cost, ease of application, no hassle, no professional help needed, easy reapplying if the need occurs, and more.

Paint On Screen Projection/Projector Screen Paint - S1 Ultimate Contrast
4K resolution support
Up to 240 inch screen
Easy application
Check Price


There are different types of paints for various budgets and requirements. Estimate how much you can spend on a paint-on screen, and find out what the most important qualities for you are. It can be durability, image resolution support, brightness, etc. A decent balance of all of these criteria combines in perfect paint for you!
Richard Jenkins is a 33-year-old Professional Painter that applies paint on the interior and exterior surfaces. Qualified in painting technology knowledge, physical fitness, stamina, teamwork, and attention to safety. Read More.