ThatPainter is reader-supported. When you buy through links on our site, we may earn an affiliate commission. Learn More
Concrete is a pretty common surface, used in most places, as it is incredibly durable, and is also a solid and smooth surface that works for both indoor and outdoor places. However, it's not exactly pretty to look at. (It looks quite boring and plain). 
The solution, of course, is to paint it, and you can do so in many different styles or colors or patterns. 
Wooden floors are a lot more visually appealing, so you could also paint your concrete floor to look like it's wood, even though it obviously isn't. Truth is, you can paint concrete to look like whatever you want, as long as you have the right paint and tools for the job, and the right skill set to achieve it successfully. 
Painting concrete to look like wood can be challenging, especially if you want it to look as realistic as possible, mirroring the texture of wooden floors. But it's completely possible, especially if you have the right methods to do so! 
How do you paint concrete to look like wood planks? 
Now that we know it's completely possible to paint concrete so that it looks like wood planks, mirroring the texture and appearance of wooden floors, but on concrete, the question is: how? 
How can you paint concrete so that it looks like wood, as realistically as possible? It can be quite a challenge to achieve this successfully, but if you have the right tools and you follow the steps of the method as closely as possible, you should be able to do it even if you're a beginner or amateur painter. Let's get right into the method! 
What you will need
Before you start, it's important that you prepare all of the materials and tools that you will need for the job. All of these should be easily found at any general hardware store, or at any paint store, and some you might already have at home, or might be able to borrow from somebody else!
Here is a list of all the materials and tools:
Duct tape

Aluminum foil 

Dish soap 

Painter's tape

Concrete primer

A paint roller

A paintbrush

A paint tray

Paint 

A brush or graining comb

Paper towels, or cloth or rag

Protective sealer
Step by step guide on how to paint concrete to look like wood planks
Once you have everything you need ready, and you're prepared to begin the job, it's time to get started! Here is a simple step-by-step guide with instructions, to get you through the entire process so your concrete floor can end up looking like wood planks. 
The first step is to prep the concrete floor for the paint job. Start by cutting out a large square of aluminum foil, and placing it over the concrete floor, leaving it overnight. In the morning, check for signs of moisture. This is important because the concrete needs to be 100% dry in order for the paint to be applied properly and to avoid any peeling afterward. 

You also need to thoroughly clean the concrete surface beforehand, But if you wash it, leave it to dry for around 24 hours to ensure that it is completely dry! You might also want to chemically remove any previous coating of paint or sealer beforehand, as the paint will work best when applied to a rough and fresh surface of the concrete. 

Next, use the painter's tape to tape off any areas you don't want to paint over. Protect edges and areas you want untouched. 

Once everything is prepared and protected, start by applying a coating of concrete primer. 

After the primer has dried, apply your first layer of paint. As you're trying to make it look like wood planks, you should paint in vertical strokes, following the same direction, and you should also make sure that you've chosen a suitably brown paint color. 

Leave the first layer of paint to dry. 

Next, mix a second color of paint (ideally it should be the same brown, but slightly darker), with some glaze. 

Paint the glaze mixture onto the surface, but make sure to apply it as a thin coating, and do small patches of the surface at a time. 

Before the glaze layer dries, you need to apply the wooden texture. To do this, you can use a special graining tool, which is used specifically for painting faux wood. Run it over the surface, and the teeth of the tool will scrape off pieces of paint in a way that makes it look like wood grain. If you don't have this tool, you could just use a coarse-bristled brush, and it should provide you with the same textured effect. Make sure you're not being too tidy or precise with this, as natural wood isn't perfect looking and the lines on wood planks are never completely straight! (Basically, mistakes are welcome!)

Add some details! You can use the darker brown paint to manually paint on "wooden" details such as small circles and extra lines. This can also help create a better illusion of individual wooden planks. 

Once this layer of paint is completely dry, you can seal the entire surface with a finishing coat, for protection and durability. There are many different types of sealers you can use, and some might add more of a glossy shine than others, so take your pick wisely! 

Once the final coating is dry, your concrete floor should now look like a surface of wood planks! It is recommended that you wait a few days before placing any furniture on top of it, to avoid the risk of scratches.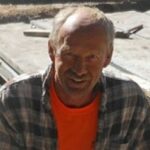 Jim Bettesworth well known for his can-do attitude and often takes jobs other companies were unwilling or unable to do. Experienced and educated in concrete construction and painting jobs. Read More.