ThatPainter is reader-supported. When you buy through links on our site, we may earn an affiliate commission. Learn More
Whether you are moving into a new home or thinking of refurbishing your current one, painting is a great way to play up your house's strengths, conceal its flaws, and make it more aesthetically appealing to just about everyone.
However, while painting the house can be somewhat straightforward, painting behind the toilet (the thin space between your toilet tank and the wall) requires extra care, especially if you want it neatly done.
Not to worry. Let's show you methods and tips you can apply while painting behind your toilet without straining your neck or making a mess of the surrounding area.
What Paint is Best for Toilet Painting?
When it comes to painting your toilet, moisture is a massive threat to the performance of your paint. Splashes of water and steam from your shower can seep beneath the freshly painted wall, creating a smear and subsequently causing a mildew growth on your wall.
The best type of paint for bathrooms are ones with a satin, semi-gloss, glossy finish, and a mold-resistant additive.
Paints with a glossy finish have a reflective, aesthetic appearance but are also durable and suitable for the toilet. They are also easier to clean than eggshell and flat finishes.
Satin paint is another excellent water-resistant option for painting behind your toilet. Cleaning it is easy, and it has a protective coating. If you don't want a full-blown glossy texture but still want to enjoy the many advantages of a gloss finish, this is your best choice.
How to Paint a Toilet
Here are the three methods and techniques that will help you achieve your desired result, leaving you with a professional-looking paint finish.
The mini roller frame method
The sponge or foam brush method
Removing the tank method
Use a mini roller
The mini roller frame method is the easiest and only requires standard painting tools. The only downside of this method is that you need to have a brush close by, just in case the mini roller can't fit in the inlet pipe area.
If you would like to try the mini roller frame method of painting behind the toilet, here are the materials needed:
Small drop cloth
Tape/garbage bag
Let's now take you through the process in five steps.
First, clear and remove all personal items from the bathroom, especially the area to be painted, before you begin.
Clean the wall behind the tank with warm, soapy water. This will prepare the wall and prevent dirt from getting stuck in your paint and sabotaging your painting. After that, leave the wall to dry.
Gently remove the porcelain water tank lid and place it somewhere safe. After that, you must run duct tape strips around the water tank lid from top to bottom to protect it from paint splatters. You can improvise with a large garbage bag if there's no tape available. A small cloth covering the entire toilet should also come in handy.
Dip your mini roller frame in paint and gently paint behind the toilet. You'll need your 2″ cutting brush and brush around the water inlet pipe, just in case the roller can't fit into that space.
When you are done, check for paint splatters on the porcelain or floor and clean up. Then, let the wall dry.
Use a sponge or a foam brush
If the mini roller frame method doesn't work for you because the space between your toilet and tank is less than an inch and a mini roller won't fit there, using a foam brush or sponge is another solution.
The disadvantage of this process is that it takes time and doesn't leave you with a perfect texture.
Materials needed:
Sponge/foam brush
Plastic bag
Tape duct
Steps:
Repeat steps 1, 2, and 3 mentioned in the previous method.
Once your wall is dry and ready for painting, dab some paint onto the pad (sponge). Using the paintbrush, transfer the paint from the can to the sponge. Don't dampen the sponge with too much paint.
Next, use the sponge or foam brush to paint behind the toilet tank. It's best to paint towards the tank's middle portion, starting at its side and then working your way upwards and then downwards on the opposite side of the tank until the surface behind the toilet is fully painted.
Remove the tank
If you have tried the other two options of painting behind the toilet but still aren't getting your desired result, you will have to remove the tank to have complete access.
It's a rigorous process and takes a longer time to finish.
Materials needed:
Brush/ paint roller
Plastic bag
Steps:
First, stop water from entering the cistern by turning the water valve to the 'off' position. Then, empty the cistern.
The water tank has a hose on the back of it; unscrew this.
Next, carefully remove the cistern's two plastic bolts and plastic nuts (underneath the cistern). Unscrew the nuts. Don't forget to be careful with the tank!
Clean the wall with warm, soapy water, then leave to dry.
You can start painting behind the toilet. After the paint is dried, place the cistern back. Ensure the nuts are tightly fitted, and each plastic bolt goes into the correct hole. Turn on the water and do a test flush.
Frequently Asked Questions
What type of roller would you use to paint behind a toilet?
Since the space between the toilet tank doesn't have enough room for a conventional paintbrush, use a thin, high-density foam roller that's just 1 inch or 1 1/4 inch in diameter.
Can you paint behind a toilet without removing it?
Yes, there are other methods. All you need to do is get a suitable mini roller to paint the wall behind the toilet or use a sponge. 
How do you use a Jimmy Sponge Stix?
Jimmy Sponge Stix is a spongy paint tool used to slide in the narrow space behind the toilet and pad on paint. Dampen the spongy side with soap and water and slide it against the wall to remove existing dust or mildew. Let the wall dry. Then, clean the Jimmy Sponge Stix and let it dry before painting. 
How long does it take for paint to dry in a small bathroom?
Give it a day or two. This ensures that your paint has cured beyond drying to the touch.
Conclusion
By now, you know that painting behind a toilet doesn't have to be a daunting or taxing exercise, especially if you follow our complete guide on how to get a perfect job done. Now that you know what to do, you can easily paint behind the toilet if you want to!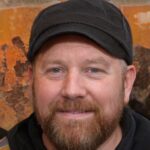 A Professional Painter, Joseph is known for solving huge problems with simple DIY tricks. Now retired, he writes for ThatPainter.com to educate people on how to get their paint job just right. Joseph specializes in painting services, and has a ton of experience working with paint of varied quality.