ThatPainter is reader-supported. When you buy through links on our site, we may earn an affiliate commission. Learn More
Painting your garage door is a great way to improve the look and value of your home. If you feel your metal garage door is starting to lose color, now would be the best time to choose the best paint for a metal garage door.
Good-quality paint will help cover imperfections and scratches while preventing rust from corroding your garage door. It's the perfect addition for those looking to increase their garage door's durability and resistance to weather conditions.
When considering which paint to apply, it's essential to consider the primer. Choosing a good primer is crucial to ensure the paint adheres to the surface, prolonging the lifespan of your metal garage door.
You should also learn the techniques required to paint a metal garage door. If you're new to painting metal garage doors, you need to know about cutting in, which is using a brush to make a straight line to cover edges and corners. If it's done correctly, it can be easier and quicker than applying tape.
We've reviewed the five best paints for a metal garage door. Take a look at what we found before you choose your favorite!
Top 5 Best Paints for Metal Garage Door
Best Paints for Metal Garage Door
Features
Water-based multi-purpose paint.
Available in several sizes.
It comes in more than 30 colors.
It has a quick-drying and low-odor formula.
The Painter's Touch Latex Paint is available in over 30 colors, ranging from satin light tones, like silver and almond, to dark glossy in shades like black and navy.
One of the best things about this paint is its resistance to water, chipping, and fading. Together, these features will ensure metal garage doors last longer. It dries in under 30 minutes, so you can immediately enjoy your new-looking garage door.
Pros
It offers coverage of up to 120 square feet.
Resistant to water, chipping, and fading.
Available in several finishes.
Dries in 30 minutes.
Cons
Fast-drying can be hard for inexperienced painters.
Reports of the colors not matching the packaging.
Features
Water-based enamel paint.
Satin-finished black.
It comes in a 32 oz can.
Quick-drying formula.
Thanks to its water-based formula, this paint has extraordinary water resistance. It's also resistant to fading, courtesy of its Never-Fade technology.
Applying the paint is effortless. All you need to do is prime your metal garage door and you're ready. We'd recommend painting at least two coats to increase its durability. The first coat dries in about an hour. After applying the second coat, wait at least three hours for the best results.
Pros
Coverage of 100 square feet.
The water-based formula offers excellent resistance.
Proprietary Never-Fade technology.
Cons
You'll have to apply several coats for a long-lasting finish.
Features
Oil-based metallic paint.
Available in eight colors.
It is formulated to resist rust.
It comes in a 32 oz can.
The Rust-Oleum Hammered Metal Finish will give your garage door a beautiful vintage hammered metal look. It suits smaller garage doors, especially if you're going for a retro-inspired design.
This oil-based paint is available in eight eye-catching colors: brown, copper, dark bronze, gold rush, deep green, gray, silver, and black. The metallic finish is also perfect for hiding imperfections in metal garage doors. You can achieve optimal results by applying two coats of paint.
Pros
it offers coverage of up to 100 square feet.
Its surfaces don't require priming.
It has excellent rust, corrosion, and water resistance.
It dries in approximately 30 minutes.
Cons
It may require extensive mixing before use.
You must be careful with the fumes it releases.
Features
Water-based acrylic satin paint.
Available in 10 colors
Comes in a 32 oz can.
This paint was developed to be extremely easy to apply, requiring no sanding or priming before its application. It comes with DiamondHard technology that is specially designed to improve its scratch resistance.
It comes in various satin-finished colors that can help your garage door pop; these include the shades glacier mist, golden dandelion, ivory flake, midnight wave, olive green, sangria red, and serenity. Thanks to its color retention technology, every color will result in a smooth and even finish.
Pros
It offers easy application without sanding or priming.
It has excellent coverage of 110 square feet.
It is resistant to scratches.
Dries in under one hour.
Cons
Not the cheapest option out there.
Doesn't prevent rust.
Features
Oil-based enamel paint.
Available in 15 colors.
Resistant to water and chemicals.
Comes in a one-gallon can.
If you live close to the sea or in a humid environment, the Duralux Marine Enamel Topside Paint is your best bet. This oil-based paint was specially designed for marine uses and can be used to paint metals such as steel and aluminum.
It's available in fifteen colors, including colorful options such as aquamarine, signal yellow, cruiser blue, and international orange. Due to its nature, it's incredibly resistant to water, rust, and fading.
Pros
Resistant to fading, oil, and water.
Suitable for steel and aluminum garage doors.
Coverage of up to 500 square feet.
Available in several vivid colors.
Cons
It takes a long time to dry.
Requires extensive preparation.
A moderate amount of VOCs.
Buying Guide for Metal Garage Door Paint – What to Look for?
There are several types of garage door paints available on the market. While it's hard to pick the best paint for a metal garage door, a few key parameters can make your choice easier.
Paint type
Essentially, paint comes in two types – oil-based or water-based. Each type has its benefits and downsides, but both can be viable options for metal garage doors.
Water-based paint is easier to apply and clean, but it may not be as resistant as other alternatives. The most common types of water-based paint for metal garage doors are acrylic latex, acrylic, or enamel.
Oil-based paint is harder to apply and requires more preparation, but it offers the best resistance to water, rust, and fading. It's usually similar to enamel, known for its hardness and glossy finish.
Also Read: 10 Best Oil-Based Spray Paint For Your Projects
Finish
Garage door paints usually come with a gloss, satin, or hammered finish. The former has a shiny look to it while remaining quite durable simultaneously. Satin has a lower sheen but still reflects some light. The latter adds a metallic, machined look to your garage door.
Ease of application
Some paints are more challenging to apply than others. Most paints will require a primer to adhere to the surface they're being applied on. However, some types of paint can be used without a primer.
In addition, others may require a top coat, a transparent protective layer that further increases its resistance. This is particularly useful when painting with satin-finished paint.
How to Paint a Metal Garage Door?
Clean the door and frame – Use water and soap to remove grease, dust, and stains from your garage door.
Sand your door – This process will even the door's surface and allow the primer to adhere better.
Start priming – Apply the primer and leave it to dry according to the product specifications.
Paint – Start from the corners and tiny details. Apply a second coat if the paint seems uneven or patchy.
Frequently Asked Questions
Check out some of the most commonly asked questions about painting metal garage doors.
Do I need to prime a metal garage door before painting?
This depends on the paint chosen, but most metal garage doors require a primer before painting. However, some types of doors don't require priming before painting, saving you a lot of time.
How do you paint an old metal garage door?
Older metal garage doors may require additional treatment. Always sand and prime the surface before getting started. It's also recommended to use rust-resistant paint to prevent further damage.
How do you paint over pre-painted metal?
We recommend you use a paint stripper. Alternatively, you can sand the door to remove most of the old paint.
Do you have to sand a garage door before painting?
Yes, in most cases. Yet, some garage door paints don't require sanding, providing a smooth finish in any situation. Nonetheless, sanding will always yield the best results.
Conclusion
Painting your metal garage door is a wise decision to improve your home's look, and the best part is that you can rely on several top-rated paints, ranging from easy application water-based paints to extremely durable oil-based options. No matter your choice, you'll benefit from long-lasting results that are easy to maintain.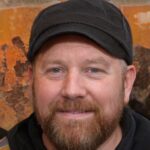 A Professional Painter, Joseph is known for solving huge problems with simple DIY tricks. Now retired, he writes for ThatPainter.com to educate people on how to get their paint job just right. Joseph specializes in painting services, and has a ton of experience working with paint of varied quality.