ThatPainter is reader-supported. When you buy through links on our site, we may earn an affiliate commission. Learn More
Are you considering giving your beloved car the best paint job this year? You need the top airless paint sprayer for cars to get the job done in the best way possible. Airless paint sprayers have a small tip nozzle at the end of the spray gun that creates a controllable paint pattern. A high-pressure pump pushes the paint up a hose and out of the spray gun.
Your car may need a new paint job because of weather changes that cause cracks in the body paint or because of scratches and dents due to life's many accidents. As your most prized possession, you should repaint it to keep it looking good and well taken care of.
In this article, we look at the top airless paint sprayer for cars on the market in 2022 to help get the best paint job for your vehicle.
Also Read: The 5 Best Automotive Paint Gun For Beginners
Should You Use Airless Paint Sprayer for Cars?
Painting a car with a regular paint sprayer requires a lot of elbow work, plus spraying a finely atomized mist can be difficult to control properly. An airless paint sprayer for cars can help reduce these kinds of issues.
Preparation is the key when using an airless paint sprayer on your car. A little more wiping down and drying before the paint job makes it possible to get a neat finish. There are fewer adjustments to the settings of an airless sprayer than on an air system.
Top 5 Airless Paint Sprayers For Cars
After diligently looking around and testing potential airless paint sprayers for cars on the market, we've come up with a recommended top five.
Hardened stainless steel piston pump with high-pressure power for spraying unthinned paints
A flexible suction tube that can directly spray from one or five-gallon containers
TrueAirless spray tip with SoftSpray technology gives less overspray and greater control
Power flush for a quick clean-up when connected to a hose
Durable frame making it compact, lightweight, and easy to lift and move around
Adjustable pressure settings for the control of paint flow
PushPrime settings with fast and reliable start-up every time
The Graco Magnum X5 is a cost-efficient, high-performing airless paint sprayer that you use indoors and outdoors. Setting up the Graco Magnum X5 for use is easy, thanks to a clear step-by-step guide.
Users of the Graco Magnum X5 have commented on how easy it is to fix minor issues. One user was able to fix the airless paint sprayer via a video call with Graco technicians. One of the best features of the Magnum X5 is its lightness in weight. You can quickly move around your car with the sprayer.
Graco installed the SoftSpray technology in the spray tip, which gives greater control while lessening overspray over a wide range of paints. The adjustable pressure settings control paint flow on the Magnum X5.
The PushPrime settings on the Graco Magnum X5 ensure that it starts every time, no matter the weather.
Pros
It gives an excellent, consistent spray
Easy to assemble
Does not have clogging issues
Easy to clean
Cons
It takes time to prime it for painting
Some users have complained of overspraying
It has a spill-resistant lid that keeps debris out and makes it easy to move around
A 25-foot hose for a long reach
The 515 HEA (High-Efficiency Airless) spray tip has a 10-inch spray pattern
Equipped with integral handles and tip storage
The Control Pro 130 Power Tank can apply coats three times faster than a roller with minimal overspray. With the Control Pro 130, Wagner made a sprayer that produces about 55% less overspray than conventional airless sprayers. Preparation is made easier with quick clean-up while using less paint.
The Power Tank, as it is commonly known, works well with a range of unthinned paints and stains. You can expect no mess on priming and cleaning because it is gravity fed.
HEA technology is responsible for a massive decrease in overspray, improving control with the Power Tank while maintaining a persistent finish. A reduction in overspray of up to 55% is a significant flex on the part of the manufacturers as it solves one of the airless sprayers' most critical challenges.
With a holding capacity of 1.5 gallons in the hopper, no job is too big for the Power Tank. A 25 ft hose means you do not need to move it around a lot, meaning there are fewer stops during your big projects. The gun and hose fit inside the tank, minimizing the storage space needed for your spraying equipment.
The Power Tank is fitted with a spill-resistant lid that keeps the mess to a minimum during painting and helps keep debris out of your paint. As for the clean-up, you only need to flush and rinse the system, and the Power Tank is ready for the next big painting job.
The Control 130 Power Tank works well for the DIYer who wants to paint like a pro and the professional who only gets a couple of paint jobs a month. It's no surprise the Power Tank made our top five airless paint sprayer for cars list.
Pros
It has a 25 ft long hose that minimizes stops during a project
A large holding capacity of 1.5 gallons makes it easier to complete big projects
HEA technology decreases overspray by up to 55%
The gun and hose fit in the tank, minimizing storage space
Cons
It takes a long time to clean
Accessories are not that easy to find
It comes with two nozzle tips, size 513 and 517, giving you the power of choice
It has a 5/8HP (650W) motor with up to 3000psi pressure
25-foot hose for more extended reach
It has a knob for adjusting pump pressure
A rubberized and knurled handle for better traction with a relaxed grip
The Himalaya Airless Paint Sprayer is as comfortable in a pro's hands as in a DIYer's. The hype on this sprayer is about the ⅚ HP motor, which delivers up to 3000psi pressure. We can tell you that the Himalaya Airless delivers on the hype with a bit to spare, delivering the 3000osi at 0.28 gallons per minute.
An adjuster on the pump housing allows you to harness the pump's power to the level you want to work with.
An underrated feature of the Himalaya Airless is the two different nozzle sizes that come with the sprayer. The size 513 and 517 nozzles make the Himalaya Airless compatible with a wide range of unthinned paints, giving you the power of choice.
The spray gun is very lightweight – couple that with the 25-foot hose, and you have the makings of a fatigue-free project with lots of free movement. Dirt going into the pump is not an issue because the suction tube on the Himalaya Airless has an inlet filter that allows you to attach it straight to the paint can.
Twisting the nozzle of the Himalaya Airless adjusts the paint pattern to a horizontal or vertical plume. So you can match the pattern to your project, lessening paint wastage and delivering a consummate finish.
Pros
Comfortable and relaxed handle grip
Adjustable pump pressure
A suction hose that can be attached straight to the paint can
Lightweight spray gun
Long hose
Cons
Spares can be hard to come by
There is no carrying handle
1500 psi pump pressure
Pump durability lasts up to three times longer than competitors
A 30-foot hose that extends to 80 ft.
The Titan ControlMax 1700 High-Efficiency Airless Paint Sprayer is designed for serious DIYers that want to paint like professionals. It can apply paint three times faster than a roller, providing a more consistent finish with a softer spray. The ControlMax 1700 has HEA technology that causes a 55% decrease in overspray.
Titan backs its product with the industry's best and most extended two-year warranty. The pump is made to last three times longer than its competitors and features a rebuildable fluid section that prolongs the sprayer's life span.
The pump pressure has a maximum of 1500 psi with a flow rate of 0.33 gallons per minute, boosting productivity while maintaining the quality of work. It is possible to adjust the pressure on the 0.60 horsepower motor.
There is a lot of freedom of movement when working with the ControlMax 1700 because it comes with an extendable 30-foot hose for a very long reach. The ease of doing a project with the ControlMax is boosted by the suction tube that can be connected directly to a paint can.
Priming is ensured every time with the ControlMax 1770, thanks to the Sureflo pusher valve that comes with the package. Clean-up is a breeze, as most users have attested in their reviews.
Pros
Lightweight
Easy to use
Clean-up is easy and fast
Ensured priming every time
Durable pump with a two-year warranty
Cons
Triax triple piston pump with extended reliability
DeWalt lithium-ion battery system
32 oz FlexiLiner paint bags
ProConnect pump replacement system
The Graco Ultra Cordless Airless Sprayer is made for specialty projects with its portability, fast set-up time, and perfect finish each time. You can spray at any angle with the Ultra Cordless Airless and even upside down, thanks to the FlexiLiner bag system.
A standout feature of the Ultra Cordless Airless is the ProConnect pump replacement system that allows on-the-job pump replacement. The pump is replaced in 3 steps using a screwdriver only.
There is ProControl II on this handheld sprayer to adjust the motor speed for more control to deliver a professional finish. SmartControl technology gives more precision control to the Ultra Cordless Airless for a consistent spray with no fluctuations.
Cleaning tip clogs is easy with Reverse-A-Clean switch tips that work with all Graco airless sprayers while providing a superior finish at low pressure.
Pros
Portable
Ready to work quickly with easy set-up
Perfect airless finish in seconds
Easy to clean
Cons
Airless Paint Sprayers vs. HVLP Sprayer for Car
The most significant difference between airless and HVLP (high volume low pressure) sprayers is how paint is atomized.
With the airless sprayer, paint is siphoned to the gun by a pressurized pump and piston through a fluid line. The paint is then forced out via an opening in the spray tip, atomizing it.
In an HVLP sprayer, a compressor or turbine atomizes the paint, which is held in a cup attached to the gun or pressurized pot.
Overspraying: Airless sprayers spray at a much higher pressure than HVLP sprayers, producing more overspray. An airless sprayer sprays enamel at 2,000 psi while the HVLP sprays at 10psi for the same material.
The Finish: HVLP sprayers allow you more control over coat thickness and paint flow at low pressure, so they produce more refined finishes. It is easy to get a perfect spray pattern for a smooth finish. However, airless sprayers can give the same results using the proper spray tips. Graco FFLP tips are a good option with an airless sprayer because they have a slightly smaller opening for less overspray.
Thinning: You must thin paint before using it with an HVLP, whereas airless sprayers are strong enough to pump unthinned paint to the gun. The opening on an HVLP is small and gets clogged up when the paint is still thick. Getting the proper viscosity by thinning involves experimentation at most times.
Clean-up: HVLP sprayers involve more cleaning, mainly because of the cups. There is more chance of clogging and uneven spray with cup sprayers because it's harder to keep the fluid nozzle openings unobstructed. Airless sprayers can just be flushed and rinsed before being put away for the next project.
How to Use Airless Spray to Paint a Car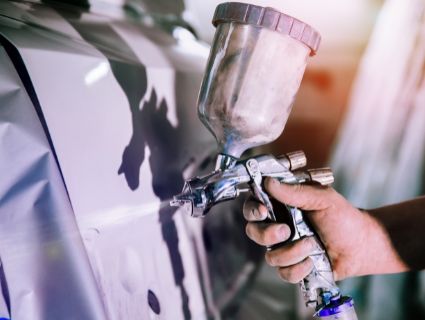 An airless sprayer might not be your first choice when painting a car, but it's more than possible to get a professional finish with a little effort. Here is a summarized step-by-step to painting a vehicle using an airless paint sprayer for cars.
Sand the car and wipe it down
Tape over the windows and wheels
Prepare the paint by reducing it
Mix four parts paint with three parts reducer and one part hardener.
Attach the gun and spray the car, putting in more coats than you would with a compressor
Leave the car to dry for a day
Wet sand the car to get rid of the 'orange peel' effect and any runs
Frequently Asked Questions
Here are some frequently asked questions about airless paint sprayers and what they can and cannot do.
What are the benefits of an airless paint sprayer?
Speed and quality. Airless paint sprayers pump out more paint in a shorter space of time, so you cover larger areas at a faster rate. Airless paint sprayers get an even coat of paint on a broader range of surfaces, producing a consistent, high-quality finish.  
Do airless sprayers use more paint?
Yes. If you decide to paint your car with an airless paint sprayer, you will use a lot more paint. Even on other surfaces, airless paint sprayers use 40% more paint than other sprayers. 
Can I paint my car by myself?
Yes, you can, but the real question is, do you want to? If you want to ensure a quality finish, it may be better to let a professional do it.
What happens if you paint a car without a primer?
Primer is the bond between the paint and the surface of the car. If you're changing the color of the vehicle, your intended new color will not show as planned without primer. Painting a car simply does not work without a primer. 
Also Read: Best Paint Sprayers For Walls
Conclusion
There are alternatives if you're still not sold on using an airless paint sprayer to give your car a fresh coat of paint. However, it's worth noting that a well-planned and prepared project will provide excellent results with an airless sprayer, leaving your car looking more than just decent.
Airless paint sprayers are particularly well-suited to projects like a trailer and smaller vehicles, as they pump out paint much faster than the compressor-driven HVLP.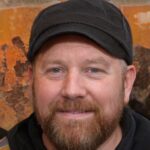 A Professional Painter, Joseph is known for solving huge problems with simple DIY tricks. Now retired, he writes for ThatPainter.com to educate people on how to get their paint job just right. Joseph specializes in painting services, and has a ton of experience working with paint of varied quality.