ThatPainter is reader-supported. When you buy through links on our site, we may earn an affiliate commission. Learn More

Is your vehicle in need of a new paint job? Maybe you just fancy a change of color to spice things up. Whether you want to paint your car's roof or just want to touch up certain areas, you will need the best automotive paint gun for the job.
If you're in the mood to change the color of your car, you've come to the right place. We know how stressful it can be trying to find a professional to do a paint job on your vehicle.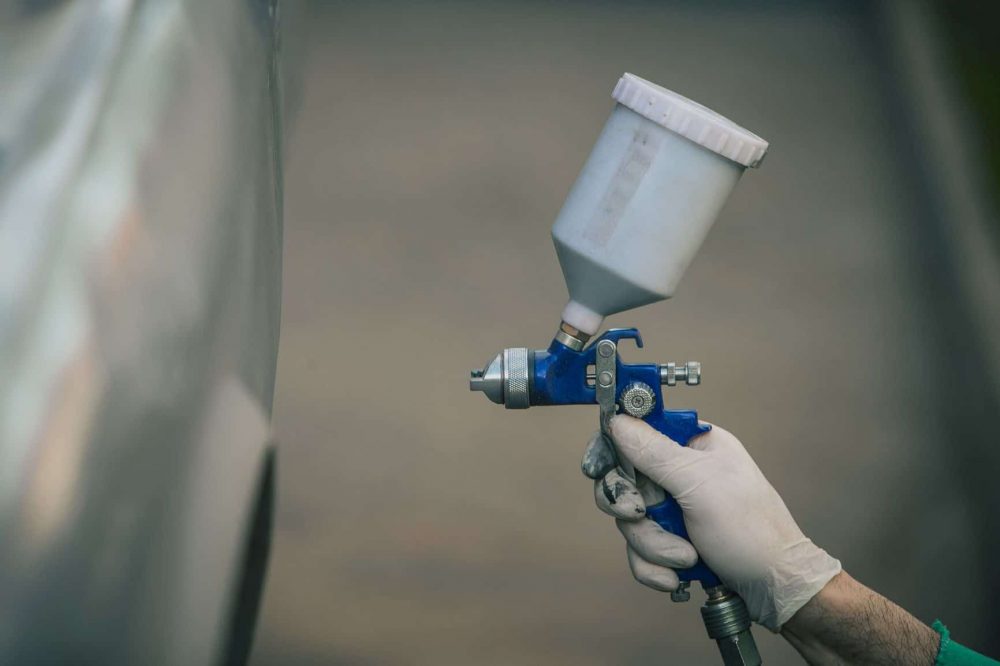 Not only is it hard to find one which will produce the exact color you want but they can be very expensive. Some professional paint jobs range from $500 to a whopping $4,500 and not all of us have that kind of money floating about. (We wish we did!)
The main reason paint jobs cost so much is because of hourly labor. The longer it takes, the more cash you'll have to spend. However, there are other ways to spruce up your vehicle without having to raid the piggy bank.
With the right equipment and practice, you can achieve the same quality finish with a fraction of the cost. You know what that means. More money left over for other car upgrades!
"What equipment do I need to paint my car?" we hear you ask. Don't worry!
Top 5 Automotive Paint Gun For Beginners
We have spent over 20 hours researching the best automotive paint guns for beginners on the market.
That way, you can sit back, relax, and discover the right paint gun for you to get started on your motor as soon as possible.
Devilbiss 803558 Paint Gun
Top of the pile of best automotive paint guns for beginners is the Devilbiss Finishline. With one of the best showings of any paint gun on the market, this product's paint spray quality is unmatched by most.
At first, using a paint gun can be a tricky process and can take time to come to terms with. Fortunately, Devilbiss Finishline is very easy to adjust and use, especially for beginners.
Paint guns also need regular maintenance to keep them clean. This gun isn't just easy to manage but simple to clean for the next time you use it.
Another fantastic feature of the Devilbiss paint gun is its compatibility with all different types of paints. Therefore, you don't have to stick to one paint job. Why not go crazy and use different colors on your vehicle or paint a friend's car for them?
It is worth noting that this paint gun is best used with a solvent. This ensures the paint has an appropriate thickness for an even finish. This leads to the paint being compatible with latex paints, urethanes, and most types of paints you can think of.
It is highly durable and will stand the test of time thanks to its heavy-duty aluminum cup and stainless steel parts. There is no doubt that Devilbiss Finishline will deliver a very professional finish every time with dynamic air control ensuring all your paint jobs have an even coat and surface.
PROS
Professional quality

– Allows you to save money but get the same result as a professional

Very easy to use

– Perfect for beginners who may be less confident in using a paint gun

Compatible with all paints

– Can try all kinds of paints for automotive purposes and other paint jobs
CONS
Most expensive

– Professional quality means you will have to fork out more cash
Fuji 2202 Semi-PRO
Without a doubt, the Fuji 2202 Semi-PRO spray system will help you create a masterful paint job on your automobile.
This is the best complete HVLP (High Volume Low Pressure) system for budding enthusiasts and beginners. If you are looking for a professional-grade finish, this gravity paint gun will do the job.
The Fuji 2202 Semi-PRO boasts a very powerful 1400 watt 2-stage bypass motor to help produce more paint for a quicker finish.
A paintball's cup is where the paint is held in order to use on your automobile and this has a 400cc cup that holds a good amount of paint but not too much so the gun feels heavy. Its lightweight nature means it is easy to use and paint efficiently.
This product is for those of you who want the highest quality paint for their car. A cleaning kit, air cap set, filters, and a 6-foot long hose are included Iand is everything a professional would want and need to get the job done properly.
The Fuji 2202 Semi-PRO paint gun will apply a professional-grade finish every time and is especially impressive when used on metallics.
PROS
Ideal for beginners

– Easy to use nature is suitable for those who have never used a paint gun before

Professional-grade finish

– Leaves an even finish and surface that any professional would be proud of

Additional accessories

– The inclusion of a cleaning kit, air cap set, filters, and a 6-foot long hose makes this the complete package for producing the best possible paint job
CONS
May require a different tip

– Some users have needed to replace the tip when using certain types of paint
Master Pro 44 Series High-Performance HVLP Spray Gun
Next up is another high-performance product but this is less expensive than many similar paint guns on the market. The Master Pro 44 Series High-Performance HVLP Spray Gun is certainly one of the best spray guns in terms of costs combined with quality.
Its 1.33 mm fluid tip set is perfect for when you want to paint base coats, single coats, clear coats, primers, and a wide range of light to medium viscosity paint coating materials.
Maintenance is pleasingly simple with the Master Pro 44 Series Spray Gun. It is adjustable for an easy cleaning process which helps the longevity of the product.
This dynamic spray gun delivers a very high cfm (cubic feet per minute) without overspray affecting the finished product.
These are designed with the professional painter in mind with all gun components being made with exacting precision so you can paint precise areas when needed. However, it is still easy to use and ideal if you are just starting out with a paint gun.
You should be able to achieve the perfect performance with all kinds of paint coatings thanks to its Advanced Superior Atomization Technology. This means all paint coatings are fully atomized for an ideal pattern and a clean, even base coat or topcoat finish.
PROS
Highly professional-grade

– Can get results very similar to professional paint sprayers for a much lower price

Adjustable settings and components

– Helps provide optimal performance for all kinds of automobiles and precise areas of the chassis

Easy to clean

– Adjustable nature allows for easy maintenance helping the gun last longer for more dynamic usage
CONS
Seals wear out quickly

– Can lead to possible leakage and a loss of pressure
ANEST IWATA W-400 Bellaria Spray Gun
If you're looking for a tactile paint gun that will produce professional results time and time again, the Anest Iwata W-400 Bellaria Spray Gun may be the one for you.
It has a smaller design than most spray guns which is ideal for beginners who want to get to grips with the art of automotive painting.
What it lacks in size, it makes up for in performance. It still produces the same amount of power as many of the bigger models on the market.
The W-400 Bellaria Spray Gun weighs far less than most models providing outstanding weight distribution on the hand. Therefore, you will feel very comfortable when holding the gun and painting for hours on end.
The cup is located right above the spray gun at the center of the cap gun. This results in an excellent center of gravity balance making the gun very easy to operate.
What we loved about this gun is that it is just as easy for left-handed people to use as right-handed. Left-handed individuals actually have the advantage of the cup not getting in the way and obstructing the spray area.
For those of you who are looking to improve your painting skills and want a quality finish, Anest Iwata W-400 is the paint gun for you.
PROS
Ideal for left-handed users

– The location of the cup doesn't obstruct your spraying view when in use but this is still very easy to use for right-handed individuals too

Lightweight

– Lighter than most paint guns on the market resulting in an easier to use product

Excellent center of gravity balance

– Easy to operate, especially for beginners and novices
CONS
Pressure drops

– The amount of paint spray is decreased compared to other models
TCP Global Brand Professional New 2.5mm HVLP Spray Gun
Another fantastic beginner option is the TCP Global Brand spray gun. With its lower price and wide fluid tip, it is a perfect choice for learning the ropes of automotive painting.
A 2.5 mm stainless steel nozzle allows you to use thicker paints such as latex or urethanes as opposed to just sticking to regular beginner paint sprayers.
You will find this one of the easiest paint guns to use. Its portability is also exceptional so you can move it around all parts of the car with ease.
It is fully adjustable to reach harder parts of the car but this is a little more complicated to use than previous entries on our list. However, you should soon get to grips with the product and find it easy enough to adjust.
Once you do get used to this, you can take full advantage of the control knobs to adjust the spray pattern, fluid control, and air pressure to get the precise results you desire.
You will be able to produce a consistent spray pattern for a smooth professional finish with the TCP Global Brand Professional Spray gun. Its full baffle head assembly enables you to produce fully atomized paint so the layers are completely even.
PROS
Lower in price

– This will save you money when compared to most products and should last a long time too

Compatible with thicker liquids

– Thicker and more durable stainless steel nozzle allows you to use very thick materials such as polyester primers, latex paints, thick enamels, metal flakes, etc so you have more choice of what and how to paint

Consistent spray pattern

– Produces even layers for a smooth professional finish
CONS
Difficult to clean

– Harder to adjust than some models resulting in a more time-consuming maintenance procedure

Clogs

– Some users have reported that the gun clogs easily which can be very hard to clean out
Buyer's Guide
Before you go ahead and buy any old automotive paint gun, there are various factors and features you should consider. Whether it's the spray quality or the air pressure it can generate, you must take these factors into consideration to find the best paint gun for your needs.
Below, you will find important aspects to consider which will help you make that final decision in absolute confidence.
Different types of paint guns
There are four different types of paint guns for automotive. Each one has unique qualities that may be what you are looking for. Let's take a look at each one in detail:
High Volume Low Pressure (HVLP) Sprayers
This is the most favored and commonly used type of paint gun when used by automotive enthusiasts. This is mainly due to their ability to have a narrower aim for the spray with a softer pressure.
As the name suggests, you can hold high volumes of paint with these canisters meaning you can spray a lot more in one go. This quantity is ideal for larger projects when you may need to paint the whole body of the car.
Low-pressure sprayers such as these are the best suited out of all paint guns for detailed and more intricate projects by providing better accuracy with higher levels of control.
These can include the body of the car and smaller components throughout. Many users love the fineness these sprays produce which comes out like a fine mist.
Low Volume Low Pressure (LVLP) Sprayers
These are almost identical to HVLP sprayers but have a lower volume capacity. There are benefits and disadvantages of low-volume paint guns.
One positive is how there is a larger center of mass towards your wrist giving you more control over the gun because of the lower volume and weight of paint. A negative is that you will have to refill the container more frequently which can take up more time.
Compressed Air Sprayers
This is regarded as a traditional paint gun and is another commonly used type that uses compressed air to shoot out pressurized paint like a fan. The spray's consistency from these guns is typically thicker and has broad stroked coats.
One downfall of using compressed air sprayers is that it tends to waste a lot of paint from the spray. This is because around half of it stays on the surface because of the sheer pressure emitted.
Airless Paint Sprayers
This type of paint gun uses high pressure instead of using air to pump the paint out. Airless paint sprayers usually pumps air up to 3,000 psi through a spray nozzle or hose.
As with compressed air sprayers, airless paint guns have a similar drawback. The amount of paint wasted when being applied is a big disadvantage and can be quite costly.
Another con is the considerable amount of time it takes to clean this type of gun compared to others. This is because the hose has to be cleaned after every single use.
If this isn't performed, paint can build up inside and produce air bubbles resulting in a much poorer quality finish.
The weight
Many beginners are surprised by how long they have to hold an automotive paint gun when spraying a car. This is especially true if you are working on the whole body of the vehicle.
Holding a paint gun in your hand for an extended period of time can put strain on your hands and cause discomfort. This is why it is important that you consider the weight of the gun before purchase.
Lightweight models will feel far more comfortable in your hands and won't leave you aching. Make sure you find one that you can support and hold easily.
Air Pressure Rating
Automotive paint guns have air pressures. Most of these guns use up to 10-14 scfm (air volume) at 40 psi but this can vary from one to another.
You will want a device that is capable of delivering a good amount of spray for a wider and more even coverage. You should find one that can perform well without achieving high pressure.
Ease of Cleaning
Automotive paint guns need regular maintenance and cleaning but some more than others. Because automotive paint guns spray paint, their internal compartments usually get covered in paint which can easily clog up the inside.
Therefore, you should ensure the paint gun you intend to buy is easy to disassemble and clean. This is especially important for those internal parts. The harder a paint gun is to take apart, the longer it will take to clean leaving you frustrated.
Electric and Pneumatic
You can choose between electric and pneumatic automotive paint guns. If you are looking for a higher performance model, pneumatic may be the way to go as these typically offer more power.
On the other hand, electric models are far cheaper and usually much easier to use. Electric versions may be better suited to you if you use them infrequently and don't intend on painting huge areas of vehicles.
The Feed
The feed is a container attachment in which the paint is held when the spray gun is in use. This can hold either a gravity or a siphon (conventional) type of feed.
Gravity feeds use less air pressure than Siphon feeds through directing gravity to apply the desired pressure. This results in a more atomized spray achieving a smoother, more balanced finish.
Siphon feeds use air pressure to release the paint and are the cheapest option. They also have the advantage of being able to hold more paint than gravity feeds.
Nozzle Size
The nozzle size that is right for you depends on the type of paint you want to use. Heavier paints, such as primer, require nozzles with greater-sized holes to allow more room for the thicker paint to escape.
If you will be using thinner paints like metallics and overcoats, it is recommended you use a smaller holed nozzle so that the final coverage is evenly spread.
Portability
A portable automotive paint gun kit can save you time and energy. Some kits come with added storage compartments to keep all of your additional gear safe and out of the way.
If you can carry all you need with you at all times, you won't have to go back and forth to a workspace to get certain supplies.
These kits are very handy when painting a car. You can also find automotive paint guns that come with a shoulder strap so you can keep your hands completely free when spraying which is very convenient when doing those precise and delicate areas.
Gallons Per Minute
You should invest in a paint spray gun that has a high GPM (gallons per minute) number. This will allow you to be more efficient when painting the entire car.
The GPM is the amount of paint a paint gun can transfer from its container to a surface in a minute. If your project is on a bigger scale, you will want faster coverage while maintaining a very even finish.
Frequently Asked Questions
What are automotive paint guns?
An automotive paint gun is often referred to as an HVLP or high-volume low-pressure gun. These guns are used to spray high volumes of automotive paint to cover a vehicle quickly and precisely.
Automotive paint guns are designed for giving maximum coverage with the use of a variable spray. They are generally very efficient and easy to use. They allow you to paint the entire body of a car or single panels without much trouble or cost.
That is right! Getting your own automotive paint gun and doing it yourself is a lot cheaper than hiring a professional and most of the guns on the market today offer a professional-grade quality finish.
Nonetheless, most automotive paint guns are used by professional car painters as it can take some time to get used to using one properly and carefully.
That's not to say car enthusiasts shouldn't use one as they can greatly improve the speed at which a car is painted and gives more control and coverage than other means.
These paint guns are very useful for processing multiple layers on a car that has been stripped down or when a replacement part needs to be matched up with the car's bodywork.
Some automotive paint guns come with narrower nozzle sizes in order to do more detailed and finer work such as writing or drawing but this is usually left to a professional artist or an automotive painting specialist.
How do automotive paint guns work?
These paint guns work in one primary way and that is by delivering a high volume of paint at quite a low pressure. This process results in a consistent spray that spreads paint all over the desired areas of the vehicle without leaving large concentrated areas that look and feel unsightly.
All automotive paint guns either use a motorized pump or pneumatic pressure. They then pressurize a stream of air that attracts the paint into and through the gun before it shoots out the hole of the nozzle.
Paint guns for your automobiles come in many shapes and sizes but most systems are designed with adjustable spray nozzles so you can change the shape of the paint spray.
This allows you to change how the spray lands on your car and makes it easier to get an even coverage of paint. You can also interchange a variety of fluid types to create contrasting patterns for certain projects.
Do I use more paint with an automotive paint gun?
The type of paint sprayer you use has the biggest effect on how much paint you use. It is recommended that you always buy 20% more paint than you think you need just to be on the safe side and have enough for a big job.
Paint jobs typically require a second coat and touch-ups so having some leftover is always an advantage.
HVLP spray paint guns typically need more paint when compared to other painting methods such as brushing or rolling.
Airless paint guns usually require double or even triple the amount compared to roller paint as they depend on high pressure to atomize the fluids. The same goes for paint sprayers that rely on air compressors.
Can I use an automotive paint gun to apply primer?
The short answer is, yes. The best automotive paint gun for this undercoat is the gravity feed spray gun.
However, before you start using your paint gun to apply primer, you should always consult the instruction manual to ensure you are using the correct air cap size and nozzle for the primer to be used effectively.
What PSI is best for painting a car?
When painting any vehicle, the paint requires consistent pressure to deliver an equal amount of fluid every time. Any premium spray paint gun should be able to achieve this desired consistency.
It is recommended you choose a paint gun that can hold more gallons and has a larger compressor capacity.
In terms of PSI, you should look for a paint gun with around 90 PSI and around 14-18 CFM (cubic feet per minute). This can be done by finding a good-sized 60-gallon tank that has a 6-horsepower compressor.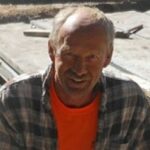 Jim Bettesworth well known for his can-do attitude and often takes jobs other companies were unwilling or unable to do. Experienced and educated in concrete construction and painting jobs. Read More.