ThatPainter is reader-supported. When you buy through links on our site, we may earn an affiliate commission. Learn More
Yes, you can paint concrete coping stones. You will need to adequately prepare the stones for painting and use the correct supplies, but there is no reason why you should not paint your coping. 
What are coping stones?
Coping stones are flat stones that are installed on the top of a free-standing wall. They are almost always found on freestanding walls as they form a protective covering. The stones prevent any rain that falls from entering the wall and weakening it from inside. 
The stones have a function known as a drip check. This is the way that they are designed in order to deflect water off of the wall. Most coping stones are made from a very strong concrete. 
They also serve an aesthetic purpose. A wall without coping will look unfinished and messy. If you are after an air of luxury on your property, you are going to want to get some coping installed. 
Coping stones can be once weathered or twice weathered. This refers to the shape of the upper surface of the stone. A coping stone that has been weathered once will only slope off to one side.
This directs the water off the edge of the stone and into a designated area, such as a gutter. This kind of coping stone is commonly found on the top of buildings to help with rainfall control.
Twice weathered coping stones are similar in shape to an upside-down V. There are slopes on either side to direct as much water off and away from the wall as possible. These are commonly found on balustrades and garden walls. 
What paint to use on coping stones?
When painting coping stones you should use a paint that has been designed specifically for external use.
Interior paints have not been formulated to be able to withstand the pressure put on them by the elements. This will mean that the paint flakes off of your coping stones very quickly and can look messy.
Exterior paint will be able to handle the temperature fluctuations, the sun's rays, and rain much better. High-quality exterior paint should be 100% acrylic. 
As you will be painting onto stone, it is recommended that you use masonry paint. This type of paint has been formatted to apply efficiently and smoothly to the surface. As well as this, masonry paint is water-resistant and will provide an additional layer of protection to your coping stones. 
Masonry paint will also have something added to make it resistant to mold. This will help to keep your coping stones looking fresh and clean. Masonry paints are designed to last for at least 10 years with minimal maintenance required. If you use the wrong paint you will have to redo it within months.
The color of the paint is another factor to consider. Neutral and lighter colors tend to be easier to maintain and fit into the aesthetics of your surroundings.
If you have chosen a dark colored paint, imperfections will be easily visible. This is not a reason to stray away from darker colors, but be prepared that you will likely need to retouch the paint more often. 
How do you prepare your coping stones for painting?
The first thing that you will need to do to prepare your stones depends on whether they are fresh or not.
Fresh masonry should be left to cure for at least 28 days before it is painted on. Ignoring this curing period will not allow the paint to stick as well and the stones will appear dusty. 
If the stone is old and has been painted previously, you will need to power wash the stone. This should remove any dirt, debris, and old paint that has collected on the surface. 
If you notice mold when looking at your coping stones, this will need to be dealt with before painting. You should apply a chlorine or bleach based solution to kill the mold before you attempt to repaint the stone.
If you notice any dents or large cracks in the stones, now is the time to deal with them. Leaving them as they are will reduce the durability of the paint coat. Smaller hairline cracks will be filled in due to the high viscosity of masonry paint.
You should fill the imperfections with caulk and allow it time to cure before you attempt to paint over the stone. 
If your stones have been painted before, or your paint is of a lesser quality, it's a good idea to seal the stones. This is done with a primer which you will be able to find in any hardware store.
The primer acts as a base for the new coat of paint to bind to. If your surface is particularly dusty or chalky then it is worth priming. 
How do you paint coping stones? 
The best way to paint coping stones is using a paint sprayer. This will emit a thin and consistent layer of paint onto the stones, making light work of the paint job. This is the easiest and most convenient method to use if you are doing the painting alone. 
If you have a friend or willing accomplice, the spray and roller method is even better. One person will spray the paint onto the stone, while the other follows behind running over the fresh paint with a paint roller. This creates an incredibly smooth and even finish.
We do not recommend using a paintbrush to apply masonry paint. This is because the paint is so thick that a brush will apply a very noticeably uneven coat. Paint rollers can be used on their own, although this is a very time consuming method to use. 
You should aim to apply 2-3 coats of masonry paint to your coping stones. Allow the paint time to cure properly in between coats. Many paints will dry to some extent in the first hour, and are commonly ready for a second coating after 4. Check the instructions on the tin for more specific information.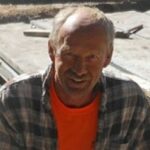 Jim Bettesworth well known for his can-do attitude and often takes jobs other companies were unwilling or unable to do. Experienced and educated in concrete construction and painting jobs. Read More.