ThatPainter is reader-supported. When you buy through links on our site, we may earn an affiliate commission. Learn More
If you are renovating your home, then you know what a long, painstaking process it will be. This is why you will want to get it done right, but as fast as possible…so that you can pull up those drop cloths for good, and enjoy your home!
Painting can be a long, messy task, and that is without the extra coats of paint afterwards. Therefore, you will need to know exactly how long different paints take to dry, so that you can manage your time, and move onto the next task. 
If you are using Valspar paint to redecorate your interior or exterior, then you are in luck. These paints work exceptionally well, and cover areas in just a few coats.
But, how long does Valspar paint take to dry? That's what we are here for! We can tell you everything you need to know before using Valspar Porch and Floor paint, or Valspar concrete paint. 
How long does Valspar Porch and Floor Paint take to dry?
If you want to redecorate and repaint your porch or floor, then Valspar Porch and Floor paint may be perfect for you. We recommend using Valspar Porch and Floor paint such as:
See More Images
as it is designed for use both inside and outside, and is perfect for porches, concrete floors, patios, or other areas with properly prepared wood. Just remember not to use it on wooden decking! 
If you are using this paint, then you will need to know how long it takes to dry, so you know much time to leave in between coats. With Valspar Porch and Floor Paint, you should leave it to dry for about 6-8 hours before taking any further steps.
You may notice that the paint itself dries to the touch in about 1 hour, but we would recommend that you leave for at least 4-6 before deciding if you need a second coat. 
Although at this point, the paint may seem dry and ready to go, we would also advise that you leave the first coat for about 24 hours if possible, before attempting a second coat of paint.
After painting any surface, we recommend that you always wait for longer, to fully ensure that the paint is completely dry and cured before using.
How long does it take for Valspar concrete paint to dry?
If you are using Valspar concrete paint, then the drying times may be a little different. For concrete surfaces, you are going to need to allow it to dry for at least 24 hours in total before trying to walk on it, as it may ruin the finish.
If you need to drive over the freshly painted concrete surface, then you should leave the paint to dry for at least 72 hours for the best results.  
Does Valspar Porch and Floor paint need primer?
When it comes to Valspar Porch and Floor paint, the formula is made with a high binder content, and so for most of these paints, you will not need a primer. In addition, many of Valspar's Porch and Floor paints are considered self priming, and so you will not need to do a priming coat before painting.
That being said, that is a general rule, and if you feel that the surface will need a coat of primer, then we recommend that you do so.
For the best results with Valspar Porch and Floor paint, you should make sure that the surface is clean, dry and free of any old, peeling or loose paint before you start.
You will also want to use an all purpose cleaner to get rid of any dirt, grime, wax or grease build up before painting, and any rough, damaged or recently repaired aspects should be sanded smooth before beginning to paint. 
If you are using the paint for new, bare wood, then Valspar recommends that you do prime the surface with the Valspar Exterior Latex Primer:
See More Images
How do you apply Valspar Porch and Floor paint?
If you are ready to do some redecorating for yourself, then you will want to follow the correct instructions, so that you apply the paint perfectly.
Most Valspar Porch and Floor paint is highly versatile, and is therefore capable of being used for interiors and exteriors, to give your floors long lasting protection, and a fresh appearance.
This paint is highly tough, durable and weather resistant, and has a quick drying formula for your convenience!
To apply the Valspar Porch and Floor paint with the best results, you are going to need to ensure that the floor or surface you are using it on is clean, clear, dry and has no old, loose or peeling paint on it. 
Then, you should thoroughly cleanse the floor, removing any built up dirt, grease, debris, grime or wax with an all purpose cleaner to ensure a fresh surface for the paint to adhere to.
If the floor you are repainting has any previous glosses or finishes, then you may also need to sand it first ready for the new coat of paint.
Once you have thoroughly prepped the area, you can start thinking about painting! But, first, ensure that the paint is mixed well before you use it!
When you are painting, make sure that you use a high quality brush for smaller painted surfaces such as stairs or tricky areas, and use a nap roller for larger surfaces for the best results.
After you have painted your first coat on the chosen surface, you should leave to dry for about 24 hours.
If a second coat is needed, then only apply after the advised time has passed, and do so with long, even strokes in the same direction for the perfect finish.
Once you are done painting, we recommend not using the surface for 72 hours to leave it dry completely and fully before using, and you are done!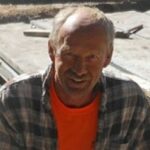 Jim Bettesworth well known for his can-do attitude and often takes jobs other companies were unwilling or unable to do. Experienced and educated in concrete construction and painting jobs. Read More.