ThatPainter is reader-supported. When you buy through links on our site, we may earn an affiliate commission. Learn More
Are you ready to give your car a new look? Well, first you're going to need to know how much it will cost to do it! In this article, we're going to explain everything that you need to know about how much it costs to paint a car a different color.
In doing so, we're going to mention how much it usually costs to paint a car yourself, and how much it will cost to get the professionals to do the work for you.
In addition to this, we will also cover the supplies and labor costs, and a couple of ways that you can save money when painting your car a different color.
Interested? Read on to find out more!
How Much Do I Need to Budget to Paint My Car?
First, the vague answer: it depends. What do you plan on doing? Will it be a simple job or something more complicated? In addition to this, are you going to be doing the work yourself or will you be getting a professional to do it for you?
Now, in some situations, you may be paying to paint the car using your insurance. In this situation, it's usually better to take your car to be painted by someone that knows what they are doing.
On the other hand, if you feel like you're prepared to do it yourself and you feel like you can do a good job then by all means you can do it yourself.
The Cost of DIY
The great thing about painting your car yourself is that it's much more affordable than paying a professional to do it. It's not without its downsides though. Unfortunately, painting your car by yourself can be rather expensive.
With that being said, if you have the confidence to paint the car yourself then it's definitely worth your while to do so. You are going to need to buy a couple of supplies up front, however.
Spray Cans or Gun
The first thing that you'll need is a spray can or a spray gun so that you can do the painting. You can usually get a spray gun online for roughly $50 – $100, though you could get a more premium option and pay upwards of $200.
If you want to do a coat or two on the car then you should be getting roughly 8 to 10 spray cans for full coverage. This means getting roughly 6 to 8 quarts of paint for a standard-sized vehicle. You may need less or more than this, depending on the size of the vehicle.
Masking Gear
If you want to save yourself some valuable time then you should get some masking materials. A paint masker is a good investment, and you should get some masking tape and masking film to go with this.
Finally, get some masking paper so that you can stop the paint from going onto places where you don't want it to go.
Sandpaper
You may not need to do a lot of sanding, but if the older paint job is abysmal you may need to get more sandpaper. 120 grit sandpaper should usually do the trick.
After using this, you will need to apply a primer so the new coat sticks to the car more easily, then you put one coat on the top. No need to remove the old paint!
If need be, you could actually get a wire brush or a paint remover that spins, and if you hook this up to a power drill you can get rid of the paint with ease. This isn't always needed, however.
Body Filler
If you have tiny dents and blemishes on your car, you are going to need to get some body filler. This is essential if you want to make the paint job look seamless. Simply fill the holes in for a smooth and beautiful finish.
Drop Cloths
There are few things that are more annoying than getting paint all over the floor when you're painting a car. Take it from us – get some drop cloths to put on the floor.
When you use a drop cloth, you remove the risk of damaging your garage floor and the surrounding areas with any paint. No need for scrubbing the floors. It's worth spending a couple of extra dollars so you can avoid the scrubbing.
Step Ladder
Unless you're taller than your car by a large margin, there's a strong chance that there will be certain parts of the car that you simply can't reach. In these circumstances you will need a stepladder to help you to reach these areas.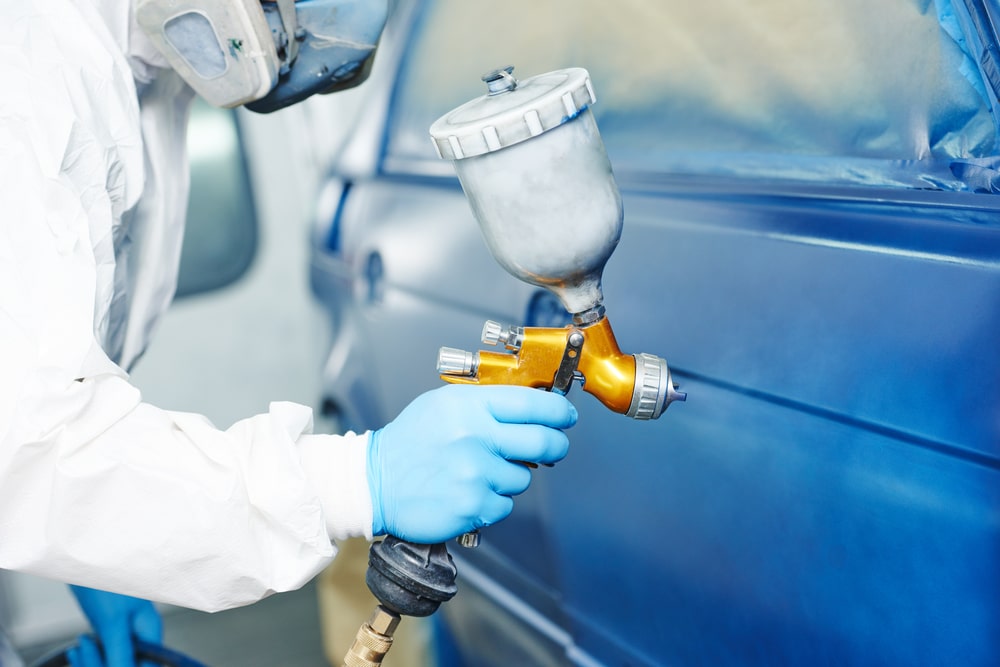 Costs for Hiring a Professional
If you want your car's value to improve, it's a good idea to get a professional company to do the work on your behalf. Get a couple of quotes from a range of companies, and then choose which company is best based on what they can offer and what they charge.
Some insurance companies will insist on using specific companies however, so it's worth keeping this in mind.
More Affordable Alternatives
You don't need to spend a fortune on painting the car, even if you want to get a professional to do the work. You can often get cheaper chain companies to do the work, or you could even get a handyman to do it. This is a simple way to save yourself a lot of cash.
If you're smart about how you spend your money, it's entirely possible to get your car painted for less than $500. Do your research and practice those bargaining skills!
Body Shops and Premium Options
Fancy spending a little more money for a luxury finish? In this case you will probably want to take your vehicle to a body shop. This is better if you have a higher budget.
For that extra cost, the paint job will even cover areas like the door jams and other minor crevices. If you want more attention to detail, paying a bodyshop to do the work for you is a smart move.
Intricate Options
If you want to have something that looks a little more artsy then you're likely going to need to pay more money for the paint job.
Perhaps you could have your car painted like the van from Scooby Doo, or you want some cool looking decals. Perhaps you even want your car to be in many different colors.
Ultimately it is best to thoroughly do your research to find the best possible company to do the work for you. This will help you to ensure that you get the best result possible for your money.
Estimating How Much It Will Cost to Paint the Car in an Alternative Color
Read Also: Paint Correction Cost
DIY
Okay, so let's make one thing clear. Painting your car by yourself is a good idea in many situations. It's even better if you're going to use good quality paint. You want everyone to see a good quality paint job, after all, not something that looks terrible.
It's entirely possible to find a color match for your current car color and paint it exactly the same way, but where's the fun in that? Instead, you can try to give your car a fresh new face. After all, it's nice to have a change every once in a while! There's no need to set yourself arbitrary limits.
The first thing that you will need to do is find out what sort of paint you are going to try to use. Then, you will need to work out how many coats you will need to completely cover the vehicle in the new color. It's difficult to give an exact answer to how much you will need, since your vehicle is unique!
Now, you may need to be more careful when you are painting over certain colors. You're going to need to put more sealer on a red car, for instance, otherwise you may find that the red color will go through into the new coat color so you'll have a strange mismatch of colors on your vehicle.
Let's make up a hypothetical scenario to illustrate the point. Let's say that you're going to paint your SUV into a new, attractive black color. Simple, right? Well, for this job, you are going to need roughly 3 quarts of the primer, 3 quarts of the new color coat, then 3 quarts of a clear coat to go on top. This will give you the best looking results.
What will this cost? It depends on the square footage.
Cost For Each Square Foot
This is the hard part. You're going to need to measure the vehicle. You will find that most cars range between 70 to 200 square feet. That is quite the range! This depends on the model of the car too.
For the sake of this article, we'll use a 60 square foot car. For this, you will need around 2 quarts to completely cover the vehicle in a new coat of paint. Here, 2 quarts of primer, 2 quarts of color coat and 2 coats of clearcoat will be needed.
You're going to have to spend around $20 on each quart. You may need around 6 quarts. In this case, you're spending around $120 on the paint.
This isn't all you will need to pay for though. You may also need masking materials, which could cost around $50. You may also need a spray gun which costs around $40.
Then, you're spending $210 for this specific job. This is around $3.50 per square foot. It'll cost even less if you can find the paint and supplies on sale.
Paint Types
The cost of painting the vehicle is also going to depend on the kind of paint that you use. Here are a few of the paint types out there.
Acrylic Lacquer
This kind of paint is a decent quality option, and it will dry onto the car in such a way that you're less likely to see your paint chipping from rock chips.
Urethane
This paint is abrasion resistance and very flexible. For this reason, it's usually a suitable choice for things like body panels on the car. It looks spectacular too, and it's a premium quality paint that costs a pretty penny.
Enamel
This is the most common choice. It's ideal for older vehicles and will give you a stunning glossy result.
Clearcoat
Applying a clear coat is essential if you want to have the best possible results. It helps to stop your paint from getting overly damaged from things like dirt and minor scratches.
Truck Bed Coating
If you're spending a lot of time off the beaten track when you are driving, you may find that truck bed coating is a good choice for your car since it makes the surface much more durable.
Plastidip
Plastidip can be a nice addition to a car if you want a very simple and cost effective way to give your car some new color. It can be taken off quite easily too, which is useful if you haven't done a very good job of applying it or if you find that the color isn't a good choice for your car.
Cost of Paint
You will usually find that car paints can cost from around $5 for the cheapest aerosol cans on the market, up to around $50 if you want to pay for a large amount of premium paint.
This is a pretty huge price difference, but it's important to note that the high end paint is probably going to last for a significantly longer amount of time.
Not only that, but the price of the paint can also be influenced depending on the color of the paint. There are some colors that cost more because they are much more popular and so they are in short supply.
Some colors also require more pricey ingredients. It's worth remembering this when you buy your paint.
Styles of Paint
There are primarily two main kinds of paint styles to choose from – matte and gloss.
Gloss
If you look outside your window, you will probably find that many of the cars you can see have been painted with gloss. This makes it shine in the sun, and it looks opaque in nature since the clear coat is put on top. This makes it look like it's just come off the showroom floor.
Matte
Matte paint doesn't have the same level of shine as gloss, but matte paint is also very bold. It tends to be much more expensive than gloss paint. It's generally used on the most expensive cars on the market.
Anticipated Labor Costs
DIY Costs
Technically, labor doesn't cost anything when you're doing it yourself, since you don't need to pay someone else to do the work for you. With that being said, you're still going to need to spend time on doing the work, so this is something that you need to keep in mind.
You may even need to take the time off work to do it too, so it's sometimes worth considering whether it's worth your time to do the work yourself. You're going to save a lot more money in the long run if you hire a professional in many respects, not to mention that you will also save yourself money.
Professional Labor
You are going to find that most paint shops cost more than $300 to paint your car, though it depends on the company in question. For a premium service and for the best materials, you will likely be spending between $600 and $2000 to pay for your car to be painted.
You can save yourself some money by shopping around a little, but you should expect to be spending around this much money.
Saving Some Money
Painting your car can be expensive, so wouldn't it be nice to save a little money? We've got you covered! Here are some ways that you can save money when painting your car.
Only Use One Coat of Paint
In most respects, you're going to be saving a lot of time on painting the car with just one coat. The problem with this is that you aren't going to get a finish of the best quality.
The solution? Get a premium one coat formula. This will save you both time and money.
Browse the Web
Be smart about how you spend your money! Look for your paint gear online – you may find some sweet savings are just a click away. You can save yourself some time on manually going to the store to get paint, too.
If you're planning on using a professional company, do your research.
Always Prepare
If you're prepared, you're going to get good results. Preparation can take a while but it's best to prepare if you want results that will last. Be efficient, and don't waste time.
If you're confused, look up some tutorials online on how to do things more efficiently!
Hunt for Older Paint
There's no real need to go out of your way to get new paint. Why do that when you can simply find older paint online for a fraction of the price?
Look on classified ads, Craigslist or Facebook Marketplace to see if anyone is selling old car paint. Some people may even be giving it away for free!
Handyman
If you don't have the time to do the work yourself then there's a simple solution – get a handyman to do it. Your friend or neighbor could do it for you for a much cheaper price.
Just make sure that the person in question knows what they're doing.
Conclusion
Painting your vehicle a different color can vary in terms of cost, but it shouldn't be too expensive to give your car a new look.
Do some research and thoroughly think through your options, and you're sure to get a finish you can be proud of.