ThatPainter is reader-supported. When you buy through links on our site, we may earn an affiliate commission. Learn More
The specifics depend on the type of surface you are sanding. But, generally, the answer is "yes". An orbital sander is ideal for removing paint. Removing paint can be incredibly difficult. Even if you use paint stripper, it can be a very stubborn substance.
This is a good thing in many ways, as you don't want paint to easily come off. But, when you want to refinish a piece of furniture, it can be an issue.
Using paint stripper can be damaging to the surface you're working on. As well as having dangerous fumes. So, if you can, sanding is a much better option.
If you are working on a small surface, then a piece of sandpaper will do the job. But, if you're working on something larger, such as a table or a door, an electric sander is going to be much faster.
As well as more forceful. Sanding a door with pieces of sandpaper will take a long time. And will give your arms a way too intense workout. 
Can you use an orbital sander on walls?
Orbital sanders can also be used to remove paint from walls. But caution should be taken with this. As holding the sander upright can risk flakes of paint falling down into your eyes, nose, and mouth.
If you are deciding whether to sand off wall paint, it's best to use a cordless sander. Otherwise, it will be difficult to reach the edges of the wall. 
That said, orbital sanders are pretty small. They are better suited to smaller surfaces. And, due to the circular sanding pad, evenly sanding the straight edges of a wall will be difficult. For a wall, a sander with a rectangular or square pad is a much better option.
What is the best sander to remove paint?
This depends on the type of surface you're working on. For a lot of projects, an orbital sander is the best option. You have a choice between a standard orbital sander and a random orbital sander.
A standard orbital sander will rotate in continuous circles. Whereas a random orbital sander, as the name suggests, will move in more random directions.
Orbital sanders are usually quite small. So are best for surfaces such as doors, tables, wardrobes, and chest of drawers. Anything larger will need a more heavy-duty tool. On the other hand, anything smaller will be too fragile for an orbital sander.
For something such as a chair, sandpaper will do the job. If you're trying to remove a lot of paint, then a mouse detail sander is a good option. It will allow you to get into small corners and go along uneven edges, such as chair legs.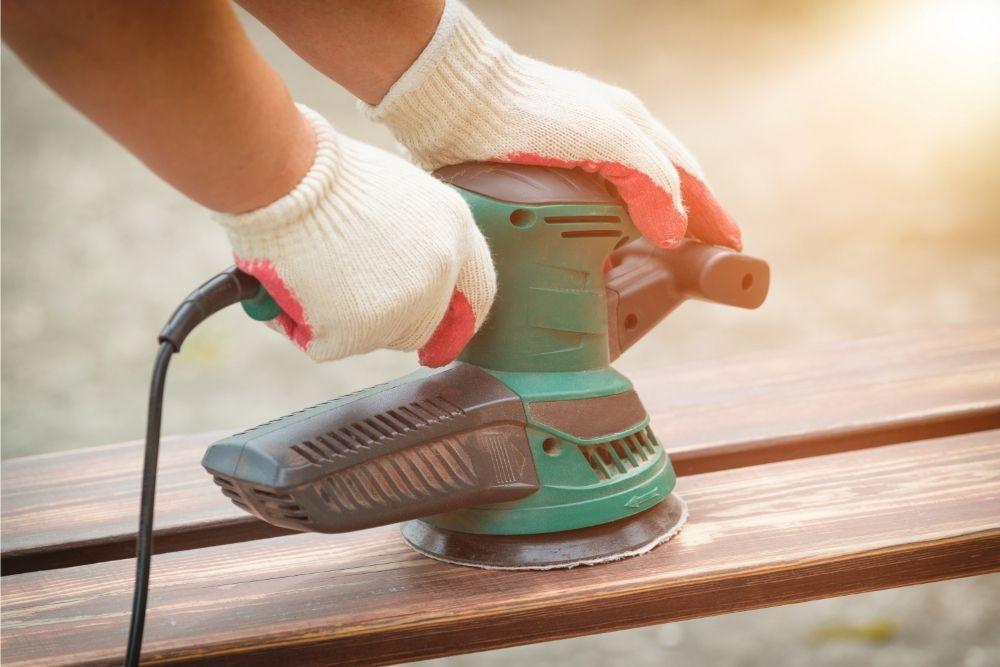 Will an orbital sander leave swirl marks?
Although they will likely be faint, there is a pretty good chance that an orbital sander will leave swirl marks. This includes a random orbital sander. If you're removing paint, you still need to sand down the wood itself.
This is because you should always sand down a surface before painting it. In order to achieve a smoother and longer-lasting finish. 
It is possible to buff out these swirl marks. This can be done with a sanding block. Or just going over them with some sandpaper. The marks will only be light. But they can often still be seen through varnish and polish. As the top surface of the wood will be altered. 
If repainting the wood, then there is a good chance that the swirls will not be visible. Especially if you use a good quality primer and paint. However, it is still worth going over the wood to try to remove the swirls. Just in case. 
Can I use a random orbital sander to refinish hardwood floors?
You absolutely can. In fact, this is the best kind of sander to use for this kind of project. It will be difficult, however. Orbital sanders are relatively small. And, although you can find larger ones, it will take a long time to finish a whole room. Even a small box room.
But, if you're willing to do this, then it's worth having a go. Other options include much larger sanders that are similar in shape and size to a lawnmower. But these are very difficult to handle. Especially if you're new to sanding.
You will have much more control over an orbital sander.Specifically using a random orbital sander will also allow you to work more quickly. However, you will need to switch to another tool for the corners and edges. This is due to the circular shape of the sanding pad. 
Can you sand paint off a door?
You can. But you should be careful when doing so. Especially if the paint is chipped. Try to take as much as you can off with a scraper. Especially if large chunks of paint are peeling and chipping off. Using a sander is difficult with this sort of surface.
Once you have removed the loose pieces, then start with the sander. If you can, it's best to remove the door from its hinges and lay it flat. This will give you more control. And allow you to get into all of the grooves and angles.
Rather than having to sand upright and risk the door moving on its hinges. Which can be dangerous if you lose control of the sander.
Once all of the paint has been removed, sand the wood one more time. This will provide a smooth surface for varnishing or repainting. As mentioned above, it's super important to sand down a surface before applying any kind of decoration.
Can I use an orbital sander to remove paint from concrete?
You can, but be careful with it. Sanding concrete will be a little more difficult than sanding wood. Especially due to its uneven surface. So it's important to work carefully and slowly. And only use a sander if you have tried everything else first.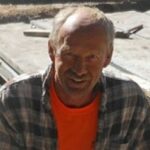 Jim Bettesworth well known for his can-do attitude and often takes jobs other companies were unwilling or unable to do. Experienced and educated in concrete construction and painting jobs. Read More.