ThatPainter is reader-supported. When you buy through links on our site, we may earn an affiliate commission. Learn More
A ceiling is as important as a wall in any room. A well-painted ceiling can make or break the aesthetic of a room and a house, but you can't just use any old wall paint.
Regular paint is designed for vertical surfaces – not for upside-down ones.
It's not always easy to find a ceiling paint that doesn't drip and provides the right finish you're looking for.
Also, not all ceiling paints are designed for every type of room in a house.
Top 5 Ceiling Paints
Luckily for you, you've come to the right place. We have found the best ceiling paints on the market that offer a range of finishes and colors which are suitable for a variety of rooms in a house – from bathrooms to living rooms.
Our Top Pick: KILZ Color-Change White Ceiling Paint
This is an ideal ceiling paint for a variety of rooms in a house. With stain-blocking technology, it is suitable for kitchen and bathroom environments as it will protect from stains from mold and mildew.
The standout feature for this ceiling paint is that it applies in a subtle pink color and dries to white in less than an hour.
Whilst this may seem confusing, this is handy for making sure users can paint a thorough layer of paint over the ceiling without missing any spots.
This formula is also splatter-resistant, so you can paint away without any fears of paint dripping down to the floor.
This ceiling paint can be applied with either a nap roller or polyester brush according to the surface of the ceiling.
It can dry completely within an hour and can be recoated two hours after the first layer. This product holds 1 gallon of paint, so it can cover a wide area of ceiling depending on the surface texture.
PROS
Dries pink to white

– Handy for knowing which areas have/haven't been painted

Stain-blocking technology

– Suitable for all rooms in a house including those prone to mold and mildew from humidity (bathrooms and kitchens), as well as covering stains such as cooking oil or nicotine

Fast-drying

– Dries within one hour and can be recoated within two hours
CONS
Thin layers required

– Thick layers may cause the paint to peel as it dries
Best Matte Ceiling Paint: KILZ TRIBUTE Matte Paint and Primer
This is an ideal ceiling paint for those who are looking for a matte finish. Available in a large variety of colors, this paint is suitable for a range of rooms and interior designs.
This is a Champagne White swatch that offers a silky cream with a slight hint of pink, offering a classy neutral tone.
The standout feature for this paint is that it is both a paint and a primer – so you don't have to spend extra money on an unnecessary primer.
Kilz is popular in the painting world for its high-quality primers, so this mixture is a true bonus. This is also ideal for changing the color of the ceiling if you change your mind, and it has the ability to cover light to medium stains.
Some matte paints aren't durable when cleaned, but luckily this paint features a scrubbable film that can be cleaned when dirt or stains begin to form. It can be applied to a variety of wall textures with either a brush or roller.
Whilst some paints can smell intense, this paint has low VOC emissions (volatile organic compounds) which is non-harmful to humans and the environment – which also cancels out harsh fumes.
PROS
Paint and primer

– 2-in-1 mixture saves money on buying a separate primer and gets the work done faster

High-quality matte

– Matte finish comes in a variety of colors and can be painted on a range of ceiling and wall textures

Low VOC emissions

– Non-harmful compounds to humans and the environment doesn't produce harsh fumes
CONS
4-week cure time

– Takes a longer time to cure than other water-based paints
Best for Covering Stains: Glidden Interior Latex Ceiling Paint
Say you have recently bought a new house where the previous occupants were smokers who left nicotine stains on the ceiling.
Or, you've forgotten to clean the ceiling in your bathroom which is now covered in mildew stains. This is the most ideal paint for covering stains and imperfections.
Glidden is a reputable brand that stands out for its high-quality ceiling paints. Covering ceiling stains can take multiple layers of paint with low-quality paints, which extends the drying period.
This paint, however, will only need one layer and a recoat to cover tough stains.
Not only is the coverage excellent, but the application is simple with its spatter-resistant formula – great for the lazy painters who don't use tape along the edges of walls and ceilings!
It also has low VOC emissions which are non-harmful to humans and the environment for those with respiratory problems.
PROS
Excellent stain coverage

– Designed to cover medium stains such as mildew or nicotine stains within two layers

Reputable brand

– Glidden is renowned for its high-quality paint products for walls and ceilings

Spatter-resistant

– Formula prevents spatters for easy clean-up
CONS
Odor

– Smell may be quite harsh until the paint has dried
Best Textured Finish: Homax Roll On Wall Texture
For some, the idea of a flat wall or ceiling is bland and lacks character. This ceiling and wall paint offers a quick application to any surface to offer a smooth, textured finish.
This textured finish offers a unique feature to any interior wall or ceiling which can enhance other visual qualities in a room, including furniture or decorative additions.
This ceiling paint is ready-to-use as soon as the pot is opened. With easy application with either a roller, paintbrush, or trowel, this paint can dry completely within 24 hours.
If you want to enhance the textured effects, a texture roller, sponge, or knife can be used to achieve your personal unique preference.
This is a fairly thick paint that has a high-coverage formula for hiding imperfections and stains. However, it is not designed to cover seals or cracks.
PROS
Textured finish

– Finish offers a unique enhancement to a room, which can be changed and exaggerated with painting techniques and tools

Easy application

– Ready-to-use and can be applied with any painting and household tool

Hides imperfections

– High-coverage formula can hide imperfections and stains
CONS
Cannot cover cracks

– Not suitable for hiding seals or cracks due to the way it dries
Best for Colorful Ceilings: Rust-Oleum 253536 Metallic Accents Paint
This paint is most ideal for those who enjoy decorative ceilings. Colorful ceilings can be a wonderful feature in a room – whether it matches the colors of the walls or as a stand-alone addition to the interior.
A decorative ceiling can make a room feel cozier or more classy.
This elegant paint comes in a variety of metallic shades, including neutrals, that can be used on ceilings, both interior and exterior walls, trims, furniture, and doors.
Whilst a metallic shade might seem garish to some, this paint offers a lovely shine when the light hits the ceiling or wall to enhance any room.
This is a water-based formula that makes for easy clean-up of painting tools – simply wash the brushes or roller under running water! It also dries within 30 minutes, which is the fastest of all the paints on our list.
PROS
Metallic decorative shade

– Multiple swatches allow for a unique ceiling feature that is suitable for enhancing any interior room

Fast-drying

– First layer dries to the touch within 30 minutes

Water-based

– Painting tools (brushes and rollers) are easy to clean with water due to the water-based formula
CONS
Streaky application

– Applying paint with a brush may create streaks, so a roller is recommended
Buyer's Guide
Factors to Consider When Buying Ceiling Paints
Choosing the right ceiling paint is really important, whether you are a novice or a professional. If only it was as easy as using regular wall paint!
There are a bunch of factors worth considering when looking for an ideal ceiling paint, and here they are.
There are five ceiling paint finishes available on the market, including flat, matte, satin, textured, and semi-gloss.

Flat ceiling paints offer, you guessed it, a flat finish. These are the most common ceiling paints people like to buy, as they offer a smooth and flat finish without any texture. They generally aren't too shiny or too matte and help to blend the ceiling into an interior.
Matte ceiling paints are slightly more stylish. Available in a variety of colors, this paint finish prevents glare from light (whether it's a ceiling light, light from the window, or light from the television). They also tend to have the best coverage for imperfections such as stains.
Satin ceiling paints are the most decorative. These most often come in metallic swatches that offer a unique enhancement to any room. This color helps to capture light in interesting ways and can make a room look instantly more classy and elegant.
Textured ceiling paints dry in a unique texture. These are great for offering coverage to stains and imperfections and can be shaped in personal ways with different painting tools.
Semi-gloss ceiling paints provide a glossy sheen to a room. These are easy to wash and clean but aren't necessarily the best for covering imperfections.
Fortunately, it all comes down to personal preference. It doesn't really matter which paint finish you choose, as there is no rule book. Some professionals will have different recommendations to others, so choose whatever you prefer!
This seems obvious, but the color of the paint you choose is a huge factor to consider. Most people tend to go for a generic white or cream shade, whilst others may opt for a splash of color.
Whatever your preference, make sure you consider the colors of your furniture, walls, flooring, and light options when choosing a ceiling paint.
The texture of your ceiling will determine the type of paint that is best for you. Flat ceilings offer the most creativity as you have the choice to make them textured with textured ceiling paints. Textured ceilings can handle flat ceiling paints but will not flatten the ceiling itself.
Your ceiling may have stains or imperfections from nicotine, mildew, mold, or cooking disasters (we've all done it) – so consider the quality of coverage in ceiling paints also.
Of course, you need to consider what interior you are intending to paint. A bathroom will have different ceiling paint requirements to a bedroom, for example.
Rooms of higher humidities such as bathrooms and kitchens will require tougher paints that resist mildew and mold, are scrub-resistant and are high-coverage.
As these rooms are more likely to have imperfections in a ceiling, you will need a paint with a high-coverage to hide such stains and marks without plastering on multiple layers.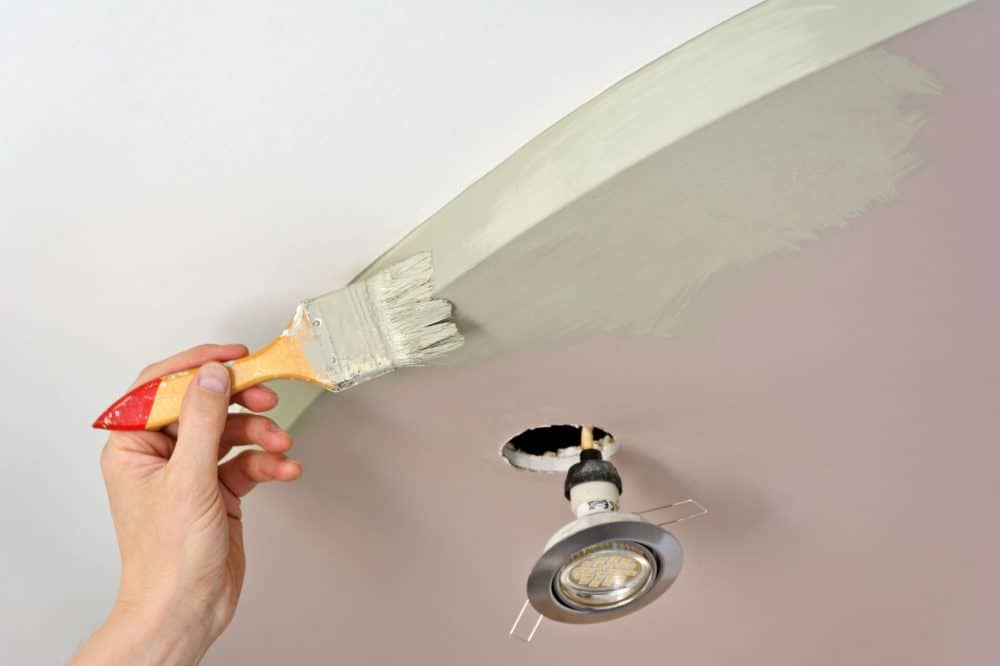 Frequently Asked Questions
What is the best brand of ceiling paint?
There are several reputable paint brands that offer high-quality ceiling paints. These include:
Glidden

KILZ

Rust-Oleum

Prestige Paints

Homax
Should you paint ceilings white?
It all comes down to personal preference! White is the most popular color for ceilings as they take the focus away from the ceiling and create an illusion of a larger room. This illusion is achieved due to its light coloring.
White is also one of the only colors that go with every wall or furnishing color. It means you can have complete freedom with redecorating a room, as you won't have to worry about a couch or kitchen counter clashing with the ceiling color.
However, some people avoid white ceilings as any imperfections (stains, mold, mildew, etc.) are more visible on white.
Some may also prefer a unique feature to a room aside from a feature wall, where they would rather choose a decorative color for a ceiling.
What sheen is best for ceilings?
It comes down to personal preference. The most common sheen for ceilings is matte, as this finish is designed to blend the ceiling into a room and take the focus away from it.
Semi-gloss sheen ceiling finishes are also common, but they have a tendency to reflect all aspects of light which can be distracting.
Flat sheen ceiling finishes are in the middle of matte and semi-gloss finishes, as they offer a slight sheen that doesn't take the focus away from the rest of the room.
Textured ceiling finishes offer a sheen that can catch the light in different ways due to the ridges in the ceiling, which can either be an advantage or a disadvantage to some people.
Why does my ceiling look patchy after painting?
Patchy ceilings occur when not enough paint has been applied, or too much paint has been applied. This can happen because of painting applicators such as paintbrushes which don't cover as much space evenly as paint rollers.
Also, with white ceiling paints in particular, it can be tricky to figure out what parts of the ceiling have been painted enough. Sometimes you have to wait until it dries before you cover the patchy areas.
The best way to avoid patchiness is to work in sections at a time. It's also best to stick to one direction when painting, particularly with paint rollers, as multiple painting directions can leave streaks and patchy areas when light hits the ceiling.
What kind of paint should you use on a bathroom ceiling?
The best paint for bathroom ceilings is one with a semi-gloss finish. This finish type is the most resistant to mildew from humidity as the paint is non-porous, so it doesn't suck up the water.
It is also the easiest to scrub without damaging the paint or the ceiling.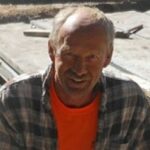 Jim Bettesworth well known for his can-do attitude and often takes jobs other companies were unwilling or unable to do. Experienced and educated in concrete construction and painting jobs. Read More.