ThatPainter is reader-supported. When you buy through links on our site, we may earn an affiliate commission. Learn More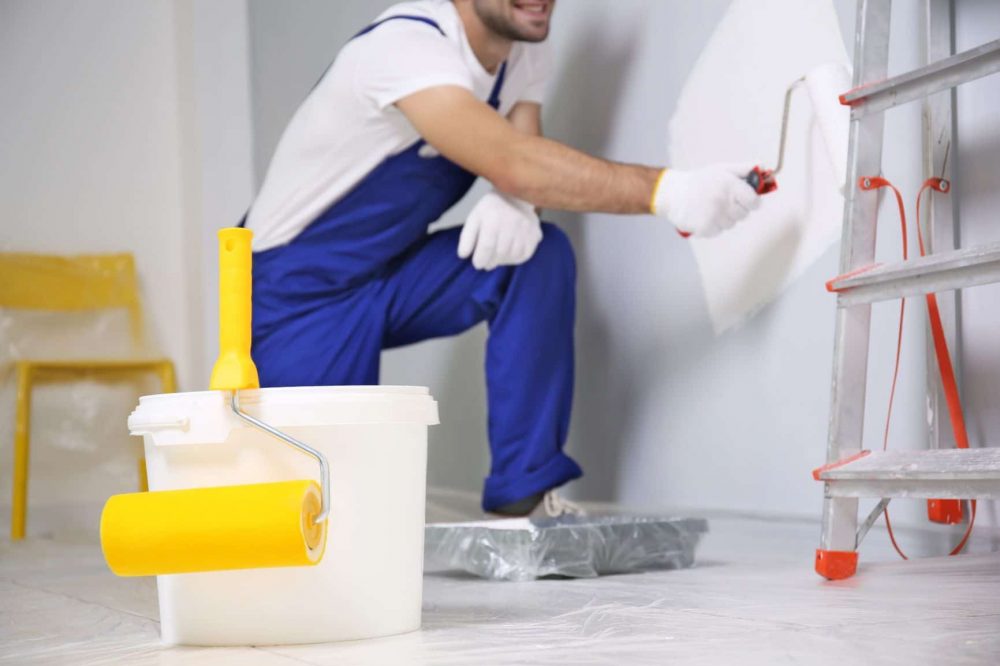 Everyone loves a room makeover. However, when changing the color of any room, paint primers are an incredibly important step of preparation.
A primer or undercoat is a preparatory coating that you apply to materials before painting. The importance of priming is essential to the overall finish of your surface.
Priming not only ensures better adhesion of paint to the surface but also increases paint durability, as well as significantly contributing to the vibrancy of a room.
If you fail to take the proper steps to prep your surfaces with a paint primer, then you run the risk of wasting time applying extra coats and your paint peeling sooner.
Take a look at the best interior paint primers below.
Top 5 Interior Paint Primers
Rust-Oleum 286258 Primer, 31.5 oz, Gray
The Rust-Oleum 286258 Primer is a water-based formula that seals uniformly and will stick to multiple surfaces without sanding.
This primer has excellent stain blocking resistance and can be used over any oil or latex topcoat.
The Rust-Oleum gray primer works excellently under vibrant colors whilst also allowing you to save time and money by improving coverage of deeper colored topcoats.
PROS
Quick-drying

– Dries to the touch in just 30 minutes, ready to recoat in 1 hour, so there's no need to waste hours waiting for your base coat to dry!

Water-based

– The formula seals uniformly and will stick to the surface without sanding.

Stainblocking

– It covers well, including challenging wax or oil stains such as crayon, marker, fingerprints, and more.
CONS
A few customers claimed that this product arrived damaged after delivery.
KILZ Restoration Maximum Stain and Odor Blocking Interior Latex Primer/Sealer, White, 1-gallon
The KILZ Restoration Maximum Stain and Odor Blocking Interior Latex Primer is designed to tackle tough stains, including medium to heavy water damage, rust, smoke, felt marker, and more for your convenience!
This primer is a water-based primer, sealer, and stain blocker developed with new technology that is formulated to perform like an oil-based product.
Years of experience you can put your trust in! KILZ has been making premium primers and paints for 40 years.
PROS
Seals strong odors – Eliminates persistent smells from pets, water, and smoke damage.
Blocks tough stains – Works to cover even the toughest of stains you think you're never going to get rid of!
Quick drying – KILZ Restoration dries to touch within 30 minutes and dries to recoat in an hour, so it's a great option if you're under a strict time schedule.
CONS
A few customers claimed that they didn't like the smell of this particular paint primer.
KILZ L211101 Adhesion High-Bonding Interior Latex Primer/Sealer, White, 1-Gallon, 1 Gallon, 4 l
The KILZ L211101 Adhesion High-Bonding Interior Latex Primer is a unique latex primer developed to bond securely on slick surfaces whereas traditional water or oil-base primer will not adhere.
This primer is verstatile! Bonds to tough-to-paint surfaces including Kynar, PVC, Formica, vinyl, glass, tile, glazed brick, chalky paints, glossy finishes, fiberglass, and metals.
You can apply this primer to most interior and exterior surfaces where a secure bond is critical.
PROS
Quick to dry

– This primer dries within 30 minutes for your convenience.

Excellent adhesion

– The KILZ primer bonds to the majority of surfaces, allowing you to prime even tough-to-paint surfaces with ease.

Versatile

– This problem-solving primer can be used under epoxies, lacquers, and products containing Xylene or other solvents, meaning you can tackle a variety of jobs with the same primer.
CONS
One customer claimed that this primer was thicker than they were expecting, and was too thick for their airless sprayer.
KILZ Premium High-Hide Stain Blocking Interior/Exterior Latex Primer/Sealer, White, 1-gallon
The KILZ Premium High-Hide Stain Blocking Interior/Exterior Latex Primer is designed to seal light to medium stains and to minimize surface imperfections caused by texture and porosity differences.
This powerful stain-blocking water-base formula seals surfaces, helps to achieve a uniform finish, hides stains and previous colors, allowing you to revamp any room with ease!
The KILZ Premium high-hide primer offers just the right consistency for a smooth and level finish that seals porous surfaces and fills in small imperfections.
PROS
Good coverage

– Offers excellent adhesion and good coverage to most interior and exterior surfaces.

Zero VOCs

– This primer is low odor and easy to clean up with soap and water, making it safe to use in occupied homes and workspaces.

Mildewcide protection

– Helps to prevent mildew and mold from growing in your home, helping to maintain the paintwork for longer.
CONS
A couple of customers noted that this particular primer began to dry in the can quicker than they had been anticipating.
Zinsser B-I-N Shellac-Base Primer, 1-Gallon, White
The Zinsser B-I-N Shellac-Base Primer offers excellent adhesion to glossy surfaces, including glass.
This primer requires minimal prep and effort, as it sticks to all surfaces without sanding for your convenience.
This shellac-based primer is great for permanently blocking stains and odors that can occur over time, including water stains and from marker pens.
PROS
Versatile

– This paint primer is for interior and spot exterior use for your convenience.

Odor blocking

– The Zinsser B-I-N primer works to seal pet, smoke, and musty odors around your home, so the room you're painting gets a proper refresh.

Quick drying

– Touch dry in 20 minutes and can be recoated within 45 minutes, so you can get the job done without hassle!
CONS
One customer claimed that this paint primer smelled strongly of chemicals, so recommended you keep the space well ventilated.
Buyer's Guide
When choosing an interior paint primer there are a few factors to take into consideration, but it primarily revolves around your safety, dry time, and durability.
It is worth mentioning that although priming is an extra step, the results are well worth it in terms of color payoff and durability once you do it.
Depending on the interior surface that you're painting, without a primer you could waste valuable time and paint, as you are likely to be forced to use multiple layers of paint to sufficiently cover a surface and get the vibrant color that you're searching for.
As a result, you will want to buy a good quality primer that is durable and is less likely to flake over time, providing you with a beautiful finish.
Read and take the following factors into consideration before purchasing interior paint primer.
Safety
The most important factor to consider for you and your family when purchasing an interior paint primer is safety.
As you're going to be painting inside your home, you will want to be cautious of paint primers that contain high levels of volatile organic compounds (VOCs).
You should always do your own research to familiarize yourself with the safety implications related to the inhalation of these compounds. This is incredibly important, as these types of primers and paints could potentially be harmful.
The improper use of paint could result in you endangering yourself, so always make sure you know what you're dealing with before you purchase it.
Generally speaking, oil-based paints generally will contain higher levels of VOCs, and thus have a higher odor. Latex paint primers are generally low odor, low-VOC, and easier to clean off skin.
Although they may be inconvenient and uncomfortable to some, respirators are essential for your safety when doing any painting, priming, or staining task that involves high-VOC materials.
You should also always keep the room that you are painting well-ventilated with windows and interior doors open, as well as keeping any fans that are in the room on so that they are circulating and pushing air across your interior space towards open windows.
Dry time
Another important factor to take into account when purchasing a paint primer is the dry time.
Dry time will contribute to how convenient redecorating a room is, not to mention how efficiently you'll be able to work, also.
You might not think that dry time is important, however, when you take into account the number of layers of primer as well as the paint you're going to be using afterward, it adds up to quite a bit of time!
On average, primers can take anywhere between half an hour to 24 hours depending on the primer, so you'll need to ensure that you check the product description before clicking 'buy'.
You want a primer that is going to make your life and decorating easier, so make sure that you choose one with a quick drying time!
Type of primer
When choosing the right internal paint primer, you will need to consider the type of primer that is best to help you tackle the job at hand.
You'll find an array of primers available to buy on the market, and they are seemingly all different. However, they're not all that dissimilar, and much of your choice will boil down to your intended use.
When it comes to priming internal walls, the best type of primer you should use is an oil or latex primer.
Generally speaking, an oil primer can be harder to use as it takes longer to dry and the clean-up process requires harsh chemicals which can leave an odor in your household which is incredibly inconvenient and can be unsafe if you have small children.
A water-based latex primer can be easier to use as it offers more flexibility, resists peeling and cracking, and can be cleaned up with soap and water. As a result, it is generally less hassle than using an oil primer.
You should always choose the right type of primer that is the most convenient for you and your lifestyle, as well as the intended use, so make sure that you do your own research, too.
Durability
An important factor you'll need to consider when purchasing an interior paint primer is its durability.
Although a lot of the time you won't know whether a product is durable until you try it, you should always do your own research by checking the product reviews section of the product that you are considering purchasing.
If a customer has had a bad experience with the company or with the product, then it is highly plausible that they will have left a review warning other customers about their experience.
Although mistakes can occur that are outside of the company's control, how they rectify issues with their customer service reveals a lot about a brand.
Always do your own research and make sure that you're happy before proceeding with your purchase.
Coverage
Something you'll want to consider when purchasing interior paint primer is the coverage.
The coverage represents the surface area that can be covered per litre of product. This is important as it allows you to plan and lets you calculate how much paint you'll need to buy.
Just like with finishing paints, the greater the coverage, the less paint you need. Therefore, the greater the coverage, the better value the primer is and the more money you can save!
Although primer is different to paint, you may still need a few cans of primer depending on the size of the surface that you intend to paint. Always make sure that you are happy with the coverage of a primer before going ahead with your purchase.
Brushes
If you're a seasoned DIYer, then it is likely that you'll already have paintbrushes to hand when it comes to decorating the interior of your house.
However, if you're new to the game, you'll need to think about which brushes work best to apply primer to the interior surfaces in your home.
You might not think it, but choosing a good quality brush is essential to the priming process!
Matching the right application tool to your job begins with the actual type of primer, paint, or finish that you are going to be using. In other words, paint brushes are categorized according to the type of coating being applied.
Synthetic brushes such as polyester, nylon, and poly/nylon blends are generally used to apply water-based primers and finishes.
These brushes can be used with all paints, but are best suited for acrylic or latex. They offer excellent stiffness versus softness for the thick paints available to buy today.
Although the paint primer is just the base before you paint your color on top, it is still important to invest in and use the right type of brush when applying your paint primer.
After all, an artist is only as good as his tools! Make sure that you have the appropriate tools to decorate your home, you'll be thankful for the professional result once you're finished!
Frequently Asked Questions
Is primer necessary before painting?
For a pro-quality finish, you will need to prime the surfaces in and around your home. In the decorating world, a primer is not only the perfect base for brilliant color payoff but also seals the surface you intend to paint.
You might want to prime for more than one reason. A lot of primers are stain-blocking and odor-blocking, which is ideal when it comes to redecorating a room.
For instance, the room might have pet or smoke odors that you want to try and block, or could alternatively have water or smoke stains and damage that you need to rectify. A primer is great for many situations such as these and ensures you've taken every precaution to prep the surface.
You can also buy mildew and mold-resistant primers that are essential for high humidity environments, such as the bathroom and the kitchen. In this instance, a primer is absolutely essential to prevent mold from growing in your home.
How many coats of primer do I need?
The answer to this question is subject to change and will depend on the surface that you are painting. For example, a wall covered in dark paint might take more coats than a lighter color.
Generally speaking, one to two coats of primer will suffice for painting interior walls to seal your surface, and will also allow for the richest, truest color to shine on top.
However, the number of layers you need will depend on the quality of the paint primer that you buy as well as the color and type of surface that you're working with.
What is the best interior paint primer for painting?
As this is a matter of preference and will depend on the intended use and the type of surface that you are painting, this answer is likely to change, also. However, there are a few things that you should look out for when purchasing an interior paint primer.
Namely, you should try to purchase a primer with low VOCs to ensure your safety whilst you work.
Stainblocking and odor-blocking primer is also another huge bonus of a primer, so is something that you should aim to look for, too.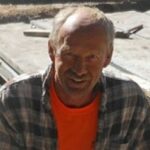 Jim Bettesworth well known for his can-do attitude and often takes jobs other companies were unwilling or unable to do. Experienced and educated in concrete construction and painting jobs. Read More.