ThatPainter is reader-supported. When you buy through links on our site, we may earn an affiliate commission. Learn More

If you have ever tried removing paint from a metal surface, you will know how difficult and time-consuming it can be. While there are many methods to remove paint from metal, most are labor-intensive and frustrating.
If you're like the majority of us, you won't have time to spend hours upon hours trying to scrape off flakes of paint.
Thankfully, there are ways to remove this paint without having to book time off work and cancel all of your future plans!
By finding the right product to replace this pesky paint, you will be able to spend more time painting the item or simply erase mistakes from a previous painter.
With so many products on the market that promise to get the job done, it can be frustrating trying to find the right one for your needs that actually works. This is where we step in!
We have done over 20 hours of thorough research and found the best 8 paint strippers for metal so you don't have to. All of these are high-quality products that promise great results.
Let's take a look at all of our products below so you can remove that paint once and for all.
Top 6 Best Paint Stripper For Metal
Dumond Chemicals Smart Strip Advanced Paint Remover
Our top pick is the high-quality Dumond Chemicals Advanced Paint Remover. This is one of the safest to use on the market as well as being environmentally friendly becoming 100% biodegradable.
This water-based paint stripper can remove up to 15 coats of any coating including water-based to oil-based paints, urethanes, varnishes, and acrylics.
This is different from many other paint removers due to its formulation. Dumond paint remover contains no VOCs (volatile organic compound) or methylene chloride in its formula so it is safer to use with less risk to your health.
As well as this, your health will also benefit from its non-carcinogenic, non-caustic, non-toxic, and odor-free makeup.
This paint remover can be used on many interior and exterior surfaces such as stone, wood, brick, concrete, plaster, fiberglass, metal, and many more.
This means you can save money instead of having to buy different paint removers for different materials if required.
Dumond paint remover is very easy to use. You can choose to apply it with a brush, a roller, or a regular airless spray to get the desired results.
It will have to sit for 3-24 hours in order to work properly but this is dependent on the number of coats and types of paint you are trying to remove.
PROS
100% biodegradable – Environmentally friendly so you won't have to worry about any adverse effects on your surroundings
Can remove multiple paint layers – Strong enough to remove layer upon layer of different kinds of paints
Versatile – Can use this on an array of surfaces from metal to glass
CONS
Packaging can be quite poor – Some customers have found the remover is damaged upon arrival leaving a mess​
Heavy Duty Stripping Pads
For an inexpensive paint removal system, 3M Heavy Duty Stripping Pads are an excellent tool. These pads quickly strip off the paint by hand with the use of a varnish stripper. These are some of the toughest pads for assisting you in your paint removal on the market today.
If you have a big paint stripping job coming up or regularly work on stripping paint from metal, 3M Heavy Duty Stripping Pads are ideal for you. These don't just remove the paint but can work well on removing varnish, wallpaper paste, and other finishes to leave you with a versatile supply that can be used for many tasks.
One aspect we loved about these pads is how they keep your hands free from stripping chemicals. These chemicals can easily damage your skin so having a product that keeps you safe is of utmost importance.
Tough and durable, you will be able to use 3M Heavy Duty Stripping Pads for a whole range of jobs helping you save money on purchasing other removal supplies.
PROS
Material does not rust or shred – Unlike steel wool, this synthetic material is highly durable and will withstand heavy scrubbing for long-lasting use
Inexpensive – This is one of the cheaper options for removing paint from metal on the market
Multi-purpose – Can be used to remove other materials such as wallpaper paste and varnish
CONS
Only works with a varnish remover – You will have to purchase additional varnish remover for this to work properly
Sunnyside 65832A Ready-Strip Advanced Paint & Varnish Remover
Next up is a paint and varnish remover that comes with a non-drip formula that sticks to vertical surfaces easily and removes paint from even the smallest, delicate areas.
Sunnyside 65832A Ready-Strip Advanced Paint & Varnish Remover will remove paint from metal with ease as well as varnish from different surfaces leaving you time to do the things you enjoy.
This paint remover sports patented Color Change Technology which tells you when the paint has been removed. This is evident when the remover turns to an off-white color to signal to you that the paint has been removed.
Just a single application of Sunnyside's paint & varnish remover is enough to get rid of up to 7 layers of old paint or varnish. There is no doubt that this is one of the best products for removing multiple layers of older paints.
The absence of NMP (an organic compound) and methylene chloride compounds means Sunnyside Advanced Paint & Varnish remover is safe for indoor and outdoor use.
You can use this remover on many different surfaces such as wood, metal, concrete, plaster, stone, marble, and more leaving you with a multi-purpose paint removing system.
PROS
Removes up to 7 layers

– A single application can remove 7 layers of old paint to leave you with a shiny piece of metal

Works quickly

– Begins to remove paint and varnish within 60 seconds saving you time

NMP and methylene chloride-free

– Very safe to use for interior and exterior spaces of your home
CONS
Hard to use spray bottle

– Remover tends to dribble out of the bottle rather than rush out making it hard to spread over wider surfaces
MAX Strip Paint & Varnish Stripper
Removing paint from metal can be dangerous depending on the paint stripper you are using. Thankfully, MAX Strip Paint & Varnish Stripper is safe to use without endangering your health. Not only is it unharmful but its formula is designed specifically for removing the toughest paint quickly and easily.
You are able to strip paint as well as varnish coatings from a variety of surfaces such as wood, glass, laminate, porcelain, fiberglass, plastic, brick, ceramic, marble, concrete, and many more. Its patented wet work system establishes a dust-free removal so your surroundings are safe.
With no toxic fumes or hazardous chemicals such as methylene chloride and NMP, MAX Strip Paint Remover can be used safely but care should always be taken. Unlike some removers, this is also skin-safe. Skin that comes into contact with some paint removers can become inflamed and very irritated.
Fortunately, you don't even need to apply any special before using this due to its sheer safety.
You can use this paint stripper both indoors and outdoors but ventilation is still required when being used on any interior space to be on the safe side.
PROS
Very safe – The absence of NMPs and methylene chloride results in one of the safest to use paint strippers on the market
Has a unique fragrance – No harsh fumes thanks to a pleasant fragrance that fills the air
Gentle on most substrates – Compatible with most paints on a huge variety of surfaces
CONS
Spotting can occur – If it is not spread absolutely evenly, spotting can occur which is when small circular spots lift off the surface of the stripper leaving unsightly lumps
Citristrip ECSG807 Aerosol Paint and Varnish Stripper
Citristrip Aerosol Paint and Varnish Stripper is an excellent choice for working on old metallic items as well as other surfaces. You will be pleased to experience the absence of harsh fumes, methylene chloride, and NMP so you can use it safely indoors.
Citristrip Paint Stripper features a very powerful formula that stays active on an object's surface for up to 24 hours. In this time, the older layers of paint will soften and become easy to remove in one step the next day.
Whether it's one layer or five layers of dried latex paint, Citristrip will work wonders and strip away all of these layers easily.
As with our previous entries, this is another versatile and multi-purpose paint and varnish stripper. It can be used on numerous layers of paints including dried latex, lacquer, oil-based paints, varnish, shellac, polyurethane, and many more.
And you don't have to stick to metal. If you have more surfaces than need stripping, try Citristrip on wood and masonry surfaces too and get the same reliable results.
Able to strip multiple layers of paint, this will do the job wonderfully but at the same time fill the air with a pleasing fresh citrus scent so you won't have to put up with unpleasant chemical smells.
PROS
Stays wet and active for 24 hours

– Gives enough time for multiple layers of paint to soften to easily be removed in one step

Multi-purpose

– Works very well on various surfaces such as wood, metal, and stone

Fresh citrus scent

– Gives off a pleasant scent instead of the usual chemical aroma that comes with most paint strippers
CONS
New formula isn't as strong as the old

– Customers have reported that the old formula worked better at removing layers of paint and varnish
Goof Off FG653 Professional Strength Remover
For a paint stripper that works the first time, every time, Goof Off Professional Strength Remover is one of the best. It can easily remove tough paint spots as well as stains and chewing gums so you can use it for a variety of purposes if required.
Goof Off Professional Strength Remover is outstanding on metal but also ideal on many more surfaces.
You can use this remover on glass, brick, wood, grout, concrete, fiberglass, automotive surfaces, and if your hand tool ever gets covered in some kind of substance, this product should be able to get it looking like new again.
Although this remover cuts through the toughest paints and stains very quickly, it does contain a possible harmful substance in the form of Ethylbenzene. Therefore, you must be very careful when using it and take all the necessary health and safety precautions before use.
PROS
Very strong

– Can remove the toughest paints and stains from metal easily

Versatile

– Works well on a variety of substances such as adhesives, chewing gum, scuff marks, candle wax, and more

Can be used on different surfaces

– Tackles paints and stains on many surfaces so you can use it for other tasks if needed
CONS
Strong scent

– Has a chemical scent that can be unpleasant for many

Contains hazardous chemicals

– Formula has Ethylbenzene and Methanol that can be detrimental to your health in some cases
Best Paint Stripper For Metal Buyer's Guide
Paint strippers for metal come with different formulas which make up the strength and reliability of the product.
There are also many factors you should take into consideration to find the best paint stripper to do the job properly.
Furthermore, precautions need to be taken as some have harmful chemicals which can be detrimental to your health.
To help you make your final decision in confidence, we are going to go through the most important factors below so you can get that metal looking like new again.
Type of Paint Stripper
Paint strippers are found in three main categories. Each category is in place to help you know which one is best at suiting your needs.
Here are the three types of paint stripper:
Solvent
Solvent paint strippers are pretty popular. Utilizing chemical solvents as their active ingredient, solvent strippers remove paint by discoloring the bond between the paint layers or weakening each one until it is easy to strip off.
This type of paint stripper forms a bubbling effect on the surface of the paint to signal that the stripping process has begun. Once this has bubbled up, you can scrape or peel off the paint easily.
It is important that you try and stay away from paint strippers that include solvents such as methylene chloride as there are high health risks associated with these.
Caustic
This type of paint stripper uses lye to strip paint away from a surface. Lye is a strong alkaline substance that is made up of caustic soda (sodium hydroxide or caustic potash).
Mainly used for washing or cleaning surfaces, lye works by changing the top layer of paint into soap. This then forms a chemical reaction that helps the paint to loosen from the surface for easy removal.
One of the main benefits of using caustic strippers is that they pose fewer health risks than solvents.
That's not to say there are no risks as it is still possible to suffer from skin burns and lung irritations without adequate care and attention.
You can prevent such risks by wearing protective clothing and ensure you have sufficient ventilation when stripping the paint.
One downside of caustic strippers is how they tend to remain on surfaces for a few hours in order to work effectively. If used on wood, caustic strippers can also darken the surface.
If you do use this type, it is recommended you try it at a temperature of around 50 degrees F for the best result.
Biochemical
Biochemical strippers work in a similar way to solvent types. The solvents used in this formation come from dried plants such as corn sugars and pine which contain lactic acids.
Other common forms include citric acid, citrus terpenes, and dimethyl sulfoxide. Due to a more natural formula, the health risks associated with this type of stripper are minor.
However, you can still suffer from skin irritation if you come in contact with it and you should always use the stripper in well-ventilated areas.
Health and safety
Always have your safety at the forefront of your mind when buying and using paint strippers. Some products include methylene chloride (dichloromethane – DCM) and while this has outstanding and fast paint removal properties, it is highly hazardous to your overall health.
If you come into contact with this for a short time, it can temporarily diminish your blood's capacity to carry oxygen. If this happens, you will feel dizzy and short of breath.
Long-term exposure can be especially dangerous whether it is through your skin or breathing. This can cause kidney damage, liver failure, and in extreme circumstances, cancer.
To prevent such risks, you should wear protective gear such as goggles and gloves so your skin doesn't come into contact with harmful substances. Also, ensure that the area in which you're working is well ventilated so you can breathe easily. You should wear a face mask to be on the safe side too.
Many paint strippers don't contain DCM and other harmful compounds but there are still risks to be found. You should always practice proper safety precautions such as wearing waterproof gloves and wear eye protection to maximize your health and safety.
Indoor and outdoor use
As we stated, some paint removers are more toxic than others. Therefore, the more toxic products should never be used indoors. These paint strippers can leave harmful substances in the air and some can eat through tough material, depending on their strength.
Not only can some of these paint removers damage your health but they can wreak havoc on synthetics such as plastic, polyester, and nylon.
Gel vs Aerosol
Gel-based paint strippers tend to be less expensive than their aerosol counterparts. However, aerosol products are generally more convenient and easier to apply evenly across various surfaces.
Aerosol paint strippers are best when working with smaller projects due to the smaller amount of liquid that is received.
Gel removers have to be applied and then distributed evenly and manually across surfaces which can take more time but can cover larger areas.
Large metal surfaces may be covered more easily with an aerosol remover as you can just spray and move along till the job is done but you may need a few spray cans which can build up costs.
Think about what would suit your projects best and whether investing in more expensive removers is what is required to get the job done.
Speed
It is best to choose a remover that doesn't dry rapidly if you intend on removing paint from a larger surface. It is best to go meter by meter.
Simply apply the remover, remove the coat, clean the surface, and repeat this until you are happy with the result.
Some products need to sit for 24 hours to work sufficiently. This means you can cover a larger surface and leave the remover overnight before cleaning the paint away the next day.
Cleaning smaller objects is best with rapid or aggressive paint removers. The paint will be stripped away quickly so you can get on with repainting the object in hand.
Frequently Asked Questions
How do you remove paint from metal?
Thankfully, this process is quite easy. Let's take a look at the steps below:
Step 1: Prepare
Remove any items from the surface

Cover the work area from the ground to the top to protect against the paint stripper

Wear gloves, eye protection, a respirator, and a long-sleeved shirt
Step 2: Apply paint stripper
Place a small amount of the paint stripper on the metal

Use a disposable paintbrush to apply it

Wait for it to work its magic (see recommended duration with manufacturer)
Step 3: Scrape/peel off the paint
The paint should begin to bubble or peel so scrape this off with a paint scraper

Use a nylon brush or scrubbing pad to get to harder-to-reach areas

Reapply paint stripper and continue scraping until paint is free
Step 4: Apply mineral spirit and clean up
With a dampened rag, wipe the surface with mineral spirit

Using clean water, rinse the metal surface to remove any leftover chemical stripper

Wipe down with a dry rag to leave the metal completely clean
Is stripping or sanding best for removing paint from metal?
Stripping is the better option as it saves a lot more energy and reduces the paint sanding pieces that come with the sanding process.
Furthermore, chemical strippers don't scratch any surfaces, unlike sanding which can significantly mark metallic or wood surfaces.
Can you use a paint stripper on all surfaces?
Most paint strippers are labeled for use on a variety of surfaces but many are formulated specifically for wood or metal.
You should always check what the paint stripper should be used for as metal paint strippers could eat through synthetic surfaces and cause severe damage to certain materials.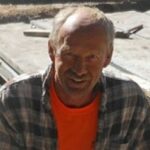 Jim Bettesworth well known for his can-do attitude and often takes jobs other companies were unwilling or unable to do. Experienced and educated in concrete construction and painting jobs. Read More.