ThatPainter is reader-supported. When you buy through links on our site, we may earn an affiliate commission. Learn More

Picture the scene: you're rushing out the door for work, coffee in hand. You're fumbling in your pocket for your car keys, ready to hit the road, when suddenly, something stops you in your tracks. 
There, on one of your wheels, staring right back at you is every car lover's nightmare: a scratch. 
You're already late, and you have errands scheduled all weekend. There's no time to book in with an auto body technician.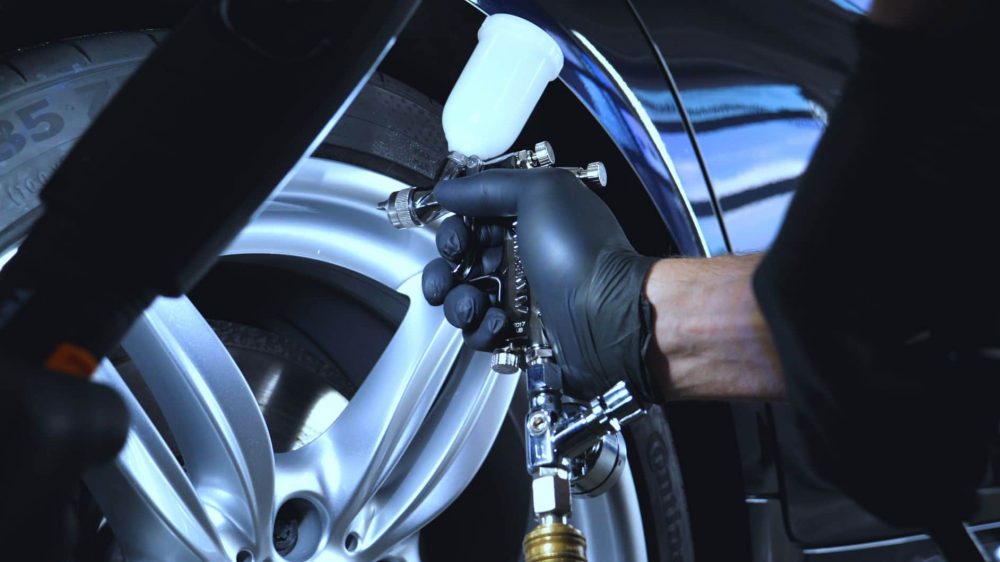 You could paint over it yourself, but how? You'll have to paint over the rims, too, if you want to maintain a professional look.
Where are you going to find two different types of paint at such short notice? And how will you go about applying them? After all, you're not a technician yourself.
Don't worry. We've been in your shoes, and thanks to years of experience with paintwork and paint products, we know exactly what to do. 
There are plenty of spray paint brands on the market that are perfect for touching up both wheels and rims. We've done the research and finalized our top 6 best spray paints for wheels and rims, so all you need to do is click 'add to cart.' 
Top 6 Spray Paint for Wheels and Rims
Dupli-Color's High-Performance Wheel Coating is our top recommended spray paint for both wheels and rims. 
The main reason why we recommend this paint so highly is that it's incredibly durable. Unlike other competitor paint brands, it doesn't flake or rub away once applied – something that's been proven through rigorous track testing. 
What's more, Dupli-Color's High-Performance Wheel Coating won't just make your wheels and rims look nice.
Once dried, it actually provides a protective layer over your wheels to repel potential contaminants like dirt, dust, and wheel chemicals, which might cause damage or discoloration. 
The Dupli-Color High-Performance Wheel Coating comes in a range of colors so that you can tailor the color match to your vehicle's existing scheme.
You can go the classic route with 'graphite,' 'satin black,' and 'silver,' or you could add some eye-catching detail with the gold or copper options. There's even a clear formula if you just want to enhance the shine of your wheels and rims. 
When you consider all of this in light of Dupli-Color's affordable price point, the deal is even sweeter. This paint presents a much less expensive option than having your car professionally touched up or customized. 
With all that being said, the application should be undertaken with caution because, like many spray paints, Dupli-Color has a very low flashpoint of -18.0 degrees, which makes it very flammable. 
PROS
Durable –

Track tested against flaking 

Protective –

Resistant to dust and chemical fumes 

Multiple color options –

Wide aesthetic compatibility 

Affordable

– Much less expensive than professional paintwork
CONS
Flashpoint of -18.0 degrees –

Highly flammable 
VHT's SP187 Gloss Wheel Paint is undoubtedly one of the best spray paint products on the market for wheels. However, it also works perfectly well on rims, making it a great all-over product for wheel touch-ups. 
The VHT spraypaint range covers a spectrum of classic colors, including silver, graphite, black, aluminum, and clear. While it doesn't offer brighter or flashier colors, this range is perfect for anyone looking to restore their wheels and rims to their former professional glory. 
The formula is highly resistant to heat and chemicals, with a maximum temperature rating of 900 degrees when fully cured. Not only does this make the product safer to use and apply, but it also ensures maximum durability once set.
Because this is a polyurethane-based paint formula, it works well as an additional protective layer between the elements and your wheels and rims. It's resistant to dirt, debris, and anything else your wheels might have to contend with on the road. 
Better still, each coat of this paint is quick and easy to apply. It dries to the touch in just 30 minutes and should set completely once left overnight. No curing is required, so this paint delivers one of the fastest application times you'll see in such a quality product. 
The main issue with the VHT Gloss Wheel Paint isn't in the paint itself so much as the containers. There seems to be some inconsistency in the quality control for the spray cans since a minority of customers have reported cans not working properly from arrival. 
PROS
Polyurethane paint –

Protects against dirt and debris 

Heat and chemical resistant –

Safer and more durable than competitor products 

Quick-drying –

Dries to the touch in 30 minutes, no curing necessary

Classic color range

– 8 traditional colors 
CONS
Lacking container quality control –

Some inconsistencies in can functionality 
Dupli-Color's Universal Perfect Match Automotive Paint is almost as good as the company's High-Performance Wheel Coating when it comes to maintaining wheels and rims. 
This paint comes either as a single can or a pack of 6, so whether there's a particular scratch on a wheel or rim that you want to cover up, or you're hoping to brighten up all of your car's wheels, you can do so with Dupli-Color Perfect Match. 
The paint itself is available in a huge variety of colors, although availability can't be guaranteed. The entire range covers traditional automotive colors like gloss black and silver but also offers eye-catching options like 'chili pepper red' and 'emerald green'. 
In fact, there's very little for us to criticize about this paint formula overall. From the consistency to the color match, it's more or less perfect for both wheel and rim use. 
Once again, however, we're going to have to dock some points for the container. The Dupli-Color Perfect Match spray can seems to be the cause of most customer complaints across the board with this product, and sadly, we have to agree. 
The spray can's nozzle, in particular, is the main downfall of this product. Despite featuring a useful 360-degree spraying function, the coverage leaves something to be desired.
While the quality of the paint itself is excellent, the nozzle often fails to deliver a smooth, even spray. As a result, paint coverage can sometimes be uneven, and there is a risk of droplet overspray. 
PROS
Available as a 6-pack –

Optimal quantity for painting all wheels

Huge color range –

Find the perfect match for your vehicle 

360-degree nozzle

– Spray in any direction for ease of use 
CONS
Unergonomic nozzle –

Delivers uneven spray
Rust-Oleum is a trusted and respected brand name in the paint industry, known for both its paint formulas and application tools. 
We had high expectations of Rust-Oleum's Automotive High-Performance Wheel Spray Paint as a result, and we're pleased to say, we were not disappointed. 
Available in steel, matte black, and graphite, this wheel spray paint is suited to use on both metal and plastic. 
The paint is exceptionally fast-drying, drying to the touch in just 10 minutes so that the application process won't be at all time-consuming. 
Best of all, this oil-based formula is highly durable and provides excellent levels of protection against elemental damage.
It prevents oxidization, minimizing the risk of corrosion, and also provides a protective barrier against dirt and debris from the road due to being scratch-resistant. 
While we'd absolutely recommend this spray paint for its quality and durability, we might caution against it if you're set on finding the perfect color match. This is because some of the paint colors look slightly different after application than as advertised on the packaging. 
PROS
Durable, protective formula –

Protects against dirt and rust 

Adheres to metal and plastic –

Widely compatible 

Fast-drying

– Dries to touch in 10 minutes
CONS
Slightly inaccurate color advertisement –

Paints may look darker or lighter when applied 
Superwrap's Sprayable Vinyl Wrap is an interesting spray paint product, unlike any of the others on this list. 
The formula is designed to replicate the appearance of vinyl wrap but with a much faster application process and the glossy, sleek aesthetic of vinyl. 
This spray paint is multipurpose because it can be applied with equally good results to multiple automotive surfaces.
This isn't just restricted to wheels and rims. You can also use this paint on your mirrors, trims, calipers, plus many other components.
The Superwrap Sprayable Vinyl Wrap is also available in a wide range of 24 colors, so you should have no problem finding a shade that matches or at the very least complements your vehicle's existing color scheme. 
One of the best things about the Sprayable Vinyl Wrap is that it's as easy to remove as it is to apply!
This is something you don't see in a lot of spray paints, which presents a problem regarding what to do when the paint eventually starts to wear off. 
Applying new coats of paint over old, chipped coats rarely delivers the best results. However, with Superwrap's Sprayable Vinyl Wrap, you can simply peel away the paint by scratching at a corner and lifting the coat away from the wheel. 
Unfortunately, there's also a downside to the benefit of being able to easily peel off your paint. This isn't the most durable wheel or rim spray paint on the market by a long shot, so we wouldn't recommend it if you're expecting coverage that lasts for months at a time.
However, if you're comfortable with reapplying more regularly and want to enjoy the 'best of both worlds' deal of a vinyl-adjacent powder coat, this may be the paint for you!
PROS
Multipurpose –

Suitable for wheels, trims, mirrors, calipers, and more

Sleek, vinyl look

– Professional appearance 

Easy removal

– Peels away 

24 color options

– Great potential for color matching 
CONS
Peels and chips easily –

Not for long-term coverage 
Finally, PlastiKote's Sprayable Truck Bed Liner is an unexpectedly high-performing paint product for wheels and rims. 
We use the word 'unexpectedly' not in relation to the brand (which is popular and well-trusted) but because we wouldn't usually expect a truck bed liner to provide the durability and sleek appearance required for wheel and rim use. 
However, PlastiKote has pulled out all the stops with its Truck Bed Liner spray paint – so much so that we'd highly recommend it as a finish for wheels and rims on just about any vehicle. 
The reason this spray paint is so good for wheels and rims, as well as truck beds, is that it's one of the most durable automotive spray paints on the market. It's also one of the most unique, delivering a textured, rubberized finish for non-slip durability. 
Once the paint dries, it sets into a tough, protective layer that's resistant to high temperatures and even chemicals! It won't crack or warp under pressure, so it's perfect for components like wheels and rims that see a lot of wear and tear. 
Even better, this is a water-based formula, so it's fast-drying (just 15 minutes should do the trick) and doesn't contain any dangerous chemicals or solvents. 
Because this paint can be purchased as a 15 oz can or by the gallon, the quantities are also ideal. You can purchase a single can if the total area you want to cover is under 10 sqft, or you can go for the gallon option for more substantial touch-ups. 
Unfortunately, this product is currently only available in black, which doesn't leave much room for flexibility in terms of color.
With that being said, matte black wheels and rims make for a dramatic statement on any vehicle without being too visually obtrusive, so it's difficult to go wrong with this paint. 
PROS
Rubberized finish –

Tough and non-slip

Quick-drying –

Dries to touch in roughly 15 minutes 

Water-based –

No harmful chemicals or solvents 

Available in 15 oz or gallon –

Sold in optimal quantities 
CONS
Only available in black –

Not much aesthetic flexibility 
Buyer's Guide
Paint Type 
The first thing you'll need to consider before you purchase any spray paint for your wheels or rims is paint type. 
For anyone who doesn't have any experience with paint products or the application process, the fact that there are multiple types of spray paint formulae on the market may be a surprise – and may even make the process feel even more confusing. 
Don't worry, though. The main spray paint types are fairly easy to remember, and the bottom line is that more choice in paint will translate to more aesthetic and functional flexibility for your wheels and rims. Wheel paint cost can vary depending on the type of paint and size of the wheel, but typically it can range from $50 to $150 per wheel
The first type of spray paint for wheels and rims that you need to know about is oil-based paint. This is also often referred to as enamel paint, and generally, it's geared towards specific metals.
Oil-based spray paint is one of the most durable types on the market, which, in conjunction with its suitability for metal painting, makes it ideal for wheels and rims. 
However, oil-based spray paints typically take longer to dry than other types of paint and are often more expensive. It's also important to verify which metals an oil-based paint is suitable for use on if you want the best results. 
You also have the option of choosing water-based spray paint for your wheels and rims. Compared to oil-based paints, water-based products have faster drying times and are typically less expensive.
They're often easier to work with, too, since these formulas can be washed from the skin with much less scrubbing than oil-based paints, and they don't produce a noxious chemical odor.
In fact, generally speaking, water-based spray paints are safer to interact with because they don't contain as many of the harmful chemical ingredients that other paints do. 
However, water-based formulas are not the most durable and often need touching up more frequently than other paint types.
The next most common type of spray paint for wheels and rims is polyurethane paint. Polyurethane spray paint is incredibly durable and hard-wearing, with the additional benefit of providing active protection against the elements.
It's perfect for wheels and rims because it can hold up against a great deal of wear and tear without sustaining any damage and while protecting your vehicle from dust, dirt, debris, and chemical emissions. 
Care should always be taken when applying polyurethane paint, however, because it's extremely flammable, contains solvents, and may cause respiratory irritation if inhaled. This paint should only be used outdoors or in a well-ventilated area.
Polyurethane spray paint is also notoriously more time-consuming to apply than other paint types because it takes much longer to dry. Moreover, sanding may be required between coats to ensure proper adhesion. 
Next, we come to textured and rubberized spray paints. These are some of the more expensive spray paints on the market due to their unique properties and enhanced durability.
Textured and rubber finishes are often seen in truck bed liners and similar automotive products, but they work equally well on wheels and rims.
If you're looking for a spray paint that will protect your wheels and rims from wear and elemental damage, textured paint might be just what you're looking for. 
Finally, if you feel like pushing the boundaries of aesthetic enhancement on your vehicle, you could opt for a sprayable vinyl wrap!
Sprayable vinyl wrap is a budget-friendly alternative to physical vinyl wrapping and a less permanent version of traditional spray paint. Sprayable vinyl wrap delivers the shiny, sleek look of vinyl wrap with the texture of powder coating.
It's easy to peel off when you're ready for a change, so it's perfect for car owners who want to experiment with colors and styles without fully committing. 
However, sprayable vinyl wrap is not the finish you want if you're looking for durability. We'd only recommend it if you're prepared to reapply frequently or as a temporary stand-in for future paintwork. 
Ease of Use 
Choosing the correct paint type may be crucial when it comes to spray painting wheels and rims, but it's far from the only factor involved in the decision-making process. 
Spray painting your own wheels and rims on a DIY basis can save you a lot of money, but ideally, you want to be saving time and energy, too.
That's why it's so important to select a paint that's not only compatible with your vehicle and your needs, but also easy to apply. 
Nozzles 
The single biggest hindrance to ergonomic spray paint application is a subpar nozzle. Spray paint, of course, typically comes in an aerosol can. Therefore, the product relies heavily on a high-quality nozzle to deliver even coverage and consistency. 
Unfortunately, it can be difficult to ascertain the quality of an aerosol can's nozzle before purchase. Still, there are a few helpful tips that may help you to sort ergonomic cans from poorly designed ones. 
Believe it not, aerosol nozzles are not one-size-fits-all. Aerosol nozzles come in various sizes or 'levels,' as reflected in Montana's range of aerosol caps.
Level 1 nozzles or 'caps' deliver a spray width between 0.15 and 0.6 inches. Spray width incrementally increases with each level, with the maximum usually being between 2 and 10 inches. 
Now, this information is usually not provided in online product descriptions, but if you can find a good enough picture, you can often gauge roughly what the spray width is like by the width of the hole. You can also check customer testimonials for reports of the spray quality.
The right nozzle size for your wheels and rims will mostly depend on what kind of paint project you're working towards.
If you're looking to add finer details, you'll be better off with a smaller spray width. However, if you just want an even all-over coat, a thicker spray will work better. Beware of going too thick, though, or you'll find it hard to avoid overspray. 
If all else fails and you end up with an aerosol can that doesn't spray the way you want it to (or, in some cases, refuses to spray at all), there are ways of replacing the existing cap for a new one. 
Drying Times
Finally, it's important to think about drying and curing times. Some spray paints for wheels and rims will dry to the touch within 10 minutes, while others may take a full 24 hours to feel completely dry. 
You'll need to consider your time constraints and commitments and what kind of drying time you're able to work with. 
Please note that some paint types will have additional curing times that should be adhered to even if the paint feels dry.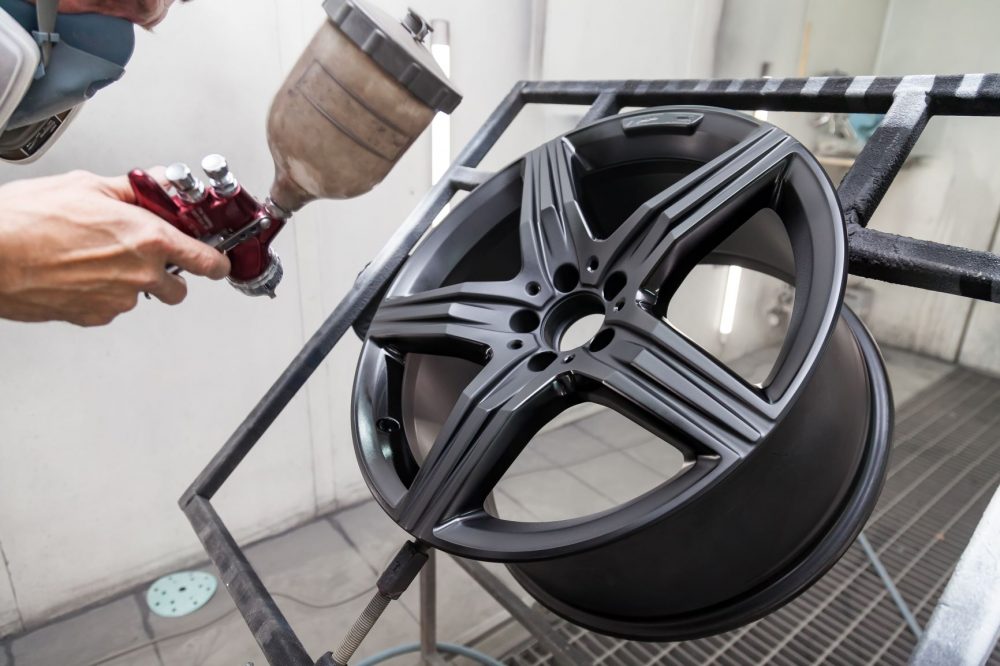 Frequently Asked Questions 
How does spray painting work for wheels and rims? 
So, now you know what kinds of spray paint are available on the automotive market for wheels and rims – and now that you've read our buyer's guide, you'll hopefully have an idea of which paint type will work best for your vehicle and personal requirements. 
But what about the actual paint application process? How does it work, and how does a vehicle owner go about enhancing their wheels and rims themselves? 
If these are the questions you've been asking, read on! The process of spray painting wheels and rims can be broken down into a few simple steps: 
Step 1: Prepare 
The first step is to prepare your environment. You will need to ensure that all your equipment is ready to go and that all surfaces that need protection are shielded. 
First, clean your wheels and rims thoroughly with a specialized cleaning solution or rubbing alcohol before rinsing it away. You should be left with clean, sparkling wheels that are ready to be painted.
If you notice any unevenness on the surfaces of your wheels or rims, you can tackle these with sandpaper before painting. Rougher sandpaper (220 grit) should be used first to deal with the more noticeable imperfections, while 400 grit makes a good follow-up for an extra-smooth finish. 
Wash your wheels again to get rid of any dust from the sanding process, and tape off any areas around the wheels and rims that you don't want to risk getting paint on. 
Step 2: Apply First Coat 
Once your wheels are clean and smooth and all your other surfaces are protected, you can get into the paintwork! This is assuming your chosen paint can be used without a primer.
The first coat will set the foundations for the rest of your paint job, so take this slowly and carefully. 
Try to apply a thin layer of paint to start with. You don't want to go too thick since this could cause unevenness as you build up the layers and may interfere with the bond between metal and paint. 
Once your wheels and rims are thinly coated to your satisfaction, you can leave the first coat to dry according to the drying times laid out in the product guidelines.
Step 3: Apply Second Coat
Having waited until the first coat is completely dry, you can move on to the second coat. 
The process for the second coat is mostly the same as the first coat, but you can afford to lay the paint on a little thicker this time. Don't go wild, though – you don't want any overspray or drips. 
Again, leave to dry as directed. 
Step 4: Apply Top Coat (Optional)
Depending on how your wheels and rims are looking after the second coat, you could add one or two more coats as a 'top coat.' 
We'd only recommend doing this if your paint is still looking a little thin. This is because going too thick can actually reduce durability by making coats more susceptible to flaking. 
If you do choose to apply a top coat, adopt a less-is-more mindset and remember to leave it to dry thoroughly.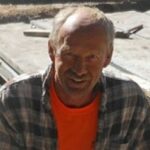 Jim Bettesworth well known for his can-do attitude and often takes jobs other companies were unwilling or unable to do. Experienced and educated in concrete construction and painting jobs. Read More.