ThatPainter is reader-supported. When you buy through links on our site, we may earn an affiliate commission. Learn More
Painting can be fun, it is often romanticized in movies, but in reality, it can quickly become quite tedious. One thing that is even more tedious than simply painting, is painting ceilings.
Painting walls can be boring, but painting ceilings is hard work, and not only is it hard work but it can also quickly become a very messy task.
What can begin as a fun task can quickly become an absolute chore, which is definitely something that you don't need when DIY'ing.
Thankfully, there is a handy device called a spray painter which can make painting your ceilings a totally different experience. But finding the right spray painter for the job can be difficult.
But there's no need to worry because we've done all the difficult work to make your job easier, so if you need a spray painter then you are in the right place.
We've researched some of the best spray painters on the market to put together a shortlist of 5 options for you to choose from.
Top 5 Spray Painters for Ceilings
So if you want to find out what the best spray painter on the market is, and lots more about spray painters then keep on reading.
Wagner Spraytech 0520000 Paint Sprayer
Our favorite spray painter on the market is the Wagner Spraytech 0520000 Paint Sprayer. This spray painter is excellent as it allows you to get a professional finish from the device without needing to be a professional, or pay the high labor costs.
This means that you will get ceilings which your friends will envy, without breaking the bank. It is also incredibly easy to use, even if you have little experience with spray painters.
It is easy to use and set up as it comes with a lock and go technology, so all that you have to do is plug in the paint and you are ready to start painting.
If that wasn't enough, this spray painter is also very versatile allowing you to use it on both ceilings and walls, so it is definitely a great investment for your money.
PROS
Textured Finish

– designed to apply a perfect textured finish to your ceilings just as good as if a professional were to do it

Lock and Go Technology

– makes it easy to set this device up, so that you can simply slot the paint in and you are good to go

Adjustable Hopper

– allows you to tailor this device to the type of surface you are using, making it a versatile choice if you are likely to want to paint walls in the future
CONS

Graco Magnum 257025 Project Painter
Another great choice is the Graco Magnum 257025 project painter. This device is excellent if control is of the utmost importance to you.
In general, being able to control the amount of paint that comes out of the device is very important, which is why this device is such a great choice.
It comes with a variety of buttons that are clearly labeled and easily adjustable to the level of paint you want to be released from the device.
But perhaps the best thing about this spray painter is that it does not require you to adjust the thickness of the paint before adding it to the machine.
Thinning paint can be tedious, but this isn't an issue with this device as it will do all of the work for you. So if you don't want to do all the preparation required from a paint sprayer, this is an excellent option for you.
PROS
Maximum Control

– includes fully adjustable pressure allowing you to easily increase or decrease the amount of paint flowing through the machine

No Need to Thin Paint

– doesn't require you to thin the paint before you add it to the machine, it will do all of the work for you

Easy to Use

– easy to set up, use and clean after use as it can be attached to a garden hose. It is also easy to store due to its design
CONS

REXBETI Ultimate-750 High Power Sprayer
We also love the REXBETI Ultimate-750 High Power Sprayer. This device is great as it is easy to adjust in a variety of different ways.
It comes with a flexible control knob that allows you to limit or increase the amount of paint that you are using.
Additionally, it comes with 3 different spray patterns and 4 different nozzles which can be easily switched out depending on the job that you are doing, and the finish that you want on your ceiling.
But the best thing about this device is that it comes with an extra-long power cord which removes the restrictions often associated with HVLP spray guns like these.
It is also lightweight to hold, so this is definitely one of the best options on the market.
PROS
Easily Adjustable

– flexible control knob allows you to easily restrict or increase the amount of paint moving through the machine and out of the nozzle

Highly Versatile

– includes 3 different spray patterns and 4 different nozzles, allowing you to tailor your machine to fit the job you are doing

Lightweight

– built with lightweight materials and an extra-long power cord so that you will not be restricted by the air compressor
CONS

Includes No Directions

– making the process of using this device a little difficult
Scuddles 1200Watt Paint Sprayer
You should also consider the Scuddles 1200 watt paint sprayer. This is yet another spray painter which is easy to use, and this is mainly because its design is very self-explanatory.
All of the different components are clearly labeled which will make mastering this device a piece of cake. As well as being easy to use, it is also very easy to clean.
Cleaning a spray painter can often be enough to put people off buying them, but this device can be easily disassembled for a quick and easy clean.
With all of this, plus a sturdy and durable design, this is definitely one of the best paint sprayers available.
PROS
Easy to Use

– this device is very self-explanatory to use, making it an excellent choice if you are new to spray painting ceilings

Quick Clean Up

– removes the tedious job of cleaning up after you finish painting as this device is designed to be easy to clean

Sturdy Design

– makes this device feel solid in your hand, and excellent value for the price you are paying
CONS

Requires More than One Coat

– covers with a thin coat, so you will have to layer the paint
NEU MASTER NSG0070 Electric Paint Sprayer
Finally, we can't forget about the NEU MASTER NSG0070 electric paint sprayer. This device is great because it is easy to adjust to your needs so that you can effortlessly increase or decrease the amount of paint that you are using.
Additionally, it comes with 3 different spray patterns which allow you to choose the type that has the perfect finish for your ceilings.
But the best thing about this device is how versatile it is. As well as offering different spray patterns, it is also compatible with lots of different materials, including chalk paint, varnishes, sealers, and lots more.
So if you want excellent value for your money, this is a great choice for you.
PROS
Easily Adjustable

– a series of buttons make it easy to increase or decrease the volume of paint and the pressure of the sprayer

Various Spray Patterns

– includes 3 different spray patterns which you can choose from depending on the finish you want on your ceilings

Versatile

– suitable for use with lots of different materials, including sealers, varnishes, chalk paint, and lots more
CONS

Quality is Equivalent to Price

– some components are flimsy, but it is good value for what you are paying
Buyer's Guide
Different Types of Spray Painters Available
First of all, let's address the elephant in the room, and that is the fact that there are lots of different types of spray painters available.
There are lots of different types of spray painters available, and there is even a range of spray painters available that are specifically designed for use with ceilings.
So, let's take a look at what these different types of spray painters are to remove any confusion before it occurs. This will also allow you to make a fully informed purchase when you decide which spray painter is right for you.
HVLP and LVLP Spray Guns
The first type of spray painter that you probably will have heard of is HVLP and LVLP spray guns. These types of spray painters are compressor-powered and are easily identifiable by their abbreviated names.
But what do these abbreviations mean?
HVLP – High Volume, Low Pressure

LVLP – Low Volume, Low Pressure
As both of these guns are compressor-powered, they do require a constant connection to an air compressor to be able to operate.
This is the only way that the paint will become pressurized enough to be able to spray onto the walls/ceilings. But which is the better option of these two?
Generally speaking, LVLP spray guns are the safer option as they use both low air pressure and a low volume of paint. This makes them less powerful which reduces the risk of injury, but it does also make them a lot slower to use which can be frustrating when you have a large amount of space that you have to paint.
Whereas HVLP spray guns are very powerful, and they are also able to do the job quickly.
One of the main reasons why people choose to use a spray gun to paint anything is because it makes the job pass quicker, so using an LVLP spray gun sort of defeats the point of using a spray gun.
This is why more people opt for HVLP spray guns as they allow you to cover large areas with paint in a small amount of time, ensuring that you don't waste unnecessary time painting the walls and ceilings of your home.
Handheld Electric Sprayers
Unlike HVLP and LVLP paint sprayers, handheld electric sprayers are a lot more compact, with all of their main components in one piece of equipment.
This can make them more convenient to use as you do not have to worry about fitting multiple different pieces of equipment to one another before you get started.
They are also a lot more convenient to use for painting ceilings than some other types of paint sprayers as they are more maneuverable, and easier to handle.
Depending on the price that you pay, and the company that you purchase from, the quality of build of this device can differ hugely.
Some of the more expensive handheld electric sprayers are built with robust stainless steel, whereas others are made with weaker materials to reduce the cost.
These spray guns are great if you are completing a DIY product, but not so good if you are a professional home painter.
This is because they are only able to handle a fairly small amount of paint in one year, making them suitable for a single home DIY, but not for multiple houses.
So if you are a professional painter then this might not be the best choice, but if you are just working to renovate your home then this could be a great choice for you.
Airless Paint Sprayers
The final type of spray gun that you should consider is the Airless Paint Sprayer. This type of spray gun is extremely popular for painting the interior of your home as it can produce an excellent finish on both walls and ceilings.
However, these paint sprayers are not the best choice for ceilings if you already have things in your home. Airless paint sprayers are excellent for covering large areas, like ceilings, but they can be messy.
So if you are in the process of renovating your home, then they are a great choice, but if you simply want to repaint the ceiling in a home that you are already living in then perhaps they aren't the best choice.
This is mainly because if your home is already complete, then you will likely have coving, lighting, fans, and other details within your home.
If you were to use an airless paint sprayer with all of this already in your home then there is a good chance that you might end up with paint sprayed onto these details.
But if your house is empty, then an airless paint sprayer is a great way to get the job done quickly.
Why might you consider a spray painter?
If you are reading this, you might be asking yourself 'why would I buy a spray painter?' and it is a good question.
We've already established that these spray painters can do the job quicker, but why else might you consider using a spray painter instead of a regular paint brush or roller?
There are two main reasons why you might do this:
For a Better Finish

To Reduce Discomfort in your Back/Neck
Let's take a deeper look at why these might sway you to purchase a spray painter instead of just carrying on with your paintbrush.
Spray Painters simply produce a better finish, there is absolutely no argument against it. Paintbrushes and rollers often leave lines along the finish where you have painted both ceilings and walls which can ruin the overall look.
But, spray painters do not leave these lines as the spray painter does not actually come into contact with the walls or ceilings at any point in the painting process.
Similarly, there's no argument against the fact that painting with both brushes and rollers can cause discomfort.
Anybody who has ever painted a wall will be aware of how tedious this process can be, and how much the repetitiveness of this can put a strain on your muscles.
This is only made even worse when you are painting ceilings. Regular painting work has been proven to cause harm to our bodies and pain, but spray painters get the job done quicker, therefore reducing the risk of harm.
So it is clear why you might change to a spray painter.
Preparation is Key!
Now that you know all about the different types of spray painters available, and why you might choose to use one of these devices, let's talk about the next most important thing.
Preparation. Preparation is absolutely key when it comes to painting your ceilings, so let's take a look at all the different things you need to prepare.
Safety First
First things first, you will need to prepare yourself before you start working with paint. The most important piece of safety equipment when it comes to painting is goggles, as getting paint inside your eyes is one of the worst feelings in the world.
The chances of paint getting in your eyes are increased when you are painting the ceilings, so goggles are very important.
As well as goggles, you will want to consider the clothing that you are wearing, and whether or not you are happy for paint splatter to get onto it.
For this reason, some people choose to wear a full-body painting suit over the top of their clothes to protect them from paint splatter.
Finally, depending on the type of paint that you are working with, you may choose to also wear a face mask as some paint can be toxic before it dries.
Protect the Area
Next up, you need to prepare the area in which you are painting. This is especially important if you are just touching up existing paint in your home as you will likely already have furniture and other types of detailing already in your home.
So before you start painting, you must cover everything within the area which you do not want to get paint or paint splatter on.
When you are preparing the area, remember that gravity exists and that this will cause the paint particles to fall towards the floor when they enter the air.
So you must cover the entire floor. Additionally, you need to consider electrical fittings and coving/skirting boards when preparing the area.
Remove what you Can
Following that, you should try and remove as many fittings as you can from the area. When you are painting the ceilings, the main fitting that you will want to remove is your light.
If you have a shade on your light, you can easily remove this. But depending on the type of light fitting that you have, this might not be as easy as you think.
Unfortunately, a lot of light fittings are tricky to remove once they have been fitted. If this is the case in your home, you should instead use plastic and tape to cover the fitting and protect it from any rogue paint splatter.
This can be fiddly, but it is very important to ensure that your light fitting does not become damaged while you paint.
Practice Makes Perfect
The final preparation step that you need to complete before you start painting your ceilings is to test out your spray painter.
If you are using a spray painter that you already own, this isn't as important, but if you have bought a new spray painter then you should master using the spray gun before you begin painting your ceilings.
You can practice using the spray painter on leftover pieces of cardboard so that you can get a hang of what all the different buttons do.
Once you have mastered using your spray painter, you should then test out the color of the paint that you are thinking of using on your ceiling.
Some paint will look very different in the samples to how it looks when it is fresh, so it is best to try it out before you cover your entire ceiling in it.
Again, we recommend doing this on a piece of cardboard. After you are confident in using the spray gun and happy with the color, then you are ready to start spraying.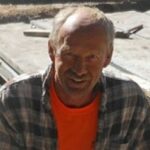 Jim Bettesworth well known for his can-do attitude and often takes jobs other companies were unwilling or unable to do. Experienced and educated in concrete construction and painting jobs. Read More.