ThatPainter is reader-supported. When you buy through links on our site, we may earn an affiliate commission. Learn More
Plywood is a material made from several layers of wood glued together. Its thickness can vary depending on the number of sheets. It's made through cross-graining, a process that alternates the grain in every sheet. This process is highly beneficial as it increases the plywood's strength while making it resistant to shrinkage and warping.
Due to its rugged nature, especially in lower-grade plywood, painting it can be tricky. You'll need to go through several steps to create a smooth and even finish.
Our instructions are the only steps you need for a quick and easy plywood painting process. It's no secret that our team has been working with plywood for many years now, knowing all the ins and outs of this durable material.
Can You Paint Plywood?
You can paint every type of plywood, no matter its properties or uses. For instance, you can paint a plywood floor, although it generally requires extensive preparation to achieve good results.
But, some types of plywood are easier to prepare and paint due to their higher-grade nature. Even though the material is easy to paint, not all paint types are suitable for plywood. Yet, some great options will make your life easier and provide better results.
You can also paint special plywood types, such as pressure-treated plywood. This material undergoes a special treatment to increase its resistance, so it's crucial to let it fully dry before painting; otherwise, it can get damaged or warp.
Certain types of plywood, especially smaller objects such as furniture, can be spray painted. You just need to remember that you'll need to prepare it by sanding and priming it before applying spray paint.
Best Paint Type for Painting Plywood
Choosing the best paint type for plywood depends on your project specifications. We recommended using durable paint, such as acrylic latex, for heavy-duty projects such as floor or wall plywood.
For smaller projects where durability isn't a concern, chalk paint and acrylic paint are among the top choices.
Many consider acrylic latex paint the best to paint plywood due to its water-based nature. In addition, it's also incredibly durable, easy to clean, and washable with water and soap.
Thanks to its flexibility, acrylic latex paint is less likely to crack or chip with prolonged use. This paint is available in many finishes, although satin and semi-gloss are the most common. Remember that the former requires a topcoat for enhanced durability, while the latter doesn't require any treatment after application.
Chalk paint is also a popular choice when painting plywood, especially if you're looking for a matte finish. However, this type of paint requires a sealer, so it doesn't wear out fast. It's recommended for smaller objects and furniture. Similarly, you can also opt for acrylic paint in these situations.
Best Plywood Type for Painting
Two plywood types are often mentioned when discussing the best types of plywood for painting – marine and birch. Marine plywood is highly durable, water-resistant, has no knots, and is easy to handle. It holds color exceptionally well, especially when using water-based acrylic latex paint.
Birch plywood is also excellent for painting due to its high-quality, versatile, smooth surface and water resistance. You can help it reach its peak resistance by pairing it with a type of durable paint, such as acrylic latex.
But overall, nearly all types of high-grade plywood are suitable for painting. Since they're made to higher standards, they have a smooth surface that's easy to sand and prime. This makes the preparation process more manageable and results in a better finish when you use suitable paint, such as latex, acrylic, or chalk paint.
How to Paint Plywood
If you're new to plywood-based DIY, painting this material can be difficult. However, with this guide and the tips we have in store, you'll be able to do a great job suited to your needs.
You can find more about the materials needed and the steps you should follow below. Have a look:
Materials Needed to Paint Plywood
Here is the material you'll need to paint plywood. These are very important in ensuring you get an even and durable finish. With the right material, plywood paint can last for ages.
Wood filler – This material covers holes, gaps, and scratches in unfinished or damaged wood. It's particularly useful in plywood due to its rougher finish.
Putty knife – It's used to scrape splinters and help spread wood filler and joint compound in plywood and other materials.
Joint compound – It helps create even corners and covers gaps between joints. It's commonly used in plywood furniture corners where the sheets are glued or nailed.
Wet cloth – Used to clean the plywood after sanding. Cleaning removes debris the wood may contain and helps the primer adhere better.
Orbital sander or high-grit sandpaper – Used to make the plywood's surface even and smooth.
Primer – It creates a layer between the paint and plywood so it doesn't absorb paint. Thus, you won't have to use excessive amounts of paint.
Paint – Choose a high-quality, resistant paint to ensure your plywood lasts longer.
Roller, brush, or sprayer – The choice depends on how you want to paint your plywood. A roller is better for larger projects such as walls or flooring, while a brush is recommended for precision painting.
Sealer – This material makes the paint more resistant to external factors such as heat or humidity. It's recommended to apply a sealer when using chalk or acrylic paint.
Steps to Paint Plywood
Look at the steps you need to follow to paint plywood easily. Keep in mind that some preparation is required to achieve the best results.
Fill holes using wood filler – Cover holes, scratches, or dents with wood filler and let it dry overnight. A second coat may be needed as filler tends to shrink when drying.
Use joint compound – Cover exposed joints and edges using a putty knife. Make sure the surface feels smooth and uniform. Let it dry overnight.
Start sanding – Sand the plywood in a ventilated place. Make sure you use a mask and eye protection. You can use high-grit sandpaper for this step, although an orbital sander will make things faster.
Clean – Wipe off the plywood dust with a wet cloth to remove excess particles.
Apply the primer – Two coats of primer will be enough for most types of plywood. Lightly sand the surface between coats and let it dry for up to six hours.
Start painting – Two coats of paint will offer excellent coverage and vivid colors.
Apply the sealer – You may have to seal the wood, especially when using acrylic or chalk paint.
Also Read: What Is The Best Way To Remove Old Paint From Wood?
Frequently Asked Questions
Check out the most commonly asked questions by other DIYers and painters:
Do I need to seal plywood before painting?
It's always recommended to seal plywood using a suitable primer before painting. Primers seal the plywood's surface so that paint doesn't soak into the wood. It'll also help paint adhere to the surface and reduce the amount needed. Sealing plywood with a primer makes it last longer. 
What do you put on plywood before painting?
Before painting plywood, it's essential to use a wood filler to cover any gaps, scratches, or dents and a joint compound to create a smooth and even surface. It is also recommended to apply primer to reduce the paint needed and increase its adhesion.
What is the best primer for plywood?
The type of primer best suited for plywood depends on your preference. Choosing an oil-based primer is often preferable if you're looking to hide imperfections. On the other hand, water-based primers are better at increasing the wood's durability.
Can plywood be sanded?
Yes, you can sand plywood to remove imperfections and rough edges and create a smooth surface. You must sand down plywood even when it is high-graded, using an orbital sander or high-grit sandpaper.
How do you get a smooth paint finish on plywood?
We recommend using higher-grade plywood as it's less rough than other types of plywood. To make paint smooth, you'll need to sand down and prime your plywood before applying your chosen paint. 
Conclusion
Painting plywood can be easy if you know the steps you must take. While it takes patience to learn about the techniques and materials required, painting plywood can look great if you take your time to do things right.
Ensure you apply filler and joint compound properly, sand it evenly, and apply a high-quality primer. Together, these will make your new plywood paint last a lifetime with minimal maintenance.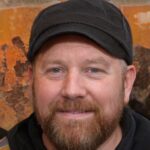 A Professional Painter, Joseph is known for solving huge problems with simple DIY tricks. Now retired, he writes for ThatPainter.com to educate people on how to get their paint job just right. Joseph specializes in painting services, and has a ton of experience working with paint of varied quality.