ThatPainter is reader-supported. When you buy through links on our site, we may earn an affiliate commission. Learn More

Yes, you can seal a painted floor. Several manufacturers produce clear acrylic floor sealers intended for use as a sealer for concrete and asphalt surfaces. They work well over painted surfaces because of the strong adhesive properties of acrylic and dry to a semi-gloss finish.
If your floor is made of wood, sealing it after painting provides an essential layer of protection. This is especially important in areas that are exposed to high levels of foot and vehicle traffic.
If your painted wooden floor is indoors, a sealant can help to protect from any scuffs and scratches caused by furniture and everyday wear and tear. Alternatively, if your painted floor is made from concrete, it is still possible to seal it.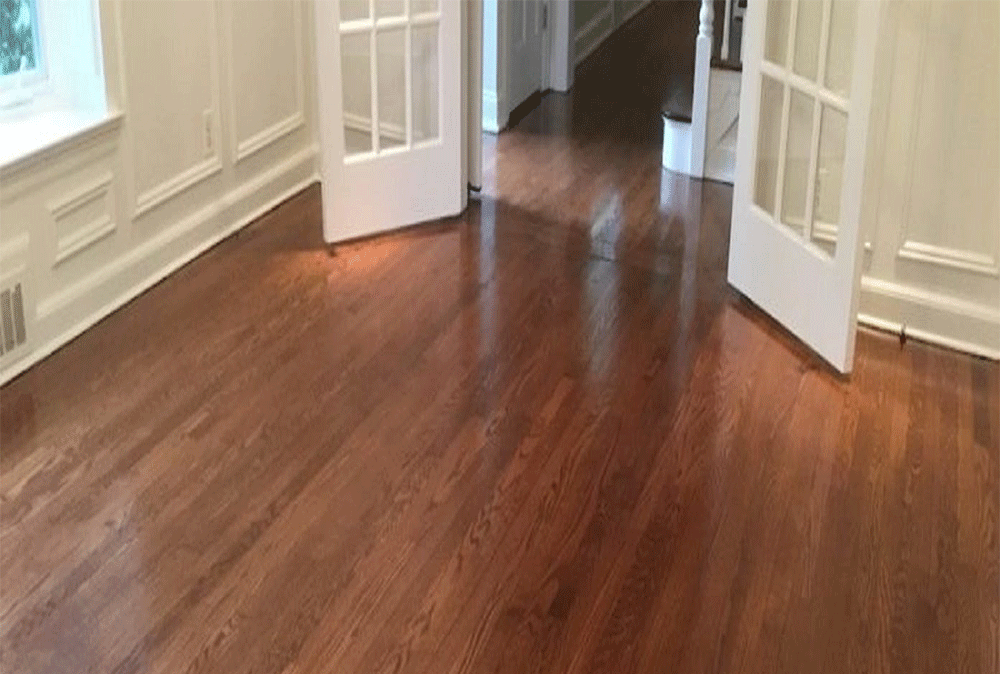 There are a few different types of sealants on the market and the type you need will depend on the floor you plan on sealing. 
Polyurethane Sealant – This is a synthetic and oil-based sealant that provides a durable and protective coating on painted and bare wood surfaces. This type of sealant is suitable for use on both wooden and concrete floors. It comes in either spray form that you use directly onto the floor. Alternatively, it can come in a pot and you'll have to use a paintbrush to apply it. However, this sealant type is prone to releasing harmful fumes due to the toxic chemicals present in the mixture. 
Polyacrylic Sealant – This is a water-based topcoat that you can apply to your painted floor. It is a great alternative to polyurethane sealant as it emits almost no toxic fumes and has very little odor. It is also far easier to clean up and can be easily removed with just a little warm water. However, it is not as durable as polyurethane sealant. Polyacrylic is most commonly used on children's furniture or areas where pets tend to roam. It comes out milky white when wet but dries completely clear. 
Paste Wax – This is made up of wax that has been dissolved in a solvent. The wax is usually naturally occurring, and high-quality paste waxes use beeswax or carnauba. You should apply paste wax with a paintbrush or cloth and wipe off any excess afterward. These finishes are usually clear, but they can also be colored to create an antique effect. However, paste wax isn't known for its durability. In fact, professionals recommend that it should be re-applied every year, at least! So you'll need to be prepared to keep on top of this maintenance. Also, furniture or floors that have been sealed with paste wax must be kept out of direct sunlight as it can become sticky and melt.
Decoupage – This can be used on small areas of painted wooden floors only. This method isn't suitable for sealing painted concrete floors, so you'll need to opt for one of the other methods. It involves using a small paintbrush to apply pictures and glue to the surface. It should be sanded in between each coat and should be left to dry for at least 24 hours after you've completed the final coat. This will help to ensure that it stands the test of time. 
Paint and Sealer – Most good hardware and DIY stores will stock some sort of paint and sealant combination. The sealer is contained within the paint mixture itself, so it seals as well as colors. Follow the product instructions for preparation and application. These products are useful for painting furniture white or light colors because they are less prone to discoloration. Some sealants, including polyurethane, may turn yellow over time, producing a noticeable discoloration on white paint.
Should I seal my painted floor?
Some paints require primers/sealers while others don't, so check on the tin. At the very least, you should prime any areas that have been sanded down to bare wood. You should also prime any knots in the wood, so buy a tin of wood primer.
Make sure the primer you buy is suitable for the type of paint you are going to be using– ask for some advice in a DIY store if you're not sure. If you're working with a concrete floor, using a sealant is usually recommended. This is because the surface of the concrete is typically quite rough, so it will need to be filled with sealant to prevent air bubbles from ruining the finished result. 
Sealing or painting a concrete floor has many benefits. The first benefit is that you'll experience fewer problems caused by dust. As tough and durable as concrete is, it is still susceptible to general wear and tear when subjected to traffic which causes the surface to break down.
Applying a concrete floor sealer will impregnate and seal the floor surface and prevent specks of dust from occurring. A good quality concrete floor sealant will provide a clear non-yellowing finish which extremely durable and abrasion-resistant
Another reason why you should consider sealing your painted floor is that it can increase its resistance to staining. Both concrete and wood surfaces are absorbent and porous by nature. Because of this, they can be particularly susceptible to staining from liquids such as paint, ink, oils, grease, and fat. Investing in a good-quality floor sealant can protect it and waterproof it. This is especially important if you plan on painting outdoor flooring.
Before even thinking about sealant, or even painting for that matter, you'll need to thoroughly clean your floor. If you attempt to dive straight into painting and sealing, dust, grime, and other pesky particles can get caught up in the mixture and settle and cure on the surface of your floor.
Scrub the floor thoroughly with a wire brush and lightly sand it before adding paint. This will help the sealant and the paint to adhere to your flooring better, ultimately increasing its durability and lifespan.