ThatPainter is reader-supported. When you buy through links on our site, we may earn an affiliate commission. Learn More

You've probably seen highly instagrammable dining tables, countertops, or kitchenware with finishes so stunning as if somebody had spilled a tiny ocean of colors on them (some great photos in our review of best epoxy resins).
The secret behind this magic trick is epoxy – a synthetic resin mostly used as an adhesive or coating component. Its applications are vast, properties impressive, and esthetic value unquestionable.
Even so, epoxy systems' chemical nature raises many safety concerns, especially when it comes to food contact. Is this the case where danger hides in beauty? Let's find out.
Epoxy Resins – What are They?
Chemically speaking, epoxy is an organic compound, a molecular complex with few repeating units, or oligomer. It consists of carbon chains connected to other elements like hydrogen, oxygen, or nitrogen through a covalent bond, keeping them together.
Epoxy gets its name from the term "epoxide," which means that it's highly reactive to other chemicals. Pure epoxy's state is liquid, the most toxic of its forms. Skin contact can cause dermatitis or chemical burns. Its fumes induce nose, throat, and lung irritation.
Epoxy is the primary but not the only element in the epoxy systems that are used for production purposes. To detoxify and shape it, the raw material should be mixed with another chemical additive, the hardener. This process is called curing.
Depending on the chosen epoxy + curing agent combination, the result of such chemical reaction may vary in a wide range from honey-like liquid adhesives to solid coating materials resistant to mechanical stress, extreme temperatures, chemicals, or radiation.
As you can imagine, the application field of versatile epoxy resin is immense. It is used for:
Insulation (Circuit boards, diodes, transistors);
Repair (Holes, cracks, impact damages);
Gluing (Wood, metal, stone);
Laminating and sealing (Floors, concrete, pipes);
Molding (Aircraft parts, skis, skateboards);
Decoration (Jewelry, art objects, interior).
Is Epoxy Resin Food-Safe?
Epoxy takes its rightful place among trendy materials in household use and everyday life. Some of the most in-demand resin articles are:
Kitchen countertops
Dining tables
Tumblers, mugs, glasses
Cutting boards
Coasters
Fruit bowls
Serving plates
What do these items have in common? They all come into direct contact with food. At the same time, the epoxy is capable of leaching harmful substances if not cured properly.
Although cured epoxy is considered a food-safe resin and most manufacturers claim their product is 100% food-grade, it's customer's responsibility to choose a suitable system, check the ingredients, and strictly follow the instructions on the package.
If you measure, mix, pour, and cure the epoxy correctly, in an appropriate environment, you should be safe and sound. Your DIY tumbler turned out to be sticky? It's a no-go. I'm sorry, buddy but it belongs in the trash can and NOT anywhere near those pretty lips of yours 🙂
What Ingredients Should You Watch out for?
Bisphenol A (BPA). This is one of the key ingredients in most epoxy resins. It is also found in some foods and plastic water bottles.
Despite controversial media coverage, the US Food and Drug Administration (FDA), Health Canada, European Food Safety Authority (EFSA), and other organizations have found no risks for consumer health at typical exposure levels.
The research is still ongoing, though. If you want to eliminate this tiny chance of danger, look for "BPA-free" labels and numbers found at the bottom of containers. Remember: "5, 4, or 2 – no BPA for you."
Carbolic Acid. Aside from being a component in resin manufacturing, this corrosive and flammable acid is used in agriculture as a weed killer and as a disinfectant in small doses. Touching or swallowing it possibly leads to the cell or nerve poisoning and chemical burns.
Epichlorohydrin. This substance is considered a cancer hazard, a danger to kidneys and nerves. Other symptoms are allergy, eczema, delirium, mucous membrane irritation, respiratory tract paralysis, and others. However, to actually cause any of this, the exposure should be long-term and massive.
The mentioned reagent descriptions might seem grim and scary. Still, the recent positive trend is to substitute those with organic matters and non-hazardous ingredients.
What Does FDA Approved Epoxy Mean?
To be approved by the US Food and Drug Administration (FDA), the epoxy resin product must comply with the Title 21 Code of Federal Regulations: CFR 175 subsection 105 (Adhesives) and subsection 300 (Resinous and polymeric coatings) and pass several strict tests.
The main requirements are:
The material shouldn't release any taste or smell to the food.
No or only minimal amounts of non-crosslinked components are allowed to be released into the food.
The composition of the food can't be changed by contact with the product.
The substance doesn't present any risk to human health as a result of its consumption.
Other food conformity requirements include those of the Federal Office for Risk Assessment, of the EU Regulation No. 10.2011, and the European Framework Regulation EU 1935/2004.
How to Choose & Use Food Grade Epoxy Products?
It's relatively easy to find food-grade resin coating in most DIY stores. However, FDA compliant brands are still in short supply, so searching online is your best bet for a comprehensive selection.
Make sure to browse the manufacturers' websites or contact them directly, check their test seals before purchase, and read reviews. Or simply check out our top picks below, we'd love to save you some time and effort.
FDA Approved Resins
MAX CLR
Art Resin
Most endorsed by Reviews

Gloves & measuring cups provided
Best price-quality ratio

Artists' favorite
Epoxy Resin for Your DIY Projects
The first step is to consider how much time you would like to dedicate to your handiwork. Epoxy resins feature such properties as work life and cure time. 
The former represents how long it would take the material to harden and dry. The latter is the time needed for initial chemical reaction with the hardener to be completed.
It matters when choosing the right system: you don't want the resin to stiffen when you're only halfway through with your piece, right?
Measure and mix epoxy and curing agent accurately, sticking 1:1 ratio if the instructions don't say otherwise.
Pro-Tips
Don't go for epoxy resins for industrial use, no matter how attractive their price may seem.

They are developed with industry-level safety measures in mind that your home environment doesn't boast (e.g., insulated spaces or protective suits.)
Your best choice should be FDA-compliant raw materials for artisans. Their significantly higher price indicates not only the better quality of the product. It means that the manufacturer is covering the hefty expenses on acquiring the test seals confirming EU and FDA approval.
It's a MUST to protect your skin, eyes, and breathing passages while working with toxic hardeners and epoxies in a liquid state.
Your top picks should be nitrile gloves, safety goggles, and a breathing mask featuring double filters.
Ready-Made Items with Epoxy
There's no reason to say no to impressing your guests with mixed cheese on an epoxy-covered plate or ask them to a designer resin table.
We don't want to be a bore, but when it comes to day-to-day use or food storage, a pretty food container simply isn't worth the risk of BPA or other substances leaching out.
That said, high temperatures accelerate the leaching process, so a vibrant resin-decorated tumbler should only be used with cold beverages (bummer).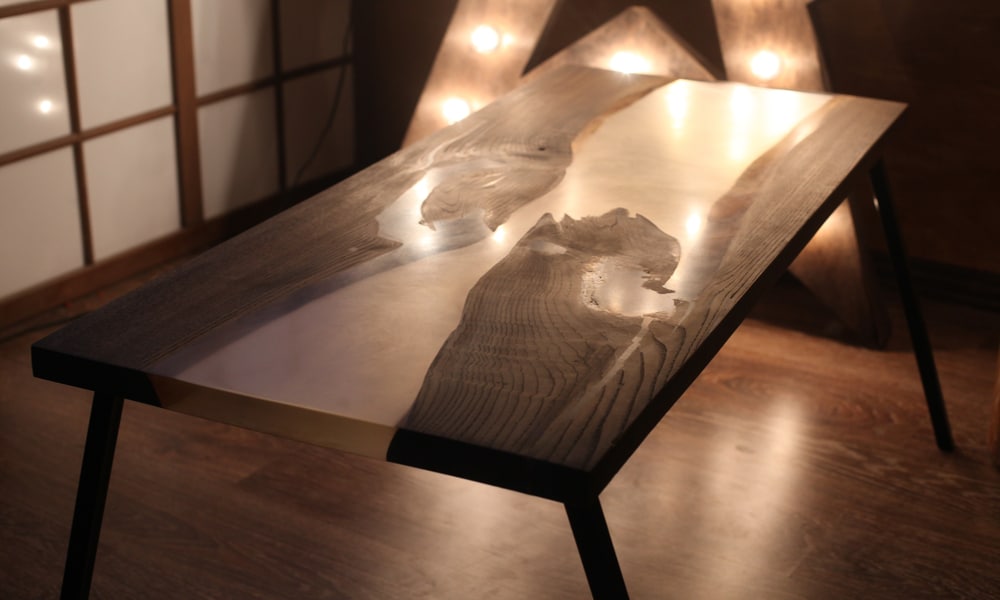 Pro Tips
If you decided to saw, drill, or grind such a product, wear an A2 dust mask and air the room you're working in.Although cured epoxy is no longer dangerous in most cases, it creates fine toxic dust that can't be inhaled.
Watch out for any skin reactions after contacting epoxy-coated surfaces for a while. Make an appointment with your dermatologist at once if you notice some changes.The damage caused by inappropriately cured epoxy resin may turn out to be irreversible if you don't treat it right away.
Unless the product contains food-safe heat-resistant epoxy, or instructions say otherwise, don't utilize it under high temperatures.
The rule of thumb of handling the resin item is to keep the temperature under 50?. This is how you avoid deformation and other damages.
Final Say
When dealing with chemical substances like epoxy resin, the best advice anyone can give you is to do things by the book. As long as you follow the product manual and our tips, any crafty project or a nifty purchase of yours is bound to be a success, food-safe and risk-free.
Richard Jenkins is a 33-year-old Professional Painter that applies paint on the interior and exterior surfaces. Qualified in painting technology knowledge, physical fitness, stamina, teamwork, and attention to safety. Read More.