Epoxy resins are used to create high-gloss coatings for everything from wooden tabletops to bar counters. Talented DIYers also use them to create one-of-kind wooden art pieces, like river tables and elaborate wooden and epoxy sculptures.
Best Choice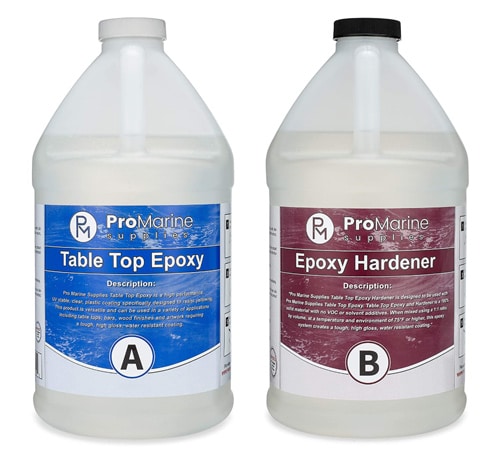 ProMarine Supplies Crystal Clear Epoxy Resin Coating for Wood Tabletop
The Best Epoxy Resin For Wood
One of the best epoxy resin on the market. Ideal for Table Tops, Bars and Wood finishes. Self-Leveling, Eco-Friendly, High Gloss Formula.
Read Verified Customer Reviews
We've tested several of the top-rated epoxy resins to find out which ones worked best on wooden surfaces. Most of the coating epoxies cover approximately 12 square feet per mixed gallon (1/2 Gal Part A and 1/2 Gal Part B) at 1/8 inch thickness.
Best Epoxy Resins for Wood in 2020
Our first pick is by far the easiest and most reliable epoxy resin on the market. ProMarine Supplies Tabletop Epoxy is a high-performance, crystal-clear epoxy coating that goes on in two easy steps. A lot of useful information regarding ProMatine epoxies could be found on the official FAQ page.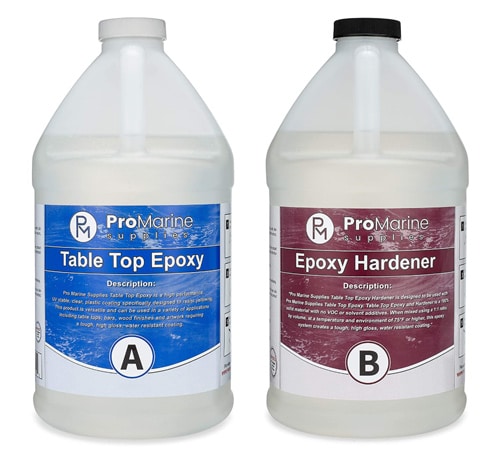 Pro Marine Supplies Crystal Clear Epoxy Resin
100% Solids, Super Clear
Self Leveling, High Gloss
U.V. Resistant Formula
Check Price
Once cured, this epoxy resin is incredibly durable. As an abrasion- and liquid-resistant surface, it's perfect for hard-wearing surfaces, like the surfaces of tables and bars. While we recommend this product for use on wood, it can be applied to virtually any surface, including traditional countertop materials.
The mixture contains 100% solids. As such, it boasts excellent air release and color stability. I use it to improve the appearance of my wood projects. A heavy pour will eliminate craters, crawling, and fish eyes.
Keep in mind that epoxy is durable, but it can still be scratched and disfigured by sharp objects and high heat.
Safe for Food
Tabletop Epoxy meets is FDA-compliant. As such, it can be used on surfaces that are designed to come in contact with food. This includes bar tops, tabletops, tumblers, and glassware. Of course, this finish can also be used for a wide variety of DIY craft and home repair applications.
The product is also 100% non-toxic. As such, it is safe to use indoors.
Ease of Application
To apply the Tabletop Resin, you must measure and mix equal parts of resin and hardener. The manufacturer recommends that you apply a seal coat before applying your 1/8-inch flood coat.
You have the option to apply additional flood coats to increase the thickness of the final coating. Just make sure you consider everything when putting the square footage of your table or project into an epoxy coverage calculator.
ProMarine epoxy can be built up to unlimited heights. However, each flood coat should not exceed 1/8 inch. Plus, you need to wait at least 4 hours between pours. The versatility of this product makes it a great option for projects that involve embedding hard or soft objects in tabletops.
A Long Wait
Our only complaint about this product is the 72-hour curing time. Anticipated curing times are even longer at temperatures below 72 degrees Fahrenheit. So, be prepared to set your project aside for a few days.
At least, you get a pretty lengthy 35 minute work time after mixing the formula. Just make sure you store the products at a temperature above 75 degrees Fahrenheit at all times. The temperature has a huge impact on the viscosity of this product.
Place the resin in a warm water bath to bring it back to a workable temperature.
Pros
Scratch-resistant high-gloss coating
Dries crystal clear
Compliant with FDA requirements for use around food
Works great on wood, but suitable for virtually any surface
Simple no-fail DIY application method
Does not contain harmful chemicals or VOCs
Cons
72-hour curing process
35-minute work time
RTG Supply Co. is a company that flies under the radar. It's hard to get a read on them. After all, they do not have their website or publicly available contact information. Yet, that hasn't stopped them from creating one of our favorite epoxy resins.
First things first, we were pleased with this product's low price. The two-part epoxy resin formula (1 gallon total) was incredibly affordable compared to similarly ranked products.
The Bar and Table Top Epoxy creates a durable clear gloss coating. The finished product resists moisture, scratches, and stains. As a self-leveling product, it is super easy to use. We tested the formula out on a project that involved embedded objects. The results were stunning. You would never know we made multiple thin pours.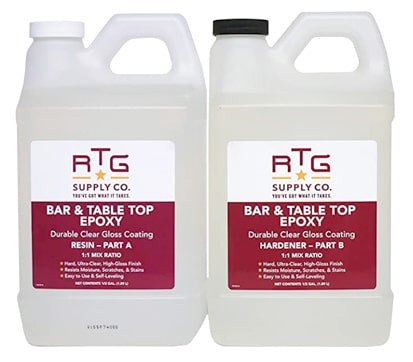 RTG Bar & Table Top Epoxy
Ultra-clear epoxy resin coating
Scratch-, Stain-, and Impact-resistant
Color-safe Formula
Check Price
A Finish Unlike Others
Unlike other epoxies, cured RTG will not blush. The formula also resists bubbling. Air pockets naturally rise to the surface. You can use a hairdryer to remove any stubborn blemishes. The finish is also UV-resistant, though it does not fare well in temperatures above 125 degrees Fahrenheit.
RTG strongly advised against using the product for outdoor applications, as prolonged exposure to sunlight will eventually damage the finished product. Still, this mirror-like finish resists yellowing, scratches, and water damage.
We found it incredibly easy to mix the two-part formula. The work time was even more generous than that of alternative products. Our RTG epoxy set up quickly. As promised, it dried super-clear. Our coated table was ready to use just 24 hours after our final pour.
So Simple
ERC makes it easy for DIYers to customize and preserve their artistic and utilitarian creations. Bar and Table Top Epoxy's high-build properties make it so that a single 1/8-thick pour is equal to several layers of varnish.
Pros
Two-part ultra-clear epoxy resin coating
Tough, smooth cure in just 24 hours time
Scratch-, stain-, and impact-resistant
Color-safe formula that resists yellowing
Can be used to embed soft or hard objects into bar or tabletop
Resists heat better than varnish
Bubbles naturally rise to the surface on their own
Cons
UV-resistant, but not intended for outdoor applications
You'll pay a little extra for this two-part epoxy resin, but the finished product is well worth the money. While some users felt the epoxy resin set a bit too soft, most were extremely pleased with this clear glossy finish. This 1-1 ratio mix kit includes an easy-to-pour 1/2-gallon bottle of clear epoxy resin and blue hardener. You earn a generous 40-minute work time to pour and set the resin. Make sure you are working in an environment at a suitable temperature. After that, expect to wait approximately 24 hours for the finished product to cure.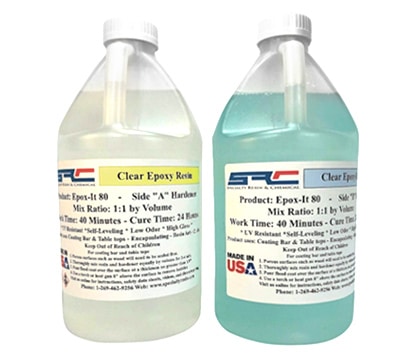 SRC Epoxy-It 80 Clear Epoxy Resin
Perfect for art and crafts
Self-leveling
UV-resistant, FDA-compliant
Check Price
A Premium Finished Product
This ultra-clear coating is perfect for wooden table tops. It can also be used to cast crystal clear (or dyed) jewelry and other trinkets. The product is completely self-leveling. It pours smooth, leaving minimal bubbles and virtually no blush.
So Safe Your can Literally Eat Off It
As a virtually odorless and FDA-compliant product, this is one of our go-to options for bar tops and other eating surfaces. Since it's UV-resistant, it's also a good coating for outdoor picnic tables and bars.
You can expect the product to be shipped directly from the manufacturer, Specialty Resin & Chemical. They're one of the most approachable epoxy resin manufacturers we've come across. They offer a full customer support system as well as a money-back guarantee. On top of that, all of their products are manufactured in the U.S.A.
Thick and Clear
Epoxy-It 80 provides incredible coverage. After sealing off porous surfaces, you can apply flood coats that are up to ¼ inch thick. The manufacturer seems to understand that DIYers are going to get their hands on this product. As such, complete instructions and phone-based technical support are offered with every purchase.
Use a blow torch or heat gun to remove any bubbles. Position your torch 8 inches from the surface of the epoxy resin.
Pros
Two-part plastic epoxy (½ gallon epoxy resin and ½ gallon hardener)
Perfect for casting clear arts and crafts products
Self-leveling, UV-resistant, FDA-compliant
Cons
If your looking for quick-curing epoxy resin with a crystal-clear finish, East Coast Resins is the company for you. This super glossy finish comes in two parts: one ½ gallon of resin and one ½ gallon of hardener.
Mixing is easy when your working with a 1-1 ratio. You get 30 to 35 minutes of working time. All this depends on the temperature and humidity in your workspace. Curing times range from 16 to 20 hours .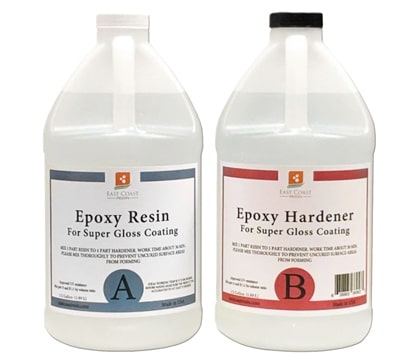 ECR EPOXY Resin Crystal Clear Super Gloss Coating
Super Glossy
1-1 Ratio
Scratch-Resistant
Check Price
High Quality Engineering
East Coast Resin is focused on creating a safe and enjoyable customer experience. As such, they've worked hard to formulate a product that is safe and odorless. ECR Crystal Clear Coating is also safe for food and touch. Not to mention, it will not break down or leach harmful chemicals over time. You don't even need to wear a mask when applying the polymer-based mixture.
Professional Results
This is our go-to recommendation for beginner hobbyists. The self-settling formula goes on easily. Not to mention, it cures rapidly. You never have to worry about your creations being ruined during the fishing process.
A Fabulous Finish for Tabletops
This is one of our preferred fishes for wooden tabletops. The formula is very inexpensive, leaving you more cash for high-quality woods and nails. The finish is clear and glossy. So naturally, it compliments wood grain and other natural textures. It can also be used to cast objects as thick as ½ inch. You can even add dyes to create epoxy resin river tables and other decorative pieces.
A single gallon is good for a flood coat that is roughly 1/8 inch thick and 16 square feet in area. Order accordingly to ensure that you have enough product to complete your entire project. An inadequate pour is difficult to repair.
Pros
Super glossy appearance
1-1 ratio
Cures in 16-20 hours
Resistant to scratching and air humidity
5. TotalBoat Epoxy Resin – Best for Crafts and Woodworking Projects
This marine-grade epoxy resin generates an incredibly durable clear surface coating. The kit contains 1 gallon of epoxy. It is a 1-1 ratio of epoxy resin with hardener. You will also need a mixing stick, an epoxy pump, and a plastic mixing container. The finished product has an exceptionally smooth, glossy, and level finish.
Doesn't Get Easier Than This
You can use a variety of tools to apply this epoxy resin. Brushes, rollers, and even syringes can be used to pour and spread the finish. The product is 100% self-leveling. It's perfect for the tops of tables, counters, bars. It can even be dyed to compliment custom wood art creations.
Fit for an Artist's Eyes
We found it super easy to tint and dye this resin. You can mix mica powder, alcohol-based inks, or liquid pigments into the mixed formula. The cured finish is as smooth as glass. It will not yellow or blush.
While we used the finish on wood, it was nice to know that the BPA-free formula could also be used on other materials. Customers have gotten good results on everything from concrete to ceramic. We were pleased to finally have a product that could be used for virtually all of our decoupaging, casting, and craft projects.
Since TotalBoat's epoxy does not contain and VOCs, it is safe to use inside. This makes it easier to set up a suitable working environment. You don't need to wait for the weather to finish your project.
Coverage You Can Count On
TotalBoat epoxy is 100% waterproof. For this reason, we highly recommend it for tabletops, bar tops, counters, and other beverage-related creations. It's so much easier to care for than varnish. It even offers higher heat resistance. Its high viscosity and high build properties give it a stunningly thick appearance. Since you can pour several flood coats of this product, you can use it to suspend objects between layers of epoxy.
At 1/8 inch thick, a 1-gallon kit total boat epoxy covers 12 square feet. You need to consider the sides and any dents or extra surfaces when calculating the square footage of your tabletop.
Pros
Resists scratches, stains, and yellowing
100% waterproof upon curing
Can be used on a wide range of surfaces, including but not limited to wood
BPA-free formula that contains no VOCs
Made in the U.S.A.
1-gallon kit (contains ½ gallon resin and ½ gallon hardener
Self-levelling
An excellent alternative to harsh chemical alternatives
Cons
Will yellow and delaminate when exposed to UV rays
How to Choose the Best Epoxy Resin for Wood – Buyer's Guide
We've offered you our honest opinion of five of our favourite epoxy resins for wood. How do you choose your epoxy resin? We all know that every craft project requires a unique approach. At the same time, our intentions and expectations for products are going to vary. In the sections below, we go over some of the key considerations you need to make before choosing an epoxy resin for your project.
Appearance
Most artists and craftsmen are looking for a glass-like crystal-clear resin. To achieve near-perfect results, you need to find a resin that protects against yellowing. This is not as big of a deal if you intend to amend your epoxy with dye or ink.
Bubbling
Even experienced craftsmen experience bubbling sometimes. These unsightly air pockets have the potential to ruin the appearance of your epoxy resin surface. Choose a formula that allows bubbles to rise to the surface. Make sure to only work in an environment with suitable temperature and humidity. When all else fails, use a heat gun or torch to eradicate bubbles from the surface of your set epoxy resin coating.
Materials and Durability
A quality epoxy resin finish should be able to withstand its fair share of rough handling. Below, you'll find key specifications you need to account for when purchasing a finish that will work well on wooden tables and bars.
Water
Epoxy resin is a traditional coating for tabletops, bars, and outdoor surfaces. Naturally, these surfaces are predisposed to water damage. A 100% waterproof coating will help prevent these surfaces from developing unsightly watermarks.
Abrasion
Hard-wearing surfaces should be able to resist most abrasions. While never suggest using an epoxy resin-coated surface as a cutting board, we do look for products that can interact with objects without developing noticeable incisions.
UV
Unfortunately, most epoxy resins are highly susceptible to UV damage. If you're looking for a durable outdoor table coating, look for non-yellowing formulas. What's more, look into purchasing a UV-resistant topcoat in addition to your chosen finish. Even the epoxy resins that contain UV blockers are susceptible to damage after prolonged exposure to UV rays.

Application
Two-part epoxy resins harden quickly. Once you mix the hardener with the resin, you have just a few minutes to pour and spread the coating before it sets. Epoxy hardeners are easily altered by temperature and humidity. If you're new to epoxy resin, choose a product with longer work time. Work times are usually less than an hour. You don't want to be rushed when mixing and applying your finish. You'll also want time to remove any bubbles or blushing.
Most epoxy resins must be stored and used at temperatures above 75 degrees Fahrenheit and in areas with very low humidity. Poor working conditions will yield poor results. Be sure to read each manufacturer's application specifications before applying their product.
Self-Leveling
Self-levelling epoxy will make your job so much easier. You can use this type of epoxy to fill in cracks, inlays, and imperfections on the surface of a piece of wood. Since there is no need for a brush or roller, you won't have to worry about leaving behind streaks and other surface imperfections.
Ratio
As we mentioned before, most epoxy resins come as two-parts: a resin base and a hardener. In most cases, you mix these in equal parts. That hasn't stopped any manufactures from developing some pretty wonky formula ratios. While that 5-1 ratio epoxy resin kit might save you some shelf space, it is probably a recipe for disaster.
Cure Times
Complaints about epoxy resin cure times tend to be two-fold. For one, inexperienced users are often frustrated by how fast their resin cures. They struggle to set their product and remove bubbles before it is too late. On the other hand, some products take days to harden. Many DIYers fear the worst when their creations are stuck in soft stages for too long.
Food Safe Applications
Many epoxy resins are used on surfaces that are designed to indirectly come in contact with food. If you are looking to finish a tabletop, bar, coasters, or another food surface, make sure that your resin of choice complies with all the FDA requirements. While you're at it, make sure that the formula is non-toxic and free from potentially harmful VOCs. Even non-toxic formulas should be applied in well-ventilated areas. In most cases, a safety mask, glasses, and gloves are essential.
Final Thoughts
We hope you enjoyed our picks for the top epoxy resins for wood. These incredible finishing products will enable you to preserve your wooden crafts for years. If you're in a rush, check out our editor's pick, the incredible ProMarine Supplies Crystal Clear Tabletop Epoxy Resin. When you are finished with your epoxy resin wood project, let us know how it turned out by dropping a comment in the section below.
Frequently Asked Questions
Have a question? Feel free to submit in comments below. We regularly receive questions about buying epoxy resin, which we are happy to answer here.
Where to you buy Epoxy Resins?
We suggest to buy from Amazon or directly from branded manufacturers. Avoid purchasing non-branded resins as quality may vary and the final result could be disappointing.
How much epoxy resin do I you for a project?
You should measure your project and not just use any of online calculators around. Great videos on how to get the closest calculations could be found here and here.
Which dyes can be used to color epoxy resin?
Any highly concentrated epoxy resin colorant for resin. Just choose the art colors you need and mix them properly. Try this set as a starter kit.
How to mix the epoxy resin components?
First of all, try mixing by volume, not weight as the density of resin may vary (see instruction on bot A and B bottles).  So just keep in mind that weight is not identical. If you now measure resin and hardener 1:1 the mixing ratio won't be correct.