ThatPainter is reader-supported. When you buy through links on our site, we may earn an affiliate commission. Learn More
Nothing leaves a stain like paint, especially when it's dried into the fabric. For as long as people have painted, they've found ways to remove stubborn stains out of their clothes afterward. This means there are a few solutions, which also change depending on the type of paint you used.
Most paint is either water-based or oil-based. Acrylic and latex paint are considered water-based, to avoid confusion.
Removing water-based paint tends to be easier than oil-based mixtures. You should know which paint you're working with.
If you work with arts and crafts, you'll likely use a lot of acrylic paint while latex is used for walls and ceilings.
Oil-based paint is then used on metal and wooden surfaces, as well as some furniture. Check packaging labels or old shopping receipts/orders if you're unsure what paint you have.
Remove water-based from clothing  paints by following these steps:
Using a brush or a dull knife, remove as much of the dried paint as possible by rubbing the fabric with it.
Apply warm, running water to the back of the stain by turning the fabric inside out. If applying water to the stain directly, remember to blot instead of rub.
Saturate the stain with a mixture of half warm water and half of a detergent of your choice. Blot it onto the stain and repeat the process until the paint is removed or no longer comes off onto the rag you're using.
For stubborn stains, stain remover may be necessary. If washing in a machine, you should use the cycle type that's recommended on its care label.
For

really

stubborn stains, you can then try and use other tried and true methods like blotting with nail polish (as long as there's no acetone) or rubbing alcohol. Hairspray may be useful too. Rewash after applying.
If the stain is still there, you'll likely need a professional dry cleaner to get it properly cleaned.
For oil-based paints, you're looking at a slightly different process:
Lay the clothing inside-out and on paper or an old towel. Blot the stain with turpentine or a similar paint thinner. Different paint mixtures recommend different thinners, so find out which one is most compatible. Do that until no paint is drawn out when you blot.
Rinse the paint stain and apply detergent if necessary. Soak the clothing in hot and soapy water overnight. Clothing labels should show the recommended water temperature.
Rinse the garment thoroughly again and then put it through a wash cycle.
If the stain is still present, try using a stain remover. Don't dry the clothing until the paint is fully removed.
If the stain is permanent, look into replacing the clothing or making the best of a bad situation by making it presentable. It's common to turn oil paint mistakes into tie-dyes.
Does Baking Soda Remove Paint From Clothes?
One of the tried and true means of removing stains from clothes is baking soda. Since it's easy to provoke a reaction out of it, activating baking soda over a stain can pull the material out, which is also true for paint.
While it may not eliminate the stain, it can do a lot of the legwork for a standard washing cycle to then finish off.
To do this, you need baking soda paste. All you need is baking soda and water. Mix them with a two to one ratio of baking soda to warm water in a bowl. It'll create a pasty solution that should be applied to your clothes before they go in the laundry.
When doing this, you need to make sure the clothes are colorfast. Colorfastness is how much the fabric can take before losing its color.
If the dyes fade or bleed, then the clothing isn't very colorfast. When using baking soda paste, it can weaken or outright remove the dye on your clothes, creating a worse problem than when you started.
Test for colorfastness by finding a spot on the clothing that nobody will see. For many clothing items, this will be a seam on the inside.
Perform a spot test, where you apply the chemicals you want in a small amount and observe how it affects the fabric. Blot with a white cloth to make any color transfer obvious. If any color does bleed, then baking soda is not an option.
Does Vinegar Remove Paint From Clothing?
When in search of home remedies to remove stains, vinegar is a popular failsafe. Fortunately, it works with paint too, just follow the four steps below:
Heat some white distilled vinegar, either on a saucepan or in a microwaveable bowl.
Dip a sponge or brush into the vinegar and blot it onto the paint stain.
Leave the vinegar on for ten to twenty minutes before rubbing off. If the paint is still present, repeat the first two steps.
Use a paint scraper or another implement to scratch paint away. Wipe the area down to remove both vinegar and small paint traces afterward.
How Does Hairspray Remove Paint From Clothes?
Hairspray is another household remedy used to remove paint. You apply it in four steps:
Make sure the clothing is otherwise clean and dry, blot away any wet paint if necessary. You can use an implement to scrape off paint too.
Spray your hairspray of choice on the affected area. Alcohol in the hairspray compound will help break down the paint. Spray the area until it's wet and leave it for several minutes to set in.
Scrub the stain with a brush or cloth to loosen the paint. Try to be gentle, especially if the fabric isn't very rugged. Scrub until you can notice the stain is becoming weaker and disappearing.
If the stain is weakened, you should then run it through the laundry. It'll finish the job and ensure that the clothes are clean and fresh for the next time you wear them.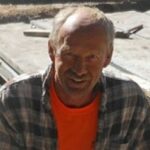 Jim Bettesworth well known for his can-do attitude and often takes jobs other companies were unwilling or unable to do. Experienced and educated in concrete construction and painting jobs. Read More.