ThatPainter is reader-supported. When you buy through links on our site, we may earn an affiliate commission. Learn More
Your front door is the thing everyone who enters your home will have to walk up to before they can come in, so it pays to have it repainted when it starts to look a little tired or worn.
This can completely refresh the front exterior of your home, choosing to add character with a new color or change the look of your house completely by changing just one simple thing.
Like you'll find with most painting projects, the preparation you put in before you get started will be a deciding factor in how successful the final results will be. Priming your front door is the best way to ensure a long-lasting finish as it will form a barrier that protects your door.
It's important to make sure that you choose an appropriate primer that is suitable for external use, as otherwise, it won't actually help your door to withstand the harsher elements. It's also worth applying a second coat of primer after the first has dried for a smoother top coat. 
You also need to make sure that you've allowed the primer to dry completely before moving onto the painting, as you can otherwise end up with a patchy finish or a less protective coat.
When applying the primer to your front door, it's best to use a roller brush as this will help you get the main areas painted quicker. When it comes to the covers or panels on your front door, you should switch to using an angular sash brush for neat and tidy corners. 
Do You Need to Sand Doors Before Repainting? 
Sanding is pretty much an essential part of painting any kind of wood, and you definitely shouldn't skip this step when you're painting your front door. Like applying primer, taking the time to properly sand your door will provide a much smoother surface for painting. 
Depending on how damaged the door is or how much wear and tear is showing, you may want to use an electric sander which will save you a lot of the time you would otherwise spend sanding your door by hand.
It's also much less tiresome, meaning you can conserve all of the muscle strength in your arm for the actual painting step in the painting process. 
Give the entire door a once over to begin with, then use a sanding sponge to go over all of the smaller, more intricate areas and remove any ridges or grooves in the surface. Alternatively, you can also use a fine type of sandpaper, like a 220 grit sandpaper.
As tempting as it is to go hard at the start and get the door sanded down as quickly as possible, it's always a good idea to go lightly at first to avoid causing any damage to the wood. 
Once you've finished dusting the door and you're happy with the surface, clean it by wiping it down with a damp cloth to remove all of the dust and other bits that could mix with the paint.
This is an especially important step for the exterior side of the door, as this is exposed to the elements, therefore it will have more dirt and grime to clean off compared to the interior side.
Can You Paint a Door Without Removing It?
A lot of people will recommend that you remove your front door from its hinges prior to painting it in order to have easier access to all areas of the door. This will also minimize the risk of any paint dripping onto your hallway floors or the welcome mat you keep right outside. 
However, taking all of the hinges off can be a laborious process, and doors aren't exactly known for being lightweight. Many people choose to paint their front door without removing it, and this is fine to do, just as long as you can live with the potential consequences!
If you are painting your door whilst it's in place, you'll need to tape up all hardware, hinges, and any areas of the door that you're not going to paint. This could include the handles as well as the inset for the door lock, but this will be down to you and your personal preference. 
It's also a good idea to lay some form of covering over your floor to prevent paint from dripping, splashing, or staining your flooring in any way as this can have costly consequences.
For the same reasons, remove any shoes or coats away from the area you'll be painting in or make sure they're completely covered up before you begin. 
When You Paint Your Front Door Do You Paint Both Sides?
There is no right or wrong when it comes to the design elements of painting your door, so what you choose to do with the interior side is completely up to you. 
As a general rule, if you're painting the inside of your door a different color to the front of your door, you should use the same color for the door width as you use for the interior side. 
You can, of course, paint your front door the same color on both sides, but this will depend on what color you've chosen. If you've selected an elegant, gloss black for your front door, but your interior space is full of bright, white space, the black may look out of place inside. 
In this case, you could choose a lighter-toned color that's more in keeping with the rest of your decor so that it doesn't deviate too drastically from the existing theme and aesthetic. 
But again, this is completely at your discretion. You may decide that the time for feature walls is over and that it's time to try a feature front door instead.
Why not pick a bright, bold color that ties into the overall color scheme of your interiors whilst also standing out against your walls, and to differentiate it from the other interior doors in your home.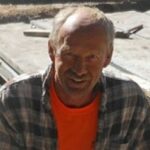 Jim Bettesworth well known for his can-do attitude and often takes jobs other companies were unwilling or unable to do. Experienced and educated in concrete construction and painting jobs. Read More.