ThatPainter is reader-supported. When you buy through links on our site, we may earn an affiliate commission. Learn More
If you've accidentally gotten paint on your stone window sill, or you simply want to get rid of the paint coating it has to re-design it or get it back to basics, then there are a few methods you can use to try and remove it.
However, it might not always be easy to remove the paint, as it might depend on how old it is or the type of paint that it is! 
First of all, you need to really consider whether it's in your best interest to actually remove the paint.
This is because removing the paint can sometimes cause some damage to the stone, depending on the method you end up using. But also, if the window sill belongs to a public building, there might be regulations in place and you might not even be allowed to remove the paint! So make sure to check beforehand. 
But if the window sill belongs to your house, and you're planning on painting it again in a new color, so that the stone will still be protected, then go ahead and remove the paint so you can start anew! 
Here are a few different methods of removing paint from stone: 
Manually abrasive methods
Manually abrasive methods are essentially different ways of removing the paint from the stone, using abrasive force in a manual way. So for example, scraping, sanding, or even wire-bristle brushing at the window sill, until the paint comes off. 
These methods can be effective, but they require a lot of effort and quite some strength. However, they can seriously damage the stone beneath the paint, so they aren't usually recommended!
Mechanically abrasive methods
Mechanically abrasive methods are basically the same as manually abrasive methods, but they use mechanical tools instead of having to put in your own force. So some of these would include high-pressure water cleaning or blasting sand or grit until the paint comes off from the stone. 
These can also be highly effective, and they're a lot faster and easier to use. However, they can also significantly damage the stone beneath the paint, so they should be used only when needed, and with great care. 
Natural weathering
If you're in no hurry to get the paint off of the stone, you can always let it slowly peel off over time, as it will naturally deteriorate due to the weather. This is the best option for ensuring no damage comes to the stone beneath the paint, as the paint will peel off by itself and fade away over time.
However, this can take a pretty long time, and during the process, the window sill will start to look worse and worse, so it's not the prettiest or most effective of methods! 
Non-caustic solvent chemical removers
Chemical removers are usually the go-to for stripping paint off the stone, as they can be incredibly effective, and don't take a lot of time or effort.
A non-caustic solvent will be a water-soluble remover, and it will be best suited to removing oil and latex-based paints. They're better than other more aggressive chemical removers, but they also might not be as effective, so it's about finding the right balance. 
Caustic alkaline chemical removers:
Caustic alkaline chemical removers, unlike the non-caustic ones, will be a lot more aggressive. This means that, as a general rule, they will be way more effective at removing the paint from the stone.
However, they can cause a great deal of damage if any residue is left behind, so it's super important to thoroughly wash the stone after this method has been applied to remove the paint. 
Steam stripping
This method will only really work on water-thinned paints, but if that is the case, then it's an excellent way of removing them without harming the stone beneath in any way. It will also leave the stone looking very clean, prepped for whatever you do with it next! 
Washing with water
This is probably one of the first methods that you should try, and the good old traditional way of getting paint off of stones: wash with water. Simple, but can be very effective in some cases!
The downside is that it requires time and effort on your part, and a lot of scrubbing with a sponge soaked in warm water, maybe even some soap. It will only really be effective on old paints that are already on their way out, but it's definitely worth a shot as it won't harm the stone at all! 
Get a professional
This should be a last option kind of method, as it will usually be a bit pricey. But if all other methods fail, you can usually hire a professional that will have more advanced and specialized ways of removing paint from stone. 
How do you remove paint from a concrete window sill? 
Removing paint from a concrete window sill will usually be slightly harder than removing it from a simple stone one, and this is usually because concrete is painted with far more layers.
The more layers of paint that the concrete has, the harder it will be to completely remove the entirety of the paint, and the more arduous of a task the job will be. 
However, you might be lucky and find that the window sill has only one or two layers of paint over the concrete, in which case it shouldn't be too much of a struggle. 
You can use some of the same methods that are used when removing paint from a stone window sill, which we explained in the above point. 
However, when it comes to removing paint from concrete, the most popular and commonly used method is using a paint stripping solution. 
This solution can be used on many surfaces, not just concrete, and it should strip the paint in its entirety, without damaging the concrete surface below. Plus, it should also leave the concrete smooth and clean, ready for a brand new coating of paint!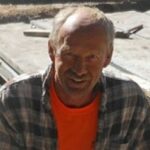 Jim Bettesworth well known for his can-do attitude and often takes jobs other companies were unwilling or unable to do. Experienced and educated in concrete construction and painting jobs. Read More.