ThatPainter is reader-supported. When you buy through links on our site, we may earn an affiliate commission. Learn More
Oil-based paint used to be the most popular type of paint back in the day. It was known for its high durability and self-leveling, which always resulted in a perfect finish. Unfortunately, it came with a significant downside: oil-based paint emits compounds dangerous to the environment and requires using paint thinner to remove.
Nowadays, you can rely on safe alternatives such as water-based latex paint. But even though they're easy to use, painting over oil-based paint can be a nuisance. Luckily, we're here to show you how to paint over oil-based paint without sanding.
Can You Paint Over Oil-Based Paint Without Sanding?
With the latest innovations in paint technology, it's now possible to paint over oil-based paint without sanding through the use of oil-bonding additives. These additives help create a layer the paint can stick to, so you won't have to sand or prime the surface.
You can also use acrylic and latex-based paint to paint over oil-painted surfaces. However, for a perfect finish, we always recommend sanding down the surface first to remove its glossy finish and create a stronger adhesion.
Using a bonding primer especially made to stick to oil-based paint is also essential as it'll result in a better finish.
One of the best ways to ensure the amount of primer is enough is to check for imperfections or color stains. If any are present, you'll have to apply an extra primer layer for a better result. In most cases, two coats of primer are usually enough.
Steps to Paint Over Oil-Based Paint Without Sanding
Looking to learn more about how to paint over oil-based paint without sanding? Follow our guide below:
Apply a bonding primer to the surface.
The first step is to apply the bonding primer directly on the surface you wish to paint. The resulting reaction will de-gloss and roughen the surface, allowing water-based paint to stick more easily.
Mix bonding primer with your paint.
To ensure the paint adheres to the treated surface, we also recommend adding a fair amount of bonding primer to your paint. This product is non-toxic and won't affect the properties of your paint job, such as color or finish.
Start painting.
Now you can paint over your oil-based surface without any concerns. By avoiding sanding, you'll save time while protecting your home from the chemicals found in oil-based paint.
Frequently Asked Questions
How do you paint oil-based paint over an oil-based surface?
Painting an oil-based surface with oil-based paint is straightforward and requires no special treatment. However, the surface must be fully cured; otherwise, the new paint may not stick. 
What happens if you put water-based paint over oil-based paint?
Painting with water-based paint over oil-based paint without sanding or a bonding primer will make the paint blister and peel off.
Can you use latex paint over oil-based paint without sanding?
Yes, but you'll have to use a bonding primer to ensure the paint adheres to the surface.
Conclusion
Water-based paint is extremely convenient, safe, and easy to apply. The best part is that you can safely apply it over oil-based paint without sanding by using a suitable bonding primer.
Follow our recommendations, and you'll avoid the tedious work of having to sand and prime your walls or cabinets.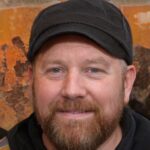 A Professional Painter, Joseph is known for solving huge problems with simple DIY tricks. Now retired, he writes for ThatPainter.com to educate people on how to get their paint job just right. Joseph specializes in painting services, and has a ton of experience working with paint of varied quality.