ThatPainter is reader-supported. When you buy through links on our site, we may earn an affiliate commission. Learn More
Generally there are two kinds of paint that work best for painting a porch. These are latex enamel paints and oil-based enamel paints. An oil-based variant will produce a high-gloss finish whereas the latex paint offers a more matte/ low-shine alternative finish.
When deciding which paint is best for your porch you need to consider what material your porch is and how external factors affect it. So, if your porch is wooden and covered by a roof, it can work well with both options. If your porch is concrete, it is best to use a latex paint designed for floors.
Does porch paint need primer?
Using a primer before painting your porch is a good idea because it helps the fresh paint to stick to the surface and produce a nice smooth, even finish. 
For wood porches, apply two coats of exterior primer, preferably using a roller brush on an extension pole for ease of use. Any areas that cannot be reached using a roller can be touched up with a smaller brush.
You'll need to let the primer dry fully each time. This may add an extra day to the DIY project.
If you have a concrete porch, you can get away with applying only one coat of concrete primer. This can be applied in exactly the same way as you would with a wooden porch. Again, allow the primer to dry completely before applying the new paint.
On the other hand, there are some porch paints that do not require you to apply a primer because they come as a pre-mixed formula with primer already included in the paint. It will likely be labelled as 'self-priming' paint at the hardware store.
How do you prep a porch for painting?
Step 1: take away all items of furniture and plants etc. from your porch and store away until the job is complete. If anything of importance must be stored within the vicinity, it's a good idea to cover them in some tarp in case any paint splashes over
Step 2: brush away any dirt and dust off the porch. You want to focus on removing any debris between the floor boards if you are working with a wooden porch
Step 3: next, you need to wash the surface. A quick and easy way to do this is by using a pressure washer or just a hose to spray it all down and break up any stubborn dirt. If your porch is concrete consider using a concrete cleaning chemical to really scrub away any grime before painting
Step 4: wait for your porch to fully dry, this could take a whole day, but it's important that you wait if you want the paint to bond properly with the surface
Step 5: now it's time to sand. Your porch may be covered in old paint or has a number of impurities that sanding will remove and leave the base material nice and smooth, ready to take the paint. You can use an electric sander or standard sandpaper to do this
Step 6: you're going to need to remove the leftover dust from sanding now, so you can either brush it away with a broom or use a vacuum if you like. Then cover any area you don't want paint to ruin with painters tape
If you're dealing with a concrete porch that has never been previously painted, you may need to add in an extra step. Using a mixture of Muriatic acid and water, scrub the porch with a hard-bristled brush. You can buy the solution at the store and follow the included instructions on how to dilute it with water. 
Let the acid soak into the concrete until the bubbles go down. Then wash the porch and brush or vacuum away the residue. Make sure you wear proper safety equipment such as sturdy boots, protective gloves and goggles and even a mask if you like.
How do you paint a porch floor?
Step 1: before you apply the paint to your prepped porch, you need a coat of primer to help the paint bond properly with the porch surface. Using a paint roller, coat your porch with an exterior primer. To avoid having to walk over wet paint, start at one end and work backwards and make sure you apply a nice even coat
Step 2: wait for the primer to dry fully before going in with your main paint. This can take up to five or six hours depending on weather conditions etc. once the primer is dry, you then need to apply a second coat to create the optimum base for painting
Step 3: once the second coat of primer has fully dried you can go in with your paint. It is recommended that you purchase paint that is specifically designed for outdoor areas such as porches for better durability. It's also important that the paint is best for wood or concrete surfaces. For a nice even coverage, use a paint roller on an extension pole and fill in any hard-to-reach areas with a small brush
Step 4: wait for the first coat to dry completely, this may take up to eight hours  depending on what paint you are using. Then, apply the second coat
Step 5: once the paint has completely dried it is recommended that you then add a sealant, if your porch is concrete. This will prevent water from penetrating the paint and causing it to peel or scuff
Step 6: it is important that you wait up to two days before returning any furniture to the space or walking over it if you can help it. After the two-day curing period you are ready to decorate your new porch and enjoy!
Can I spray paint my porch?
Yes. Using a paint sprayer to paint your porch is a great way to save time and produce a nice even finish and avoid ugly brush strokes.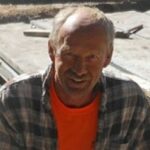 Jim Bettesworth well known for his can-do attitude and often takes jobs other companies were unwilling or unable to do. Experienced and educated in concrete construction and painting jobs. Read More.