ThatPainter is reader-supported. When you buy through links on our site, we may earn an affiliate commission. Learn More
A little renovation and reinvention is a positive thing – John Rzeznik
Even though your kitchen is the center of your home, it wasn't meant to last forever. Tastes change, paint fades, and gradually the fixtures and fittings begin to look old and tired, and when this happens most of us start to think that maybe it's time to just bite the bullet and install a new kitchen.
But you don't have to rip your kitchen out in order to give it a new lease of life, with a little elbow grease and know-how you can easily modernize, upgrade and change the way it looks in a couple of days.
Changing the way your kitchen looks doesn't have to complicated and even though it might seem a little intimidating and scary, it's actually incredibly easy and straightforward to give it a makeover, drag it firmly into the present, and embrace the future with, as John Rzeznik so eloquently said a little renovation and reinvention.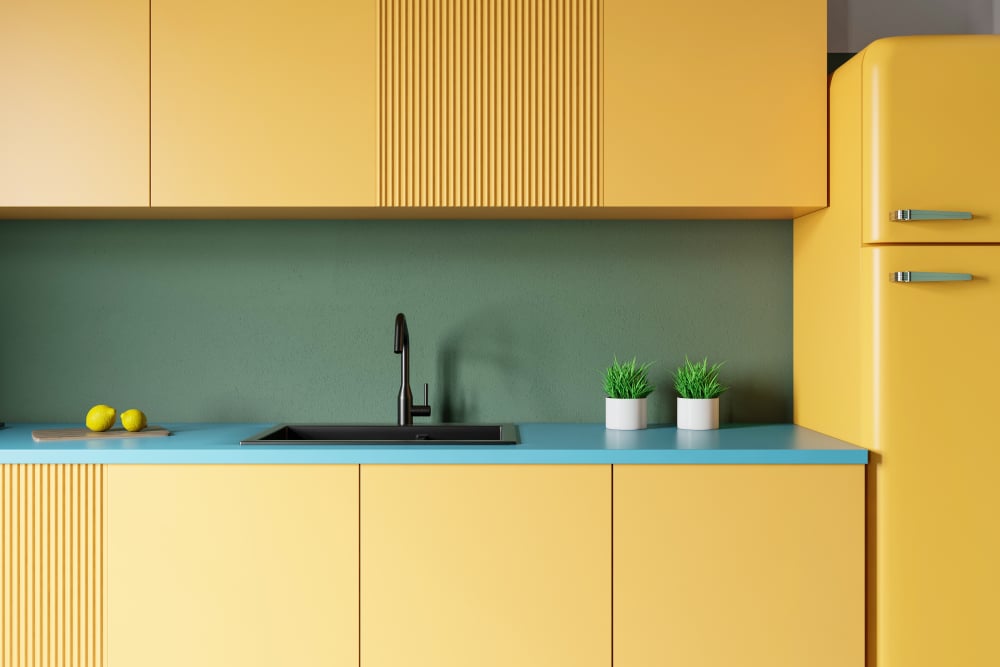 The ideal way to begin your kitchen transformation is by plowing your creative efforts into changing the way your countertops and cabinets look.
And to give you a head start and help you to hit the ground running, we've put together a list of the best countertop paint kits so that you can finally stop procrastinating about it and take the first step on the journey to getting the kitchen that you've always wanted.
It's a new dawn, it's a new day and it's time to start working on your "new" kitchen…
Top 5 Countertop Paint Kits For 2021
Giani Countertop Paint Kit
Giani was founded on a simple premise, to in their own words "rescue and relove" your home with practical, budget-friendly paint kits that'll help you to renovate it from top to bottom.
They believe that with an idea and the will to make it happen, anything is possible which is why in less than a decade, they've gone from a small, start-up firm to one of the most respected, and trusted names in home renovation.
Available in four different colors (Bombay Black, Chocolate Brown, Sicilian Sand, and Slate), this Giani Countertop Kit has been designed to make your kitchen counters look the way that you've always wanted them to.
Using the kit is simple, and it includes everything, the primer, paint, rollers, and brushes that you'll need to follow the easy three-stage process of transformation to the letter. Giani even throws in a practice board, so that you'll be fully prepared and ready to confidently meet the challenge of reinvigorating your countertops head-on.
Each kit is made to cover up to thirty-five square feet of surface, and Giani confidently predicts that if you use their product, the average countertop project should take no longer than four hours to complete. With a sixteen-hour drying time and fourteen-day curing (until the paint is fully hardened and ready to handle everyday use) time, within a fortnight of making your first brushstroke, your kitchen will look like new and be ready for whatever you, and life, has in store for it.
PROS
Giani countertop paint has been formulated to be durable and is easily able to stand up to the rigors and demands of life in the kitchen.
It's a multi-surface paint that has been designed to be used with and cover almost every type of countertop. From Formica to granite, marble to butcher's block, and granite to laminate, whatever your countertop is made from, this kit will make it possible for you to remodel it.
And it's made right here in the USA. An American based company that does everything the American way? What's not to like?
It's an affordable and easy to use solution to ripping your kitchen out and starting all over again. With a little time, patience, and help from Giani, you'll finally be able to have the kitchen that you've been dreaming about.
CONS
Even though Giani claims that their paint is simple to use and easy to apply, there are some disgruntled would-be renovators who have complained that it's neither as straightforward to use nor as easy to apply as Giani seems to think that it is. And, a small minority have also vigorously challenged Giani's claims of how durable their countertop paint is, as it hasn't lasted anywhere near as long as they hoped it would, and started to show signs of damage and wear and tear within the first year.
Nuvo Hearthstone All-in-One Cabinet Makeover Kit
No, we haven't lost our minds, and yes we know that it's a cabinet makeover kit, but as well as completely changing the way that your cabinets look, this Nuvo paint kit can also take care of your countertop.
Made by Giani, it's another all in one kit that's been designed to help you pull your kitchen out of yesterday and transplant it into tomorrow.
A low VOC (volatile organic compound) and odor water-based, acrylic paint and primer, Nuvo is an all-one cover that'll update and upgrade your kitchen countertops and cabinets in a day. Designed to be applied and to dry in just twenty-four hours, Nuvo has a soft, satin finish that'll withstand all of the daily punishment that even the busiest kitchen can hand out.
Everything that you need to get stuck straight in and start painting your kitchen fixtures (rollers, paint, and brushes) is included in one handy box, so as soon as it arrives, you won't have any excuse, you'll just have to pick up a paintbrush and get started.
You don't even need to do any preparation work before you can begin applying Nuvo to your cabinets and countertop, just open the cans and begin to paint, And as it includes enough paint to cover one hundred square feet of kitchen fixtures, you'll run out of surfaces to cover before you run out of Nuvo.
PROS
As it's a low VOC and low odor paint, as long as you have the windows and doors open while you're applying it, you won't even need to wear a mask.
It's made to be a single day endeavor. Apply the paint to your kitchen fixtures, and in twenty-four hours from the moment that you crack open the first can, the paint on your kitchen fixtures will be dry and you can start using them again.
While you might feel more comfortable applying multiple coats of paint, with Nuvo you'll only ever need one. And as there's enough paint in the kit to cover one hundred square feet, you'll be finished remodeling your countertops in next to no time.
CONS
As it's been made for cabinets and isn't strictly a countertop paint, you should only use Nuvo on wooden (laminate, Formica, and hardwood) or metal countertops. As long as your countertops are made from either, you'll be good to go with Nuvo, but if they're made of granite or stone, then you'll need to avoid Nuvo and find a different renovating solution for your kitchen.
A number of reviews have highlighted the fact that in some circumstances, Nuvo can crack when it first drys, which isn't the look that anyone wants when they're focused on improving and enhancing their kitchen.
Rust-Oleum Countertop Transformations Kit
That unwavering passion that drove Rust-Oleum's founder Robert Fergusson to develop the world's first rust-proof paint after making an accidental observation at sea still drives Rust-Oleum to this day.
Whenever they see a problem, they work diligently to find a solution and refuse to give up until they've perfected it.
A complete solution for transforming any counter-top in five easy to follow steps (the kit includes an instructional DVD that'll guide you through the process, step by step) Rust- Oleum's straightforward and affordable alternative to countertop replacement can change the look of your kitchen in a single weekend.
Designed to make any of the countertops look like natural stone, Rust Oleum's countertop makeover is durable and, according to the company, will last for years. In fact, if you're not completely satisfied with the kit and the way it makes your kitchen or bathroom look, Rust-Oleum will give you your money back. That's a level of confidence that it's hard to argue with.
With a century of expertise in formulating and creating the sort of paint that's been made to protect any surface, if there's one brand that you can entrust the safety and look of your kitchen or bathroom to, it's Rust-Oleum.
And with everything that you'll need to completely reinvigorate your countertops in one box, changing the look of your kitchen has never been made easier.
PROS
The kit covers up to fifty square feet of countertop and can be used on laminate, wood, or metal trim.
It includes detailed step by step instructions and an instructional DVD, and if you run into any additional problems, Rust-Oleum also has a dedicated helpline who will be happy to assist you if you call them.
The formula is reinforced with HomeShield Antimicrobial Protection to prevent build-ups of, and guard against mold, mildew, and other odor-causing microbes.
And if you're not one hundred percent satisfied with the kit, Rust-Oleum will either give you your money back or direct you to one of their products that will do the job you want to do, and providing it's of a similar value, will swap that product for the kit.
CONS
Some less than happy renovators have complained that the kit didn't live up to their expectations, wasn't easy to use, and didn't cover the square footage that Rust-Oleum claims it will.
Majic Paints Diamond Hard Acrylic Enamel High Paint
Since nineteen twenty, this Ohio based company has been providing solutions for any and every paint dilemma that professionals and amateurs may have to face in their decorating lives.
Believing that everyone should live colorfully, they have a color for everything and anything that you'll ever want to take a brush to.
That said, you've probably already decided on a paint scheme for your countertops and know how you want them to look and as such can almost certainly dispense with Majic's color charts. Made to be easy to apply with just a brush and a little grit, this low odor, non-flammable water-based paint is designed to dry and level to a beautiful, smooth, and glossy finish.
Designed to be applied to masonry, metal, and wood, there isn't a countertop surface that this paint can't transform with the aid of a brush.
Best of all though? You don't need to be a trained painter or a master of the art of renovation in order to apply it. All you need is a brush, a little determination, and the will to make your kitchen and countertops look the way that you've always wanted them to.
PROS
Easy to use and simple to apply, Majic has been made to cover any surface, inside or out, and is a perfect way to remodel your countertops.
Designed to dry to a diamond-hard finish, it's durable and can easily cope with all of the adversity that either kitchen or bathroom based life can, and will, hurl at it.
CONS
It's made to be hard and resist any and all of the trauma that it'll be subjected to, but it takes a while for Majic's paint to fully cure, and it can take a couple of weeks until it's fully ready to deal with the entire spectrum of modern, home-based adversity.
Daich Quart Spreadstone Mineral Select Countertop Refinishing Kit
A world leader in the development and manufacture of high-performance paints and decorative stone covering, Daich combines cutting edge chemistry and nature's most enduring product to produce the sort of stone finishes that can, and will, transform the look of any countertop.
Easy and economical, Daitch's kit includes everything that you need to change the way that your countertops look.
Offering the sort of shimmering natural accents and colors that are only found in natural rock, in just three-roller based applications, you can completely remodel your countertops and make them look like they were carved by masonry artisans.
All it'll take to make that change is a weekend of your time and Daich's formidable countertop kit.
Widely acknowledged and regarded as being among the very best at what they do, Daich provides the answers to home renovation that make your life easy. They keep things simple so that you can just get stuck straight into the job and finish whatever it is you need to do, quickly and confidently.
PROS
Made to keep things simple, with Daich you just need to use a roller, sander, and clear finish to achieve the sort of countertop look that you've been fantasizing about.
Designed for use with wood, metal, and masonry, it's an all-purpose countertop transformation kit that doesn't discriminate against any material, and teats any and all countertops the same way. As a fixture that needs to be updated.
CONS
It's a long-lasting, durable countertop kit that everyone who uses it, loves. For once, it's a kit that does everything that it claims, and says, it will and there are no downsides
Frequently Asked Questions
How Do I Paint Kitchen And Other Countertops?
That depends entirely on whether or not you're just going to paint them or want to completely texture them using a countertop kit.
If it's the former, as most countertop paints don't require the usage of a primer, or the removal of old paint or surfaces, all that you'll need to do is use painters tape to completely box off the area that you're going to paint, ensure that any and all windows and doors are open so that the area you're painting is properly ventilated and then use a paintbrush to slowly but surely apply the paint to the surface of the countertop.
While most brands are happy to try and sell you on the fact that you'll only need to apply one coat, in reality, that's never the case.
So after waiting until the first coat has dried, carefully apply another coat of paint using the same paintbrush. You don't have to wait until the paint has completely cured before applying the second coat, but you do need to wait until it's dry.
Always read the instructions on any paint that you're applying to a surface as they'll provide estimated curing (any painted surface isn't properly "dry" and ready for use until the paint has properly cured) time and it's important to adhere to the time limit that it provides.
However, if you're using a countertop transformation kit, that's when things get a little trickier. The problem with these kits is that they generally all work in different ways, which is why their manufacturers always provide comprehensive and easy to follow instructions.
In general, though, they require removing any and all previous grout, need you to fill even the smallest crack on your countertop (if there are any), and to be prepared for a long and involving job.
There'll be at least three layers of paint and textured paint to apply, and once that's dried, it'll usually need to be smoothed down using sandpaper, cleaned using water or an alcohol-based cleaner, dried off, and then you'll need to apply a coat of clear protective finish to ensure the surfaces longevity.
As we've said, that's just a general rule of thumb, as every transformation kit uses a different, but straightforward (provided you follow the instructions to the letter) application process.
Which Countertop Paint Kit Is The Right One For Me?
This is entirely dependent on how you want your countertops to look. Do you want to simply paint them and give them a fresh, new look?
If that's the case, then we'd always recommend that you use Majic Diamondhard which is available in just about any color that your imagination can dream up, and will provide a long-lasting, durable finish for your countertop.
However, if you're leaning toward completely transforming the way that your countertops look and are more interested in creating a stone-based look for them, then we'd have to point you in Daich's direction.
They've made the art of countertop transformation simple, and thanks to their near flawless, straightforward, and easy to follow instructions, with one of their countertop transformation and finishing kits you don't need any previous painting or decorating experience to completely change the look of your kitchen or bathroom countertops.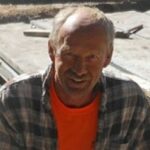 Jim Bettesworth well known for his can-do attitude and often takes jobs other companies were unwilling or unable to do. Experienced and educated in concrete construction and painting jobs. Read More.