ThatPainter is reader-supported. When you buy through links on our site, we may earn an affiliate commission. Learn More

A lot of people think that to redecorate the kitchen, they will have to cut down expenses to buy cabinets and new appliances, redo the floor, ceiling, and walls, spend hours trying to figure out the design, and do thousands of other things. But what if you could just repaint the cabinets if they look old?
Gladly, there are special transformation kits that allow for a successful repainting in a day! For those who have a tight budget or just don't want to say "Goodbye" to the old cabinets, we have prepared two amazing kits.

This alternative is affordable; it doesn't require too much preparation and takes less than a day to finish. As a result, you get a new kitchen in a color that suits the best to the overall design.
We have prepared a list of the two best options on Amazon at the moment. Besides, after the reviews, you will find a full buyer's guide filled with useful information about the choice and use of such kits.
Rust-Oleum 263231 Cabinet Transformations – Great Durability
See More Images
Rust-Oleum Cabinet Transformations is one of the most popular kits in the US. People use it for their home DIY projects, such as repainting cabinets in kitchens and bathrooms. It is a beginner-friendly product as you don't need to prepare the surface a lot before the application.
It's easy to apply, and the results are durable.
The kit is suitable for most materials used for cabinets:
Wood;
Melamine;
Metal;
Laminate.
What You Get
In the package, you receive:
A DVD with detailed video instructions on preparing the surface and applying the paint;
Deglosser for surface prep;
The coat for bonding paint and materials;
Glaze;
Glazing cloths for easier application;
Top coat for extra decor and durability;
Stirring sticks;
Pads for scrubbing if the additional prep is needed.
Area Coverage, Colors, Etc.
One kit is enough to cover 102 sq. ft. of surface. That's enough for a large kitchen, and if you have a small one, consider redoing bathroom cabinets as well. With proper storage, the paint will last for a couple of years.
You can get one of the three most popular colors:
Espresso;
Cabernet;
Pure white.
The product has a California's Proposition 65 warning, but the contents of chemicals are safe for all humans unless you have an allergy to any of the ingredients.
Manufacturer's Guide
Right on the page of the product, you have an easy 4-step guide to new cabinets with pictures. Here are the steps of preparing and applying the coats:
Clean the cabinets from grease, dirt, dust, etc. You can use regular soap and water. Then, degloss with the solution you'll find in the kit. The scrub pad is there as well. Make sure you follow the wood pattern and don't scrub against it.
Apply the bonding coat with a synthetic brush. For a better result, it's recommended to apply 2 coats, giving each one 2-3 hours to dry.
If you want, apply the decorative glaze. It will bring out the wooden patterns. Use the cloth to remove the excess.
Apply the top coat that will protect the paint from damage. Give it about 12 hours to cure completely and only then install the cabinets to their initial spots.
FAQ About the Product
Do I have to use all the products at once or can I store them?
If stored properly, the solutions will last from several months to a couple of years until you will need them for another project.
Will the initial wood grain be visible through all the coats?
In case you use the decorative glaze included in the package, yes, you'll see the beautiful wood grain in the final result. It is an optional step for decorative purposes, but the cabinets look very beautiful after that.
If I want to clean my cabinets in a month, will the paint cover be OK?
Sure, the paint won't strip off unless you deliberately damage it.
Recommendation
We've tested the Espresso color, and it turned out very neat. The color is deep, and the layers are smooth. The manufacturer recommends reading the instructions before use and removing everything from the cabinets you're about to paint.
PROS
Durability;
High quality;
Lots of tools and coats in the kit;
Detailed DVD manual;
Beginner-friendly use and instructions.
CONS
Might take a couple of days to finish.
Nuvo Hearthstone All-in-One Cabinet Makeover Kit – Great Functionality and Minimal Odor
See More Images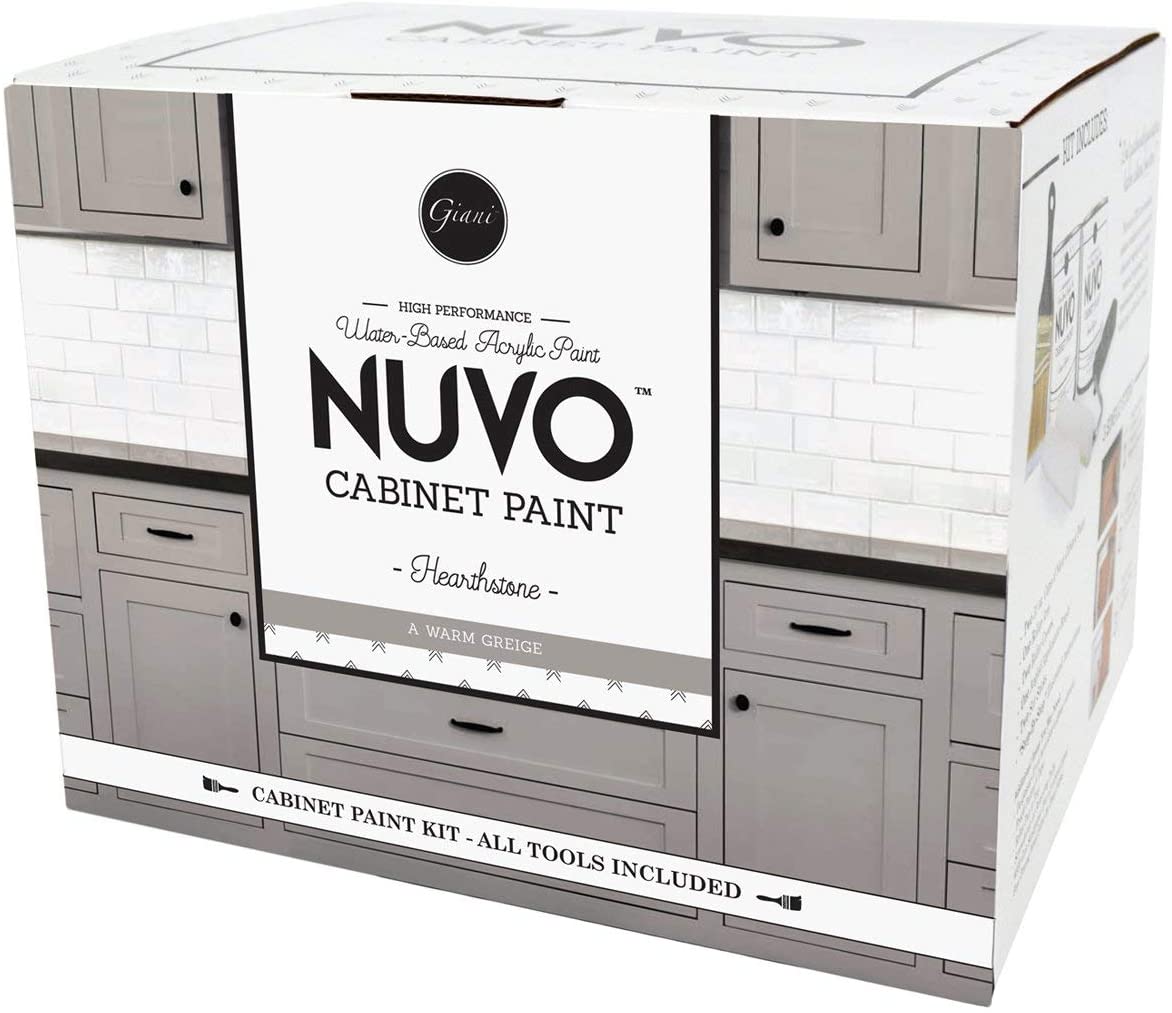 If you're looking for a water-based multifunctional paint that doesn't smell deadly, this option might be the one. It has a low VOC amount, and the odor is minimal. There's a low chance of triggering an allergic reaction with the product unless you're sensitive to one or more ingredients.
The paint is suitable for:
Wood;
Laminate;
Primed and/or painted metal.
What You Get
In the package, you get:
2 cans of paint;
Roller arm and two covers;
A brush for smaller parts;
Two sticks for stirring;
Instructions with pictures.
Area Coverage, Colors, Etc.
With one kit, you can cover up to 100 sq. ft. of the surface. Little preparation is required; you don't need to strip and prime the surface.
The manufacturer claims that you will only need one fine coat to cover the cabinets well.
There are three most popular colors:
Cocoa couture;
Coconut espresso;
Olde sage.
You can contact the manufacturer to get swatches. They will be shipped to you because the screen might show colors differently.
FAQ on the Product
Do I have to mix anything before using the paint?
You don't have to mix anything, but stirring the paint before the application is recommended. Nuvo is working hard on minimizing color separation in its products, but due to storage, there might be some settling of the product. This means the color is richer closer to the bottom of the can.
How long does the paint last in storage?
Up to two years, given the storage is proper.
The paint seems frozen, there are clumps inside. What should I do?
Don't apply the paint if it's in such a condition. Due to shipping or improper storage, the paint might have frozen. It will recover if you store the cans at room temperature for up to a week.
Recommendation
This is acrylic paint and primer in one jar. You don't need lots of products to finish painting, and the curing process doesn't take more than 8 hours; so, you'll be done in less than a day. The finish is very soft, satin-like, and it looks very professional, even if a beginner painted the cabinets.
When painting with a brush, you may see the strokes; so, it might be better to use a roller.
PROS
Durability;
Ease of use;
Minimal odor;
Low VOC;
Beautiful colors;
Satin finish.
CONS
Brushstrokes might be visible.
Best Paint for Cabinets – Buyer's Guide: Things to Consider Before the Final Choice; FAQ; Tips, and Warnings

Finding good paint can be difficult, especially if you're new to redecoration. And painting cabinets is a tricky thing; you need a lot of qualities in the paint, like durability, smooth coverage, and overall quality. The prep varies from one kit to another; the color has to cover the old one, and the wood should be still visible (if you want this, of course).
There are lots of things to consider before making the final choice.
In this guide, you'll find tons of useful information that will help you make the right decision. We'll go over the main factors you should take into account first of all so that you don't make an unjustified investment.
The Colour of the Paint

Before you even get into the texture, formula, and other more difficult things, choose the right color. One thing is determining the best one for your kitchen style, but a whole other thing is choosing a product suitable for the material your cabinets are made from.
Certain colors won't work on particular kinds of wood, lamination, or metal.
You may also need an undercoat to make sure the final result is smooth and of the desired tone. Even if you ask the manufacturer for swatches, the way the paint will look on your cabinet might be different.
Always find out more info on the materials your paint is best for. It's also wise to contact the seller or the manufacturer to get answers. User manuals and video instructions work great as well. You can find them online on the page of the product or the official website of the company.
Even if applied properly, the paint may look lighter or darker and even spotty or bubbly. And unless it's a part of a design, you don't want those spots and brush strokes to be visible on the cabinets. The result should look better than the original state of your cupboards, right?
The Volume/Area Coverage

While most paints don't expire for at least a year or two if you store them properly, chances are you won't need the whole amount, and a large kit will be a waste of money. Measure the area you will need to cover in square feet to make sure you get enough paint for the cabinets but not too much. There are charts online that will help you choose the right volume.
In case taking proper measurements is a problem, the descriptions of products might give you an idea of how much paint there is. Based on them, decide whether it's enough or not. Everyone has a different number and size of their kitchen cabinets; so, you won't find an exact guide that will suit every kitchen.
Most paints cover 100 sq. ft. and more.
If you think more of the product will be needed later on, suit yourself. In this case, consider if the paint you order will be enough for the kitchen and additional applications.
The Formula of the Paint
When using the wrong paint, you may end up with a bubbly, chipping cover that won't last for a long time. Different kinds also cure for a certain amount of time and are suitable for particular materials. Find out what exactly your cabinets were made from and choose the proper product based on that information.
It should also be safe for you, your children, pets, and other people living in the house. Find out the information on the odor of the paint and the allergic reactions it may cause.
There's also California's Proposition 65. The label is on a lot of products, including paints, but you shouldn't worry about it. This sounds quite scary at first, but you should understand that most products don't contain enough harmful chemicals to be cancerogenic. Choose high-quality paint with good reviews and a clear ingredient list.
What You Will Need for Painting Cabinets

Usually, a kit will have everything necessary for easy prep and application of the paint. But it's still useful to know what you may need, just in case:
Paint. Look for a durable paint of the color you like that is suitable for the materials of your cabinet. Refer to the above sections for an easier choice.
Square brush. You may need such a brush for the main work. It works great on flat, big parts of the cabinets.
Roller. The sides are covered the best with a roller. You can use it to paint all large parts if the paint is suitable for the tool.
Angled brush. If there are a lot of details and corners on your cabinets or you don't want to take them apart, an angled brush will get into the smallest gaps difficult to access.
Sprayer. A sprayer can make the whole process much faster and easier. It is an especially good tool for top coats because you want it to be as smooth as possible.
Find out what parts there will be in the kit to make sure you have everything necessary to finish the redecoration in one day.
FAQ About Choosing and Using a Cabinet Paint
Here's some more information based on the most frequently asked questions about cabinet paint.
Can I try bonding the paint with a surface it's not suitable for with other agents? Are there chances it will work?
Special bonding agents are really great for cases when you have to use paint for a surface it's not suitable for. There are chances it will work, but there are lots of limitations. In any case, you're risking ruining your cabinets and wasting products (and money). You may need a lot of the bonding agent to succeed, which means more spendings. The best choice is to buy paint that is suitable for the material.
Besides, not all the agents guarantee success, especially if you're using them on surfaces that will be in a vertical position (like kitchen cabinets).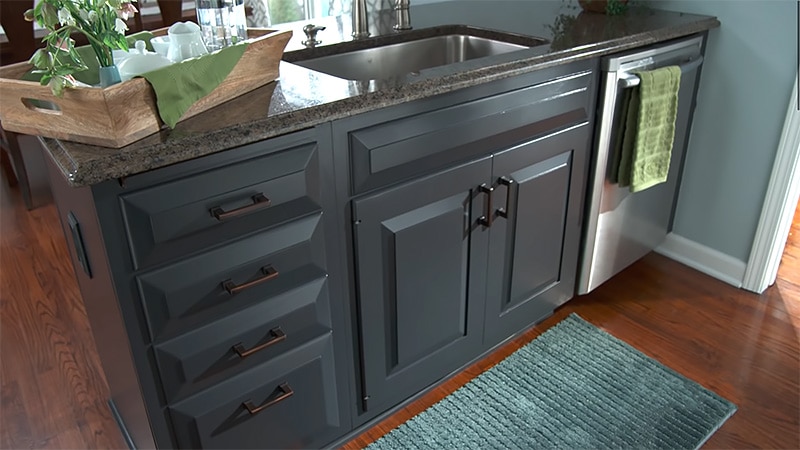 I'm re-painting my kitchen cabinets for the first time. What are the best recommendations for success?
The best recommendation, besides choosing high-quality paint, is to label the parts of your cabinets to make sure you put them back in the right order. You can do it with small labels put near them or on them if it's possible.
Also, preparing the surface properly increases your chances for success, even if you're doing it for the first time. Read the user manual carefully and prep the cupboards step by step. Clean them, scrub, sand; do everything the instruction says. This way, the paint will bond with the surface better, resulting in a smooth, durable coat.
There are two paints I really like and I want to mix them up to create a nice color. Should I do it?
If they are the same formulas from one manufacturer, you can give it a go. However, keep in mind that mixing two paints is more difficult than it might seem at first. In case you're ready to put some effort in, go for it.
But make sure the paints have the same formula. Otherwise, you may get terrible results due to the mixture of the chemicals that don't work together. Besides, you never know how the final color will look on the cabinets. It might be heavenly on a brush, but after it cures properly, even if the quality of coverage is OK, the color might disappoint you.
How do I know if my cabinets are laminate?
Usually, even high-end cabinets have laminate or veneer parts. You can rarely find ones made from solid pieces of wood. To determine the type, look at the different parts of your cabinets. The "box" is usually particleboard or plywood, and so are drawer bottoms (also made from hardboard, which is tougher).
The seams might give you another look as well. You'll see the difference between the real wood and other materials used in one cabinet. The materials age differently, and the color will give them away after a while.
Will my paint stick to laminate well?
Laminate is very smooth; so, it's hard to make regular paint stick to it and last for ages. The best way out is to get a product that is specially manufactured to cover laminate. The formula of such paint sticks to smooth surfaces.
How different are laminate and veneer?
Laminate is a plastic material with natural wooden ornaments printed on it. It's a smooth surface, and under the Thermofoil or Melamine, there's particleboard or plywood. These are relatively cheap materials used for most cabinets nowadays.
A veneer is the same board from plywood or particleboard with a natural hardwood cover. Both surfaces can be repainted using one of the kits we have presented above.
Tips and Warnings for a Successful Cabinet Painting

Here are some tips and warnings that will help you ensure the success of the mission:
Even if the instruction says you don't need to prep the surface, the decision is yours. If it seems like the cabinet should be sanded or prepared in another way, do it. This won't make the result any worse, only better.
Even if you buy an all-in-one kit, consider adding some steps to the process. They may include either sanding the surface or applying a suitable primer. The probability that the paint will adhere and won't chip in a month becomes much higher.
If the surface is glossy, you should definitely sand it.
Use smaller brushes for details and corners for the best result.
Consider using a roller for faster painting without visible brush strokes.
Don't dry the cabinets closed; open the doors a little bit for proper curing.
Don't use the cabinets before all the layers are completely dry.
Another recommendation that needs more space is that you should not go cheap on the paint. Cheap paints from unknown manufacturers might be either low-quality and totally not durable or toxic. And you don't want either of those on your cabinets.
Painting with a low-quality product may lead to premature deterioration of the materials, and in a year or so, you may need to replace the cabinets.
Doing it will be much costlier than purchasing high-quality paint. By doing everything yourself, you save a lot of money, and going crazy on saving every buck isn't the best idea when it comes to your furniture (which is in the kitchen where you cook!)
To Summarize
There are lots of different cabinet paints out there, and you should get the one that will be perfect for your kitchen by style, formula, use, smell, and a plethora of other characteristics. Investing in high-quality paint ensures your kitchen will be neat and beautiful for years to come.

Rust-Oleum 263231 Cabinet Transformations
Durability
Lots of tools and coats in the kit
High quality
Check Price


Proper application is also very important; so, be sure to read the instructions before starting the work, even if you know perfectly what to do. The tools should be in the kit, but if they aren't, get everything that may be needed in advance.
Prepare the surfaces well, clean and sand them, especially if the tops are glossy. We hope the end result will fully satisfy you, and the cabinets will serve you for years!
Richard Jenkins is a 33-year-old Professional Painter that applies paint on the interior and exterior surfaces. Qualified in painting technology knowledge, physical fitness, stamina, teamwork, and attention to safety. Read More.