ThatPainter is reader-supported. When you buy through links on our site, we may earn an affiliate commission. Learn More

Have you ever tried to paint a DIY project the traditional way with a brush?
Take it from me, it's not what I would call ideal. You get uneven coverage, visible brush strokes and globs of paint that just won't spread evenly.
This is not what you want for your project. It won't look smart or classy, and may only pass as home-made rather than handmade. It won't be something to show off.
But there's no need to worry about that – we have an easy solution.
Instead of completing your DIY projects by painting with a brush, why not instead get yourself a gravity feed spray gun. That way you can get a nice, even coverage of paint, and no lumps or brush marks to speak of.
Luckily for you, we've been checking out some of the best gravity feed spray guns out on the market today. And after much deliberation, we were able to hand pick our top 5 favorites.
We're going to be sharing our findings with you very shortly, and after our product reviews, we'll be providing you with a handy buying guide. It will walk you through all the key things to think about before you buy.
We also recommend that you stick around for our section at the end, where we tackle some of your most frequently asked questions on the subject.
So, without further ado, let's kick this off with a quick comparison table:
5 Best Gravity Feed Spray Guns For DIY Projects
TCP Global Professional Gravity Feed HVLP Spray
Now, this particular spray gun comes highly recommended and really has a lot going for it.
It has a large paint reservoir, made of lightweight aluminum, able to take an entire liter of paint.
It has a 1.4mm fluid tip, a nice size for most DIY painting projects, that enables full atomization of paint across your chosen surface. You can use it for base coats, clear coats, or other light to medium viscosity mixtures.
You can adjust the fluid control as you see fit, and the spray pattern, and the air pressure. It even features a locking air pressure regulator and filter, to keep the air pressure nice and steady. It can do any pressure between 0 and 180 psi (pounds per square inch).
The box comes with various cleaning and maintenance accessories, such as a hex wrench, a spanner wrench, an extra filter, and a cleaning brush. Everything you need after one use to get it ready for the next use.
It also comes backed by a full one year warranty. Good to know.
Amazon occasionally has deals on this product. Why not click "Check price" to see if there's a deal on now?
PROS
Large 1 Liter lightweight paint reservoir

1.4mm fluid nozzle, great for DIY projects

Has a locking air pressure regulator & filter

Comes with a cleaning & maintenance kit

Backed by a full one year warranty
CONS
Premium product at a premium price

Not too good for thick high viscosity paints or varnishes
Cartman HVLP Gravity Feed Air Spray Gun
If you're quite budget-conscious, then as the most affordable spray gun in our shortlist of top picks, then this might be the one for you.
It's a HVLP model, which, as we describe in our buying guide helps you to save excessive paint waste, so you don't have to buy so much paint. You get a high transfer of paint mixture while at the same time reducing bounceback and overspray.
There's a high-precision mix cap to ensure a perfect spray pattern with no drips.
And everything's adjustable, you can regulate the amount of paint being sprayed, you can adjust the size of the fan pattern, and you can adjust the air pressure using the integrated valve.
It's very easy to use. You simply assemble the kit, fill the cup with your desired paint, put the settings as you want them, we recommend 50 psi of air pressure, and you're good to go.
You also get all the accessories you need in the box. There's a cleaning brush, a multi-size wrench, a plastic filter, and a hex wrench.
There are only two drawbacks to this budget buy, the modestly sized paint cup, and that there's only one size of nozzle provided. That said the nozzle provided has a diameter of 1.4mm, which we would argue is more than satisfactory for most DIY painting projects.
PROS
Very affordable price tag

HVLP for less bounceback and overspray

Features a high-precision mix cap with no drips

You can make all kinds of adjustments

Comes with all the accessories you need
CONS
The paint reservoir cup is quite modest in size at just 600 cubic centimeters

Only one nozzle in the kit, 1.4mm
DeVilbiss HVLP Gravity Feed Paint Gun
If you have sufficient budget, this spray gun would be a really good one to go for.
It comes from a top brand, DeVilbiss, and features the latest technology in spray paint atomization.
This superior paint spraying comes from precision machined air caps & fluid nozzles, anodized internal passages, and high grade stainless steel components
It features a large paint cup, made of lightweight aluminum, able to take 900 cubic centimeters of paint mixture.
It also features an adjustable air pressure valve with integrated gauge, so you can ensure that you're spraying with a consistent air pressure, for a perfect finish.
There are 3 different nozzles including the kit, each of different sizes, but all with a fine spraying pattern. The nozzle sizes are 1.3mm, 1.5mm, and 1.8mm. This way you can decide on what size nozzle you want to use based on each paint project.
It's quite easy to clean between jobs, and this is thanks to it's anodized finish.
But, as we have already inferred, this spray gun does come with quite a hefty price tag, so if you only need it for one or two projects, you might be better off going for something a little more affordable.
PROS
Features the latest technology in atomization

Adjustable air pressure valve with gauge

Large lightweight aluminum cup

3 different size nozzles included

Easy to clean between jobs
CONS
Premium product at a premium price
NEIKO 31215A HVLP Gravity Feed Spray Gun
Now, this particular spray gun has been flying off the shelves, with well over 2,300 individual customer ratings on the Amazon page alone. And it's well rated to, with more than two thirds of customers giving it a full 5 stars out of 5.
It's a HVLP spray gun, which is always good (more on that in our buying guide). It has a steel body and stainless steel nozzle, so is very rust resistant and durable. We also like the trigger, which is a tethering trigger for optimum spray control.
It comes with a 600 cubic centimeter paint cup, which should be big enough to accommodate enough paint for small to mid-sized DIY paint jobs.
You can set the air pressure as you please, using the integrated metal air gauge and regulator. Though we would recommend using it at an air pressure of 10 pounds per square inch, as per the manufacturer's suggestion.
It also comes with a multi-size wrench and cleaning brush, so you can easily take the device apart to give it a good clean in between different paint jobs.
It's available at what we would argue is a very fair and reasonable price. And when you buy it, you can choose what size nozzle to buy it with. The options are 1.0mm, 1.3mm, 1.5mm, 1.7mm, and 2.0mm. So you can buy according to the size of the project.
PROS
Flying off the shelves

Great customer ratings

Reasonable price point

Adjustable air pressure

Easy to take apart & clean

You choose the nozzle size
CONS
Only one nozzle is provided
DEWALT HVLP Spray Gun
When you're buying from a top brand like DeWalt, you know you're going to get a reliable, good quality product.
What we love about this spray gun is just how lightweight and compact it is. Moreover, it's also well-balanced too, which means you're unlikely to get much hand fatigue with this spray gun.
It comes with a modestly sized paint cup, at 600 cubic centimeters, which is more than enough for small or modestly sized DIY paint jobs.
Similarly the accompanying 1.5mm diameter nozzle is well suited to most DIY paint jobs.
It also features a mini air pressure regulator, so you can keep the air pressure at the precise level you want.
Better yet, this spray gun comes backed by DeWalt's famous 3-year long warranty.
The issue with buying from top brands however, is that you inevitably end up spending more money than you would with brand no-one's ever heard of.
PROS
Comes from a top DIY brand

Ideal sized paint cup and nozzle

Lightweight, compact & well-balanced

Features a mini air pressure regulator

Backed by DeWalt's 3-year long warranty
CONS
Only one nozzle tip provided, 1.5mm

Premium product at a premium price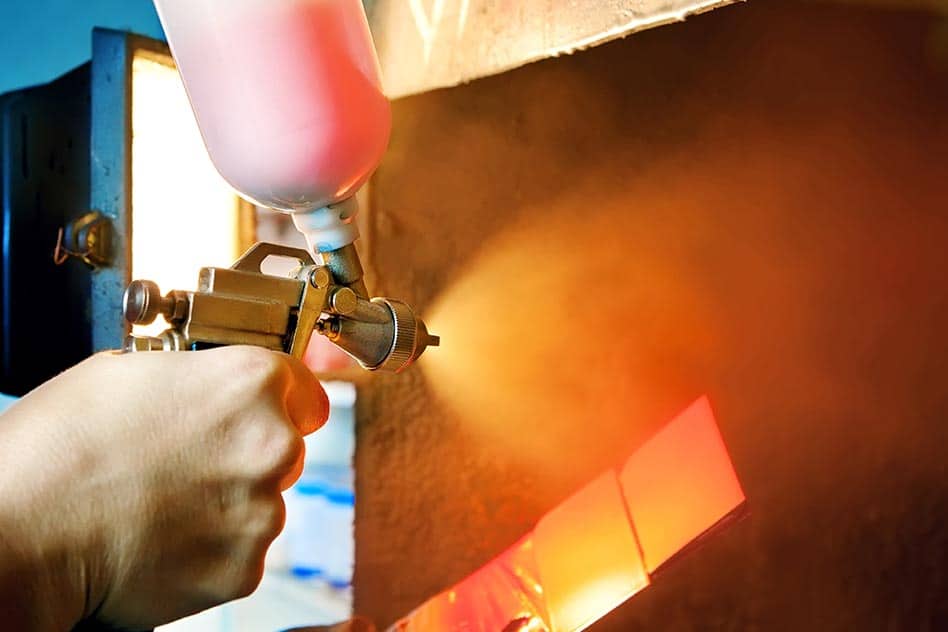 Buyer's Guide
As promised, here's your buying guide. Let's start with the basics.
How do gravity feed spray guns work?
With a gravity feed spray gun, paint flows down via gravity from a reservoir of paint that sits above the spray gun's body. An air compressor in the spray gun then pushes out a powerful stream of pressurized air.
The air then propels the paint mixture from the nozzle in a precise pattern, so your paint job gets a good even finish, and is completed far more quickly than it would have via a paint brush.
The thicker and heavier the paint mixture, the more air pressure is needed to create a precise and even spray.
What to look for in a gravity feed spray gun?
HVLP Spray Guns
HVLP stands for High Volume Low Pressure. As the name suggests, the compressor needs a high volume of air, but requires only a low pressure to work.
The advantage of such a spray gun is that it reduces overspray. This in turn means that you can reduce paint waste by a whopping 50%, which also means that you can effectively halve the amount of paint you need to buy. Not bad hey?
Reservoir Volume
Gravity feed spray guns feature a container that hangs above the paint gun body from which the paint flows downward ready to be sprayed out.
If you have a large DIY painting project, such as spray painting a car or fence, then having a large container in place means that you don't have to keep stopping intermittently to refill the paint reservoir.
Nozzles (also referred to as fluid tips)
The nozzle you use on the spray gun determines the quality of the paint job.
We always recommend that you go for spray guns with metal nozzles rather than plastic ones. Metal nozzles are far more durable than their plastic counterparts. Copper would be a good choice of nozzle, as would brass, or stainless steel for that matter.
And it is the size of the nozzle that determines how much paint is sprayed at a time. You should use a wide diameter nozzle for larger projects, such as painting a fence or a car, and use a nozzle with a smaller diameter for more delicate DIY projects.
Adjustable Flow
If you start spray painting and you feel the paint is coming out too thickly, it's very handy to be able to adjust the pressure, and therefore the paint flow. Similarly, if the paint is coming out too thinly, you will need to paint several more coats to get the coverage you want.
So, either way, it's good to have a spray gun that lets you adjust the air pressure and paint flow.
Easy to Clean
It's very important that you clean the spray gun thoroughly between each paint job. You don't want paint from the last paint job contaminating the paint for your next paint job.
And remember dried up paint that hasn't been washed away can dry up and clog up the machine.
So you should look for a spray gun that's easy and straightforward to clean.
Cost
Now, gravity feed spray guns can really vary in price, with some costing less than $30, while at the higher end you can get spray guns costing over $150.
Our advice as always, is that when you are shopping for products online, make a point of checking the prices as you go along, so you can see exactly what your money can buy you. That way you can make a good, well informed decision as to what your budget should be.
Frequently Asked Questions
Is it better to use a gravity paint gun?
When it comes to small projects that require less intensive paint application, then we would hands down recommend using a gravity paint sprayer. It's your best option.
But we would advise against using them for bigger jobs such as painting walls in a house, or ceilings. For that you should really be using paint rollers instead, ideally.
What does pneumatic paint sprayer mean?
A pneumatic paint sprayer is basically any paint sprayer that uses an air compressor to push paint out of the spray gun onto the required surface. This is in contrast to HVLP paint spray guns which require a high volume of air, and a low pressure to spray their paint onto the surface.
Although this type of paint sprayer is often noticeably more affordable than many HVLP paint spray guns, it tends to waste more paint through bounceback and overspray.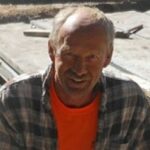 Jim Bettesworth well known for his can-do attitude and often takes jobs other companies were unwilling or unable to do. Experienced and educated in concrete construction and painting jobs. Read More.