ThatPainter is reader-supported. When you buy through links on our site, we may earn an affiliate commission. Learn More

In construction terms, siding refers to the cladding (protective) material fitted into the exterior walls of buildings to provide insulation and weather-resistance.
Until the 1970s, it was quite common for asbestos to be used as a siding material because it's a highly effective insulator. Additionally, the inexpensive substance is resistant to water, chemicals, electricity, so it has a lot of useful, protective qualities.
However, it has since been discovered that asbestos is a carcinogen. The presence of the substance in the walls of buildings has been linked to many serious and often fatal diseases, including lung cancer, asbestosis (impaired respiratory function), and pleural thickening (swelling in the lining of the lungs). Asbestos has been linked to the deaths of roughly 5000 tradesmen and construction workers each year.
Naturally, given all of this frightening information, discovering asbestos in the siding of your home can be extremely distressing.
Thankfully, there's a relatively simple solution that will allow you to protect yourself and your family from the harmful effects of asbestos without paying a professional to go digging around in your walls.
Specialized paints have been developed for the purpose of containing asbestos fibers, preventing them from spreading into the atmosphere. This is a quick and easy solution that you can implement yourself without professional assistance.
Read on to find out about our top 5 paints for asbestos siding!
5 Best Paint for Asbestos Siding
FIBERLOCK A-B-C Bridging Encapsulant
Asbestos isn't something to take chances with, so if you're opting to paint over your asbestos siding instead of paying for professional removal, you'll need to make sure you're using the best possible formula for the job.
That's why we recommend Fiberlock's ABC Bridging Encapsulant as our best overall choice.
This encapsulant paint is a specialized asbestos sealant. This is already a huge plus point because while there are several paint types on the market that work as short-term asbestos sealants, many of them are not primarily formulated for this purpose, making them unsuitable as a long-term solution. This paint, however, has been tried and tested as an asbestos encapsulant and proven to be highly effective.
A single tub of this encapsulant paint will provide you with up to 100 square feet of coverage per gallon. Once applied, the product dries into layers between 6 and 10 mm, providing durable and long-lasting protection.
Additionally, the Fiberlock Bridging Encapsulant is fire-proof, which means it's non-flammable and won't present a fire hazard in your home.
As an added bonus, you could also use this encapsulant over lead paint as a protective barrier against the harmful effects of lead fumes.
It should be noted, however, that this product is not designed to be applied to uneven or damaged surfaces. If your siding is rough, uneven, or damaged, this will not be the product for you.
Moreover, please do not attempt to correct surface irregularities yourself since this carries a risk of incurring further damage and disturbing asbestos. If your siding is uneven, there are other products in our selection that you can use in the short term.
PROS
Specialized asbestos encapsulant – Guaranteed to provide protection
Fireproof – Safe and non-flammable
Also works over lead paint – Effective lead encapsulant
100 square feet per gallon – Extensive coverage
6-10 mm thickness – Thick, highly-protective layers
CONS
Not for use on uneven surfaces – Only suitable for smooth, undamaged siding
KILZ Premium High-Hide Stain Blocking Interior/Exterior Latex Primer
The Kilz Premium High-Hide Stain Blocking Interior/Exterior Latex Primer is ideal as a short-term solution to siding that contains asbestos.
This primer is primarily a stain blocker, which means that its primary function is not asbestos protection. Therefore, we wouldn't recommend this paint as a long-term solution to asbestos siding.
However, it is an effective placeholder until you can schedule professional removal. Just make sure to apply multiple coats to ensure proper short-term coverage.
In addition to being effective in the short-term against stray asbestos fibers, the KILZ Premium primer has the benefit of being low in volatile organic compounds or VOCs. This makes the formula chemically safe for use in occupied buildings.
Moreover, this primer can also be used as a filler for minor imperfections. If the walls around your siding are porous, for example, this product can be used to seal the pores for extra protection against asbestos fibers.
Even better, just one gallon of this primer will deliver between 300 and 400 square feet of coverage, so you're getting a lot of value for your money.
And for those who value their home's aesthetics, the KILZ Premium primer dries to a high-gloss finish, so it's appealing as well as functional!
PROS
Glossy finish – Aesthetically pleasing
3-400 square feet per gallon – Impressive coverage
Doubles as a filler – Seals porous surfaces
Low VOCs – Chemically safe
CONS
Not primarily an asbestos encapsulant – Not for long-term protection
KILZ L211101 Adhesion High-Bonding Interior/Exterior Latex Primer/Sealer
As a more budget-friendly alternative to the KILZ Premium Primer, we recommend the KILZ Adhesion High-Bonding Interior/Exterior Latex Primer/Sealer.
The reason we've also included this KILZ product in our top 5 is that it's one of the only latex primers suitable for application on uneven surfaces.
Unlike other products, which require smooth and undamaged siding for application, this primer provides effective short-term protection even when applied on rough, unsanded siding.
Moreover, like its Premium counterpart, this primer is suitable for interior and exterior use, so you can also apply it to the interior side of the wall containing the siding for greater peace of mind.
However, much like the KILZ Premium formula, this product has not been formulated with the specific intention of protecting against asbestos.
So, while it is an effective sealer for the short term, it should only be used temporarily until a professional removal can be arranged and not as a long-term protection method.
PROS
High-bonding – Suitable for use on difficult surfaces
Suitable for indoor and outdoor use – Double protection
Affordable – Budget-friendly price
CONS
Not formulated specifically for asbestos – Only for short-term use
Fiberlock ABC Airless Spray Encapsulant
If you're only dealing with asbestos in small, specific areas of your siding, you might be able to save some time, energy, and money with the Fiberlock ABC Airless Spray Encapsulant.
This Airless Spray Encapsulant can simply be sprayed onto the problem siding surface, making for quick and easy application.
The spray application also means that you don't need to get too close to the affected area, offering you peace of mind and negating the need for so much protective gear (although a mask should still be worn).
Unlike many spray paints on the market, this encapsulant is non-combustible, which means that it won't present a fire risk, leaving you with one less thing to worry about.
One potential drawback to this product is that there is potential for the nozzle to become clogged. If this happens, you may need to request an extra nozzle through the manufacturer.
PROS
Designated asbestos encapsulant – Formulated specifically for the task
Spray application – Easy to apply quickly and evenly
Non-combustible – Fireproof
CONS
Nozzle may become clogged – Extra nozzles only available on request
Cinder Block Masonry & Stucco Paint
Another product that we would recommend for short-term protection against the asbestos in your siding is this Masonry & Stucco Paint from Cinder Block.
This is a versatile latex paint product that's suitable for application on just about every exterior wall surface you can think of, from concrete to aluminum.
This paint has been tested and revealed to be effective against asbestos fibers for a period of between 3 and 5 years. Admittedly, this is longer than many non-encapsulant paints, but it will still require replication every 3 years to be safe.
However, there is an advantage to this paint over some of the encapsulants available on the market, which is that the Cinder Block Masonry & Stucco Paint is available in a wider range of colors.
This sandy beige color will look great on any exterior siding, but the product is also available in tan, green, gray, black, and a range of other choices.
The formula is also VOC-compliant, with a lower release of Volatile Organic Compounds than the limit set out by Ozone Transport Commissions Regulations.
PROS
Multi-surface application – Suitable for use on various exterior surfaces
Wide color range – Aesthetic flexibility
VOC-compliant – Low in Volatile Organic Compounds
CONS
Not a permanent encapsulant – Requires reapplication
Buyer's Guide: What to Look For in the Best Paint for Asbestos Siding
Long-Term or Short-Term
The first thing you will need to determine when choosing a paint encapsulant, primer, or sealant for asbestos siding is whether you intend for the resulting protection to be long-term or short-term.
The reason this is so important is that, while many latex paints and primers can be used as short-term solutions to asbestos issues, these products should not be relied upon for long-term protection.
Ideally, you should only use regular latex primers and paints on asbestos siding if you are planning to have the asbestos professionally removed in the near future.
Alternatively, you could choose to commit to reapplying said paint or primer every couple of years. However, the risk with this is that you might forget or simply misjudge the timing of your reapplication, leaving your home exposed to asbestos without knowing it. Therefore, it's much safer to use regular latex paint products on a short-term basis until removal can be arranged.
If you're seeking long-term, indefinite protection against asbestos through the use of paint, you will need to make sure that the product you purchase is specifically marketed as an asbestos encapsulant.
These products are the only ones that can guarantee long-term protection. We would highly recommend the use of specialized asbestos encapsulants in situations where the construction of your home does not allow for easy asbestos removal.
Formula Ingredients
Before purchasing any product for your asbestos siding, you should always read the ingredient label to check which substances are included in the formula.
The reason for this is that you will want to make sure that any product you buy contains latex as a primary ingredient. Latex provides an effective, permeation-resistant layer that asbestos fibers will struggle to pass through.
Ideally, it's also a good idea to choose a paint or encapsulant product that is either free from or low in Volatile Organic Compounds.
Surface Compatibility
It's also important to ensure that the product you're buying is suitable for application onto the problematic surface in question.
Many encapsulants, sealants, and primers are only formulated for use on smooth, even, and undamaged surfaces.
If the walls around your siding are unsanded, you will need a product similar to the KILZ L211101 Adhesion High-Bonding Interior/Exterior Latex Primer/Sealer, which is formulated specifically for use on uneven surfaces.
NB: Please do not attempt to sand down uneven siding in an attempt to achieve compatibility with a specific product. Sanding an asbestos-containing surface could cause tiny cracks to form, through which asbestos may escape.
If you're dealing with an uneven surface, please choose a product that is suitable for application on rough siding.
Frequently Asked Questions
How does paint for asbestos siding work?
Paint or encapsulant for asbestos siding works by forming a barrier over the affected surface. Due to the latex in asbestos siding paints, this barrier is impermeable, which means that particles and fibers can't pass through it.
At the same time, these paints help to protect the siding from elemental damage. Thus, the asbestos is trapped inside the siding and prevented from breaking down too quickly.
How do I paint my home's exterior?
To paint the exterior walls around your asbestos siding, you will, of course, need to have your paint ready.
You will also need a large roller or paint sprayer, depending on your preferred painting method. It's also a good idea to have some plastic sheeting on hand to protect areas that you don't want to get paint on, such as windows and windowsills.
You should also always wear protective equipment when approaching untreated surfaces containing asbestos. You won't need to wear the same heavy-duty gear as asbestos removal workers would, but full-body overalls, laced boots, and a mask will help to keep you safe.
If you're using a paint sprayer, be sure to do some test sprays on a separate surface first and read the guidelines that come with your sprayer to determine the appropriate spraying distance for optimal coverage. This will usually be a distance of a few feet.
Try to work from top to bottom if you can since this generally produces the most even coverage and best results. Remember to apply several coats, especially if you're using a non-encapsulant product.
Can I remove asbestos myself?
No, absolutely not. You should never disturb asbestos unless you are a trained professional. Handling asbestos incorrectly and without the proper protective equipment could have serious consequences for your health and that of anyone else who lives in your building.
The reason why asbestos encapsulant paint and similar products have been made available on the market is to provide a safe alternative to removal.
Can I use latex paint if I'm allergic to latex?
Yes, people with latex allergies can still use latex paint. This is because latex paint contains synthetic latex as opposed to natural latex rubber, which contains allergens.
Final Thoughts
In summary, you can use either specialized asbestos encapsulants or latex-based primers and paints to contain asbestos fibers in your siding.
Please read the product information carefully to determine whether a latex paint product is specifically marketed as an asbestos encapsulant or not.
If the product does not specifically advertise itself as effective against asbestos, you should only use it as a short-term placeholder until the asbestos can be professionally removed.
Remember to wear the appropriate protective clothing and a mask when approaching asbestos-containing siding and surfaces. Under no circumstances should the asbestos or the wall around it be physically damaged or disturbed during the painting process, so avoid sanding down irregular surfaces if possible.
If you are using basic latex paint or primer as opposed to an encapsulant, remember to either schedule a reminder for reapplication or contact a professional to carry out an asbestos removal procedure.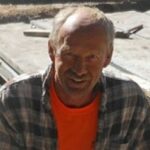 Jim Bettesworth well known for his can-do attitude and often takes jobs other companies were unwilling or unable to do. Experienced and educated in concrete construction and painting jobs. Read More.