ThatPainter is reader-supported. When you buy through links on our site, we may earn an affiliate commission. Learn More
When it comes to furniture, the shabby, distressed look is big right now. 
It gives off a relaxed, vintage vibe, and the great thing about this look is that it can be achieved easily through a little DIY.
A lick of white paint on your old furniture will not only give it a new lease of life, but it's perfect for achieving that chalky, slightly distressed look that is huge in the decor world right now.
However, you might find yourself wondering how to achieve a 'distressed' look with white paint? 
In this article, we'll show you to 'distress' your furniture with white paint, and how to apply a rustic whitewash. 
How to distress furniture
This is one of the most popular methods for distressing your furniture.
For this, you'll need the following: 
Materials and Tools
Sandpaper

Paint

Paint brushes or rollers

Polyurethane

Candle

Steel wool

Stain (optional)

Drop cloths

Rags or tack cloths
Before you start, lay out the drop cloths and prepare the area where you'll be painting. It's a good idea to remove any metal hardware or knobs from the furniture so they don't get marked with paint. 
Sand/ clean your piece 
You'll want to work on a clean, sanded piece of furniture. If the furniture is unfinished, you can sand it lightly, whereas pieces that have been previously painted or treated will need to be sanded more thoroughly. 
This is also a good time to soften any sharp edges or corners, and be sure to give the piece a good wipe down once you're finished sanding.
Apply the paint 
Next you'll want to paint your furniture. 
How you want the finished piece to look depends on your paint application method. 
For a distressed look with the wood peeking through, one paint color will suffice, whereas some people use two colors of paint to make it look as though the piece has been painted before – this way the base color peeks through. 
Paint the piece all over, and apply a second coat if necessary. Then wait for the paint to dry completely. 
Apply wax and top layer of paint (optional)
If you want a second color to show through, you can rub a wax candle over the painted piece once it's dry. The next coat of paint won't adhere to the wax, and you'll be able to peel it away for that distressed look. 
After applying the wax, paint over the entire piece with your second color,  including the waxed areas. 
If you're not using two colors, skip to the next step. 
Use sandpaper and steel wool to distress the paint 
Once your piece is fully dry, you can use sandpaper and steel wool to distress the paint. 
If you applied wax, use steel wool over these areas to uncover the base color. 
If you used just white paint or one color, use the steel wool and sandpaper to rough up the edges and corners and add signs of 'wear' and 'distress.'
Once you're happy with the look, dust away any chips with a rag before moving on to the next step. 
Apply a stain (optional)
You can apply a stain on top of the dried paint if you want to give the piece of furniture a polished, antiquated look. 
Apply one coat of the stain and then use a rag to wipe off the excess – focus on using a straight motion, rather than rubbing in a circle. Then allow the stain to dry.
Protect with polyurethane
It's a good idea to finish your piece by applying a coat of clear polyurethane to seal and protect the paint. 
Wait for the piece to dry completely, and then you can reinstall any knobs or hardware.
How do you paint white rustic?
There are numerous techniques to apply white paint in a 'rustic' way.
By rustic we mean not pristinely painted – a little 'roughed up' and distressed rather than shiny and brand-new looking. 
You can achieve this look using the wax, steel wool and sandpaper methods mentioned above, though if you prefer a 'white-wash' effect, here's how to achieve it: 
You'll need:
White paint 

Paintbrush

Bucket

Paint stirrer

Sandpaper

Rag

Wood furnishing or surface

Dropcloth
Sand your furniture 
As with the first method, begin by thoroughly sanding the wood furniture piece to ensure the paint will adhere to the wood, as it's harder for the paint to do this when it's watered down.

Attempt to remove all traces of sealant or previous paint and wipe the item down with a rag.
Mix the whitewash
Mix white paint and water together to create your whitewash. 
You can experiment with the ratio, but a 1:1 ratio will give you a more opaque look, while a 3:2 (water to paint) ratio will give you a streakier, chalkier look. 
Apply your whitewash
Once you're happy with your whitewash ratio you can apply it to your furniture. How you apply it is up to you; a brush will allow the grain to show, a rag will provide a smooth look, or pouring it on directly will provide an all-over glaze. 
Just be aware that the whitewash is much, much thinner than paint, so apply with caution and make sure you've covered surrounding items and the floor. 
You can add a second coat if you wish, once the first coat is dry. 
Leave to dry
Let the whitewash dry for a few hours before touching. Even though whitewash will dry quicker than regular paint, it's best left overnight before using. 
And voila! – you're done — enjoy your new rustic-looking whitewash piece. 
Final Say 
Today we've shown you two methods you can do at home to achieve a rustic or distressed white paint application.
These techniques are a great way to revive vintage furniture without ending up with pieces that can look too jarring or pristine. The 'shabby chic' look is perfect for providing your home with a cosy, lived-in vibe, while remaining on-trend and original.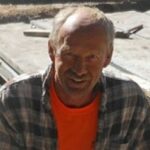 Jim Bettesworth well known for his can-do attitude and often takes jobs other companies were unwilling or unable to do. Experienced and educated in concrete construction and painting jobs. Read More.