ThatPainter is reader-supported. When you buy through links on our site, we may earn an affiliate commission. Learn More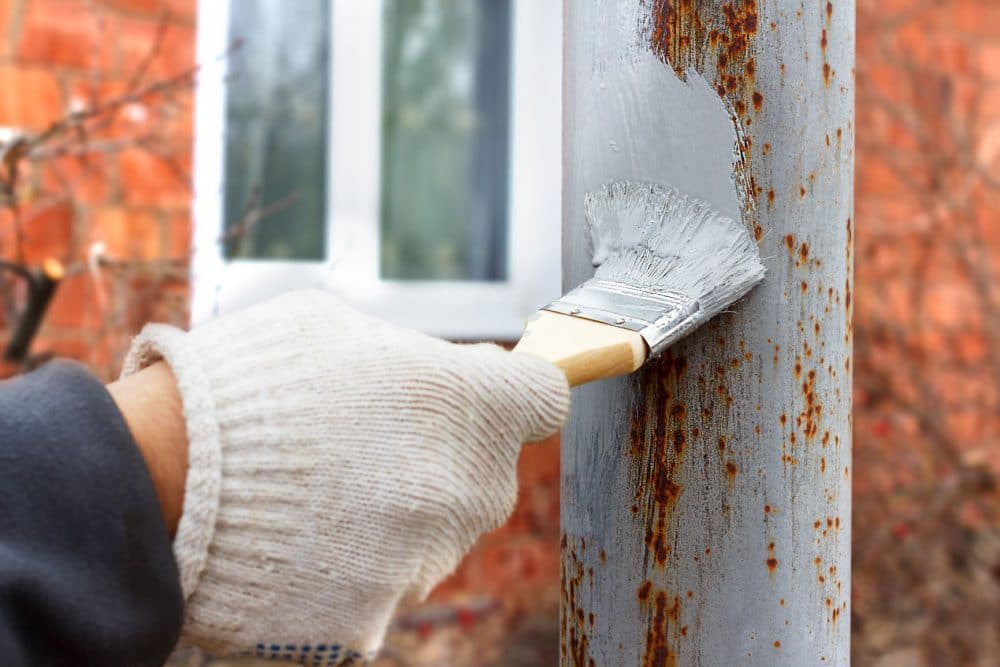 If you've got metal furniture around your house that you find yourself constantly repainting as the layer of paint keeps flaking off and revealing the rusted metal underneath, then you'll probably find yourself going mad or on the edge of throwing the furniture out.
What if we told you there's a way to get that rusted metal looking nearly as good as new and will be in tip-top condition ready for painting. 
Well luckily for you, there is such a thing and it's called paint primer for rusted metal. This wonderful creation will cover up all the rusted metal and create smooth surfaces ready for you to repaint whatever color you like. 
Paint primer for rusted metal will also prevent any future corrosion or flaking so it is a win-win for you.
Top 5 Paint Primers For Rusted Metal
Rust-Oleum, Black Rust Reformer Spray
Our overall top pick for best paint primer for rusted metal is the Rust-Oleum Black Rust Reformer Spray and it's not to see why with their countless positive reviews and the brand's great reputation for paint and primer formulations. 
The Rust reformer instantly converts rust to a protected, paintable surface and prevents the surface from any further rusting. 
This versatile reformer spray can be used on a variety of surfaces including outside furniture, automobiles, and even boat parts.
The small spray may put people off as you don't get as much product as you would from a tub of primer, but the spray nozzle makes up for it as it makes application incredibly easy as the can be sprayed from any direction – even upside down.
If you only need a paint primer for small projects, then the smaller size can be perfect for you and will leave no product to go to waste after you're finished.
The quick-drying formulation is a lifesaver and will have you finishing up your medium-size projects in under an hour. You also won't need to worry about applying a second coat as one coat offers excellent coverage, so once it's dry you can go straight in with your topcoat paint. 
PROS
Durable –

Prevents from further rusting

Quick Drying Time –

Dry in 20 minutes

Excellent Coverage –

Only needs one application

Easy application –

Spray works in every direction 
CONS
Small Spray Can –

Not the best for cost-effectivity 
Corroseal Water-Based Rust Converter Metal Primer
The Corroseal 2-in-1 metal primer and rust converts will prep your metal ready for painting with just one product. It's widely used in homes, marine, industrial and automotive environments to protect and prime equipment. 
The water-based formula restores metal surfaces and extends the lifespan of metal surfaces by protecting them from further rust and corrosion. The formulation is non-flammable and non-corrosive so can be applied to almost anything you need.
The Corroseal primer doesn't remove rust, but simply converts it into black enamel which makes it much easier to paint over with whatever color you like. 
The Corroseal formula is made for heavy-duty jobs so will be able to tackle any surfaces you require without the necessity of intense preparation of the surface before priming it. 
As the formula is water-based, you'll want to make sure to wear some rubber gloves and put down some sheets to avoid getting it everywhere. It can easily be removed from your hands with water and soap if you do manage to get some on yourself.
The Corroseal rust converter does emit a chemical smell which can be unpleasant especially if you're priming a big project, so ventilation equipment is recommended if you're not outside. 
PROS
Non-corrosive
Water-based formula –

Easy to clean up

Primers & Converts in 1 step –

Reduces the work you need to do

Easy to clean up –

Water and soap will do the job
CONS

Messy to use –

Will require more clean up afterward

Chemical smell –

Not pleasant to use for large jobs 
FDC Rust Converter Ultra, Highly Effective Professional Grade Rust Repair
The formulation converts the rust to an inert substance making it ready for painting without the need to scrub or sand beforehand, saving you loads of preparation time. It can be applied straight from the bottle and can be used with brushes or rollers. 
The 1-gallon container will be able to easily cover 500 square feet of surfaces and will prevent corrosion against the elements. 
It's a great option for using inside the home as it doesn't contain any dangerous chemicals or fumes, so you won't have to worry about getting it on your hands and there'll be no need to use ventilation equipment when applying it. 
The rust converter by FDC is versatile and can be used for automobiles, machinery, marine applications, and outside furniture so great for big and small projects around the home and in professional environments. 
FDC also offers a 30-day money-back guarantee if you're not happy with the quality of the product.
You'll need to take care when applying this rust converter as it easily stains fabric and concrete and will be near impossible to remove once it's fully dried. 
PROS
Versatile use –

Can be used in professional and home environments

Effective –

No need for preparation before applying

No harmful fumes –

No need for ventilation equipment 
CONS

Stains fabric and concrete –

Hard to remove once it dries

Inconsistent coverage
XIONLAB 2 In 1 Rust Converter & Metal Primer
The XionLab formulation is incredibly heavy-duty and is one of the only primers that can be applied on damp surfaces, so if you need to prime outside furniture you can do it regardless of how the weather is. 
The 2-in-1 rust converter and primer is UV resistant whilst also being corrosion resistant, so you're guaranteed durability when you apply this to whatever you need. This product is highly favored for car restorations due to the heavy-duty formula and great durability. 
This rust neutralizer can cover up to 1000 sq. ft. per gallon which is 2.5x more area than most competitor formulations, so you'll get some bang for your buck. You won't even need to apply a topcoat either which will save you both time and money. 
This XionLab is quite complicated to apply and puts many people off. It will need to be diluted with 20% water and used with a spray gun to apply it, which is inconvenient if you don't have the equipment.
The spray gun application makes cleaning up more difficult as smaller metal items will be harder to target without getting excess primer everywhere. 
PROS
Can cover up to 1000 sq. ft. per gallon –

More bang for your buck

Can be applied on damp surfaces –

Saves you time and effort

Quick drying time –

No waiting around
CONS
Difficult to apply –

Needs to be diluted and used with a spray gun

More to clean up after use –

Spray gun with get everywhere if item is smaller
TotalBoat Rust Primer Converter
If you're someone who's trying to stay on a budget then the TotalBoat rust primer converter will be the best option for you. The formula is easy to apply and can be used with paint rollers, brushes or even sprays so will suit whatever equipment you have lying around.
The phosphoric acid-based primer is versatile and can be used on cars, boats, tools, metal railings, and even more. The treatment converts the rust into an inert substance that leaves surfaces restored and ready for painting.
The rust converter can provide coverage of over 500 sq. ft. per gallon and will be able to protect the metal from any future corrosion.
The TotalBoat formulation is water-thin which is great as it dries very quickly, however it is more prone to dripping everywhere when applying it and can prove difficult to clean up afterward. 
The primer also leaves a white finish on the surface when it's dried, so you'll need to give it a good clean before you go in with your topcoat paint. 
PROS
Easy to apply –

Can be applied with roller, brushes, sprays

Wide range of uses –

Can be used on boats, cars, furniture etc

Prevents further rusting –

No need to do it again in the future

Converts the rust –

Creates a smooth finish to paint over
CONS

Formula is thin –

Can drip everywhere

Needs post-application cleaning –

Can take extra time
Buyer's Guide
What are the different types of paint primers for rusted metal?
Oil-based Primers – Oil-based primers act as a sealant on the surface of the metal and prevent the surface from rusting. 
Rust Converters – Rust converters act in a similar way to oil-based primers but they also convert the existing rust into a new compound that makes it easy to paint over. 
What are you using the primer for?
Different primers are formulated for different purposes and will only work effectively on certain metals. For example, some paint primers for rusted metal are designed specifically to be used on cars but can still work well for other surfaces.
You'll need to check with the product description what the primer is best used for, otherwise, the primer may not be as heavy-duty as you need it to be and won't work effectively to smooth the rust and create a fresh surface.
How much do you need?
One of the obvious considerations before purchasing will be how much paint primer you'll need to complete your project. Most paints and primers will state how much square feet of surface it can cover with just one gallon. 
If you've got a big job to do, then it's better to buy more primer thank you'll think you need it just in case you do run out, otherwise you'll have to go back to buy more and they may not have any left in stock. 
Tins of paint primers are more cost-effective in comparison to spray primers. Spray primers waste a lot of product, especially if your metal item is smaller as it can't target the area specifically. 
Appearance
Paint primers come in an array of different colors and textures.
If you won't be applying a top coat color to your metal item, then you'll want to try and get a paint primer color that is as close a match as possible to the metal. 
How to prepare for priming a rusted metal surface
If your metal is especially rusty, then you'll need to prep it before you can even think about priming it for painting. This step is not necessary if you're going to be using a rust converter primer. 
Using a metal wire brush or sandpaper try to remove as much loose rust from the metal surface as possible. When you've removed as much as you can, wipe over the surface with rubbing alcohol or white vinegar solution to clean the surface ready for painting. 
Frequently Asked Questions
What are the best paint primers for rusted metal?
The best paint primers for rusted metal are:
Rust-Oleum, Black, 248658 Rust Reformer Spray

Corroseal Water-Based Rust Converter Metal Primer, Rust Converter 

FDC Rust Converter Ultra, Highly Effective Professional Grade Rust Repair  

XIONLAB 2 In 1 Rust Converter & Metal Primer 

TotalBoat Rust Primer Converter
Do you need to prime metal before painting it?
If your metal item is going to be exposed to the elements then it is recommended to use a metal primer before going ahead with painting.
However, priming metal will help the paint adhere to the surface of the item better and will also prevent it from rusting in the future. If your metal item is rusty, you should sand it down and prime it before painting it. 
Can you paint primer over rust?
Yes, but you will need to remove as much flaky rust as possible before applying, otherwise, the paint primer will also flake off. The smoother the surface of the metal, the better the primer and the paint will adhere to it when it comes to painting. 
How do you prime rusty metal before painting?
Using a wire brush, scrub the rusted metal areas until all the rusted flakes and powder has been removed. Once all the flaky and loose rust has been removed from the surface, simply apply the metal paint primer and leave it to dry overnight. Reapply if needed.
Does rusty metal primer work?
Yes, rust metal primer works by smoothing the surface so the paint will adhere better to the metal. It also has properties that protect the metal from future rusting. 
Will painting over rust stop it from rusting?
If you properly prepare the metal before you paint it by sanding down the already existing rusting metal and using a good primer then both the primer and the paint should be able to prevent rusting from occurring again. Try to go for a corrosion-resistant primer and paint to help protect the metal. 
Does WD 40 remove rust?
Yes, WD 40 is a multi-use product and can be used to remove rust and protect metal items from rusting as well. To remove the rust effectively, you should soak the item in WD 40 and use a metal wire brush to scrub away the flakey rust. 
Can I use rubbing alcohol to clean metal before painting?
Yes, to thoroughly clean the surface and get rid of any dust before priming you can use rubbing alcohol to wipe down the metal. 
Can you use vinegar to clean metal before painting? 
Yes, you can use 1 part vinegar to 5 parts water solution and wipe over the metal surface. This will clean the surface and degrease the surface which will help the paint adhere to the metal.
It also prevents the paint from peeling in the future. However, wiping vinegar on metal before painting will not get rid of rust. 
Is there a special paint for metal?
Yes, most brands have formulated paints that are especially for metal. These paints are normally oil-based or water-based as they are the most durable and will not when exposed to the elements outside.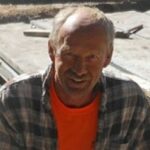 Jim Bettesworth well known for his can-do attitude and often takes jobs other companies were unwilling or unable to do. Experienced and educated in concrete construction and painting jobs. Read More.