ThatPainter is reader-supported. When you buy through links on our site, we may earn an affiliate commission. Learn More

Ever notice how brush marks can really ruin a paint job?
The whole point of painting a fence is to get it looking better, not worse. And brush marks do exactly that. It can ruin the look of the entire property. Shoddy paint job, shoddy place to be.
You'll find this to be especially true when you come to sell the property. People are only interested in properties that look like the real deal. And having to do the fence over can be really off-putting.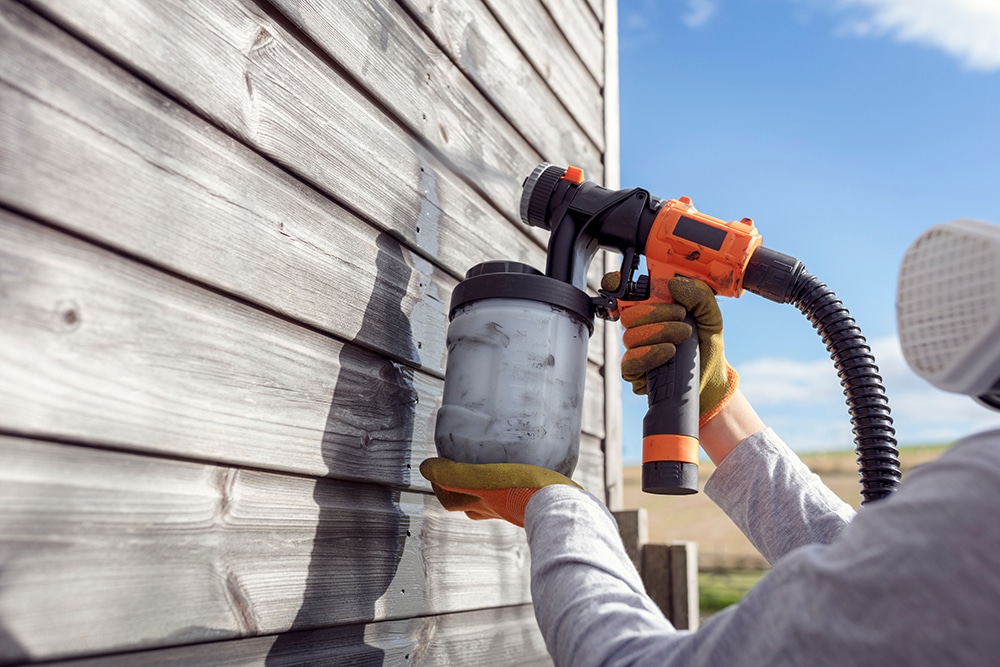 But, there don't have to be any brush marks on the fence if you were to use a sprayer to stain it rather than a brush. It's the perfect solution. You get perfectly even coverage, and no brush marks to speak of. And it makes the job quicker and easier too.
We've been checking out some of the best paint sprayers out on the market at the moment, and after much deliberation, we were able to handpick our top 5 favorites.
We're going to show our reviews on those very shortly, and after that, you might want to stick around for our user's guide and FAQ section. But first, here's a quick comparison table for you.
Top 5 Best Paint Sprayers for Staining a Fence
When we found out that this sprayer had won the Amazon Choice award for paint sprayer, we knew we had to check it out. The Amazon Choice award is only given to products that are of excellent quality but are available at a fair and reasonable price.
That said, we still consider this to be an expensive paint sprayer, given how many more affordable options are out there.
It's an electric airless paint sprayer with a long power cord. One of the things we love about it is that you don't have to thin out your stain (or paint) first before you can use it, and you don't have to keep filling up the container. There's a flexible suction tube in the box that will extract your wood stain straight from the bucket.
And you have complete control over the paint flow, because the pressure is fully adjustable. And with its TrueAirless spray tip, you get a softer spray finish with greater control and less overspray.
We also love how easy it is to clean afterward. There's a special Powerflush adapter that connects to your garden hose for quick and easy cleaning.
And if you are short and your fence is quite high, you don't need to worry. This paint spray is powerful enough to fire off your fence stain quite a distance.
It comes with storage compartments for you to keep all your bits together, including the spray gun, any extra spray tips, and the power cord.
PROS
Won Amazon Choice award

Electric airless paint sprayer

Paint straight from the bucket

Quick cleaning with your hose

Gets to the hard-to-reach areas
CONS
Premium product at a premium price
This paint sprayer has been flying off the shelves, ranking very high in the retailers' best seller lists. And customer feedback has been very positive.
It's an electric HVLP sprayer, which means that it uses a high volume of air at low pressure to atomize your paint stain into fine particles, resulting in an immaculate finish with negligible overspray. (More on the different types of paint sprayer in our user's guide.)
It's a stationary paint sprayer, which means that the weightiest part of the machine remains on the floor, and not giving you fatigue in your hands.
It has a Control Finish nozzle for a consistent finish, and the spray pattern can range from 0.5 inches, up to 12 inches wide depending on what setting you choose.
And that's not the only aspect of the machine that's adjustable. You can also adjust the air power to adjust the thickness of the stain onto the surface, and to adjust the overall paint speed.
A horizontal position would be best for staining your fence, but you also have the option to turn the cap to spray round or vertically for your other projects.
There are 2 cups in the box that you can use for your various paint spraying projects. We would advise you to use the larger 1.5 quart cup for staining your fence, and to use the smaller cup for any small fine finish DIY projects you might want to carry out.
It comes complete with a 1-year warranty, which is reassuring.
PROS
HVLP sprayer for a fine finish

Control Finish nozzle

Variable spray pattern

Adjustable air power

Stationary sprayer

1-year warranty
CONS
What we love about this paint sprayer is the bargain price – available at a fraction of the price of some of the other paint sprayers we're showing you.
But, of course, there's a "catch". This paint sprayer is just a paint sprayer and does not come with a hose. But it's still a great sprayer, and one that made the bestseller lists with retailers.
It's an electric HVLP sprayer, and a powerful one at that coming in at 500 watts. It has a large 1 liter container, so you don't have to stop to refill it too often.
There are 3 different spray patterns achievable, circular, vertical, and horizontal. The latter would be best for staining your fence.
And there are 5 copper nozzles provided in the box, each of different sizes, ranging from 1.2mm through to 3.0mm. Something for every kind of paint spraying project.
And these nozzles are of excellent quality. They're very durable and won't leak or clog. So much better than their plastic counterparts.
And adjusting the coating speed and the flow rate is as easy as turning the control dial.
And all the parts are detachable, which makes it super easy to clean after use.
If you click "check price" you will be taken to the product page which lays out how to use the sprayer and provides some excellent tips.
PROS
Bargain price tag

Electric HVLP sprayer

A large 1 liter capacity

5 copper nozzles

No leaking or clogging

Easy to clean
CONS
This is the paint sprayer that has got everyone talking on the net. The bestseller that customers rave about. And from a great brand too.
It's an electric airless paint sprayer, with a stainless steel piston pump that will let you spray paint unthinned, without having to thin it out first.
And better yet, there's also a suction tube included, so you can suck up the wood stain (or paint) straight from the bucket, rather than having to constantly refill some small container.
We also love how it features adjustable pressure. That way you have ultimate control of the paint flow. Simply turn it up or down as required. And with its TrueAirless spray tip, you get a softer spray finish with greater control and less overspray.
The hose it comes with is a whopping 75 feet long, so it has all the reach you need.
Our favorite addition to this particular model from Greco is their RAC IV switch tip. What this does is let you reverse the tip if it gets clogged up, so you can unclog the machine as soon as a problem arises, and get straight back on the job.
And the entire system is very easy to clean after a paint job. Thanks to the Powerflush adapter, you can connect the sprayer to your garden hose for swift and easy cleaning.
We also like how lightweight and portable the machine is too, very handy for carrying around the garden.
PROS
Electric airless paint sprayer

Paint straight from the bucket

Quick cleaning with your hose

Lightweight and portable

Easy to unclog
CONS
Only one nozzle provided

Premium product at a premium price
This is a very popular paint sprayer, very high on the bestseller lists with retailers, and comes highly recommended.
It's an electric airless sprayer with a very long cord and 450 watts of power. It also has a large 39 ounce capacity container, so you can get your fence stained quickly, easily, and without having to consistently stop to refill the stain container.
What we love about this paint sprayer is its finish. The precision brass spray tips and nozzles provide a superior result that puts their plastic counterparts to shame. There are 3 brass spray tips included in the box. The one you will need for staining your fence is the 1.5mm one.
We also love the material flow control knob, which really lets you tweak or customize the output as you see fit.
And you can still get plenty of use out of it once you've finished staining your fence, because it also works great on smaller projects like upcycling of furniture, and can handle the gamut of different paints and stains.
You can also adjust the air cap to spray horizontal, vertical, and round. So you can either stain your fence once it has been put up, or you can spray the wood before making it into a fence.
On the whole, it's quite easy and intuitive to use, and it comes with an owner's manual so you can learn when to use each type of nozzle.
We were also impressed with the manufacturer's 2-year warranty, and how their after-sales team is all USA based. Good to know.
PROS
450 watt electric airless sprayer

Large 39 ounce capacity container

Brass nozzles rather than plastic

Very nice finish

2-year warranty
CONS
Mid-priced rather than a bargain price
Buyers' Guide
As promised in our introduction, here's your buying guide. And here's what to consider when choosing a paint sprayer for staining a fence.

Type of Sprayer
There are 3 main types of paint sprayers.
Pneumatic air sprayers use compressed air to push out paint to the surface, producing a smooth and even finish.
Electric airless sprayers on the other hand work by pumping out paint at a very high pressure, fanning out droplets to evenly coat the surface.
Then there are HVLP sprayers, where HVLP stands for high volume low pressure. Like pneumatic air sprayers, they use a compressor to supply the air. But in this case, as the name suggests, it requires only low pressure to work, but a higher volume of air is required.
All these types of sprayers have their advantages and drawbacks, and we tried to include some of each type in our shortlist of our top 5 picks.
Volume
When you are painting or staining a particularly large surface, such as a garden fence, then it helps to use a sprayer with a large capacity paint/stain container.
This will prevent you from having to constantly stop what you're doing in order to refill the container. We recommend looking for a sprayer with at least a 1 liter paint/stain capacity.
Or, better yet, you could go for a paint sprayer that will suck your paint/stain directly from the bucket. Super convenient.
Nozzles
The nozzle you use when you stain your fence is paramount in determining the quality of the paint job.
You should choose sprayers with metal (e.g.brass or copper) rather than plastic ones, as the metal ones are far more durable.
You should also consider the size of the nozzle, since this will determine how much paint is sprayed at a time.
And for large projects, such as staining a garden fence, we would recommend going for a nozzle with a wide spray pattern, as this will help you to get the job done much quicker.
Adjustable Flow
There's nothing more frustrating than not being able to change the paint flow as you stain your garden fence. Too much pressure will lead to the stain being to thickly applied and risks becoming patchy. While too little pressure means you're not going to get enough paint on as quickly as you'd like.
That is why we recommend going for a paint sprayer with an adjustable pressure or paint flow.
Easy to Clean
Once you have finished one project with the paint sprayer, you will need to thoroughly wash and clean the sprayer before you start your next project. And you will need to do it sooner rather than later, so that the paint in the sprayer does not dry up and cause the machine to clog.
So, to that end, you should look for a sprayer that's easy to clean. Some paint sprayers, such as the YATTICH HVLP Paint Sprayer we showed you earlier are made up of detachable parts, and this can really help to make the machine easy to clean.
Or, better yet, you could go for a sprayer that can be cleaned by simply hooking it up to your garden hose, like the two Graco machines we showed you earlier.
Cost
Paint sprayers vary quite considerably in price, with some costing less than $30, and others costing over $300. In which case our advice to you is that you check the prices as you go along, and learn what your money buys you so you can decide on a budget.
And in deciding how much you're prepared to pay; you should consider how often you will use the sprayer. In putting together our top 5 picks, we were sure to include some budget options alongside the high-end stuff.
Customer Ratings and Reviews
Whenever you find yourself shopping for something online, you have the advantage of being able to check out how customers have rated the item, and whether they've run into any problems using it.
And while there is nothing wrong with checking out customer reviews, we would advise a little caution. This is because paint sprayers, as with many DIY tools, don't have the best reputation. People will always find fault, even with the best products.
Warranty
When a product comes with a warranty, this is a sign of quality. It's also a sign that the manufacturer does care about how well their product performs for their customers.
If you go for a product with a 1-year or perhaps a 2-year warranty, then you know you'll be in very good hands.
Frequently Asked Questions
What size nozzle do I need to stain my fence?
Whenever you're using a paint sprayer, we advise you to refer to the user's manual with regards to which nozzles to use on each type of occasion.
If, however, you mislay your user's manual, then we would recommend a tip with an 8 inch wide spray pattern, together with a 0.13 hole size for optimum control.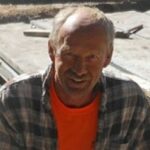 Jim Bettesworth well known for his can-do attitude and often takes jobs other companies were unwilling or unable to do. Experienced and educated in concrete construction and painting jobs. Read More.