ThatPainter is reader-supported. When you buy through links on our site, we may earn an affiliate commission. Learn More
If you are wanting to repaint your door then you will want to avoid the mistake of having visible brush marks.
This guide will teach you how to prep your door so it can be painted as well as the techniques you need to learn in order to avoid brush marks.
Being able to complete this DIY task can set you up for future projects around the home both interior and exterior and build up your confidence and skill set.
For those who haven't tried out many DIY projects before, this is a great place to start and can save you a lot of money as you don't have to pay for a professional. 
When it comes to painting doors, it is important to have some basic painting skills under your belt before applying the paint.
This is because it may look easy but making sure that you paint evenly and without brushing strokes can be difficult to achieve, especially if you don't have basic painting skills under your belt.
No matter what color you choose, you'll be able to detect brush marks so for those who want that sleek and professional finish, this guide is going to help you achieve this. 
You have to make sure that you are putting the correct amount of paint onto the brush as too little paint won't give the desired coverage and too much paint is going to create drips and lumps in the finished result.
Make sure that you dip the tip of the brush into the paint and then tap the brush on both sides to get rid of any excess. This makes sure that the brush will retain as much paint as possible without any spillage. 
Another mistake often made by beginners is fully submerging the bristles into the paint but this won't give you the control when applying the paint.
Make sure you are only dipping the tips into the paint so the paint can be applied delicately and correctly as a thick application will cause unevenness and blatant brush strokes. 
Supplies
Before you begin painting your door, there are a few supplies that you will need in order to prep your door before any application. 
Sanding sponge
The sanding sponge will help you to sand the door down. This will get rid of any unevenness that may be visible on the surface so the paint will be easier to apply and have a better result.
Make sure that you are not applying too much pressure with the sanding sponge as this can cause even more unevenness. 
Quality paintbrush
It may seem best to get the cheapest paintbrush you can find, however, the paintbrush you use can be the difference between a successful or unsuccessful paint job.
There are plenty of reputable brands such as Wooster and Purdy that provide the highest quality brushes thanks to their pro grade materials which will also make painting easier. 
If you don't want to use a paintbrush for the whole door then you can purchase a paint roller. This will mean that you have an even distribution as well and get the job done in a quicker amount of time. 
Paint
The best kind of paint that you should look at is water based latex paint which is the same kind of paint used on walls.
If you have some old paint that you wish to use that is okay but make sure it has been thoroughly mixed properly before application. On the other hand, new paint will go on smoother for easier application.
Drop cloth
Having a drop cloth will ensure that the paint isn't going to splash onto undesired surfaces such as the floor or neighboring walls. 
How to paint a door without leaving brush marks: Step by Step Guide
Step 1: Evaluating the prep work
Naturally before embarking on any project, you want to make sure that the surface is smooth and clean so the paint can be applied correctly and properly. 
Using your sanding sponge or sandpaper, rough the door up. This will even out any lumps and bumps and prepare the door for the paint. 
Now you have to clean the surface using a power washer so there is no dirt or debris on the door when you apply the paint which can cause lumps when dried. You can also use a damp cloth in order to remove any trace of dust in order to maximize the paint adhesion. 
Spackle and caulk
Doors have to be caulked and sanded in order to bring the best results. If you don't then there may be small holes and corner parts that won't be covered with paint.
Spackle the small holes and then sand them lightly once the spackle has dried. Caulk the inside of panels where there are gaps as this will give you a more professional finish.
Step 2: Removing the door, door handles, and door hardware (optional)
This step is optional and is entirely dependent on how you want to paint.
Professional painters usually remove the door from its hinges and stand it up between thin pieces of lumber so it can stand on its own making application a lot quicker and easier. They also tend to use paint sprayers for an even application. 
Although removing the door may take a bit more time, you will have a better view of the whole door if it is standing separately. However, it is entirely up to you whether you choose to do this step. 
Tape or remove the door hardware
If you don't want to remove the doorknob or locking mechanisms then you can simple place tape over them with painter's tape. This will help to prevent any scuff damage to the metal parts, especially during the sanding process. 
Step 3: Applying the primer
A door that has never been painted on previously will always need a coat of primer. If you are painting a door that has been painted then it is always advised to apply primer as this will help the new color be more vibrant. 
The best place to start is by reaching the places on the door that are hard to reach, especially if you are not removing the door.
This will ensure that the whole door is going to get the coverage that it needs before you apply any paint. These will be accessible with your paintbrush or a small paint roller. 
Step 4: Applying the first coat of paint 
If the door is brand new then you will have to sand the primer down once it has dried so the surface will remain smooth. If you sand in between coats then you'll have the best results and the most even surface. 
When it comes to choosing your paint, you want to consider where the door will be so it will have durability.
For most doors, you'll probably be using a semi gloss latex paint which is water based and is the best option for avoiding brush marks thanks to their smooth finish.
If the door is exterior then you'll have to purchase a paint that is designed for exterior painting as the paint will chip away during tougher weather conditions. 
Before selecting your paint, consider what your door is made from. For metal doors there are paints designed to be painted on metal but for interior panel doors which are the most common kind of door then latex paint is the ideal choice. 
Step 5: Lightly sanding between coats
Always make sure that you are reading the drying time on your primer and paint before you are sanding in between coats.
Sanding out the first coat of paint is going to smooth out the surface and will get rid of any brush strokes so when the second coat is applied, the surface is going to be even and smooth. 
Bear in mind that you needn't rough up the surface too aggressively or too hard. Just making sure that the paint has been sanded a bit until it feels smoother will be enough. If you sand too much, it may cause unevenness in the surface. 
Step 6: Applying the second coat/topcoat and let dry
The likelihood is that you will have to apply two coats of paint on your door. This will ensure that the color has been locked in and is going to look as true to the top results as possible.
Making sure that you sand in between coats will reduce the chances of brush strokes appearing. 
When the second coat has dried, if there are areas that you notice that need more work, you can touch up. To do this, put a small amount of paint on the brush and dab the areas lightly so there won't be any brush strokes or lumps once this has dried. 
Other ways to paint your door
If you are keen to paint your door but don't want to paint using a paintbrush, there is another method that you can use that will take less time. You can invest in a paint sprayer that will get the job done in a fraction of the time.
Paint sprayers are great because they provide even coverage on the whole surface. Another method to paint your door is using a paint roller which can distribute the paint quicker than a brush whilst also providing even coverage.
For those who want to spray paint their door, there are plenty of affordable options available making it both cheaper and quicker for convenience.
They are incredibly easy to use and clean so you can use them for numerous projects. In terms of the cost, you'll find that the cost of a sprayer is cheaper than purchasing all the brushes and roller handles if you are going down a more traditional route.
Handheld HVLP sprayers are the best option and can be used for both interior and exterior projects meaning you can get a lot of use out of them. 
What's the best advantage to investing in a sprayer? You're eliminating the possibility of brush marks because you're not using a paintbrush at all.
You will have to watch out for any overspray and masking the job properly to avoid any spillage or unevenness in paint distribution.
If you are using a sprayer then consider mixing floetrol into your paint so it will have a smoother application. It's not entirely necessary to do this but it can help to thin paint out if it is too thick. 
Conclusion
In conclusion, eliminating brush strokes from your door is easy to do if you follow the instructions carefully.
Although it may take a bit of time to do perfectly, it will save you a lot of money compared to hiring a professional to do it for you. Painting your own door will also give you some skills and encouragement to try out other DIY projects. 
Rather than just purchasing the cheapest options that you can find, take into consideration the material of the door, where the door will be placed and the type of primer and paint that you will be using.
By taking the time to properly research, you'll be guaranteed to have a better result and won't have to spend even more money trying to redo the project after a short period of time.
Good luck with your project!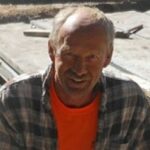 Jim Bettesworth well known for his can-do attitude and often takes jobs other companies were unwilling or unable to do. Experienced and educated in concrete construction and painting jobs. Read More.