ThatPainter is reader-supported. When you buy through links on our site, we may earn an affiliate commission. Learn More

Are there unsightly oil stains on your garage floor or driveway? Whether your lawnmower sprung a leak months ago or you fumbled the last time you serviced your vehicle, those crude oil blemishes aren't going to wash away on their own.

As a first-time homeowner, I didn't realize how important it was for me to stay on top of the oil stains on my driveway. It didn't take long for a faulty oil seal to destroy the cement drive in front of my house. It took me a while to get around to fixing my car and cleaning my driveway. When I finally did, I realized how much of a headache oil stains can be.
Oil has no trouble seeping deep into the nooks and crannies of porous materials. In many cases, crude oil stains resurface even after they've already been treated.
The good news is that there are plenty of proven ways to remove oil stains from concrete surfaces.
What You'll Need
Here's a list of the supplies you are going to need for each of the following oil stain removable methods.
Detergent Method
Strong detergent
Durable scrub brush
Water
Durable plastic bucket
Poultice Method
Trisodium phosphate (TSP)
Water
Durable plastic bucket
Rubber gloves
Protective eyewear
Diatomaceous earth (or other absorbing agent)
Nylon broom
Dust pan
Paint scraper or other flat tool (for spreading poultice)
Plastic (Saran wrap, trash bag, or something similar)
Duct tape
Alternatives Drawing Agents
Baby powder
Baking soda
Flour
Powdered sugar
Molding plaster
Chalk
Kitty litter
Alternative Solvents
Bleach
Acetone
Hydrogen peroxide
Household bleach
Degreaser Method
Concrete degreaser
Nylon broom or scrub brush
Water
How to Remove Oil Stains With Detergent

If the oil stain is still sinking in the cement, you might want to consider cleaning it with a bit of strong detergent.
1. Wet the Stain
2. Apply a Strong Detergent
If the stain is still wet, grab whatever liquid dish soap or laundry detergent you have. If you work fast, you may be to prevent the oil from actually staining your concrete.
3. Scrub the Stain
Use a stiff nylon scrub brush and a durable sponge to work at the stain.
4. Rinse Away the Detergent
Use your garden hose to rinse away any remaining detergent.
5. Access
Take a look at the stain. If discolorations remain, consider trying one of the more aggressive stain-removing methods in the section below.
6. Apply a Makeshift Poultice
Mix some household detergent with baking soda to make a makeshift poultice. Apply the paste to any residual stains. Let the homemade mixture sit overnight. Cover it with durable plastic sheeting. Then, tape it down to prevent children and pets from disturbing it. You can check it after 24 hours. If this method does not work, you may need to employ a more powerful chemical solvent.
How to Remove Oil Stains with a Poultice
A poultice is a solution that consists of a chemical solvent and a drawing agent. These solutions are applied directly to concrete- and asphalt-based oil stains. These agents draw crude oil to the surface of the pavement. When the oil reaches the top of the pavement, it is pulled in and trapped by the drawing agent.
1. Prep the Stain
First, take the time to remove any debris and other materials from the stained area. Use a garden house to wet the concrete. Then, use a stiff brush to remove any remaining residue.
2. Prepare the Poultice
Now, it's time to prepare the poultice. If the stain is fresh or small, try making a poultice from common household ingredients. Mix acetone with flour or powdered sugar (see the list above for several alternatives) until the substance has a peanut butter-like texture.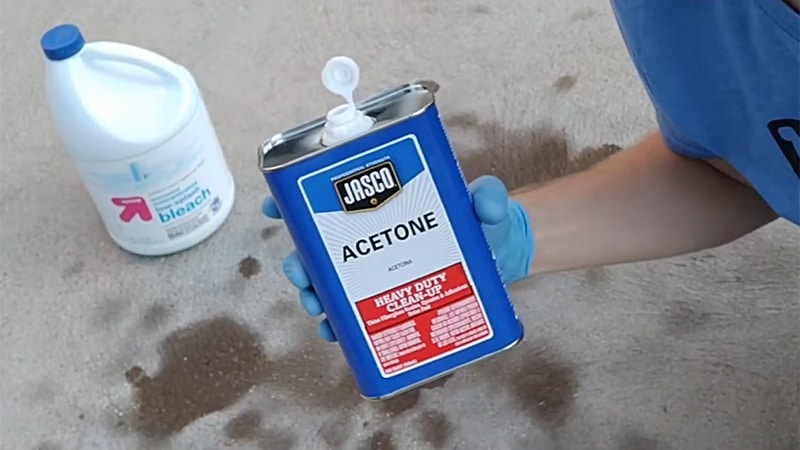 Older, larger stains tend to require more substantial chemical intervention. For such blemishes, consider mixing trisodium phosphate (TSP) with a durable drawing agent, such as diatomaceous earth or kitty litter.
Be sure to wear rubber gloves and eye protection whenever you are handling harsh chemicals.
3. Apply the Poultice
First, dampen the stain with the same chemical solvent you used to make your poultice. Then, use a spatula, paint scraper, or another flat tool to spread a thick layer of the mixture over the stain. Your initial application should be roughly ½ inch thick. It should cover the entire surface of the stain.
4. Cover with Plastic Sheeting
Use plastic wrap or a cut-up trash bag to cordon off the treated area. Tape the plastic sheeting in place using duct tape.
5. Wait 24 to 48 Hours
Allow the poultice to work its magic. Depending on the severity of the stain, you must let it soak in for 24 to 48 hours. No peaking! These things take time!
6. Remove the Poultice
After a day or two, remove and discard the plastic sheet. Then, use a paint scraper to scoop up the poultice. Be sure to dispose of the chemical residue right away. Store it away from curious pets and small children. Of course, don't forget to don rubber gloves and eye protection during the cleanup process!
7. Rinse and Repeat
After you have wiped away any remaining poultice, you must flush the area using a powerful garden hose, a pressure washer, or boiling water. At this point, you should be able to evaluate the.
If there are still unsightly blemishes, consider repeating this method or trying a more caustic commercial poultice.
How to Remove Oil Stains Using a Commercial Degreaser
1. Apply a Commercial Degreaser to the Stain
Apply a generous amount of low-VOC commercial degreaser to your crude oil stain. Products such as simple Simple Green, Oil Eater, Goof Off, and Krud Cutter usually do an excellent job of cutting through grease and oil stains.
Oil Eater Original Cleaner/Degreaser
Non-toxic, non-corrosive, non-hazardous, USDA approved
Water based and biodegradable
Concentrated product
Check Price


Many businesses use d-limonene for routine pavement maintenance. D-limonene is a chemical concentrate that is derived from the rinds of citrus fruits. It is one of the most effective eco-friendly cleaning ingredients on the market.
If you're treating a stain on your driveway or outdoor patio, take care to choose a chemical degreaser that won't harm your grass, plants, and nearby wildlife.
2. Scrub the Area Using a Wire Brush
Use a stiff wire brush to massage the degreaser into the stained cement. This step is particularly important, as you need to be able to work the chemical cleaner deep into the nooks and crannies of the concrete.
3. (Optional) Cover the Engine Degreaser with Kitty Litter or Another Drawing Agent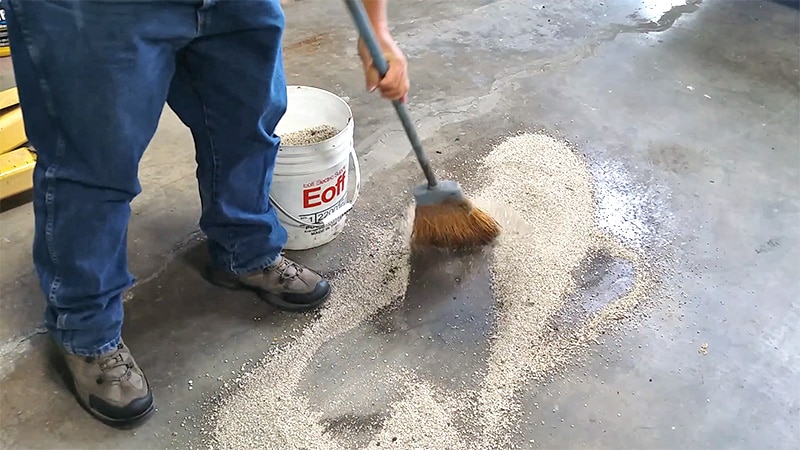 Turn that commercial degreasing product into a powerful poultice. Mix it with kitty litter or diatomaceous earth. Or else, sprinkle it over the treated stain. Then, let it sit for a few hours. Over time, the agent should be able to pull some of the oil out of the cement. The drawing agent should help pull the oil right out of the asphalt. Plus, it will make your cleanup process much easier.
4. Remove Drawing Agent
Use a flat tool or stiff brush to wipe away any remaining drawing agent.
Remember, the drawing agent sucks up the chemical solvent and the oil. You must always don rubber gloves and other protective equipment when handling these toxic substances.
5. Rinse
Use water to rinse away any remaining residue. Boiling water or a pressure washer may be used to speed up the process.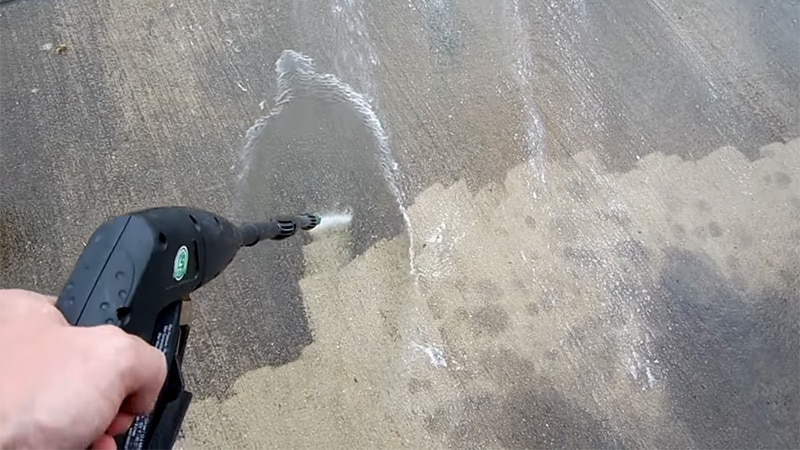 6. Repeat
Grease stains can be very stubborn. Don't give up hope just because you didn't get instant results. When in doubt, rinse and repeat!
Alternative Cleaning Concepts
Here are a few alternative methods for removing oil stains from concrete surfaces.
Try Single-Cell Microorganisms
Want in on a cutting-edge cement cleaning alternative? Many cement experts herald the benefits of single-cell microorganisms. Single-cell organisms have even been used to clean large-scale oil spills. Popular single-cell microorganism cleaners include Terminator-HSD and ACT Concrete Cleaner. The organisms in these eco-friendly cleaners actually thrive on a diet of crude oil. Other than that, they are not harmful to the environment.

Terminator-HSD Eco-Friendly Bio-Remediates and Removes Oil & Grease Stains on Concrete
ECO Friendly and Powerful Oil Stain Removing
Large Stains Removed
Easy-to-Use
Check Price


For the best results, follow the manufacturer's instructions.
WD-40
WD-40 is yet another homemade remedy for cement-based motor oil stains. WD-40 is a water-displaced agent that contains a specialized blend of lubricants. Fortunately, you do not need to worry about the WD-40 discoloring your driveway. If you already have WD-40 on hand, then this may be an excellent budget-friendly cleaning option for you.
1. Apply WD-40

Apply a generous amount of WD-40 to the motor oil stain, and let it sit for a half-hour.
2. Work in the Water Displaced
Use a stiff nylon brush or steel brush to work the WD-40 into the cement.
3. Rinse
Use the spray setting on a garden house or a pressure washer to rinse away any remaining stains or chemical residues. Be sure to cover your skin, hands, and eyes.
You may also use boiling water to flush the area of any remaining cleaning agent.
Try Coca Cola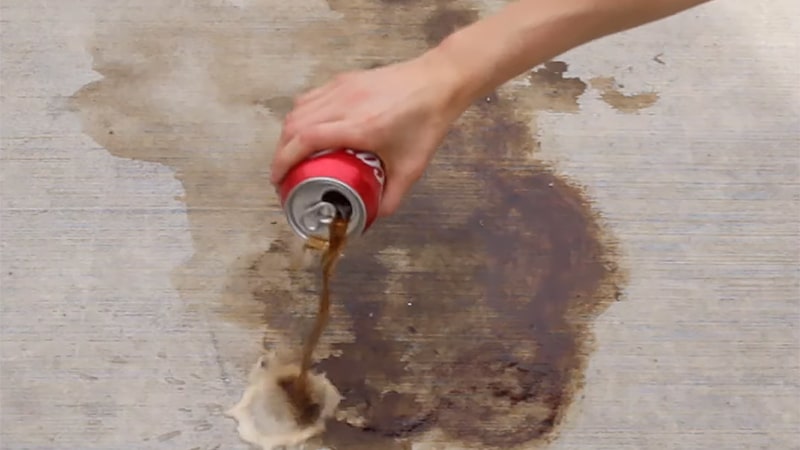 Coke is yet another an oddly reliable cleaning solvent when it comes to removing motor oil stains.
1. Pour a Liter of Coke on the Oil Stain
Pour a liter of coke on the stain. Let is soak in overnight.
2. Use Some Elbow Grease
After 24 hours, you can return to the Coke-soaked area. Use a stiff brush to massage a bit of soap and water into the blemish. Then, use boiling water flush away any remaining residue.
A Few Reminders
It is important to remember that crude oil sinks deep into the hidden layers of cement surfaces. It is not uncommon for oil stains to resurface. For this reason, it's never a good idea to cover a crude oil stain with cement sealer or paint. While many of these stain-removing processes take patience, they are often preferred to harsh and expensive chemical alternatives.
Keep in mind that cement-based oil stains are quite common. Take the time to deal with these unsightly issues while they are still wet.
Wrapping Up
We hope you enjoyed our tips and tricks for removing those stubborn and unsightly concrete-based motor oil stains. While it is not easy to extract grease and oil from porous surfaces, we think that the previously mentioned cleaning methods do a pretty good job of restoring driveways and garage floors.
It may take you several cleaning sessions to remove a stain. If a blemish is very large or old, you can expect to spend more time and effort removing it. Remember, you should always start with homemade cleaning agents and move on to more caustic cleaners when they don't work.
Have you recently removed an oil stain a cement surface? If so, let us know what method you used and how it turned out.
Richard Jenkins is a 33-year-old Professional Painter that applies paint on the interior and exterior surfaces. Qualified in painting technology knowledge, physical fitness, stamina, teamwork, and attention to safety. Read More.