ThatPainter is reader-supported. When you buy through links on our site, we may earn an affiliate commission. Learn More
I recently repainted my living room walls. I was absolutely smitten with my color choice. However, in all my jubilation, I failed to notice the paint splatter that had accumulated on my hardwood floors. I mean, it looked as though Jackson Pollock had graced my home with his prodigal brush. As you can imagine, I desperately needed to find a way to remove the paint.
After consulting with a contractor, I learned that removing paint spills is, for the most part, a simple, straightforward process. Depending on the size and stubbornness of a spill, you may need to soak or scrape the paint before removing it. If your less of a dunce than me, you may even consider wiping wet paint up before it gets the opportunity to dry. If not, enjoy our go-to methods for removing dried paint from wood floors.
What You'll Need to Remove Paint from Wood Floors
Main List

Rubbing Alcohol
Lemon Juice
Dish Detergent
Blade Tool
Rags
Nonabrasive Nylon Scrub Brush
Denatured Alcohol

Alternatives

Goo Gone or another Commercial Degreaser
Putty Knife
Hammer
Pull Scraper
Scouring Pad
Steel Wool
How to Remove Latex Paint From a Wood Floor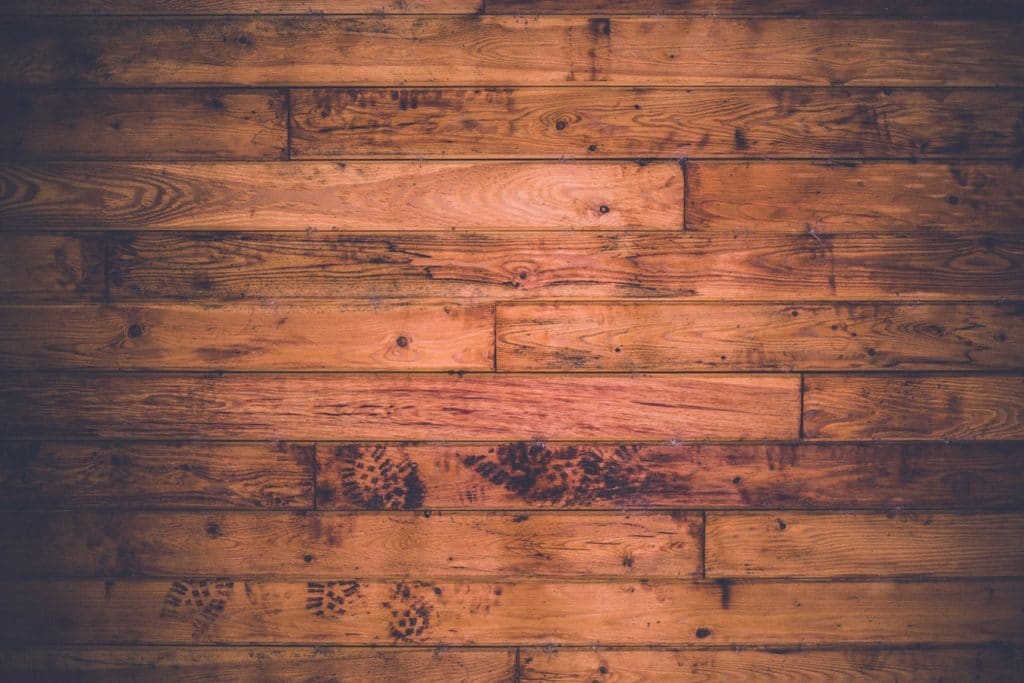 Splotches of latex paint will detract from the quality of your wood floors. Fortunately, it's possible to remove paint even after it has dried.
Try Frist. Non-Toxic Method
Step 1 – Scrape Away Dried Paint
Use a putty knife or blade tool to scrape away any dried paint. If you don't have the previously mentioned tools, use a simple straight-edged object, like an old credit card or spatula.
Step 2 – Try Spirits
Create a mixture of one part lemon juice and two parts rubbing alcohol. Then, use a clean cotton rag to apply the concoction to the paint stain on your floors. Allow the paint to thoroughly absorb the liquid concoction.
Step 3 – A Nylon Scrub Brush
Then, use a nylon scrub brush to loosen the latex paint from the surface of the wood floor. After that, use a rag to wipe away any remaining debris and/or residue. Repeat this process until all of the latex paint has been removed from the surface of your wood floor.
Rubbing Alcohol - Solimo 99% Isopropyl For Technical Use
Contains 99% isopropyl alcohol
For technical use
16-fluid ounce bottle
Check Price

Quick Money-Saving Pro Tip: Save money on supplies by using a clean toothbrush instead of a nylon scrub brush.
Chemical Solvent Method
Step 1
If that doesn't work, you may need to up the strength of your attack by using a chemical cleaning agent. Using a clean cotton rag, apply denatured alcohol to any remaining patches of latex paint. Work the denatured alcohol into the stain using a rubbing motion.
Step 2
Use a wet rag to remove any debris or solvents from the surface of your wooden floor. Voila! They should be sparkly and free from paint.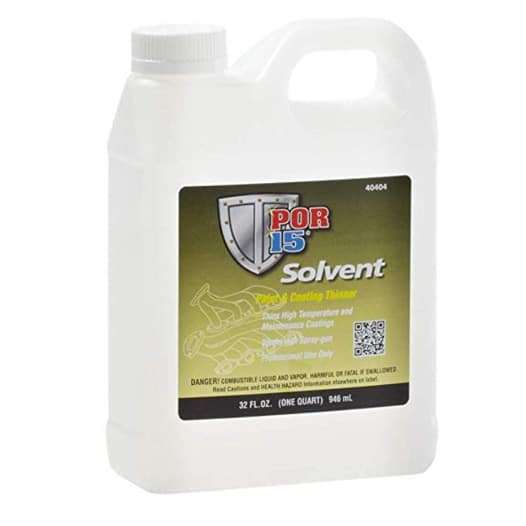 POR-15 40404 Solvent
SOLVENT - 1 QUART
POR-40404
Check Price
How to Remove Spray Paint From a Wood Floor
It's quite a bummer to discover that your floors have suffered a blow from the hands of an accidental graffiti artist. Spray paint overspray is a common issue. So, you tear your wooden floorboards up in a fit of rage, attempt one of the quick and simple removal methods.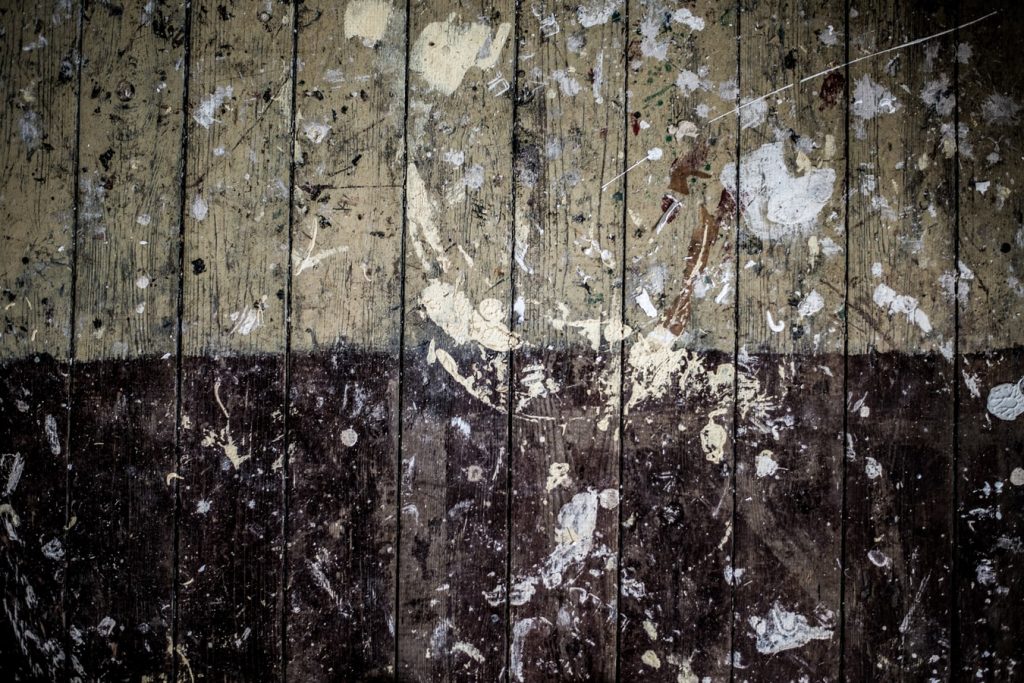 Non-Toxic Method
Blade Tool
To start things off, use a blade tool to remove as much of the spray paint as possible. Angle the blade so that it runs parallel to your floorboards. Pro Tip: Avoid accidentally digging the blade into your wood floor. Unsightly gashes and spray paint are not an ideal combo.
Nylon Scrub Brush
Saturate the spray paint stains with a mixture of lemon juice and rubbing alcohol. Then, use a nylon scrub brush or an old toothbrush to scrub away the stains. Keep a clean rag on hand to blot up any residue.
Weber Odorless Turpenoid
An ideal thinner for oil paint colors and oils
Cleans oil painting brushes and accessories
Hypo-allergenic turpentine substitute is odor free
Check Price
Chemical Solvent Method
Step 1 – Commercial Removers
If that doesn't work, consider using a commercial paint remover. Goo Gone, Goof-Off, and OOPS are all popular options that you can find at your local home improvement store. These products are designed to remove surface stains without harming the surface of a wood floor.
Step 2 – Rag or Cotton
Use a clean rag or cotton swab to apply a modest amount of paint remover to the paint stain.
Step 3 – Take Some Time
Follow the manufacturer's instructions. Most paint removers need to soak for an extended period of time. After your solvent has properly permeated the stain, use a clean rag to dab away the remaining residue. Then, use a soapy rag to wipe away any remaining solvent.
Step 4 – Try Alternative
Denatured alcohol is yet another powerful solvent that can be used to break down spray paint stains. Apply a modest amount of denatured alcohol to the stain. Let it soak in and work its magic. Once the paint has absorbed the alcohol, use a clean, dry rag to wipe away the loosened residue.
Step 5 – Or Do It The Hard Way
Spray paint stains can be super stubborn. When this is the case, use a nonabrasive scrub brush to gently exfoliate the stain and strip it away from the surface of your wood floor.
Step 6 – If None of Above
Apply a small amount of olive oil to any overspray on your wood floors. Allow the olive oil to permeate the stain for at least 5 minutes. Then, use a plastic putty knife to scrape the paint stain from the surface.
Pro Tip: Clean up! Use soap and water to wipe away any remaining residue. Solvents that are left on a stain too long have the potential to strip away some wood floor coatings.
How to Remove Paint From a Wood Floor Without Damaging the Finish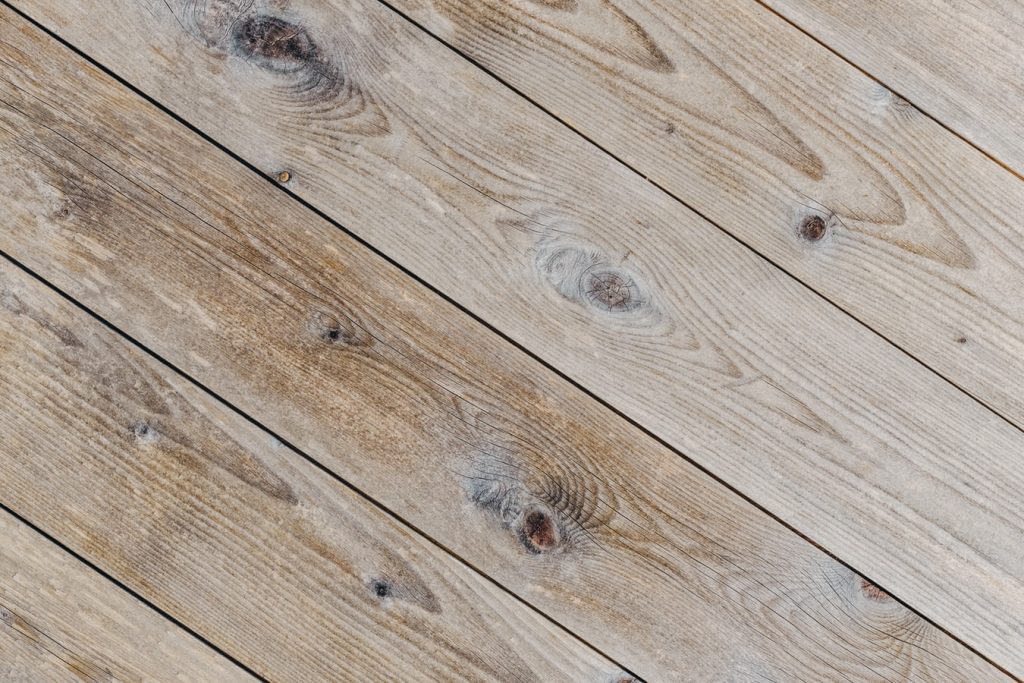 When it came time to remove the paint stains from my floor, I was terrified that I would damage the finish underneath. I was sure that strong solvents, rough brushes, and ample friction were a recipe for destruction. For those of you that are equally anxious, the following processes offer destruction-free paint removal.
Heat Method
Use Hairdryer to Soften Paint
Use a hairdryer to gently lift up your paint stain. A little bit of heat will help lift caked-on paint from the floorboards. Keep your hairdryer on a low setting. This will help you to avoid damaging your wood floor's finish.
Scrape Paint
Once the paint has softened, use your paint scraper to pull it off the surface of the floor.
Chemical Solvent Method
Apply Chemical Solvent
Apply a small amount of chemical solvent to your paint stain. Keep in mind that solvents are tailored to treat either water- or oil-based paints.
Use a Pull Scraper
Occasionally, paints will seep into or bond with the surface of the floor. In such cases, it is best to use a pull scraper to eradicate the stubborn discolorations. A pull scraper can be used to gently peel away the paint without damaging the underlying wood.
Touch Up & Finish
If you did a little damage to your wood floor, touch up the surface. Sometimes, blemishes are unavoidable. Still, it is far easier to overlook discolored finish than it is to ignore a rainbow of paint dribble. If you damage your wood floor finish, use a bit of leftover stain to touch up and reseal the blemishes.
How to Remove Dried Paint From a Wood Floor
Are you looking to remove dry, set-in paint from the surface of your wood floors? We had this same issue when it came time to renovate our parents' 100-year-old bungalow. The ample amount of paint splatter on the pine floors told us that this house had been the victim of quite a few amateur paint jobs.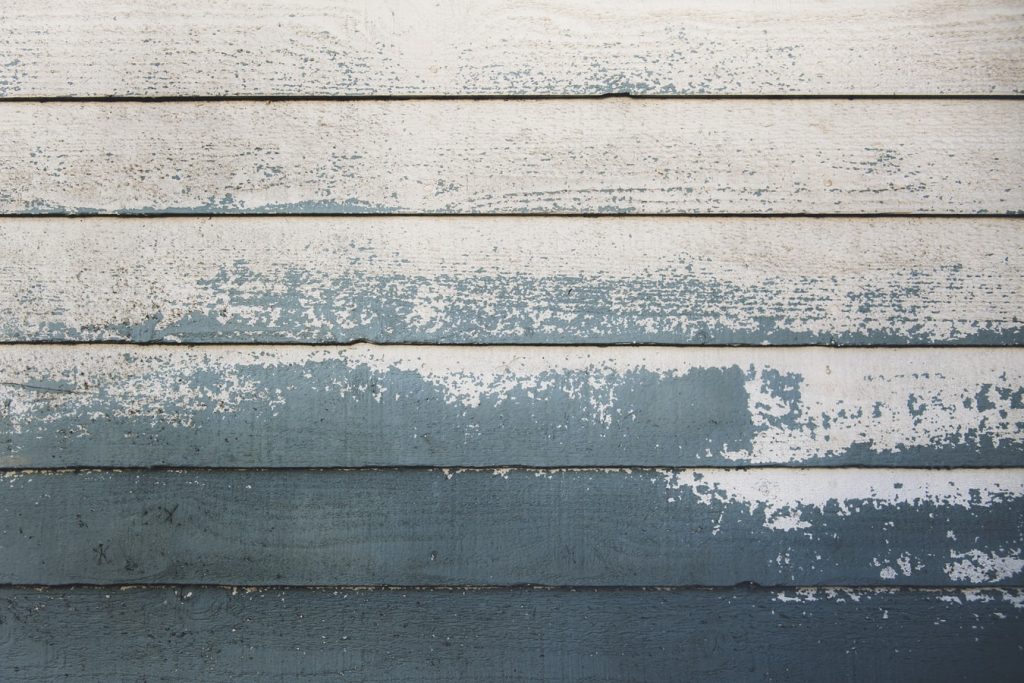 This goal can be accomplished in a quick and painlessly. Check out how we safely rejuvenated our antique pine floorboards.
Boiled Linseed Method
Boiled linseed oil is an all-natural substance that can be used to safely eradicate paint stains.
Step 1 – Apply a small amount of linseed oil to a clean rag.
Step 2 – Wipe away the paint with a clean rag and a plastic putty knife.
Heat Gun Method
Step 1 – Head Gun
Use a heat gun or steamer to separate paint from the surface of your wood floors.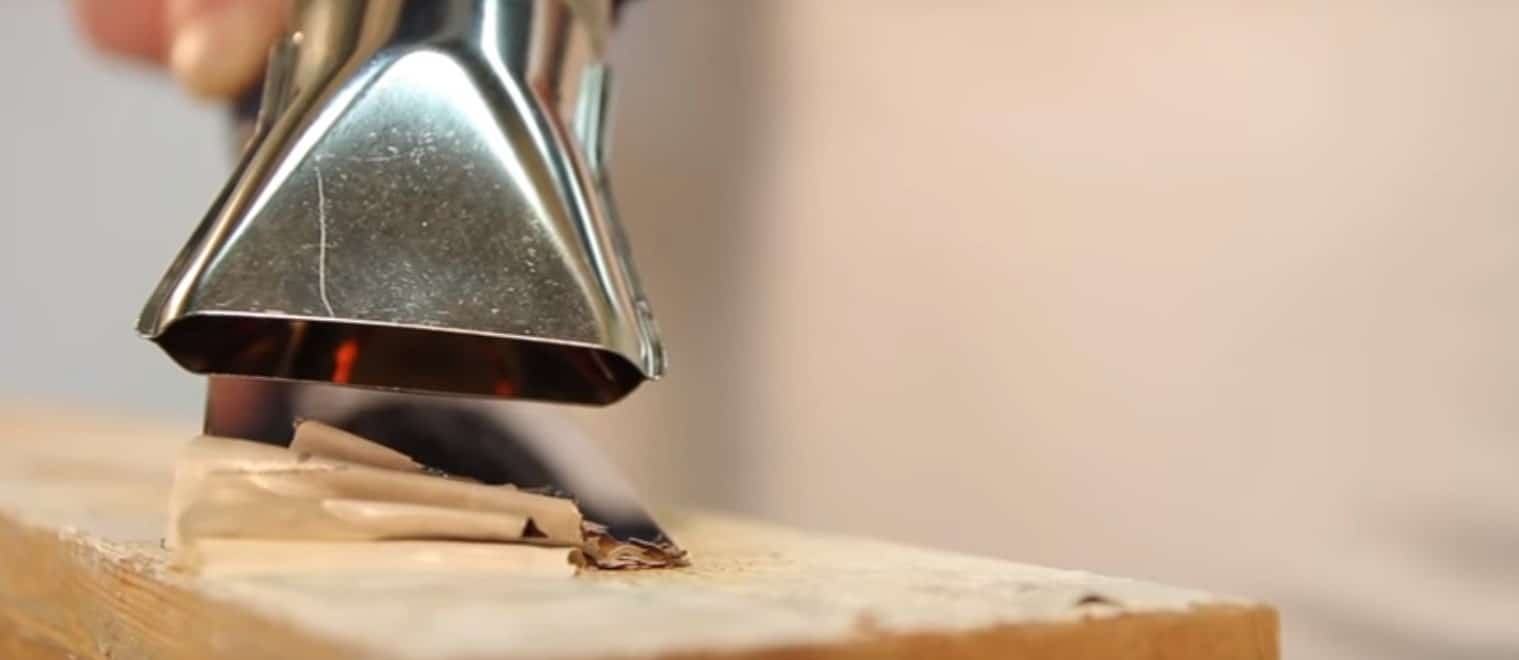 Step 2 – Strip Dried Paint
Use a heat gun to safely strip dried paint from the surface of your wood floors. To do this, place the heat gun at a 45-degree angle. Place it about 6 to 8 inches away from the surface of your wood floor. Apply low heat for just a few seconds. The paint should bubble and fester.
Step 3 – Use Scrapper
Safely place the heat gun down and pick up a paint scraper to finish the process. Use the paint scraper to gently peel away the bubbly sheet of paint. When you are finished, use a blade tool to remove any stubborn residue. Then, gently wash the surface of the wood floor with mild soap and water. Finally, wipe the surface dry and enjoy your revitalized floors!
Pro Tip: A heat gun has the potential to leave scorch marks on the surface of the wood. It also has the potential to start a fire! Use extreme caution and NEVER let your heat gun come in contact with your flooring.
Force Method
Step 1. Use a hammer to apply pressure to your paint scraper. Pressure helps remove stubborn paint stains without scuffing the floor.
Step 2 . Hold the scraping device at a 45-degree angle and then tap on the end. The sudden pressure should help lift up the corner of dried paint.
How to Remove Paint From a Laminate Wood Floor
Okay, your so-called wood floors aren't the real deal. They look like maple, but they are really vinyl. Still, that doesn't mean you want them covered in paint splatter or other unsightly blemishes. In the section below, we present the 401 on how to remove paint stains from laminate wood floors.
Step 1 – Soap and Water
Laminate flooring features a strong protective coating that protects it from set-in stains. As such, you can often use a simple soap and water solution to remove dried paint stains. It takes latex paint a few days to cure. As such, it's best to look for drips shortly after you finish painting. Don't be surprised if paints wipe up easily even after it appears to have dried.
Step 2 – Use Vacuum Cleaner
First, clean the area that needs treating. Use a vacuum to ensure that all of the set-in dirt and debris has been lifted from the surface of your floor.
Step 3 – Apply Acetone-Based Cleaner
Apply a small amount of acetone-based cleaner to the paint stain. Consider using an acetone-soaked cotton swab or rag to pinpoint the area that needs treating.
Step 4 – Allow it to Soak
Allow the stain to soak in the mixture for a minute or two.
Step 5 – Use Rag
Use a moist rag to wipe away any remaining paint or solvent. If some it doesn't come off, repeat the process until the remaining paint has been removed.
When to Use Commercial Paint Removal Products
While non-toxic cleaning agents work well, we know there are just some situations that demand chemical-based paint removal product. To help you get a better understanding of store-bought paint removal product, we've included a list of both customary and unconventional paint removal agents.
Oxalic Acid: Diluted oxalic acid may be applied directly to a paint stain. Oxalic acid is often used to remove rust and stain. While it works well, we only recommend using it as a last resort. It is corrosive and toxic.
Goo Gone: Goo Gone is a commercial cleaning agent. Goo Gone produces a latex paint remover that boasts the company's proprietary stain-removing formula. As you can see in this video, Goo Gone's latex paint remover effectively removes paint splatter from wood floors.
Hand Sanitizer: A few contractors we talked with recommended using hand sanitizer to remove stubborn paint splatter. Hand sanitizer has a high alcohol content. It's also super gooey, which makes it easy to apply to spots without having to worry about it spreading. What's more, it's not likely to damage the surface of the underlying floor.
Goof Off: Goof Off is yet another commercial-strength cleaning agent. Professional Strength Goof Off is great for removing spray paint, latex paint, and other common household stains.
Professional Tips and Advice
Always wipe paint up before it dries!
After successfully removing my first paint stain, I couldn't help but question why I let the paint dry in the first place? Honestly, sloppy workmanship wasn't a good enough excuse. Now, I keep a bucket of soapy water on hand whenever I am painting. It's worth noting that wet paint is far easier to remove than the dried variety.
Just be sure to use a clean portion of your rag to remove wet paint splatter. Otherwise, you risk smearing even more paint across your wood floor!
Use Household Objects to Get the Job Done
Before you rush to your local hardware store, considering upcycling household objects for your paint removal job. The smooth edges of butter knives, old credit cards, and spent spatulas all double as industrial-strength paint scrapers. Meanwhile, the bristles of an old toothbrush make the perfect nonabrasive scrub brush that money can buy.
For a more frugal fix, it's best to work with supplies that you already have on hand. Tooth
Use a Hairdryer
Simple solvents and scraping motions are not always enough to purge stubborn paint stains from wood floors. In such cases, a little heat may be all it takes to loosen the paint from the surface of a floor. If you're someone who doesn't keep a heat gun on hand, a hairdryer is a solid alternative.
Always Clean Before and After
It's important to remove dirty residue before and after removing a paint stain from your wood floors. Dirt and grit have the potential to scuff the surface of your flooring. Since most removal methods require scrubbing and other abrasive motions, you want to ensure that there's no buildup on your wood floors.
Identify the Type of Paint You're Treating
Are you dealing with an old or unknown stain? Apply a small amount of acetone to the stain to determine whether it is from a latex- or oil-based paint. If the paint is latex-based, it will rub off after being treated.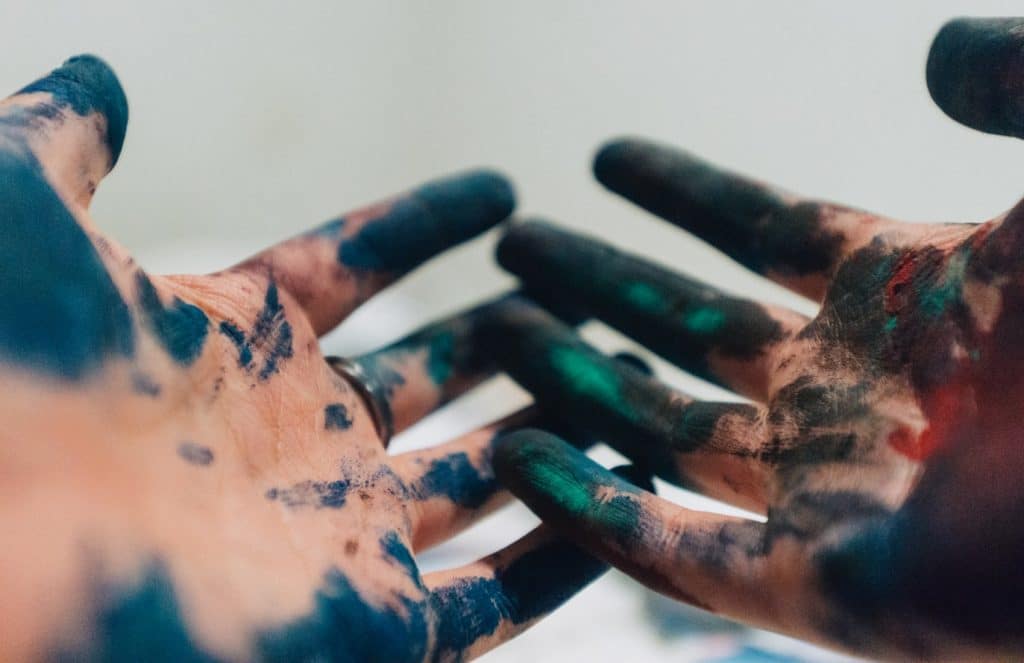 Add Some Dish Detergent
When mixing lemon juice and rubbing alcohol together, add a squirt of dish detergent. This will create a rich lather that will pull the paint from the surface of the floor.
Use Tweezers
Paint often lifts up and bubbles after being treated with a solvent. Use a pair of tweezers to grab hold of a loose corner. Then slowly peel away the stain.
Use a Toothpick
A toothpick is yet another tool that can come in handy during the paint removal process. Use the pointed end to lift up a corner of a stain.
Use Caution
Always wear gloves and a face mask when working with strong chemicals. What's more, open a window to increase air circulation and prevent the buildup of harmful fumes.
Soak Your Rag in Solvent
Soak a clean rag in rubbing alcohol or paint remover. Place it directly on the paint stain. This method helps you pinpoint small patches of paint without damaging the surrounding areas.
Avoid Chemicals and Abrasives
While it may be tempting to use paint thinner, it's important to remember that it is extremely caustic. It can cause irreversible damage to your wooden floorboards. Not to mention, it is a potential health hazard.
Wrapping Things Up
There's nothing more disheartening than finding paint splatter on your wood floors. Fortunately, you don't need to live with these unnecessary reminders of your clumsiness. From latex to spray paint, we've got the answers on how to quickly and efficiently removing paint stains from wooden floors.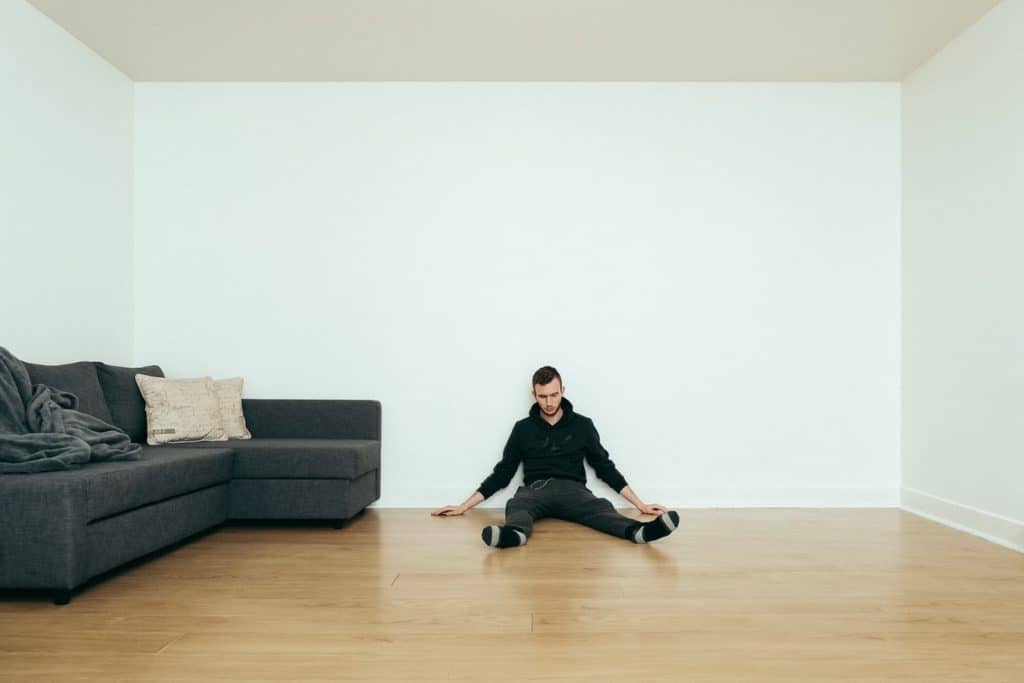 After speaking with several professionals, we discovered that there are multiple methods for removing paint from wooden surfaces. From non-toxic household ingredients to commercial cleaning agents, there are plenty of safe ways to lift set-in stains.
Are you looking to get rid of paint stains your wood floors? Did you give one of the previously mentioned methods a try? Let us know in the comments below.
Richard Jenkins is a 33-year-old Professional Painter that applies paint on the interior and exterior surfaces. Qualified in painting technology knowledge, physical fitness, stamina, teamwork, and attention to safety. Read More.